The rise and fall of Stadia
Reflections on the story of Google's ambitious but ill-fated cloud gaming service, from its inception to the upcoming closure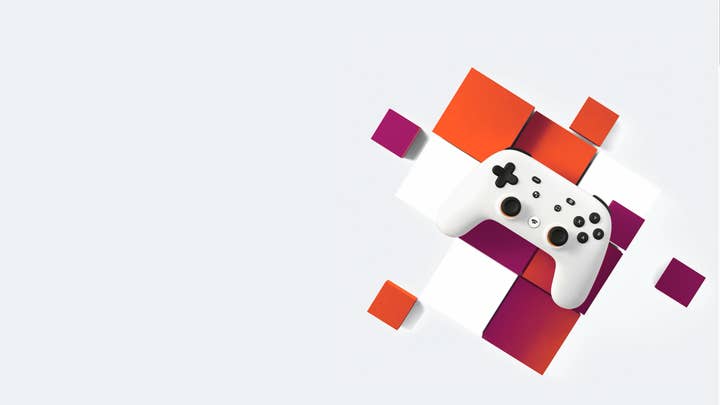 "The next generation is not in a box."
A full year before PlayStation 5 and Xbox Series X|S were announced, Google presented its own vision for gaming's future: Stadia, a cloud gaming service that enabled you to play across any device.
The service was teased in the days before its unveiling via an outdoor exhibition near San Francisco's Moscone Center, on the corner of 4th Street and Howard Street, intriguing GDC 2019 attendees with historical gaming pieces such as the Nintendo Power Glove, the Dreamcast and a copy of ET: The Extra-Terrestrial for Atari 2600. An empty case at the end of the timeline would later be home to a Stadia controller.
The irony of Google promoting its would-be-revolutionary cloud gaming service alongside some of the industry's most famous failures has not been lost on anyone this past week. Last week, the company announced Stadia will be shut down forever in a matter of months.
The full implications of this are still emerging, but as the fallout continues, it's perhaps an opportune time to reflect on what Google was attempting with its foray into games streaming.
The tease
It began as Project Stream, a collaboration between Google and Ubisoft to make Assassin's Creed Odyssey playable through browsers. This prompted speculation that Google might launch a cloud gaming service; in fact, at Stadia's unveiling Google CEO Sundar Pichai described the service as "probably the worst-kept secret in the industry."
The promise
Stadia was officially announced at GDC 2019. Google said the service would enable users to play video games across smartphones, tablets, desktops, laptops and TVs (via Chromecast). Stadia boss and industry veteran Phil Harrison talked of a world where players could watch a trailer for a game, click a Stadia link and be playing within five seconds. No dedicated hardware, no console, no waiting, and an addressable audience of two billion.
The tech
STAT | 10.7 teraflops – The amount of power Google said Stadia would be able to harness, thanks to its worldwide network of data centres and the custom-built GPUs from AMD. This, the company bragged, was more than the PS4 Pro's 4.2 and Xbox One X's 6 teraflops.
Streams would playable in up to 4K at launch at 60 frames per second (with plans to go up to 8K in future), complete with HDR and surround sound – plenty of tech specs to get people talking. And Google teased functions that were only possible with the power of the cloud, such as:
StreamConnect, allowing multiple players to see each other's screens without developers having to sacrifice visual quality or performance
StateShare, which would allow players to share playable versions of the exact moments or scenarios with each other.
The team
Finally, Google announced it had formed an internal development studio – Stadia Games and Entertainment, led by Jade Raymond of Ubisoft and EA fame – to build titles that showed off the full power of the streaming service.
In our conversation with Harrison that week, he told us Stadia was the start of an "inevitable and one-way shift" away from consoles.
QUOTE | "For the last 40 years of games, the industry has been device-centric. As a developer, I build for a device. It's been package-centric – I either ship the game on a disc or a cassette tape or a cartridge or increasingly now I download that package. But it's still that mental model of a package for a thing. As of 10am yesterday, we just broke through that glass ceiling and said to developers, 'The internet is your store and the network and the data centre is your platform.'
"I think that's a really exciting moment for the industry. The whole world isn't going to shift to that new model overnight, and it will take time for us to realise every aspect of the promise. But it's a fundamental and, I passionately believe, an inevitable and one-way direction that the industry is moving."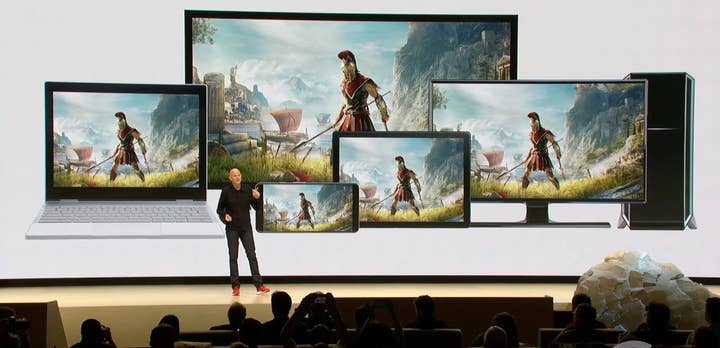 The initial reaction
Responses to Stadia's unveiling ranged from cautious optimism to outright confusion. Google had clear advantages – few other companies had the infrastructure to pull this off – but there were a lot of unanswered questions, including the business model.
QUOTE | "If it's not on a subscription basis I'll be shocked" – Lewis Ward, IDC
QUOTE | "This type of technology – and not just from Google – could have a major downward trend on prices, which could really impact what the large video game publishers are able to charge for their games. This has many investors concerned, because the ability to get consumers to pay big money for access to games has been the key reason to success for the large publishers. Streaming services threaten to disrupt that equation." – David Cole, DFC Intelligence. (Given Stadia's pricing plans, there turned out to be little danger of this but we'll get to that in a bit.)
QUOTE | "To claim a meaningful share of the market, Google will have to acquire exclusive content that will draw consumers to its offering, and that's precisely the missing component currently. Just because the console is in the cloud now does not mean that this part of the industry's economics have changed." - Joost van Dreunen, then at Superdata
In the weeks that followed, major platform holders Xbox and PlayStation both offered their thoughts, with the former echoing the need for exclusive content. Microsoft was already working on Project xCloud, which would become Xbox Cloud Gaming, but even then execs were talking about this service as a complement to consoles rather than a replacement.
Sony, meanwhile, revealed that its cloud partnership with Microsoft had been prompted by the emergence of Google Stadia.
QUOTE | "The landscape is changing fast. If we simply kinda lean back on the world that we've known for the past 25 years, we're at grave risk of having events around us overtake us. So, we have to show an open-mindedness and a desire to do things to an extent that we haven't had to in the past" – PlayStation boss Jim Ryan
The launch plans
In June, just ahead of E3, Google announced the business model and release date for Stadia.
The service was slated to launch in November, with two subscription tiers – the premium Stadia Pro and the free Stadia Base – as well as the revelation that games would need to be purchased individually no matter which tier you chose.
STAT | $9.99 – Monthly price of a Stadia Pro subscription, for which users would get access to 4K, 60fps, HDR streaming and discounts on game purchases, as well as occasional free games. Base subscribers would be limited to 1080p and pay full price for each title.
STAT | $129.99 – Price of the Founder's Edition of Stadia, which included a Stadia controller, a Chromecast Ultra, a three-month Pro subscription and another you could gift to a friend.
STAT | 14 – Number of countries where Stadia would be available at launch, including the US, UK, Canada, France, and Germany, with more to follow in the next year.
STAT | 10 Mbps – Google's recommended connection speed for using Stadia, with the company warning that games will scale down to 720p on slower connections. 35 Mbps was recommended for 4K streaming.
The company also announced a lineup of titles that would be available during the launch window, including Doom Eternal, Assassin's Creed: Odyssey, Destiny 2 and Square Enix's Tomb Raider reboot trilogy. Still no exclusives in the lineup, much to the continued bafflement of analysts.
While analysts remained sceptical, Google's technical account manager Sam Corcoran claimed that developer interest was high.
STAT | Over 4,000 – Number of developers who had submitted applications to release games on Stadia
More promises
Around this time, Google revealed publishers would be able to add their own subscription services to Stadia – something Ubisoft would later take advantage of.
Meanwhile, Phil Harrison clarified that players who had purchased a game on Stadia would still have access to that game if a publisher decided to pull it from sale on the service. And Stadia's director of product Andrey Doronichev hosted a Reddit Ask Me Anything session where he remained confident the industry, and users, would ultimately embrace the transition to the cloud.
QUOTE | "Moving to the cloud is scary. I felt the same way when music was transitioning from files to streaming. I still have all my old CDs in the garage... it's hard to find a CD player these days. The same happened to Movies and Photos and my Docs and other files... and it's great! Games are no different. Eventually, all of our games will be safely in the cloud too and we'll feel great about it. We've been investing a ton in tech, infrastructure, and partnerships over the past few years. Nothing in life is certain, but we're committed to making Stadia a success." - Andrey Doronichev, Google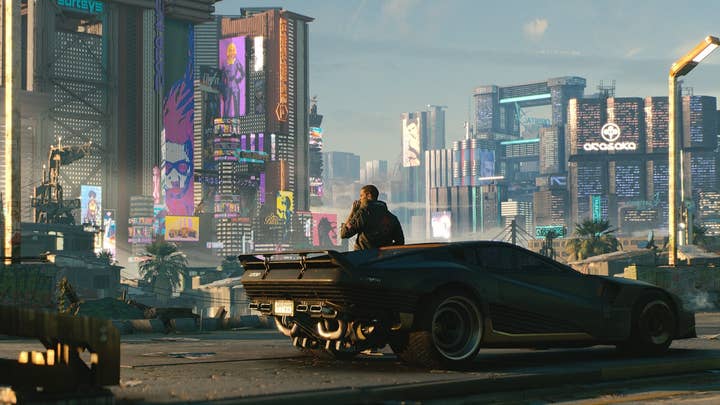 The road to release
In the months that followed, Google expanded its upcoming lineup via its Stadia Connect presentations, announcing that the acclaimed Red Dead Redemption 2 and the hotly-anticipated Cyberpunk 2077 were coming to its cloud service. The company also began embracing indies, confirming Gwen Frey's Kine as a launch title. (Frey would later dispute the oft-touted scepticism around Stadia and the widespread expectation that Google would abandon it before long.)
While there was no word on exclusives, Raymond told us Google had made "a spectrum of bets" within its internal studios, each project operating on a different timeframe. The plan, we were told, was to launch with third-party games, followed by second-party games from independent developers, and eventually the first-party projects would emerge.
QUOTE | "It's very important for first-party games, in my opinion, to be games that wouldn't be possible on any other platform. I think that's what's really exciting and why we're building out the first-party teams." - Jade Raymond
A troubled launch
As launch drew nearer, some of the cracks in Google's initial promise began to appear. For example, wireless controller support would only be for TVs via Chromecast at launch, with PC, Mac and mobile players required to use a USB-C cable. Another Reddit AMA revealed that key features – including 4K on PC, Family Sharing, achievements and Buddy Pass – would not be available until much later.
With just eight days to go before launch, Stadia had only 12 games lined up for day one – three of which were Tomb Raider titles, and only one of which was exclusive (Tequila Works' Gylt). Google and its partners then brought forward ten titles, nearly doubling the launch lineup with barely 24 hours to go. Again, there were no exclusives and several older titles in the mix. (Two years later, we would learn than Google reportedly paid Ubisoft $20 million for its Stadia ports, and "tens of millions of dollars" for Red Dead Redemption 2 and NBA 2K.)
The reviews
Launch came, and critics were not impressed; while the streaming tech itself was praised, the service drew criticism for those missing features and a general lack of quality.
QUOTE | "Even under ideal conditions (fibre connection, directly plugged into the router, 4K HDR OLED TV), there is a noticeable difference between playing a game on Stadia and running the game on local hardware, like a PC or PS4… With Stadia, games sometimes look like you're watching an ultra-high-resolution gameplay video rather than actually playing the game yourself. They look drab." - Jess Grey, Wired
QUOTE | "There's no reason anyone should buy into Stadia right now. Google has made sure of that, partly by underdelivering at launch and partly with a pricing scheme that sees you paying three times (for hardware, for the service, for games) just to be an early adopter." - Sean Hollister, The Verge
QUOTE | "Ultimately, the only real benefit of the system is the absence of that box under the TV. If your impeccable sense of interior design values that above game selection, price, offline play or community size, go for it. Otherwise, stick with a home console if AAA games are where your heart lies, or pick up Apple Arcade to see what a revolution looks like when it focuses on the games and not the technology." - Alex Hern, The Guardian
Google later responded to criticisms about quality, with a statement suggesting it was down to developers to make improvements to the way their games run on Stadia.
The early adopters
STAT | 175,000 – Sensor Tower's estimate of launch downloads for the Stadia mobile app.
Sales and engagement figures were hard to come by, aside from the above estimate, with Sensor Tower reporting that Android accounted for 90% and the US was the service's biggest market at 41%.
With the focus very much on keeping Pro subscribers engaged, Stadia continued to expand the library of titles available to these users at no extra cost – although it made a slight faux pas when it added two launch titles to the Pro collection less than a month after launch. Google reacted quickly and promised to refund subscribers who had already purchased Farming Simulator 19 and/or Tomb Raider: Definitive Edition.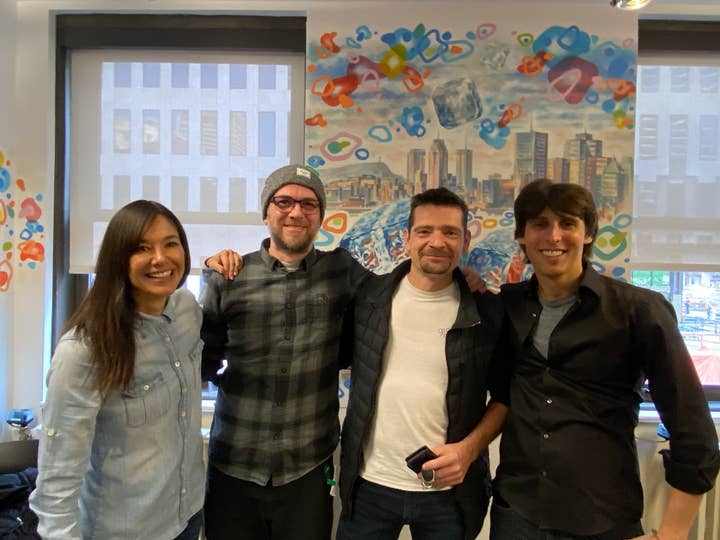 Soldiering on
Having launched Stadia, Google pressed forward with bulking up the development workforce behind it – most notably with the acquisition of Typhoon Studios, the Montreal-based studio run by industry veterans Alex Hutchinson and Reid Schneider. In fact, Google snapped up Typhoon before its debut title, Journey to the Savage Planet, had even been released.
A few months later, Google opened a new Stadia studio in Los Angeles' Playa Vista district, led by ex-Sony Santa Monica head Shannon Studstill, with this team also tasked with building exclusives for the service.
STAT | 120 - Number of games Google said were coming to Stadia in 2020 (January 2020)
Google, it seemed, was embracing the timed exclusive over the true exclusive. Of the 120 games hinted at, the company said more than ten of those released in the first half of the year would be exclusive to the service, at least to begin with.
Users who subscribed to Pro at launch were already approaching the end of their three free months, and keen to hear more about why they should pay to stay on the service. Despite the above promise of 120 games, Google was compelled to respond to complaints of slow announcements, emphasising that it was in part down to the developers and publishers to reveal when they had titles coming to Stadia.
Call in the indies
In March, Google unveiled its next initiative to bring more titles to its cloud gaming service: the Stadia Makers program, which would offer funding, development kits and technical support to selected indies.
That's not to say the company wasn't still coveting larger players, with exclusives secured from Konami, Harmonix and more. Not all of these surfaced, however; while Konami's Super Bomberman R Online enjoyed nine months of Stadia exclusivity, there's been no word of the projects being developed by Dark Pictures Anthology developer Supermassive Games or Rock Band studio Harmonix.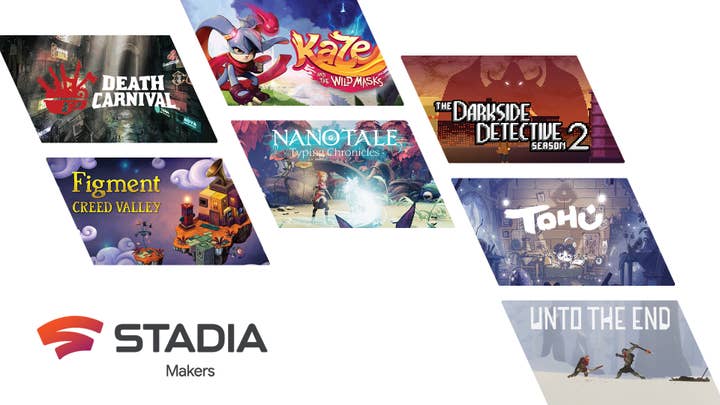 A free sample and a price cut
Google quietly dropped the 'Base' name for its free Stadia tier and instead focus on ways to entice those who simply registered an account and (presumably) bought games to upgrade to the Pro subscription. The company offered two free months of Stadia Pro and it pushed installs of the mobile app past the one million mark, with the week of the promotion becoming the biggest for Stadia in terms of downloads since launch.
Meanwhile, the $129.99 Premiere Edition (which was introduced after the Founder's Edition sold out) later had a price cut, slashed to $99.99 – but lost the three months free Pro subscription.
A quiet first year
Stadia grabbed fewer headlines for much of 2020, and there were hints that it perhaps wasn't the priority Google had previously claimed it to be. When announcing a new Chromecast, for example, the company neglected to include support for Stadia, instead requiring users to sideload the Android app.
It also later emerged that a class-action lawsuit had been filed in October 2020, targeting Google as well as Bungie and id Software over claims that Stadia would support 4K resolution.
The beginning of the end
In February 2021, three months into the service's second year, Google announced it was closing its Stadia game studios and opening up the Stadia tech to other companies.
Phil Harrison confirmed the company would "not be investing further" in exclusive content – before ever releasing or even announcing any internally developed project the Stadia studios had been working on – due to the significant investment required to create quality games.
Jade Raymond left the company, later to set up her own Haven Studios which has since been acquired by PlayStation. Her departure was followed by head of product John Justice, director for games Jack Buser, and six additional staff (who left to join Haven Studios).
Meanwhile, the Typhoon Studios team regrouped and formed Raccoon Logic, with Google even giving back the Journey To The Savage Planet IP (perhaps a further sign of the internet giant's waning interest in games).
While Google said the service would continue to operate, and that more third-party games would be added to the platform, it was impossible to escape the feeling that the end was nigh. The fat lady was clearing her throat in preparation.
It later emerged that Google reportedly didn't notify staff at its Stadia studios – approximately 150 people – about the closure before it was publicly announced (which sounds familiar), and that they were even praised for the "great progress" they were making just a week before.
Keep calm and carry on
Google, maintained that the service was in fine health – even going as far to tell us it was "alive and well", with over 100 titles on the slate for 2021 and continuing efforts to grow the Stadia Makers indie initiative. Meanwhile, that incomplete feature slate was slowly being addressed – in 2021 Stadia was given, among other things, a search bar.
Sharing the wealth
The company also tried new efforts to get more developers and publishers to bring their games to Stadia, including a more generous revenue share. In July 2021, Google announced 70% of all monthly revenue generated by the Pro subscription would be split between partners based upon how many "session days" players had spent on their games.
Meanwhile, from October 1, 85% of revenue from individual sales would be given to developers (although only up to the first $3 million). Google warned that the revenue split was due to change at the end of 2023 – and that, at least, was not wrong.
In the wake of these announcements, Google told us the focus was on helping partners "create their own success" and by doing so improve Stadia's fortunes.
Towards the end of the year, Google finally announced that many of those early features promised – such as State Share, Stream Connect and Crowd Play – would be coming to Stadia games "soon."
The warning signs
In February, exactly one year after Google shut down its internal games studios, reports emerged that the company was deprioritising Stadia to focus on securing deals around its streaming tech – a service it later announced would be called Immersive Stream for Games.
Even with this announcement, it continued to drip feed news for Stadia users, including the fact it would be offering Click To Play Trials of full games – harking back to Harrison's very early tease of playing Assassin's Creed within five seconds of watching a trailer.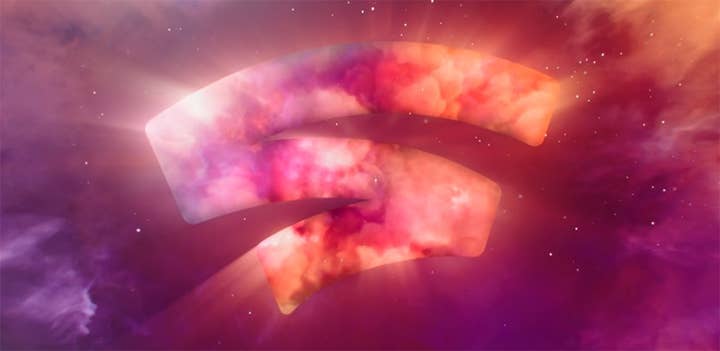 The death sentence for Stadia
Last week, the (arguably) inevitable happened: Google announced Stadia would be shutting down.
Stadia users will still be able to access their libraries until January 18, 2023, after which Google will begin refunding any purchases made since the service launched in 2019. Developers and publishers were unaware of the impending shutdown until it was made public, and leading companies such as Ubisoft, Bungie and IO Interactive are scrambling to transfer user purchases and progress to other platforms.
And so, Stadia's days are numbered. The service will close 1,401 days after it was first unveiled at GDC 2019, and 1,156 days after it officially launched.
A full post-mortem is hardly necessary, except perhaps to determine which blow was the fatal one. While Stadia's tech arguably delivered what it was supposed to (albeit without the many bells and whistles promised from the beginning), the lack of compelling exclusives, the business model that was at odds with the vast majority of entertainment streaming services, and the abandonment of its internal development teams meant it was perhaps impossible for Stadia to survive in its current form.
In time, Immersive Stream for Games might enable third parties to build upon Stadia's legacy and original vision, but until then, the cloud gaming service is another exhibit in the line of glass-encased failures on the corner of 4th and Howard.