Stadia launches streaming enabled features
Platform introducing State Share, Crowd Play, Crowd Choice, and Stream Connect to a limited selection of titles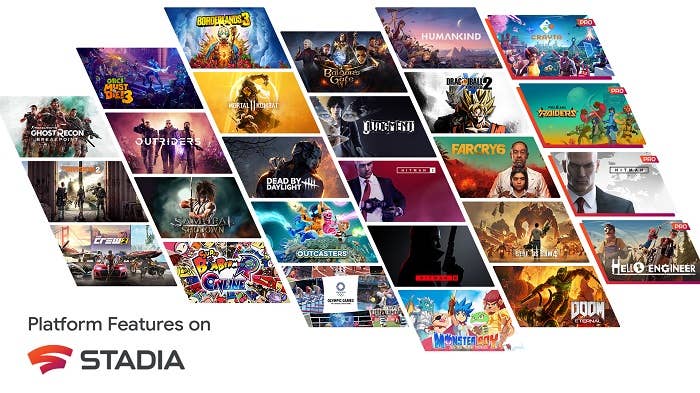 Google today announced new details for some streaming-enabled features it has previously teased for the Stadia service.
The company said it would enable State Share, Crowd Play, Crowd Choice, and Stream Connect functions in a selection of games "soon," but State Share is already live in Doom Eternal and Hello Engineer, and Crowd Play is available in Serious Sam 4.
State Share allows users to save their game whenever they take a screenshot or capture video in-game. The image or video can then be shared with others whom then can play from that unique save state of the title for themselves.
The Crowd Play function will give YouTube viewers the ability to join and play alongside the person whose livestream they're watching.
Games that feature Crowd Choice are able to create polls during a YouTube live stream, which viewers are able to vote on within the chat window.
With Stream Connect, users can see up to a total of three teammates' screens during co-op play sessions.
Additionally, the company shared that State Share supported titles are:
Hitman 1
Hitman 2
Hitman 3
PixelJunk Raiders
Judgment
Serious Sam 4
Monster Boy and the Cursed Kingdom
Hello Engineer
Humankind
Doom Eternal
Games featuring Crowd Play will be:
Samurai Shodown
Mortal Kombat 11
Borderlands 3
Super Bomberman R Online
Dead by Daylight
Outcasters
Crayta
Dragon Ball Xenoverse 2
Olympic Games Tokyo 2020 - The Official Video Game
Serious Sam 4
Crowd Choice enabled Stadia titles are:
Samurai Shodown
Baldur's Gate 3
Dead by Daylight
Outcasters
Dragon Ball Xenoverse 2
Monster Boy and the Cursed Kingdom
Stream Connect functionality is confirmed for:
Tom Clancy's Ghost Recon Breakpoint
The Division 2
The Crew 2
Orcs Must Die 3
Outriders
Far Cry 6