Sony and Microsoft partner for cloud, AI innovations
Rival platform holders to collaborate on projects using Microsoft Azure for competitive cloud technology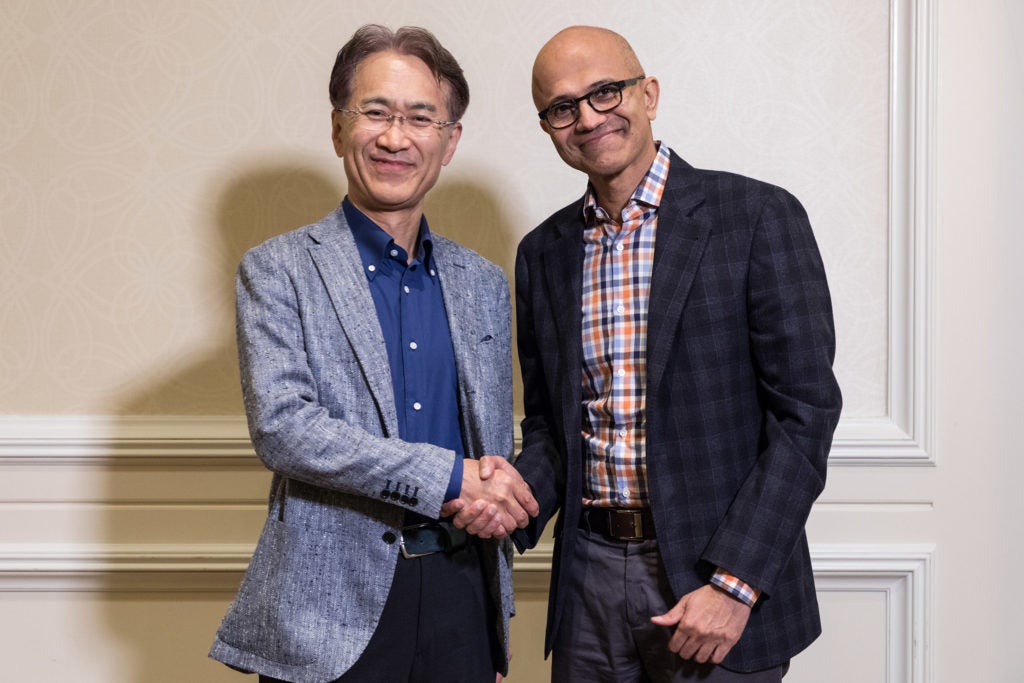 Today, Microsoft and Sony announced that they are forming a strategic partnership with one another, collaborating on cloud services and AI technology.
The two companies will work together on a number of technologies and solutions largely focused around Microsoft Azure's cloud services. This will include looking into ways Azure can be used with Sony's existing streaming services both for games and other content.
The pair will also look at improving AI technology for customers, working together on intelligent image sensor technology and incorporating the work Microsoft has already done with Azure on both AI and cloud, as well as Sony's understanding of image sensors and semiconductors.
"For many years, Microsoft has been a key business partner for us, though of course the two companies have also been competing in some areas," said Sony CEO Kenichiro Yoshida. "I believe that our joint development of future cloud solutions will contribute greatly to the advancement of interactive content. Additionally, I hope that in the areas of semiconductors and AI, leveraging each company's cutting-edge technology in a mutually complementary way will lead to the creation of new value for society."
"Sony has always been a leader in both entertainment and technology, and the collaboration we announced today builds on this history of innovation," said Satya Nadella, Microsoft's CEO. "Our partnership brings the power of Azure and Azure AI to Sony to deliver new gaming and entertainment experiences for customers."
Though not mentioned in the partnership announcement, this collaboration seems at least in part to be a response to Google's announcement earlier this year of its new games streaming service Stadia, which uses cloud-based technology to stream games across mobile, TV, tablet, and desktop PC.
Microsoft has been vocal about its interest in cloud infrastructure development for some time through initiatives such as Project xCloud, and there have been rumors of the company announcing a streaming-only console in the near future (though that may have been curbed somewhat by the announcement of the Xbox One S All-Digital Edition, which is disc-less but not cloud-driven).
Meanwhile, Sony has its own cloud streaming service in PlayStation Now, but its plans for the next console generation (as announced so far) have been noticeably low on anything cloud-related. It's a position that, if held, would likely keep Sony's next console as the only "traditional" new console release of the big three as Microsoft focused on cloud streaming and Nintendo continued iterating on its hybrid Nintendo Switch.