Google unveils first details of Stadia streaming service
"The next generation is not in a box," says internet giant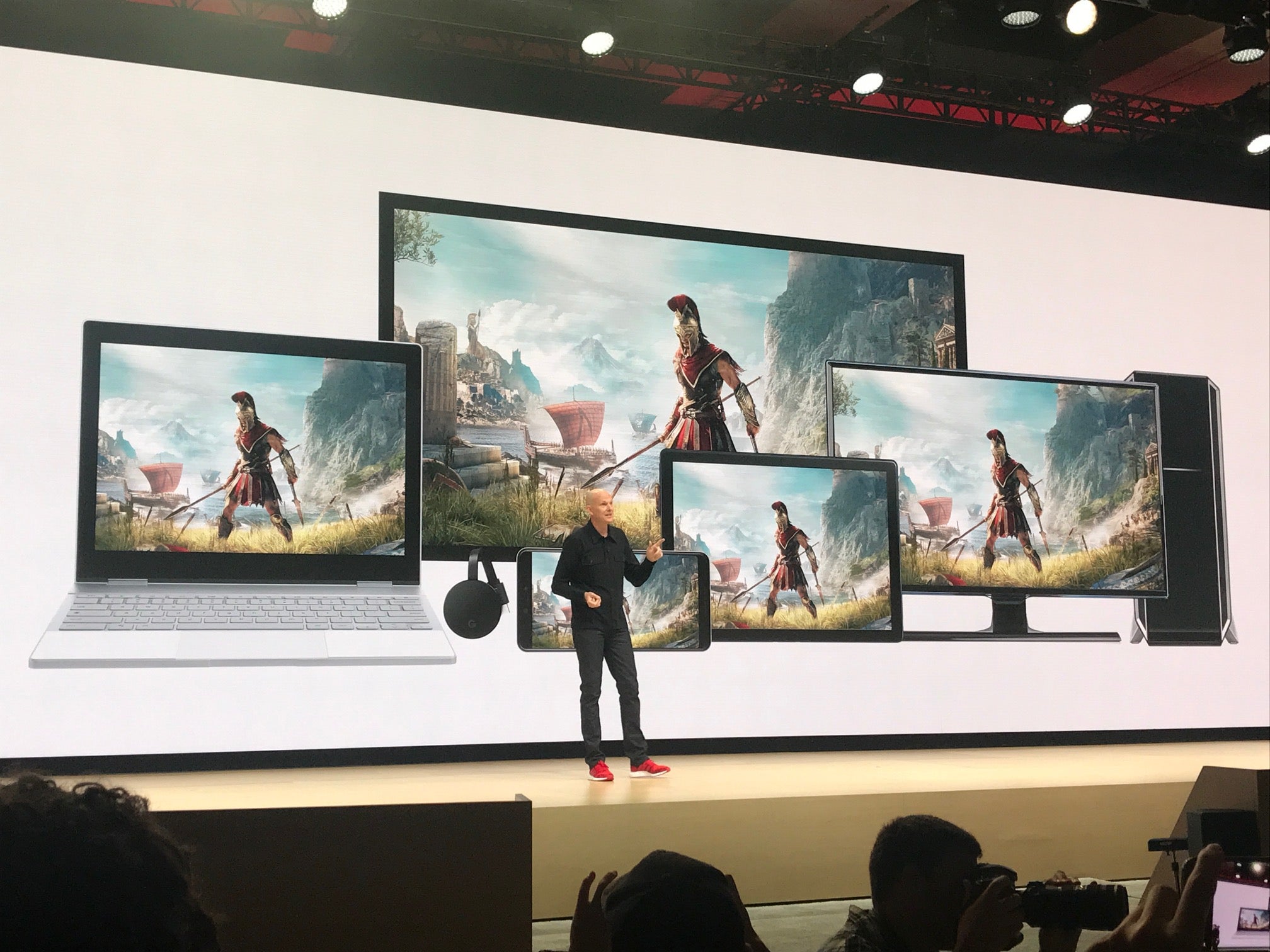 Google has detailed its new games streaming service Stadia, a cloud-based games platform accessed across all devices.
The service will see users playing games via internet streaming on smartphones, tablets, desktops, laptops and TV via a ChromeCast Ultra HDMI streamer, with full cross-play support. There is no hardware required, no dedicated console.
This is enabled by Google's global infrastructure, with data centres in more than 200 countries and territories around the planet.
The service will launch later this year. There was no mention of how the business model will work, whether users will pay for a subscription or buy licences for individual titles, but this is expected to be unveiled later in the year.
As expected, the technology builds on the Project Stream test from October last year where Assassin's Creed Odyssey was made playable through browsers, with Google CEO Sundar Pichai describing the service as "probably the worst-kept secret in the industry."
While this test was limited to 1080p, Google claims Stadia streams can be played in up to 4K at launch at 60fps, complete with HDR and surround sound. And there are plans to introduce 8K streaming in the future, with the company believing its adoption to be inevitable.
Google has partnered with AMD to build custom GPUs for its data centres that will power games played via Stadia, claiming the tech has 10.7 teraflops of power -- more than the PS4 Pro and Xbox One X combined (which offer 4.2 and 6.0 teraflops respectively).
Because Stadia can be accessed via any device, the addressable audience is already at over two billion, and Google is making it as easy as possible for those users to jump in.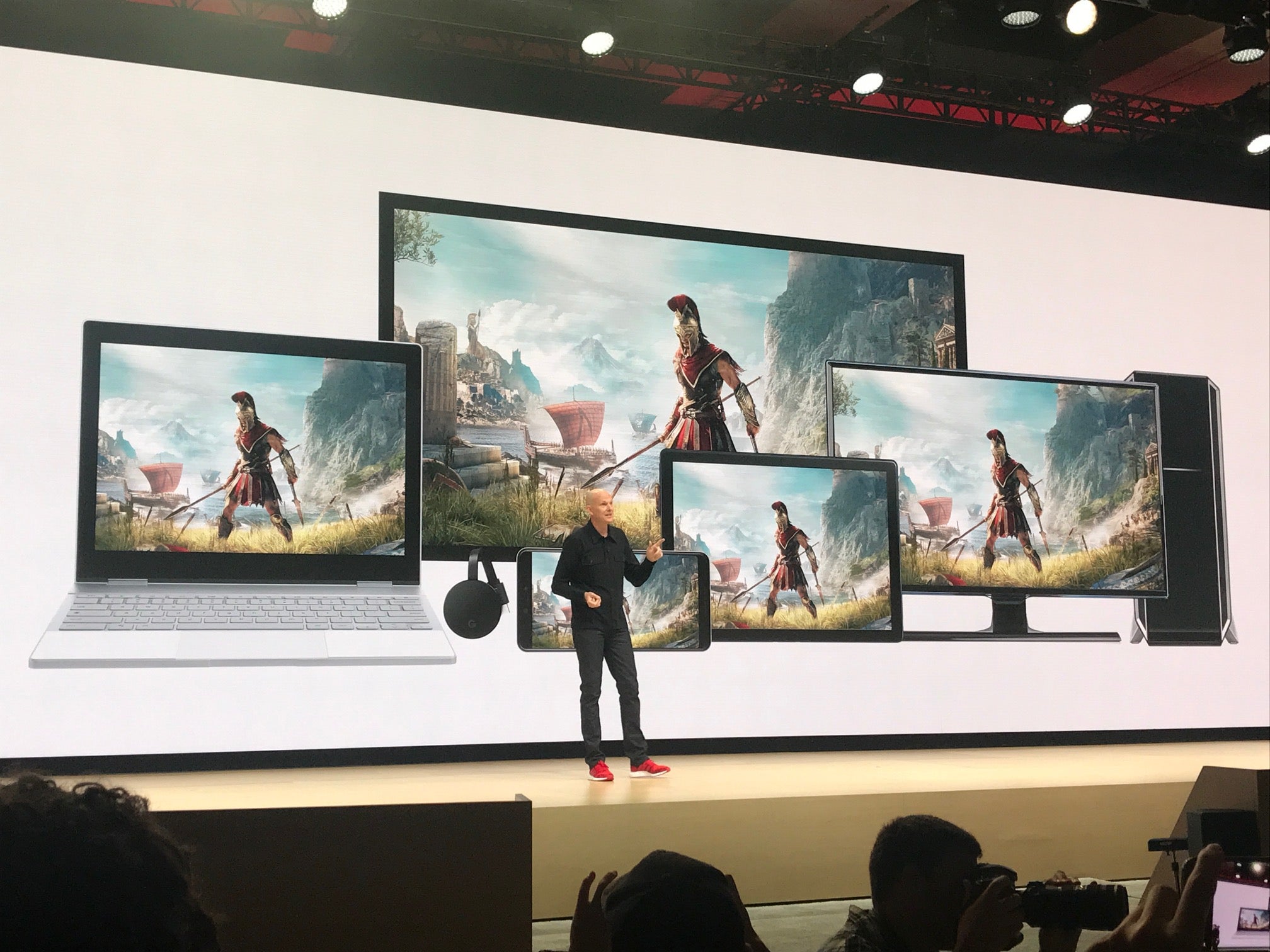 The company's Phil Harrison offered the example of watching a trailer for Assassin's Creed Odyssey on YouTube, then being presented with a 'Play on Stadia' button to click. He claims the game will launch as quickly as five seconds later, with no need for downloads, patches or installs.
"The data centre is your platform," he said. "The next generation isn't a box."
Stadia supports Unreal, Unity, CryEngine and a myriad of other middleware and services, including Havok, FMOD, Audiokinetic, Umbra, Ikinema, Improbable's SpatialOS, Simplygon, Microsoft Visual Studio, Vulkan, Englighten and more.
Players will also be able to switch between devices on the fly, as demonstrated on stage by someone moving from phone to tablet to PC, with Harrison claiming this was the lowest powered PC Google could find. Each time, the game picked up exactly where the player had left off.
Stadia will be compatible with all existing USB controllers and keyboards, but Google is launching its own dedicated controller specifically for the service. Similar to the patent applications seen earlier this month, this is a typical gamepad but features two Stadia-specific functions.
One is a capture button that enables players to share their gameplay by uploading it to YouTube. In fact, Google says sessions will involve two simultaneous streams -- one for the end user, and one directly to YouTube, both at 4K and 60fps.
The other is a Google Assistant button that can be used to search for help while playing games. Using Tomb Raider as an example, the firm showed someone accessing the built-in microphone to ask how to solve a specific tomb, and the Assistant brought up the top video result from YouTube, displaying it in front of the gameplay stream.
Assassin's Creed and Tomb Raider were the only games shown running. Despite teasers ahead of the conference indicating that everything from Red Dead Redemption 2, Metal Gear Solid V and Super Mario Run may be coming to Stadia, the only other confirmed title was Doom Eternal, which will reportedly run at 4K and 60fps.
Doom will reportedly run on a single GPU at Google's data centres, but the company is encouraging developers to explore the possibilities of games that run on multiple GPUs. In a tech demo comparing the difference, a game running on a single GPU will have less sophisticated effects like water simulation (which is particularly intensive when it comes to computing power), but using multiple GPUs will make this look more realistic.
Developer kits for Stadia are now at more than 100 studios around the world.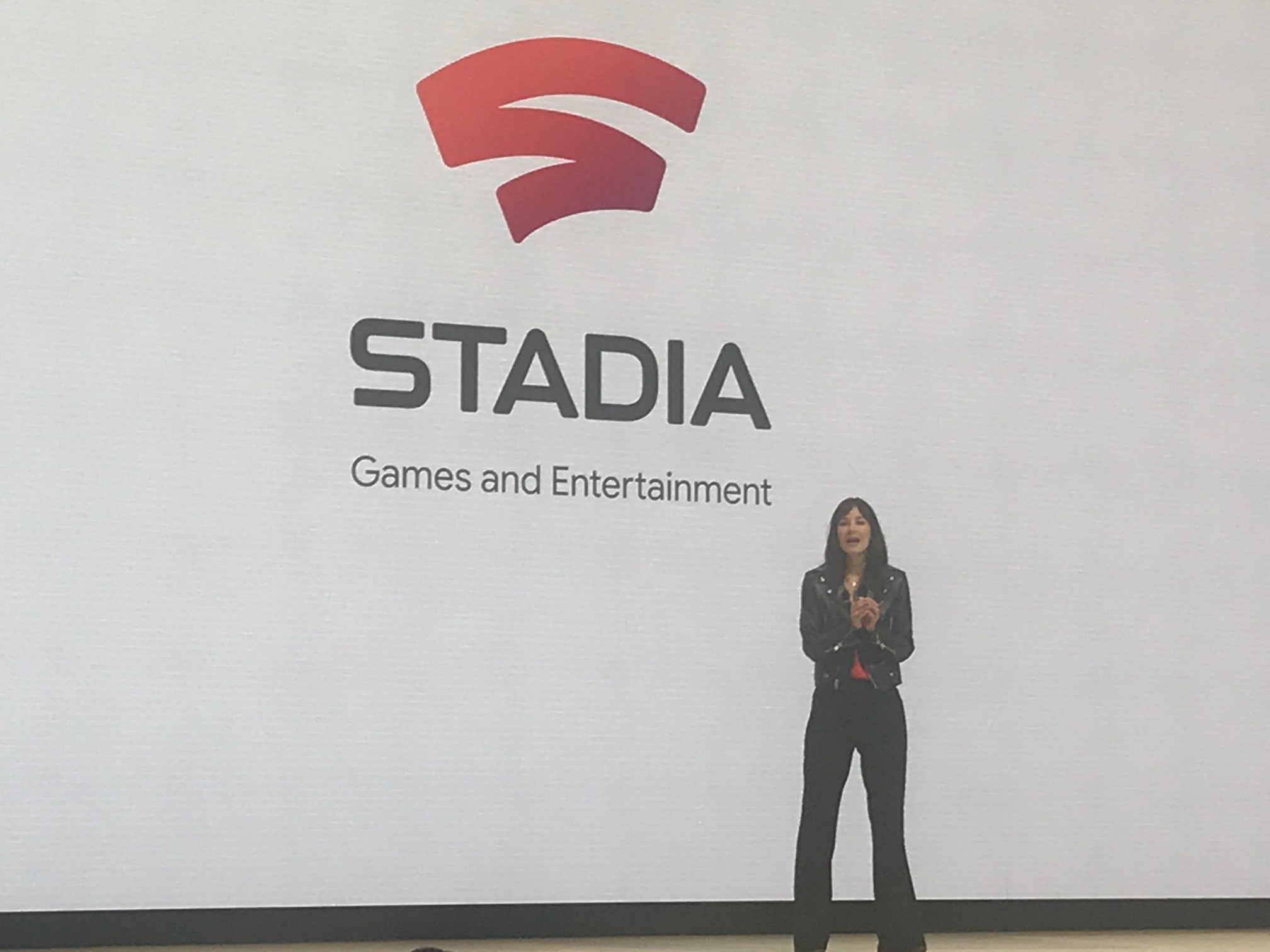 Rime developer Tequila Works was also on stage discussing the service, while Q Games' Dylan Cuthbert revealed his studio is building an unannounced game around StateShare, a Stadia feature that enables players to share game conditions from their sessions via a link.
Google has also formed a new internal games developer studio, catchily titles Stadia Games and Entertainmment. The team will build exclusive titles that fully show off the power of Stadia, and will be led by the recently hired Jade Raymond.
The team will also be working with partner studios to help them use Stadia's technology to power their games. Another new division Stadia Partners will also offer assistance to developers using the service's tech.
Google also took the opportunity to demonstrate more of the technology and features behind Stadia.
StyleTransferML, for example, is a machine learning tech that can take any image and apply the colour palate and patterns to a game environment. In the example shown, a grey box world was rendered to look like Van Gogh's starry night, a sketch pad drawing, or even classic arcade title Pac-Man (although this was largely a joke as it looked unplayable).
StreamConnect is a tool that helps link split-screen perspectives. Drawing on the power of the cloud, Google claims developers will no longer have to sacrifice visual quality or performance when supporting split-screen multiplayer and is even opening new possibilities. For example, a fourth player can watch the other three on their screen and interact with each player's session, placing a beacon on area of interest.
StateShare, as mentioned, enables developers to let players share the world conditions, their position or factors like their character's inventory with other people via a link. This could be shared with just one person, or with everyone via something like YouTube. The idea is that clicking that link would load Stadia and recreate that exact moment or scenario for another player.
This was one of many features geared towards bringing the world of watching and playing games closer together, drawing on the vast community around YouTube. Crowd Play, as another example, will allow YouTubers to invite their viewers into the same gameplay session as them, with a lobby system if there are limited player slots.
The links are also key to spreading Stadia, with Harrison saying this dramatically improves discoverability for games developers as, "The entire internet becomes your store" -- whether links are shared via the Stadia store, YouTube videos, Gmail, Twitter or any other channel.
Stadia will launch later this year, starting in the US, UK, Canada and most of Europe. Google promised more information to come during the summer -- almost certainly at E3 in June. For now, developers can head to Stadia.dev to apply for development tools, while consumers can register their interest and follow updates at Stadia.com.