Google offers refunds to Stadia players who bought games added to Pro subscription
Subscribers who purchased Farming Simulator and Tomb Raider are entitled to compensation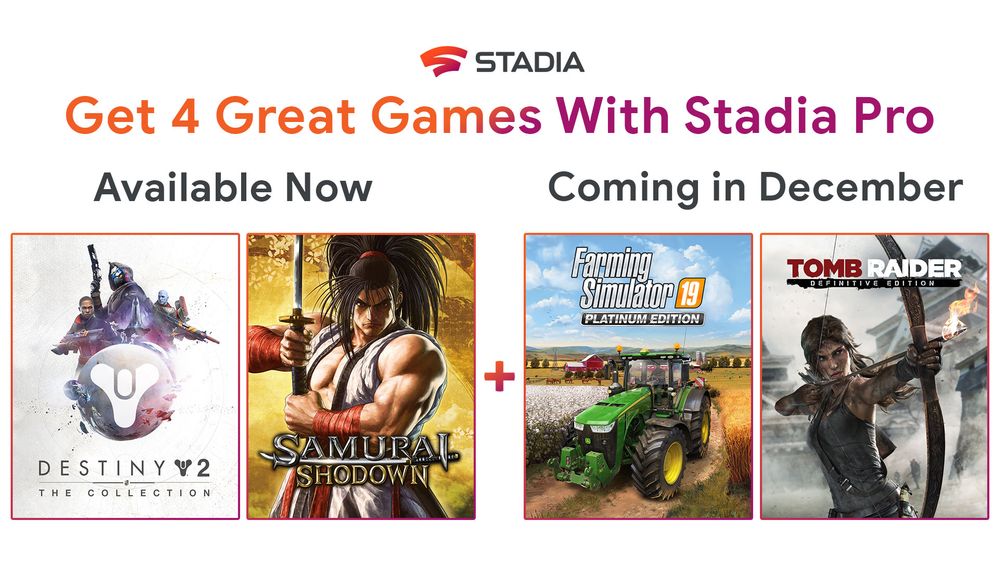 Google is offering to refund any users of its new Stadia game streaming service that purchased titles it is adding to its monthly subscription package.
Stadia launched last week with a range of titles available for individual purchase. Then last night, it was announced two of those games will be added to the Stadia Pro subscription, Eurogamer reports.
As of December 1st, Stadia users who pay £8.99 per month for Pro will be able to access Farming Simulator 19 and Tomb Raider: Definitive Edition. At present, only two titles are available to subscribers: Samurai Showdown and Destiny 2: The Collection.
Aware that some users will have already paid full price for these titles, Google is pre-emptively offering refunds.
Google community manager Grace Yang wrote in a blog post: "Because of the proximity between the launch of the platform, and the announcement of these titles in Stadia Pro, we're happy to assist you if you'd like to request a refund if you have purchased either of both of these titles, even if it's outside of our normal policy."
It's another stumble in what has already been a less than smooth launch.
Earlier this month it was revealed that Stadia would launch without several of the key features Google has been touting since the announcement, and many users who ordered the Founder's Edition had to wait two days after launch before receiving their access codes.
The streaming service has already received a lukewarm reception among critics, many of whom question whether this early form of Stadia lives up to the promises Google has made.
We discussed the various challenges Google faces in recovering from this launch on the latest episode of The GamesIndustry.biz Podcast.