PS4 reveal signals a new generation | 10 Years Ago This Month
Sony's big hardware unveiling gets positive reviews, live-service games hit a wall, and it's a good month for Bad Calls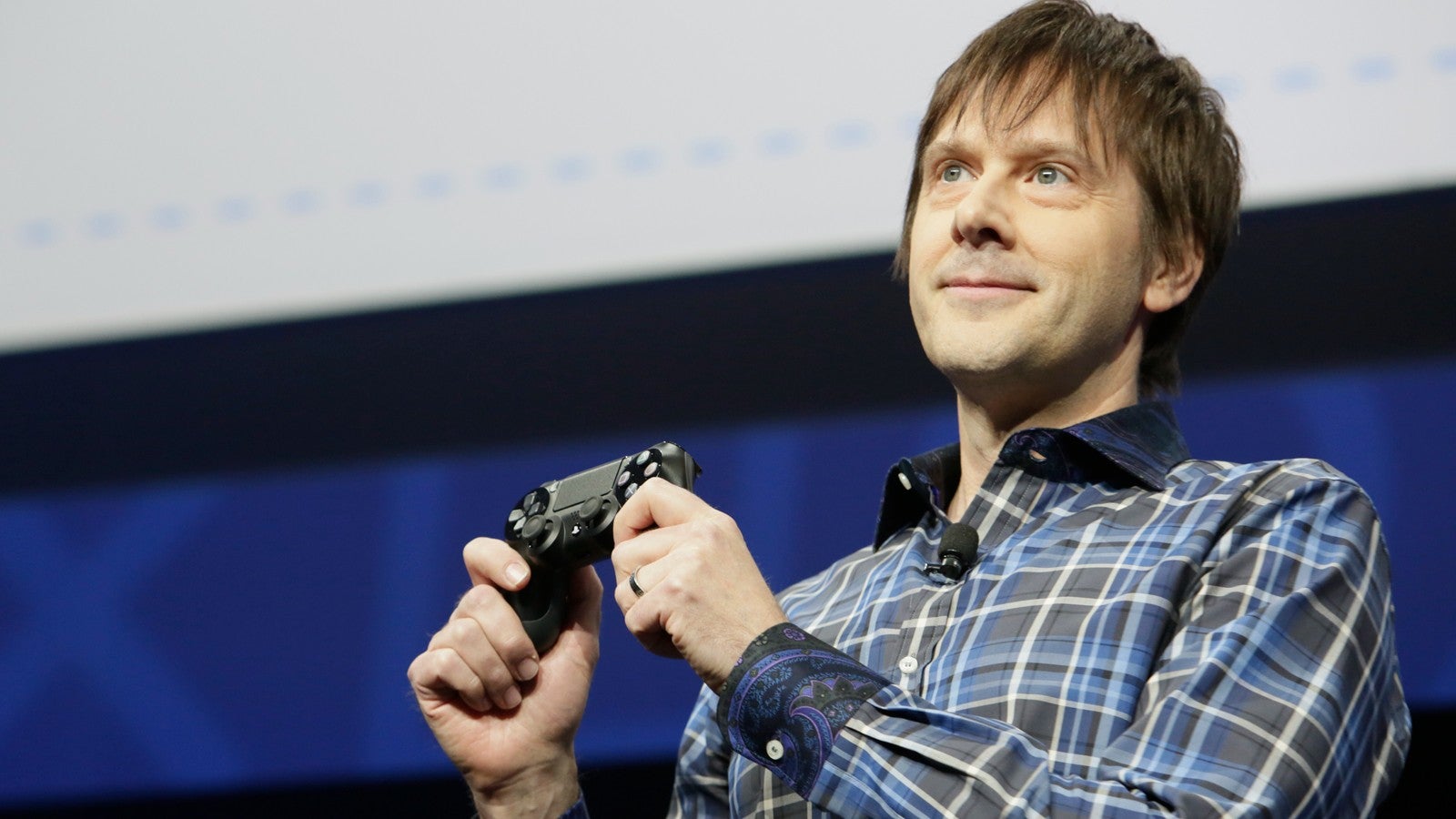 The games industry moves pretty fast, and there's a tendency for all involved to look constantly to what's next without so much worrying about what came before. That said, even an industry so entrenched in the now can learn from its past. So to refresh our collective memory and perhaps offer some perspective on our field's history, GamesIndustry.biz runs this monthly feature highlighting happenings in gaming from exactly a decade ago.
We talked a bit last month about the rash of doomsday predictions for console gaming, and how they were growing in popularity during a particularly uninspiring stretch for the console market. After all, it had been more than seven years since the last generation of consoles kicked off, and the next generation of consoles still hadn't been announced.
Yes, the Wii U had actually launched the previous November, but it was not exactly rekindling any spark of excitement around gaming. The launch had a number of red flags, and the months that followed only brought more.
February of 2013 saw Wii U exclusives Rayman Legends and Ninja Gaiden 3: Razor's Edge being quickly moved to multiplatform launches while major third-party partners threw shade on the console. Activision Blizzard CEO Bobby Kotick told investors he was "somewhat disappointed with the launch of the Wii U" and EA CEO John Riccitiello suggested to them that the Wii U shouldn't even be considered a next-gen system.
"A lot of devices come in and represent themselves as the next generation," Riccitiello said. "In many ways what we're describing as Gen 4 is yet to come, and that's what we're excited about and that's what we're investing in."
While the Wii U may have been floundering, the console space did receive a significant injection of excitement in February, as Sony began the month by sending out invites to a New York City unveiling of the PlayStation 4.
Keep in mind, Sony was a little out of practice at this point. It had launched the PlayStation Vita exactly a year before, and that did not go well. To give some idea of how bad it was, we ran a "Saving PlayStation Vita" roundtable just ten months after launch. (I was the most upbeat on the system, and the best suggestion I had for salvaging something out of it at the time was to market the thing as a throwback and hope you could get traditional gamers to support it.)
If you go back to the last time Sony launched a home console, the PS3 debut was downright disastrous
And if you go back to the last time Sony launched a home console, the PS3 debut was downright disastrous. Sony alienated developers with complex hardware and a custom Cell processor that promised more power but in practice often led to inferior versions of multiplatform titles. It also alienated consumers with a two-tier hardware offering that started at $500 when the competing Xbox 360 launched a year earlier with a $300 model. It was, as Sony Interactive Entertainment Worldwide Studios chairman Shawn Layden would later say, "a stark moment of hubris" for the company.
"As we sometimes call it, PS3 was our Icarus moment," he said looking back on the system in 2019. "For our business, the fall was sharp. We hadn't listened to our customers. We created a devilish development environment. We reacted too slowly, and our network was under-developed. And worst of all, if you remember, was the price point."
The PS4 unveiling was Sony's attempt to acknowledge that it had learned from its mistakes. While it didn't address the price point directly, reports had been circulating that (accurately) suggested a $400 launch price point in the US, and analysts and retailers alike were in the right neighborhood on pricing expectations. At the very least, it didn't seem like Sony was going to be giving Microsoft a $200 price advantage this time around.
As for the actual unveiling, it was largely focused on reassuring people that Sony hadn't repeated its other mistakes from the PS3, with an unusual-for-the-time emphasis on how developer-friendly the hardware would be. Whereas Ken "PS3 is probably too cheap" Kutaragi was the face of the previous console, Sony had PS4 lead system architect Mark Cerny introduce the PS4, making it clear right off the bat that the company was taking a different approach.
"We were able to create in the PlayStation 4 a platform by game creators, for game creators"Mark Cerny
"With so many platforms to support, much less value is found today in exotic technology such as 'blast processing' or a super computer on a chip," Cerny said. "I'm proud of what we accomplished with Cell on PlayStation 3, but at the same time, the need to radically customize technology can interfere with the design innovation that's so central to game creation."
That meant a switch to an x86 architecture "like a PC in many ways," and 8GB of high-speed unified memory that Cerny said was the top request among developers Sony spoke to about what they wanted out of a next-gen system.
"We were able to create in the PlayStation 4 a platform by game creators, for game creators," Cerny said.
Looking back, that was probably the highlight of the unveiling. There was talk about social sharing features, Gaikai-enabled cloud streaming, Vita Remote Play, and the new touchpad-equipped DualShock 4 controller which all sounded like positive things, but weren't really going to sell systems on their own.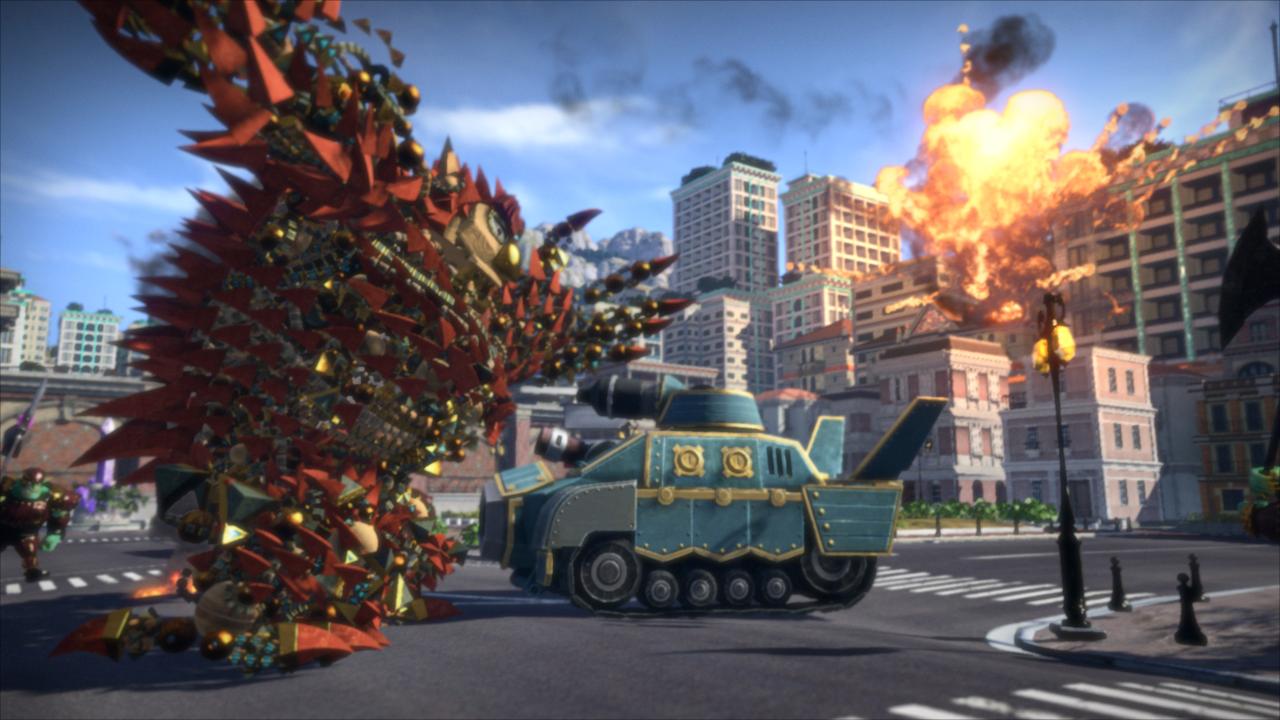 As for the games that were supposed to make people want to buy the system, that seemed to matter considerably less than Sony's assurance that it wasn't going to shoot itself in the foot this time.
The first game PS4 game given the spotlight was the cartoonish action platformer Knack, which showcased the PS4's ability to have a Michael Bay's Transformers-like level of random geometry flying around the screen but not a lot else.
It was followed by the latest installment of Guerilla's middle-of-the-road shooter series, Killzone: Shadow Fall. Beyond that, there were segments devoted to Driveclub and a truly head-scratching Infamous: Second Son reveal that was more memorable for its unexpected criticism of the police surveillance state than the game itself.
"In 1999, I took part in a political rally and got tear-gassed by the cops," Sucker Punch's Nate Fox said to the crowd. "Up until then I had always thought the police were there to protect me, protect the people that I cared about. But on that day, they didn't."
Yeah, wooooo! Who's ready to pre-order some game consoles!?!?!?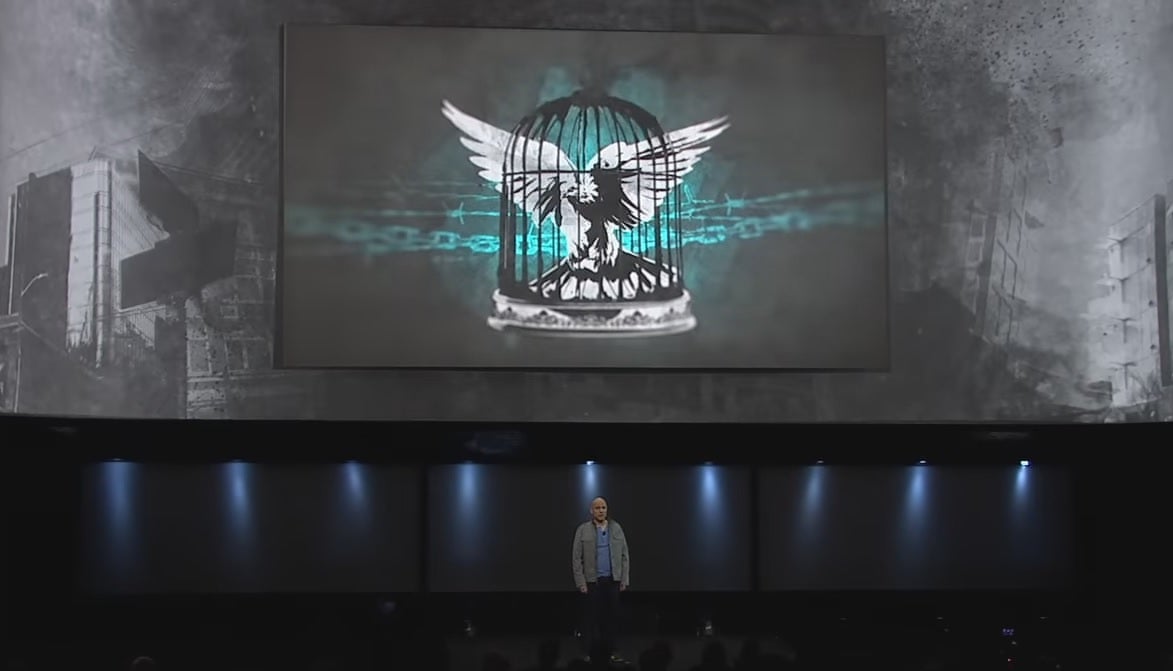 As bizarre as the Infamous: Second Son reveal felt, it was perhaps one-upped by the next segment of the show: indie developer Jonathan Blow taking roughly five minutes to show off his follow-up to Braid, the PS4 timed-exclusive The Witness.
Ten years ago, indies generally weren't given this kind of spotlight on the platform holder's key marketing events, and Sony's willingness to spotlight an indie game at an event where it had the gaming world watching intently was an encouraging sign that the company really would be taking a more developer-friendly stance this time around. When we did our staff roundtable reactions to the reveal, three out of four of us specifically keyed in on the significance of The Witness segment.
Sony's subsequent indie spotlight segment at E3 2013 and a well-liked team of developer liaisons overseen by Adam Boyes only further positioned the PS4 as an indie-friendly platform. That would be crucial considering Sony's own first-party AAA lineup for the PS4's early years usually topped out at "cromulent" (the above-mentioned games, The Order: 1886), interspersed with larger successes like 2014's The Last of Us Remastered and 2015's Bloodborne.
That's not to say Sony didn't give people games to look forward to. LittleBigPlanet creator Media Molecule showed off its latest user creativity-driven title, Dreams, which PS4 owners would be able to look forward to the entire generation. It didn't launch until 2020, the same year the PS5 debuted.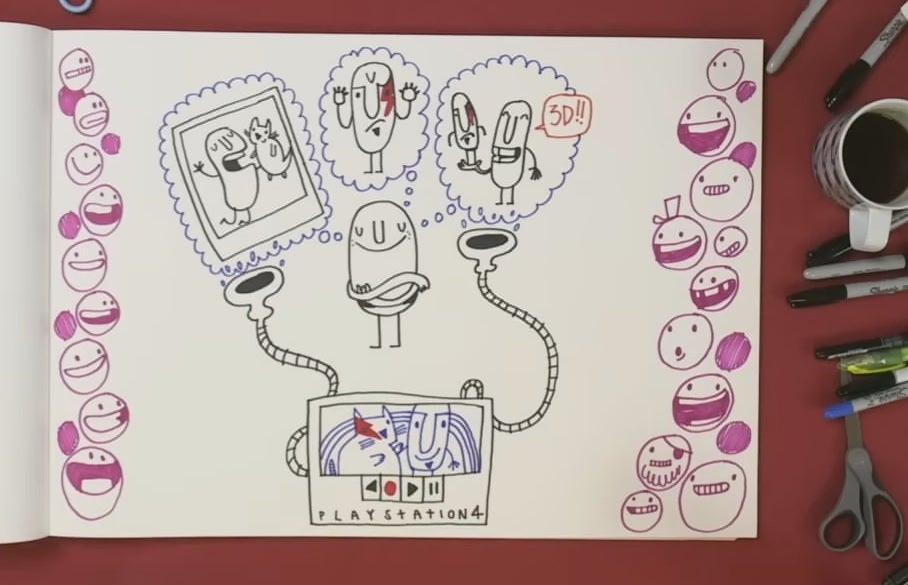 As for third-party games, much of the lineup for the PS4 was theoretical. Square Enix showed off a tech demo. Quantic Dream showed off a tech demo. Capcom showed off its new engine with Deep Down, a game that would be cancelled, retroactively turning the reveal into a tech demo.
And for the third-party games that actually were concrete enough to show, they were not only going to be multiplatform, but cross-generation. Sony's big finish for the PS4 reveal event was a trifecta of third-party titles – Watch Dogs, Diablo 3, and Destiny – all of which had been revealed before, were coming to Microsoft's next-gen system, and were being made for the PS3 and Xbox 360 as well.
There was a fair bit to criticize about the PS4 reveal, but it clearly got the job done. It sent the message that Sony learned from the errors of the PS3 era, and it rekindled excitement about a new generation of consoles at a time when interest had been waning.
Live service games are doomed!
Ok, so there wasn't really a narrative about live service games being doomed a decade ago, but you might have seen some recent hand-wringing over the plug being pulled on live service games like Apex Legends Mobile, Knockout City, Rumbleverse, CrossfireX, Dragon Quest: The Adventure of Dai- A Hero's Bond, and Crayta.
Yes, that's a lot of games going dark in short order, and some of them had only been up and running for half a year, suggesting there's very little patience for these kind of projects to find their footing. But I don't think the moment right now is some kind of unique turning point here in the evolution of live service games.
Take February of 2013, for example, when Sony Online Entertainment shut down Bullet Run after just six months, and EA's Mythic shut down the free-to-play MOBA Warhammer Online: Wrath of Heroes after less than a year in beta. Then you've got Zynga which announced its quarterly results, along with the news that it would be shutting down three of the six games it launched that same quarter, most notably CityVille 2. Oh, and CityVille 2 developer Zynga Baltimore was being shut down to boot.
If there's a takeaway here (for now or for then), it's that live service games are tough to get right, and they're so metrics-driven that it's often easier for companies to pull the plug than commit to a long, slow turnaround that may or may not even be possible.
I'm not entirely discounting the idea that it might be even harder to launch a live service game now considering how we have an abundance of games-as-a-habit treadmills designed to swallow free time, and success depends not just on building a new habit with your game but increasingly breaking (or coexisting with) your audience's other games-as-a-habit pursuits. But I'm also wary of overreacting to a brief concentration of bad news.
So yes, we just saw a handful of high-profile live service games go down, but that's a drop in the bucket to the much larger number of live service games that are alive and thriving on a variety of platforms. Live service games aren't an easy field to break into, but I'm not sure there are many easy fields to break into anywhere in games at this point.
What Else Happened in February of 2023
● Final Fantasy 14: A Realm Reborn entered its open beta, the first step on a road to redemption that would turn Final Fantasy 14 from a cautionary tale to a widely celebrated and enduring subscription-based MMO thriving in the World of Warcraft era where MMO makers were pivoting hard to free-to-play models.
"I don't think there's a right or wrong for having a monthly subscription model or free-to-play model," Square Enix's Naoki Yoshida said at the time. "Games like The Old Republic and The Secret World, I don't say those games would've been more successful if they had been free-to-play, for example. The subscription model was unrelated to the success of the game."
● Kenji Eno, celebrated designer of horror games D, D2, and Enemy Zero, died of heart failure at the age of 42. While his work in horror is what he's most known for, he also embraced accessible gaming before it was common, creating the Saturn audio game Real Sound: Kaze no Regret to be playable entirely without video for visually impaired players.
● Ziff Davis acquired IGN from News Corp, along with IGN-owned sites GameSpy, UGO, and 1Up. A few weeks after the sale, IGN had a round of layoffs and shut down 1Up, GameSpy, and UGO.
● Two titans of storytelling who have no idea how to finish their stories collided on stage at DICE, as Half-Life 2: Episode 3 developer Gabe Newell and Lost series creator/Star Wars: The Rise of Skywalker director J.J. Abrams held a session during which they announced they would be making a movie out of either Portal or Half-Life.
In a shocking twist, the sticking points with the Portal/Half-Life movies weren't the endings so much as the beginnings. A decade later, there's been almost no movement on either, although 2021 saw reports that someone was finally writing a script for the Portal movie and the Half-Life film was still happening but very early in development. Good work everyone, we'll check back in February of 2033 to see if you've got anyone cast yet.
● It was a brutal month for retail as HMV's administrators Deloitte announced plans to shut down 66 stores, and then upped that to 103 stores a few weeks later. Deloitte was also handling the Blockbuster administration, and closed 164 stores in the UK, joining the 160 they closed the previous month.
GameStop had at least avoided bankruptcy, but it said it was planning to shut down 250 stores in 2013, continuing an effort to streamline its retail footprint that had begun two years prior. (That effort should not be confused with GameStop efforts to close stores in 2014, 2017, 2019, and 2020, the last of which also included store closings planned for 2021.)
● On the new release front, we had Crystal Dynamics rebooting Tomb Raider to wide acclaim, Platinum Games releasing Metal Gear Rising Revengeance to slightly less acclaim, and Gearbox launching Aliens Colonial Marines to the opposite of acclaim. Going by Metacritic, Aliens actually reviewed worse than Gearbox's Duke Nukem Forever which I guess is the sort of thing that can get you sued.
Good Call, Bad Call
GOOD CALL: Speaking of Metal Gear Rising Revengeance, it gets full credit for using the old "ripped from tomorrow's headlines" strategy by making the game's villain be a fascist American politician who wants to "make America great again."
BAD CALL: Minecraft studio Mojang told Reuters it had turned down numerous acquisition bids and wasn't looking to sell because independence was one of its core strengths.
The strength of independence would pale in comparison to the strength of $2.5 billion, and Microsoft would acquire the company the next year.
BAD CALL: Fresh off acquiring the Metro and Saints Row franchises out of the THQ bankruptcy, Koch Media CEO Klemens Kundratitz said, "We are not ambitious to be the next THQ." Koch eventually joined the next THQ in 2018 when it accepted a €121 million acquisition offer from THQ Nordic.
BAD CALL: In an article about Crytek setting up a US studio with the team behind defunct former THQ studio Vigil Games, we said up top that "another Darksiders title isn't in Crytek USA's future."
In one sense, that's true as Crytek USA shut down the next year without having made another Darksiders title. Then again, the Crytek USA team would quickly re-form as Gunfire Games, which went on to make a remaster of Darksiders 2 and the wholly original Darksiders 3. (And not that they ever said they wouldn't, but Gunfire also joined the next THQ by way of acquisition in 2019.)
BAD CALL: With its free-to-play debut Warface less than a year from launching, Crytek's Cevat Yerli said the company wanted to transition entirely to free-to-play games within five years.
This never really happened, as mobile titles like The Collectables and Fibble HD didn't catch on, planned free-to-play shooter Hunt: Showdown was converted to premium, and while Warface is still around, Crytek cut its ties to the game four years ago. These days Crytek is known more for its remasters of the Crysis series of shooters and VR games like The Climb, none of which are free-to-play.
BAD CALL: Ouya CEO Julie Uhrman hyped up future iterations of the microconsole, saying, "As it relates to iterating the console and refreshes, our strategy is very much similar to the mobile strategy. There will be a new Ouya every year. There will be an Ouya 2 and an Ouya 3." The closest they came to an Ouya 2 was a 2014 refresh of the original hardware that doubled the amount of internal storage of the system. Ouya as a hardware endeavor died when the company sold the software part of the business to Razer in 2015, and the peripheral-maker sunsetted the brand entirely in 2019.
BAD CALL?: With Valve's Steam Machine set-top box plans unveiled, Gabe Newell suggested the PC ecosystem was going to take over the living room in a keynote address at DICE, saying it's going to become a standard feature of televisions where users can run a game on a PC anywhere in their home, but stream it to their TVs for viewing. I mean, yes, it's certainly possible to stream PC games to the TV a few different ways, but I don't believe it's a primary use case for a whole lot of people, particularly not on Steam Machines, which didn't actually launch until 2015 and lost their listing on the Steam Store in 2018.
BETTER CALL: Newell also said there's a place for cloud gaming as a feature (for providing demos, as one example), but not so much as a core piece of the living room gaming experience. So far it seems like cloud streaming does indeed work best as an add-on, much as Microsoft has it positioned with Xbox Game Pass.
AWFUL CALL: Newell said there's not much difference between the way traditional applications create productivity (like Photoshop) from the way games do that, so Photoshop should be free-to-play, with Adobe getting a revenue share of the productivity that users create with the tool. And really, what developer doesn't love the idea of owing 30% of revenue to Valve for having a game on Steam, 5% to Epic for using Unreal Engine, and additional slivers for every tool they use to make the game?
Maybe Microsoft can get a few more cuts for games being made on Windows PCs with producers using Excel spreadsheets and writers jotting down barks in Word, communicating with each other through Teams, and sending emails with Outlook… Why make anything a flat fee when you can instead bleed people forever with revenue share? What a fantastic future chock full of digital landlords!
BAD CALL: Activision division head Eric Hirshberg said esports is "happening with us or without us."
Unfortunately for all involved, esports to date has not been happening, and it has not been happening with Activision Blizzard. The publisher's own esports efforts have been struggling, League of Legends is one of the bigger success stories around and its esports leagues were still losing money as of 2021, and the esports scene as a whole is not feeling so great.
Boy, it sure does seem like people with a vested interest in a certain future coming to pass will spend a lot of time telling us all how inevitable it is.
At the risk of pre-empting future 10 Years Ago This Month columns, let's remember back in 2015 when Unity CEO John Riccitiello promised VR would be "a staggering orgasm of the new" and said in ten years time, he would be doing that interview by hologram. (We appear to be a little behind pace for that one. For reference, our interview with Riccitiello last fall was conducted over Zoom.)
Or Google VP Phil Harrison saying that Stadia's unveiling in 2019 represented an "inevitable and one-way shift" away from consoles and into the cloud. (Stadia's rapid demise suggests whatever shift might be happening is quite evitable indeed, or at least has room for two-way movement.)
And how about the people more recently saying blockchain gaming is inevitable? Advocates haven't changed their tune on that front quite as clearly as the VR, cloud-will-kill-consoles, and esports crowds have, but blockchain gaming hasn't been stuck in the trough of disillusionment for quite as long either. It also hasn't shown nearly as much actual utility as those other fields, so I'm not particularly worried about including it here.
It's not that these people are necessarily lying about their assessment of these fields. But in most cases, they're already invested in it, and they either need it to be inevitable to make their money back, or they backed it because they believed in its inevitability. In either case, a bit of skepticism is well justified. Just don't expect to win anyone over with it.
As Upton Sinclair (no relation) is often quoted as saying, "It is difficult to get a man to understand something, when his salary depends upon his not understanding it."