Update: WSJ confirms PS4 announcement for Feb 20
Sony is about to take the wraps off of its next-gen console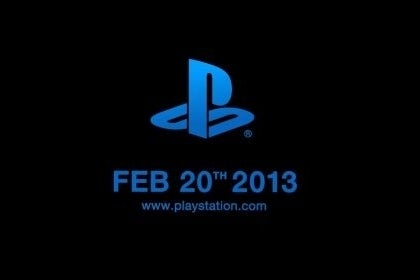 Update: While Sony has yet to say anything other than the announcement will concern the future of the PlayStation business, The Wall Street Journal is now reporting that it's confirmed through a source that the February 20 announcement will indeed be that of the next-gen PlayStation console.
Original story
Sony has released a teaser video for an upcoming announcement on February 20, 2013. The company launched the video with a tweet inviting players to "see the future" alongside a related website with a mailing list sign-up.
Many are speculating that the announcement could be for Sony's next PlayStation console. Wedbush Morgan analyst Michael Pachter noted that investors are being invited to the event.
"Sony is inviting investors and media to the Feb 20 event; that means console announcement. I'm genuinely excited, although I will be in [Los Angeles]," tweeted Pachter.
The February 20th date puts this announcement just prior to Sony Computer Entertainment America's Destination PlayStation, a media event taking place on February 25-28 in Scottsdale, Arizona. GamesIndustry International has contacted Sony for clarification around the announcement and will update you should we hear back.