GameStop is doomed, water is wet, and other observations | This Week in Business
Retailer's executive teams have understood the threat of digital distribution for decades and done their best to adapt; Ryan Cohen's chances of success are no better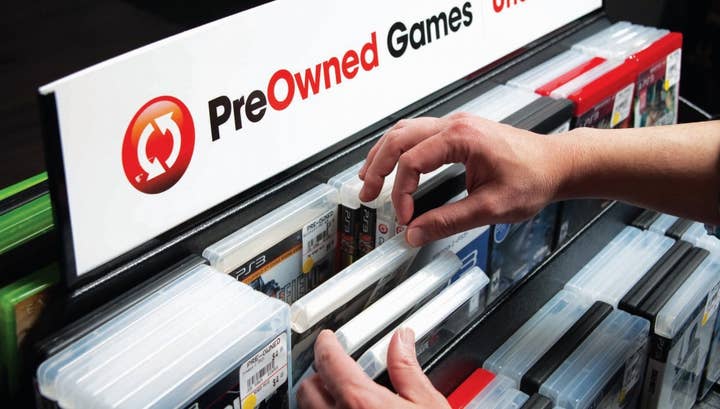 This Week in Business is our weekly recap column, a collection of stats and quotes from recent stories presented with a dash of opinion (sometimes more than a dash) and intended to shed light on various trends. Check back every Friday for a new entry.
GameStop is doomed.
That's the mood following the company's quarterly earnings report this week, which saw a net loss of $50.5 million and the termination of CEO Matt Furlong, the sixth man to head up the company since 2017.
But GameStop has been doomed for a very long time.
This is not a secret, and it is not a particularly insightful observation. The spectre of digital distribution has been haunting the brick-and-mortar physical game retailer for literal decades, and management has been trying to adapt to it just as long.
The spectre of digital distribution has been haunting the brick-and-mortar physical game retailer for literal decades
Future GameStop merger partner Electronics Boutique launched its downloadable PC game rental store EB1 in June of 2001. (It died about a year later.)
After EB and GameStop merged, the two companies launched their own digital distribution stores for PC games in 2006, just about a year after Valve first started selling third-party games on Steam, and long before Steam was the platform-dominating force we know today.
It made its aspirations to emulate Amazon clear for the first time when it launched a $100 million Digital Ventures push to make "a world class e-commerce and digital business platform that fortifies our leadership in the multi-channel videogame entertainment industry."
It got into Web games by acquiring Kongregate in 2010.
2011 saw it jump on board the social gaming bandwagon with a new storefront on Facebook and give digital distribution another crack with the acquisition of Stardock System's Impulse. It also acquired cloud gaming company Spawn Labs, which it planned to use for a game-slinging service that would enable remote play of Xbox 360 and PS3 games.
Nothing seemed to click though, and in 2013 the company planned a major pivot with the acquisition of Spring Mobile and Simply Mac, heralding the arrival of "GameStop 3.0.".
Management at the time was preparing for a life beyond gaming, wanting to follow in the footsteps of VF Corporation, a company that built its name selling lingerie under the name Vanity Fair, but found greater success after acquiring other clothing brands like Lee, Wrangler, JanSport, The North Face, and Vans. It was so successful in those other businesses that it actually sold the original Vanity Fair brand to Fruit of the Loom in 2007.
In 2015, it acquired licensed tat seller ThinkGeek, which made sense given the way the in-store collectibles section of GameStop stores had gone from "Where are we even supposed to put these McFarlane Toys figures?" to "We have dedicated an entire wall of the store to Funko Pops in the hopes that the gaze of hundreds of soulless beady eyes blanketing the store will make people feel like they were being watched and dissuade shoplifters." (That's just speculation but there's no other rational explanation.)
In 2016, GameStop actually launched its own publishing label GameTrust, partnering with Insomniac to release Song of the Deep and signing deals with Ready at Dawn, Frozenbyte, and Tequila Works as well.
QUOTE | "It's something we're very aware of. Critics have been talking about the death of retail, gosh, since the internet launched… It's a reality of some of the general dialogue out there that GameStop's going to slowly die, etc, but we had record breaking sales last fiscal year and we continue to outpace industry. When industry is down six percent, we're generating positive results. We keep innovating and we keep diversifying." – GameStop VP of internal development and diversification Mark Stanley, speaking to us in 2016 about GameTrust.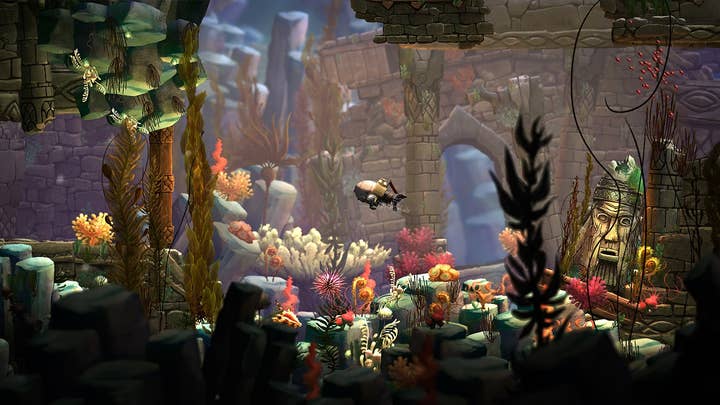 Much of GameStop's diversification push had been made under CEO J. Paul Raines, who took over in 2010. But health concerns forced him to step down late in 2017. He died several months later.
STAT | 0 – The number of times GameStop has reported annual profits since Raines left at the end of 2017.
STAT | 6 – The number of times GameStop posted annual profits during Raines' seven-year tenure, with 2012 being the only campaign to finsih in the red.
So what happened after Raines stepped down? Well, GameStop had officially given up on diversification within a year of Raines' departure (at the suggestion of shareholders, no less) and sold Spring Mobile to focus on games and collectibles. Simply Mac was sold in 2019.
Unsurprisingly, the core business still wasn't working, so they pivoted again, this time trying out a variety of new store concepts in the hopes of finding something that would click. They tried turning GameStops into community gathering places for playing or holding a tabletop gaming session, complete with snacks for sale and public bathrooms. They tried retro game stores. They tried pop culture-dedicated stores.
Nothing worked.
Then a few things happened: Chewy founder Ryan Cohen – one of those billionaire-with-a-rapid-fanbase types – bought about 10% of the company en route to an effective takeover, and users on the WallStreetBets Reddit forum noticed there were more short-sold shares of GameStop then there were actual shares to buy, setting the stock up for a short squeeze.
The ensuing meme stock rally madness was a windfall for executives like CEO George Sherman, who was shown the door after Cohen had taken control and received a $179 million golden parachute in the process.
Share price aside, GameStop still had a problem in that the business was fundamentally not working, and management was not articulating a coherent strategy to change that.
QUOTE | "The committee will continue to focus on identifying actions that can transform GameStop into a technology business and help create enduring value for stockholders." – GameStop announcing its big plan in March of 2021, as if the company hadn't just spent more than a decade pursuing various interpretations of that very vague goal.
QUOTE | "There has not been an articulated strategy. You can go on the GameStop website, try and find a strategy, there is no articulated strategy. Leadership says, 'Well we don't want to articulate our strategy because we don't want anyone to steal our strategy.'" - Former GameStop boardmember and former Nintendo of America president Reggis Fils-Aime explains why he left the retailer around the same time it announced the above "plan."
GameStop executives also decided not to take questions in quarterly investor conference calls, presumably because it had no answers for tough noodle-scratchers like, "In what possible reality is your stock worth this much?" and "How are you going to change the fact that you sell physical games and fewer people are buying physical games every year?"
Maybe I'm being unfair. They did after all try something new with the launch of an NFT Marketplace.
STAT | $1.3 million – As reported in its financial earnings this week, GameStop brought in $1.3 million from digital asset sales during its first fiscal quarter, down 98% year-over-year. The company also didn't actually make any profit from those sales, so maybe NFTs aren't going to right the ship after all.
Perhaps the smartest thing Cohen's version of GameStop did has absolutely nothing to do with its actual business at all.
STAT | $1.68 billion – The amount of money GameStop raised by selling new shares of common stock in the months following its meme stock rally.
GameStop is still sitting on $1 billion cash on hand, more than double what it was carrying before the meme stock rally and more than its losses over the past three years combined.
A well-managed decline could forestall GameStop's demise for some time, but I don't think anything is going to change the fate of a physical game retailer in a digitally distributed world.
GameStop management teams have understood the existential threat the company faces for a very long time
GameStop management teams have understood the existential threat the company faces for a very long time, and they have acted accordingly. Whether better execution on those adaptations might have changed things is anyone's guess.
But the idea that Cohen has a brilliant plan to fix everything in one fell swoop is simply not credible. He's essentially been in charge for years now, the fundamental business is still the same, and the user experience online or in-store is not meaningfully better. Bafflingly, it may actually be worse.
Neither Cohen nor his management team has articulated a strategy to change the company's fate beyond "ecommerce" and "technology," and the consumer shift to digital distribution that is killing the company has shown no indication of reversing itself.
GameStop is still doomed. And it really wouldn't bother me quite so much if it weren't for the people who are going to get hurt by Cohen's attempt to bring a reality distortion field to bear on the company.
Like when he decided to runback the GameStop meme stock playbook on Bed, Bath, & Beyond and sold his entire stake after a stock surge, which led to some pretty grim outcomes. The company's shares tanked, retail investors/Cohen fans who'd bought stock based on their faith in him lost that money, he was accused of running a pump-and-dump scheme, and Cohen's co-defendant in a suit over it took his own life.
Also Bed, Bath & Beyond went out of business, which is really the only awful thing in that story that was probably inevitable.
GameStop is almost certainly headed for the same fate, and that alone will be difficult enough for the people who work there, the people who like shopping there (surely they exist), and the people who rely on the store to sell their own products.
If Cohen has a plan to change that? Fantastic, let's hear it. I honestly hope it works.
But hope is not belief. And since I don't believe he has such a plan (certainly not one that would work), I also hope he doesn't make the misery of GameStop's decline any worse than it needs to be.
Crappy Activision Blizzard thing of the week
No, I'm not planning on this becoming a regular feature of the column. Yes, I could see it happening anyway.
QUOTE | "I wrote jokes lampooning generic corporate greed for a Venture Company loot goblin (very in character), but then leadership walked face first into the joke after string lock while my focus was getting the patch done. Because of their embarrassment, I'm no longer at Blizzard." – Former World of Warcraft game designer Eric Covington says he was fired earlier this year because he wrote lines for the game's loot goblin that could be seen as mocking Activision Blizzard management, like "No profit sharing!", "Let's call this a cost-of-living adjustment!", "Another record quarter for revenue!" and "Time to go back to the office!"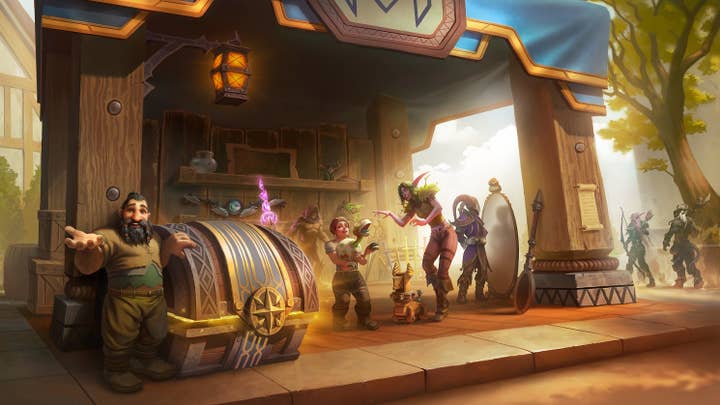 Gizmodo spoke with Covington about it, and confirmed with his termination documents that he got the axe for "misconduct and harm to the company by inserting inappropriate non-game related content into a game," even though the dialogue lines went through the usual approval process and the loot goblin and its lines were even featured in a tweet on the official World of Warcraft Twitter account.
I don't have any great insight here, but I do think it is very funny that Activision Blizzard executives would be so painfully thin-skinned despite years of putting up with so much worse, more pointed criticism, both from the outside world and from the more than 1,300 of their own workers who called on Bobby Kotick to step down.
The rest of the week in review
QUOTE | "Due to recent events, we have removed the 'NICKMERCS Operator' bundle from the Modern Warfare 2 and Warzone store. We are focused on celebrating Pride with our employees and community." - The Call of Duty Twitter account announces that it is pulling a Faze Clan content creator's promotional tie-in from the game after a tweet supporting an attack on pro-LGBTQ demonstrators at a Glendale, California school board meeting where they were voting on whether to recognize Pride month.
STAT | 12 - As of this writing, the number of companies featured in our round-up of Pride month initiatives across the industry. That's too low. We're updating this as we go, and we need more. Given the increasing demonization of trans people and intolerance for their right to exist in public, Pride month initiatives are more meaningful and more needed this year.
If your company has a Pride Month activity or celebration to add, let us know via news@gamesindustry.biz.
QUOTE | "We have been given carte blanche by our board and [the Saudi Arabia government's Public Investment Fund] to operate as a true games company consistent with the values and culture of our industry. That means the sorts of positions that people would expect us to take, and the way that we treat employees, and the priorities that we have as a games company being consistent with what people expect of a games company… Over time, people will see that this is in fact what we are doing." – In an interview with our EIC James Batchelor, Savvy Games Group CEO Brian Ward addresses a question about the numerous criticisms around human rights and equality in Saudi Arabia, which owns Savvy through the PIF.
STAT | 1 – The number of video game publishers I can think of off the top of my head whose chairman of the board has been determined by the US government to have had a person murdered. (Hint: It's Savvy).
STAT | 10 – By my count, the total number of newly announced games in the nearly two-hour-long Summer Game Fest.
STAT | $3,499 – The starting price of Apple's newly announced Vision Pro AR headset.
STAT | $20 million – How much the FTC fined Microsoft for violating the Children's Online Privacy Protection Act by getting personal information from kids under 13 without parental consent.
STAT | About 11-and-a-half years – How long Electronic Arts ran Star Wars: The Old Republic before confirming this week that it is working on a deal to move the MMORPG over to the old MMOs home Broadsword, which also runs Ultima Online and Dark Age of Camelot these days.
QUOTE | "These guidelines are bad for you and bad for Twitch, and we are removing them immediately." – Twitch, talking about new guidelines it just introduced this week that would limit streamers' ability to take sponsorships directly from companies. There was ample backlash and people threatening to leave the platform, which prompted the platform to backtrack on the changes.
STAT | $500 – How much EA is reportedly offering college football players to use their name and likeness in the upcoming EA Sports College Football game, with no royalties. The College Football Players Association is urging players to turn the deal down, calling it "a ridiculously low amount of money."
QUOTE | "This is defamatory and I won't stand for it." – Me, when Chris Dring referred to the futuristic racquetball title Cosmic Smash as a "forgotten" Dreamcast game in the headline of a story about Sega's new VR sequel to the game. In related news, be sure to keep an eye on next week's headlines where I will be finding some excuse to refer to Dr. Who as an obscure precursor to Bill & Ted's Excellent Adventure.
QUOTE | "I lost my original mentor today. Bob Rice was my 1st agent. He's the 1st agent to see a future in games. He got me my 1st pitch on a game (Battlestar Galactica) and changed my life. I'll remember his generosity, jokes, stories, and friendship. RIP Bob Rice. You were loved by many." – God of War and Borderlands composer Cris Velasco eulogizes Bob Rice, founder of Four Bars Intertainment, an agency that represented game composers for more than two decades before Rice's retirement in 2013.
QUOTE | "I believe that a larger and stronger Inverse will provide greater opportunities both editorially and from a revenue perspective." – Bustle Digital Group's Bryan Goldberg last September, explaining why the company was shutting down Input and folding some of the tech site's staff over into the gaming and entertainment site Inverse. This week BDG laid off about 25% of Inverse staff.