Final Fantasy 7 Rebirth, new Prince of Persia bookend Summer Game Fest
Sonic Superstars and John Carpenter's Toxic Commando among new games revealed during showcase event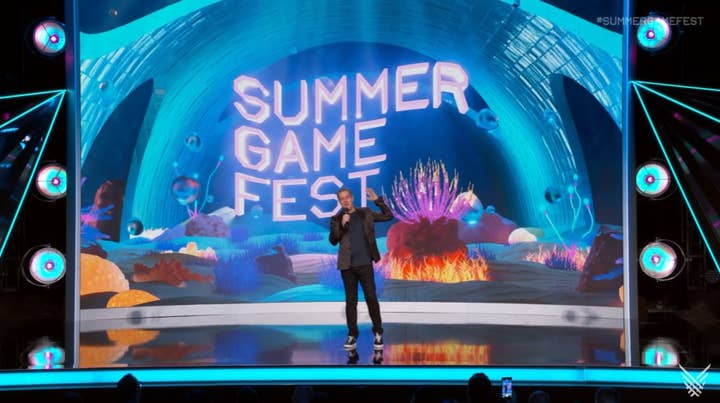 Today's Summer Game Fest packed a lot of games into its nearly two-hour running time, but little in the way of brand new releases.
The show began and ended with perhaps its biggest new reveals.
After a short welcome from host Geoff Keighley, the show began with a look at Ubisoft's Prince of Persia: The Lost Crown, a new action platformer with 2D gameplay that comes out January 18, 2024.
The big finale was a trailer for Final Fantasy 7 Rebirth, launching early next year "on two discs." Square Enix also used the show to announce the mobile game Final Fantasy 7 Evercrisis, with registration for a closed beta test opening today.
In between, Sega showed off Sonic Superstars, a new Sonic the Hedgehog with 2D gameplay and multiplayer coming this fall, and Bandai Namco debuted Sand Land, a collaboration with celebrated manga creator Akira Toriyama.
Saber Interactive and Focus Home Interactive debuted John Carpenter's Toxic Commando, a zombie shooter created in cooperation with the famed horror filmmaker and set for release next year.
Gimli looks to have a starring role in Lord of the Rings: Return to Moria, a game built around exploring the fantasy novels' most famous mines with crafting and building elements.
Star Trek: Infinite from Nimble Giant and Paradox Interactive was also announced, but with little in the way of details other than that it will appears to be set in The Next Generation era with Captain Picard, the Borg, Klingons, Romulans, and Cardassians represented in the key art. A full reveal is set for June 16.
New indie games given the spotlight included Yes Your Grace: Snowfall, a follow up to Brave at Night's 2020 pixel art RPG, and Sand Door Studio's time loop game Lysfanga: The Time Shift Warrior for PC.
And while it's not a new game, Capcom revealed that it will be running an Exoprimal-Street Fighter 6 crossover this fall featuring robotic versions of Ryu and Guile in the dinosaur hunting game that comes out in July.
Keighley's events often feature cameos from the world of Film, so it was not entirely surprising when Nicolas Cage made an appearance to plug his upcoming addition to Dead By Daylight. The cast of Netflix's The Witcher series recorded a message to run before a trailer for the show's third season, while Will Arnott did the same for a clip from the upcoming Twisted Metal series, which debuts on Peacock July 27.
The show also featured extended new looks at Mortal Kombat 1, Spider-Man 2 (now set for October 20) and Alan Wake 2, which comes out October 17.
Other games featured at Summer Game Fest
Call of Duty: Modern Warfare 2 Warzone Season 4
Like a Dragon Gaiden: The Man Who Erased His Name
Honkai Star Rail (PS5 version coming in Q4)
Lies of P (September 19, demo now available)
Crash Team Rumble
Immortals of Aveum
Warhammer 40,000: Space Marine 2 (winter)
Baldur's Gate 3 (August 31)
Witchfire (September 20 Early Access launch)
Path of Exile 2
Remnant 2
Smilegate's Crossfire Sierra Squad VR game
Throne and Liberty from NCsoft and Amazon
Nexon's Warhaven
Party Animals (September 20)
Palworld (delayed to January)
Black Desert Online: Land of the Morning Light (June 14)
Banishers: Ghosts of New Eden (Late 2023)
Under the Waves (August 29)
Faefarm (September 8 on PC as well as Switch)
Marvel Snap Conquest mode
Fortnite: Wilds Chapter 4 Season 3 (featuring Transformers)
King Arthur: Legends Rise
Wayfinder (Summer)
Stellaris Nexis
Space Trash Scavenger