GameStop's concept stores: A "laboratory," not a Hail Mary
In Tulsa, Oklahoma, the gaming retailer is taking its time trialing new, interactive store experiences focused on the local community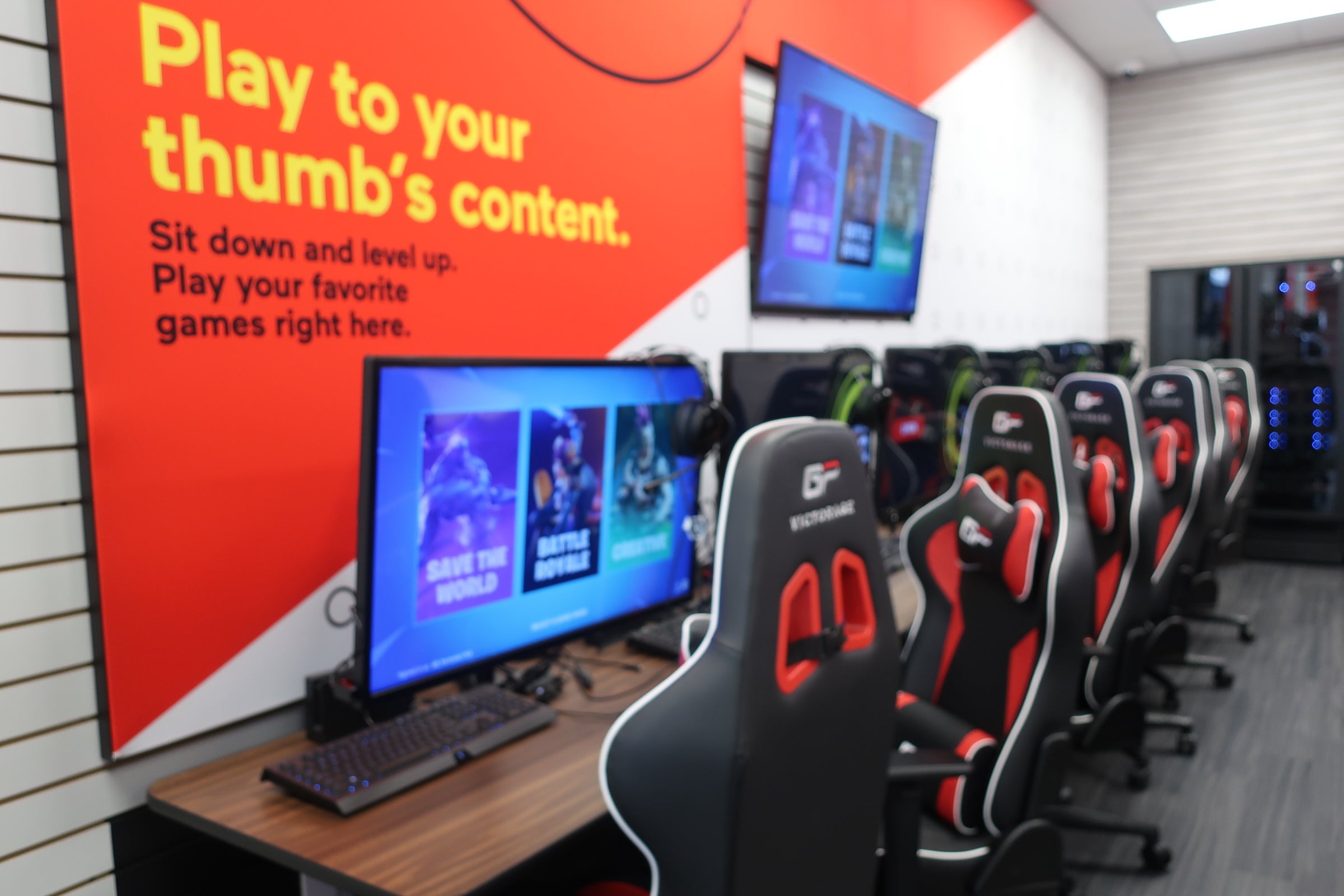 Friday, February 21 is (according to those working there) a fairly typical Friday night in Tulsa, Oklahoma GameStop store number 3430. Meaning the store is loud, bustling, and packed with people playing games.
That's because that particular store is one of GameStop's 12 new concept stores, launched in the fall of last year across Tulsa and a few surrounding cities. 3430, specifically, is an example of GameStop's social concept store, the largest of the four new store types.
Gone are most of the crowded shelves packed with games, the busy posters and signage, and the walls and kiosks overflowing with collectibles. Though games, accessories, and toys are still present, they are no longer the main focus of the store. Instead, around half of the room is taken up by communal and interactive spaces, including a large table and chairs for tabletop gaming in the front (which that night hosted an ongoing game of Dungeons & Dragons), two couches and TVs for co-op gaming on either side wall, and a wide space in the back fitting a total of 36 gaming stations with large monitors and sleek gaming chairs at each spot.
I visited this and three other concept stores (themed around retro games, pop culture, and a smaller version of the social store) at the invitation of GameStop last week, with my first stop occurring the evening of a regular 'Fortnite Friday' event at the larger social concept store. That night, the gaming stations in the back were almost entirely full with a wide age range of players, most of whom were participating in the event (though others were demoing titles such as Pokémon and Super Mario Maker 2). The Fortnite players had been entered into a raffle and could also rack up points by performing well in their respective matches in order to win V-bucks at the end of the night.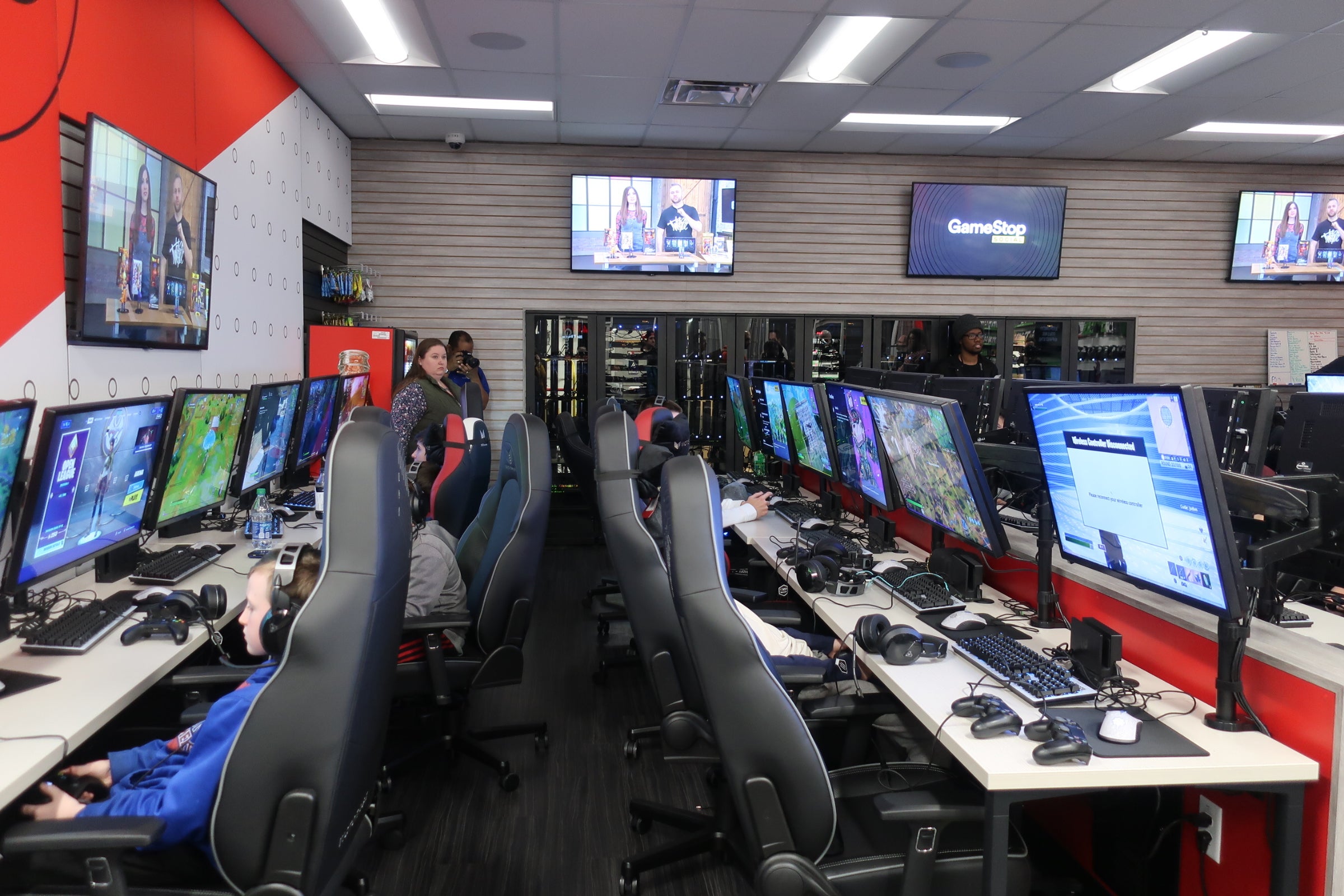 Though the social concept store is unique in its size, much of what I saw there would be repeated across the other concept stores I'd visit over the weekend. Common across all the concepts is a focus on interactive experiences over product, which GameStop head of innovation Zach Shor tells me is part of a strategy to reduce unnecessary clutter and underperforming SKUs. "80% of the SKUs [of a traditional GameStop], 50% of the facing," he says several times over the weekend, describing it as an "Apple Store mentality" to what the consumer sees and adding that, "frankly, the other 20% of the SKUs weren't generating a lot for us."
All that extra space makes room for couch co-op (every concept store has at least one station), the community table (in most stores), and the gaming stations (which differ in number and type from store-to-store). Every station has all three major consoles plus PC connected to it, with a variety of popular, recent titles for them to try. The first 15 minutes of play is free (for those who just want to demo a game before buying it), and then customers can pay by the hour to play for longer. There are alternative buy-in options as well, for those who want day-long or week-long passes, event packages (like birthday parties), or for tournaments.
Every customer who wants to play needs a PowerUp Rewards membership (the free tier is fine), and can either log into games such as Fortnite on store accounts, or with their personal accounts (for which data is wiped at the end of every day). Store associates have to set customers up with games, though, and Shor tells me they are trained to check IDs for games against ESRB ratings to ensure children aren't just wandering in and playing M-rated titles.
Oh, and there are bathrooms in every store now. Because there are also snacks and drinks (think fruit snacks and Monster Energy) for sale.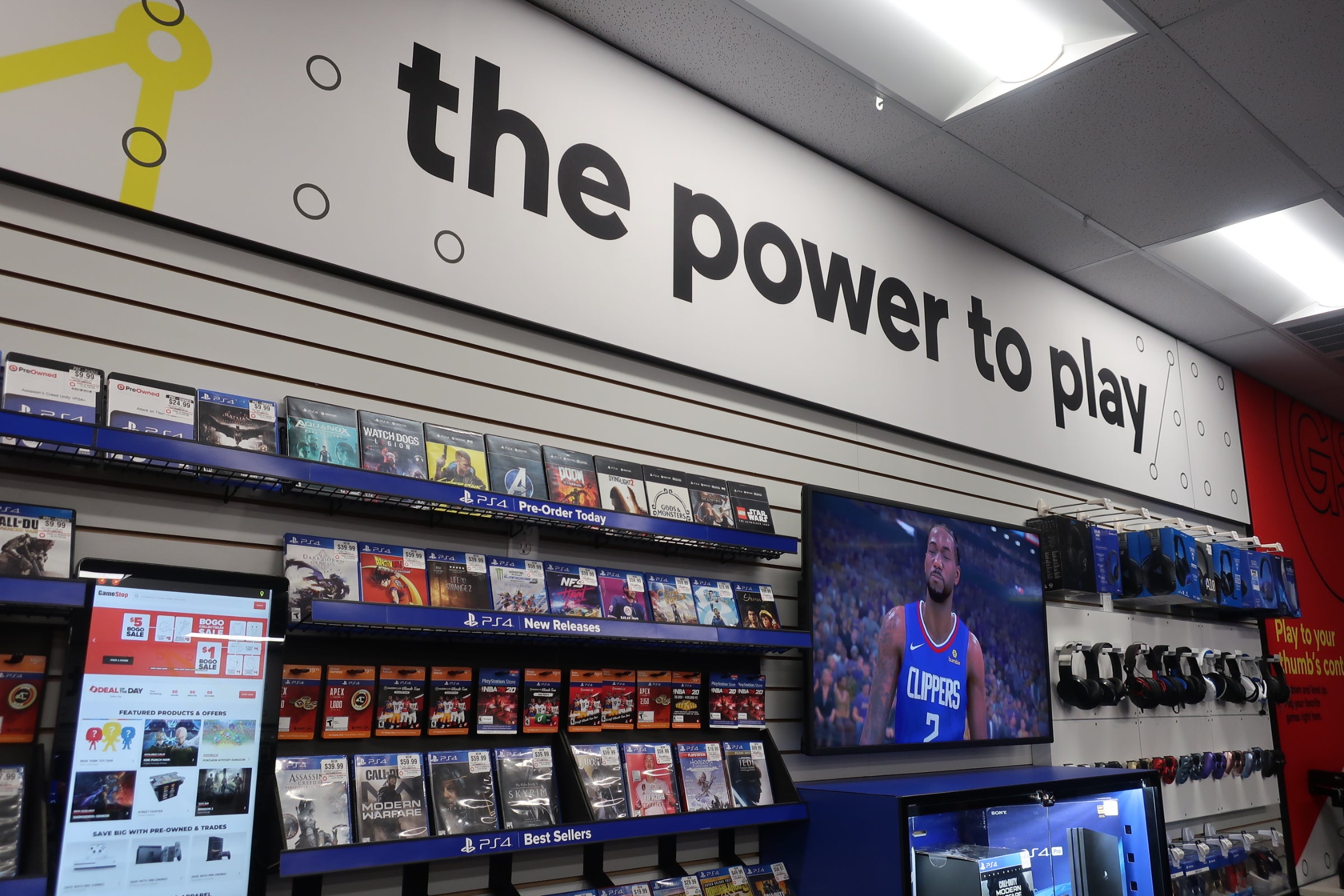 Taking everyone to church
The social concept is just one of what GameStop leadership calls the company's "laboratories," where it's conducting "experiments" to determine how it can get more customers in the door. It's a philosophy that chief customer officer Frank Hamlin wishes the company had tried long ago: specifically about six years ago, when he first suggested the experiment's fundamentals.
Hamlin describes himself as a "suit" and "not a core gamer" who at that time thought of gamers as the stereotype: hidden in a basement, eating Cheetos, never interacting with others. But while working at GameStop in 2014, he attended E3 and changed his tune entirely when he saw the social, friendly, passionate communities of gaming fans interacting with one another just as enthusiastically as fans of music or sports or any other entertainment medium.
"I came back [from E3] in 2014 and went to the then-regime and I said, 'We are missing out on an enormous opportunity,'" Hamlin says. "And I said, and I use this incredibly politically incorrectly, 'If E3 is the Vatican, why is GameStop not the local church?' I pitched the ability to do what we ended up doing now starting back in 2014, which is to do a real deep dive into understanding who our customers are, what customers we are not acquiring, and what is a retail experience from GameStop that truly embraces the modern gamer."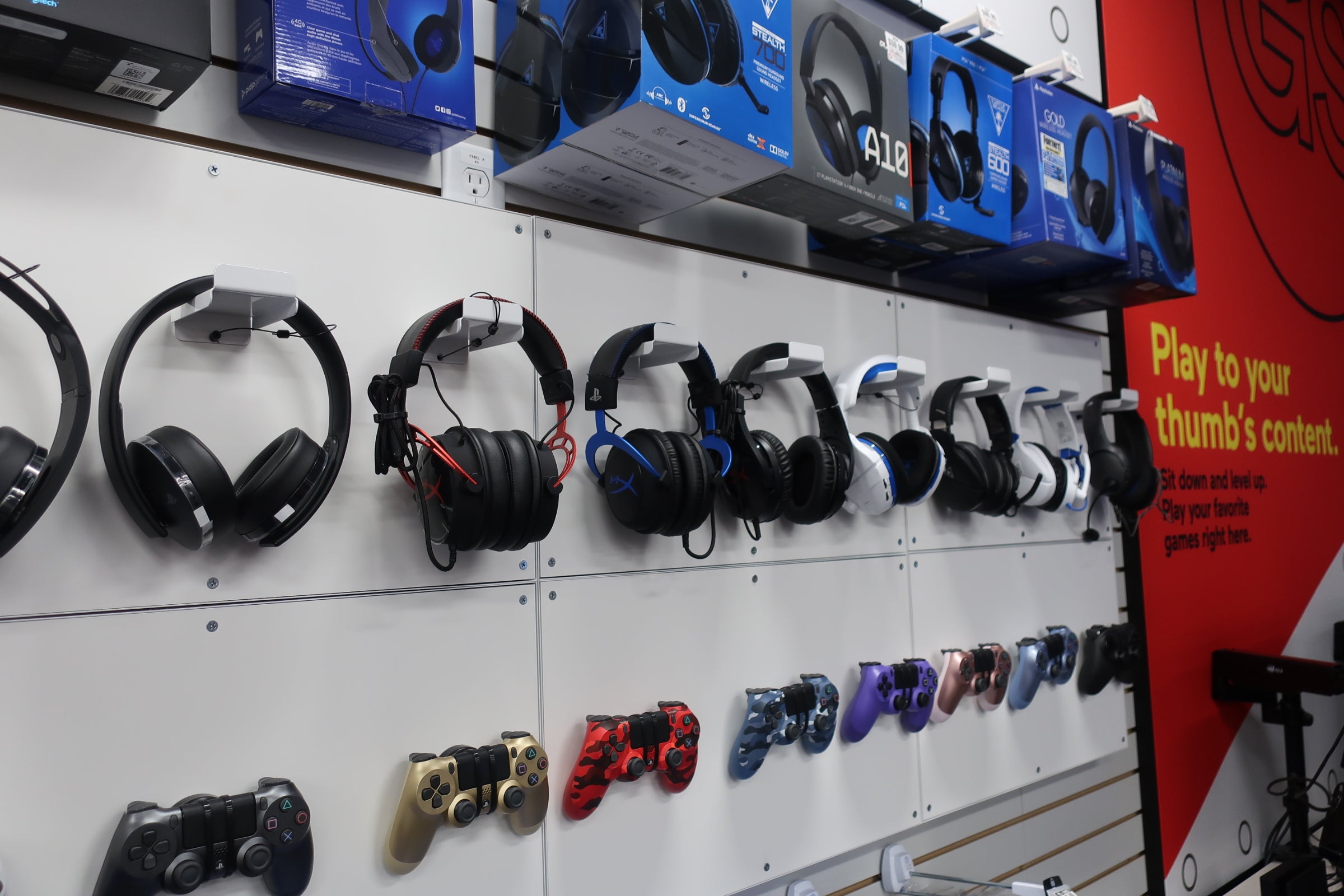 But unfortunately for Hamlin (and possibly GameStop), his strategy was rejected at the time. Instead, GameStop took on a diversification strategy, one Hamlin says he was "not personally thrilled with."
"I believe there is a latent, innate human need based on what you see at E3 or ComicCon or PAX, where people want to consort in real life with other people that are [gaming]"

Frank Hamlin
"We're in a very cyclical, seasonal business, but digital game distribution hurts our traffic," he says. "Digitization has effectively changed the world in two very meaningful ways. Number one, sitting on your couch downloading a game has become a better, more convenient experience...When you do that, that's a trip you're not making to our store, which is a problem we need to solve. The second thing that happens is with multiplayer. Grand Theft Auto is still a top 20 seller every year because of multiplayer. These games' staying power is a lot longer than it used to be when it was a single-player, completionist pursuit."
Hamlin departed in 2016, and he spent a few years after that working in men's apparel. But (as he tells it), he got a call in 2018 from then-interim CEO Dan DeMatteo, saying that they needed Hamlin back -- GameStop was ready to refocus on the core of its business. Hamlin was adamant that if he came back, GameStop would have to double down on his plan to test how consumers reacted to new, different experiences at GameStops. DeMatteo agreed. And GameStop's Tulsa "laboratory" was born.
"The experiment in Tulsa is: Do people want to experience in real life the same thing that they're experiencing virtually from a cultural and social standpoint with modern gaming?" Hamlin says. "I believe that they do. I believe there is a latent, innate human need based on what you see at E3 or ComicCon or PAX, where people want to consort in real life with other people that are doing this, and that is a much more powerful notion than doing it over your headset. That's a great way to do it to fill the gaps in between when you're with people, but if you can have a local place that you can do this together on a regular basis that's within reach, it seems to me a very worthy experience."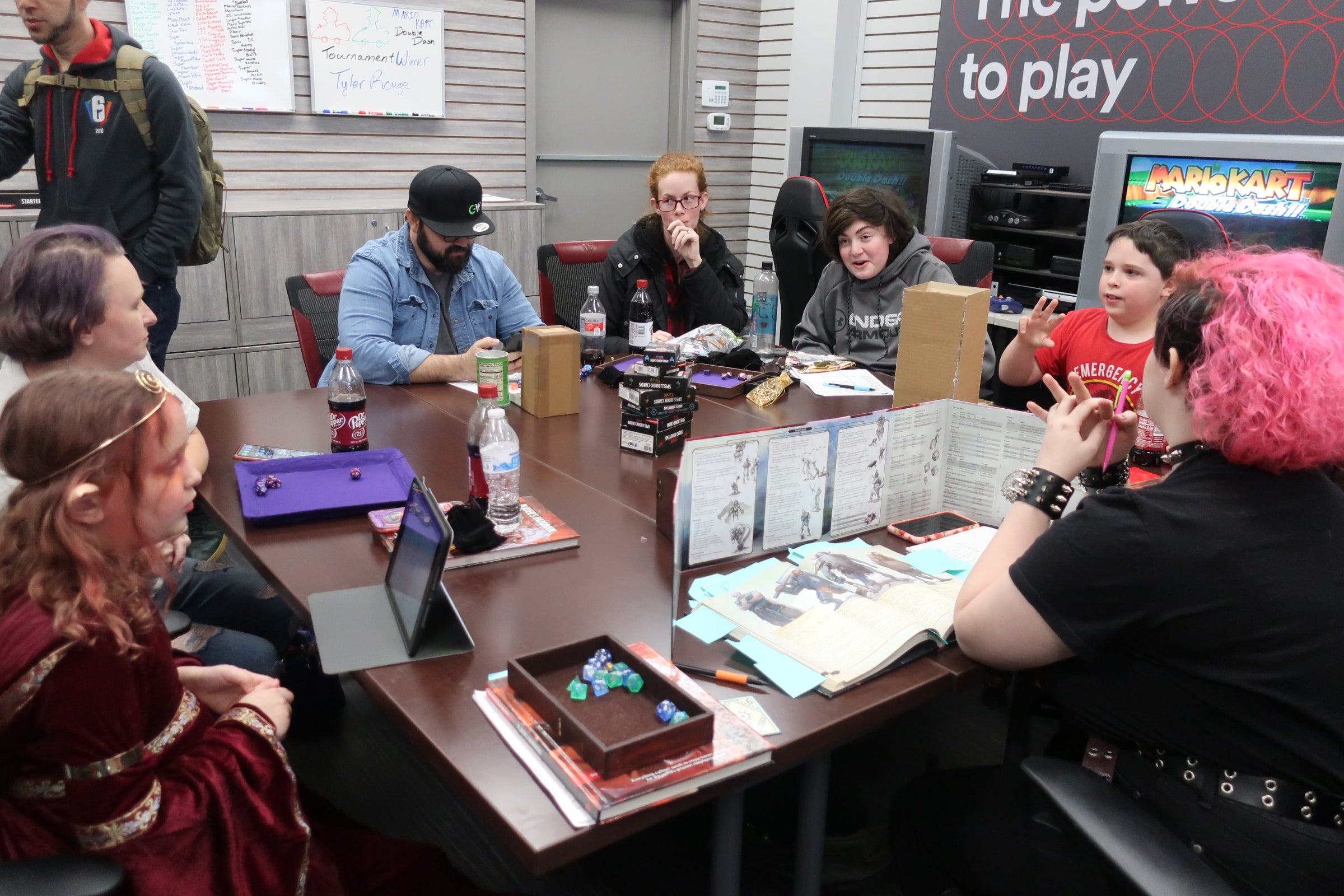 A YMCA for games
At a second concept store in the Tulsa area, we see much of the same thing, but smaller. Not every GameStop location is quite as vast as the social store, and this one is pared down to 12 gaming stations, one co-op station, and (of course) another community table for tabletop gaming.
All stores, Shor tells me, currently host weekly Dungeons & Dragons (often more frequently), Fortnite Fridays, and several other regular events. Though the ones he lists are the staples, he emphasizes that stores can and do add other events that tailor to the interests of their local communities.
Tabletop gaming specifically is one that Shor says surprised the GameStop leadership with how popular it was once implemented. As a result, they've increased their in-store tabletop offerings at these locations, and have begun either scheduling current employees or hiring freelancers to serve as Dungeon Masters for a few hours every week.
"I don't think we're ever going to have the depth of a local hobby shop. I think people will come here, do a one-hour adventure in D&D, then they'll go get really ingrained in the culture at a hobby shop"

Zach Shor
Shor says the goal is for GameStop to become a "social and community gathering place," a plan that he acknowledges fits well with the test market of Tulsa, Oklahoma given the rural communities that surround the urban hub. Outside of Tulsa, he points out, internet isn't always reliable, so centers like internet cafes or get-togethers like LAN parties aren't always feasible for everyone. But if a nearby GameStop has the facilities, it can function like a YMCA community center for games.
"There are things like that where these new stores can really embrace the digital ecosystem rather than actively fight against it," he adds.
I ask both Shor and Hamlin if this is a strategy that will still work if they expand it to larger cities, ones with better, more consistent internet and existing community spaces for gaming such as board game or esports bars. Neither is concerned.
"It's the gateway drug theory," Shor responds. "I don't think we're ever going to have the depth of a really good, local hobby shop. I think people will come here, do a one-hour adventure in D&D, then they'll go buy their minis and paint them and get really ingrained in the culture at a hobby shop. I think there's a place for both of them to co-exist peacefully."
Hamlin adds, "My opinion is that the more people that are doing it, the more places, the better it is for all of us. It just hasn't permeated yet...Right now, the way people hang out with their buddies is on a headset in the comfort of their own homes. Do they want to do that on a regular basis in real life? That's the question. If they do, there's going to be a place for us, a place for the big arenas, all those things."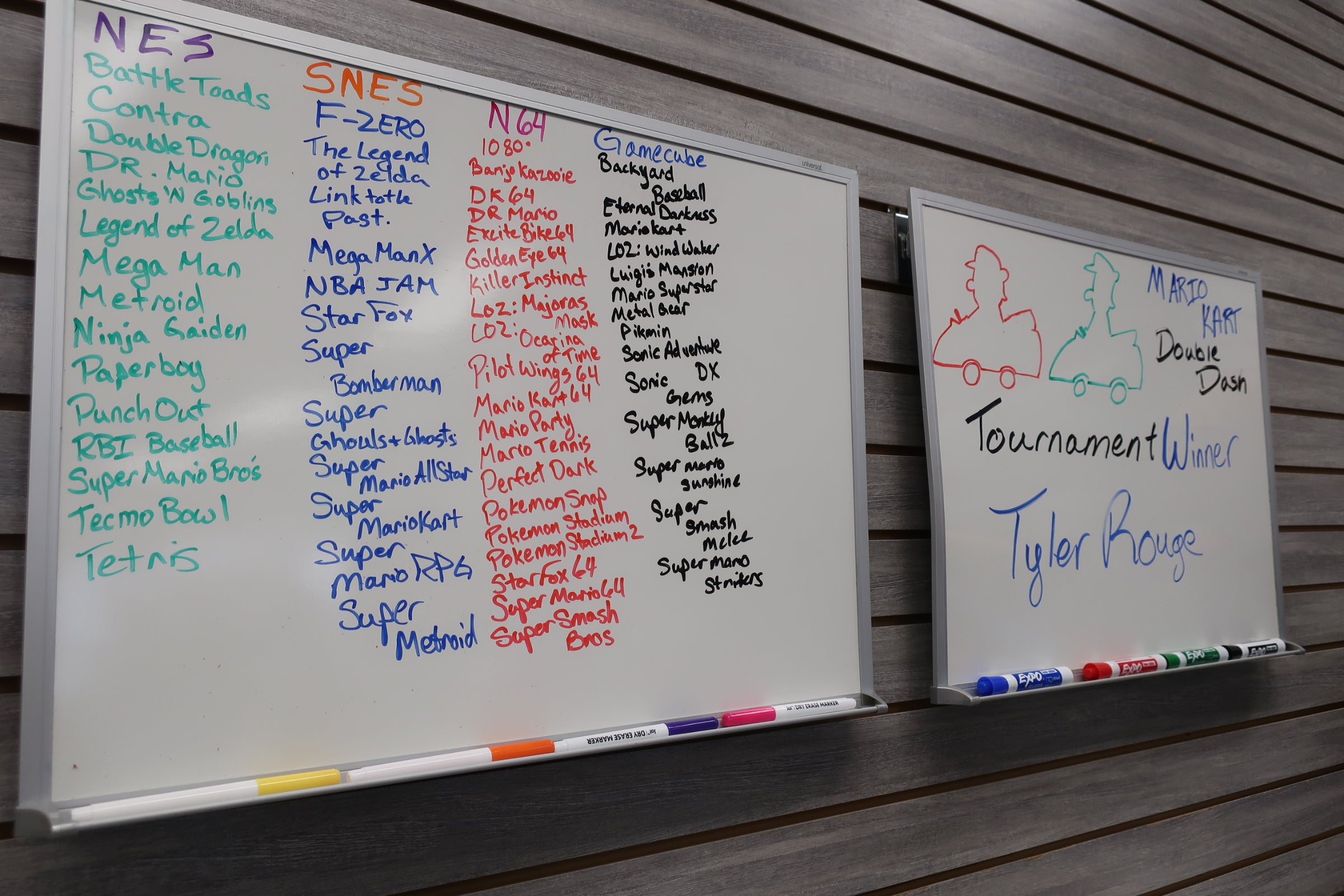 Becoming cruise directors
GameStop's experiment seems tailor-fit for a city like Tulsa, though Shor assures me they had come up with the basic plan before they settled on the location. Hamlin tells me that Tulsa was picked due to the need for a full market test (rather than an individual store), but also an isolated one to avoid cross-fertilization of customer bases and customer confusion, and to allow for broad-scale advertising. Tulsa, with no other major cities within more than an hour's drive, fit the bill, but so did several others. It ended up winning out thanks to its demographics serving as a good representation of GameStop traffic on the whole, involving fairly low capital to set up in, and being relatively close to the GameStop headquarters in Texas.
But not every one of the concept stores is set up in Tulsa. About an hour's drive away in Pryor Creek, Oklahoma, the company has established a retro concept store that was the most visually distinctive of all the stores I saw. For one, there's more product on the shelves, as the retro store still sells all the usual GameStop fare plus used games going back all the way to the Nintendo Entertainment System. And though the community table and co-op station haven't changed from the other stores, the back area that in other locations was devoted to modern gaming stations is instead packed with CRT TV sets connected to GameCubes and Nintendo 64s, alongside a few arcade machines.
"Transactions are always good, we always want transactions, but we're trying to get away from the 'transaction first' mentality"

Zach Shor
Here, and elsewhere, I talk to several store associates about their experiences with the changed stores -- a sensitive topic recently after a recent Polygon report where over a dozen employees reported high-pressure work environments, strict sales targets, and overbearing customer interaction scripts. It's worth noting that everyone I speak to is on the clock and (with the exception of one store visit) in a room with several of their high-level bosses, so if there were issues with the changeover, they aren't in the best position to share -- and I don't specifically mention the article to any of them.
That said, every employee I speak to has been working with GameStop since before the introduction of the concept stores, and all identify some common factors in how the concept stores have changed their day-to-day. All mention that they are encouraged to be out from behind the counter (facilitated by the new store design that puts the counter in the center), interacting with customers more often, and most say that while they still have sales target quotas, some of their goals have changed and are instead centered on encouraging customers to try games, play with those they had walked in with, or participate in events.
Two store leaders specifically seem happy with the level of freedom they have been given in event programming, with one telling me at length about how they had made a video for social media recently advertising Fortnite Friday, which had brought attendance from below 20 one week to nearly 30 the next.
"There are new things you're managing, new things you're selling, new things you're overseeing," Shor tells me when I ask about how the employee experience has changed. "But at the end of the day their job is the same as at any other GameStop: to make sure the guest's experience is as good as it can possibly be."
I press Shor on the Polygon report, asking if sales goals have been relaxed at all.
"Stores still have numbers they have to hit and KPIs that are really important. That's all I can say.
"But I hope you'll see the environment feels different. It feels more social, feels more fun. It's less transactional. Transactions are always good, we always want transactions, but we're trying to get away from the 'transaction first' mentality."
Hamlin is also unable to give specifics on if the Oklahoma concept stores might change the mentality for associates there or elsewhere.
"What the employees are creating here is a week-in, week-out beehive of activity," he says. "It's a different construct. It's like being more of a cruise director than a transactional person. They're becoming an expert guide on whatever gaming experience you want to have. Fundamental to this is the belief in the associate who is an expert working closely with a customer who is passionate about the same thing they are. Let's let that lead, shareholder value follows."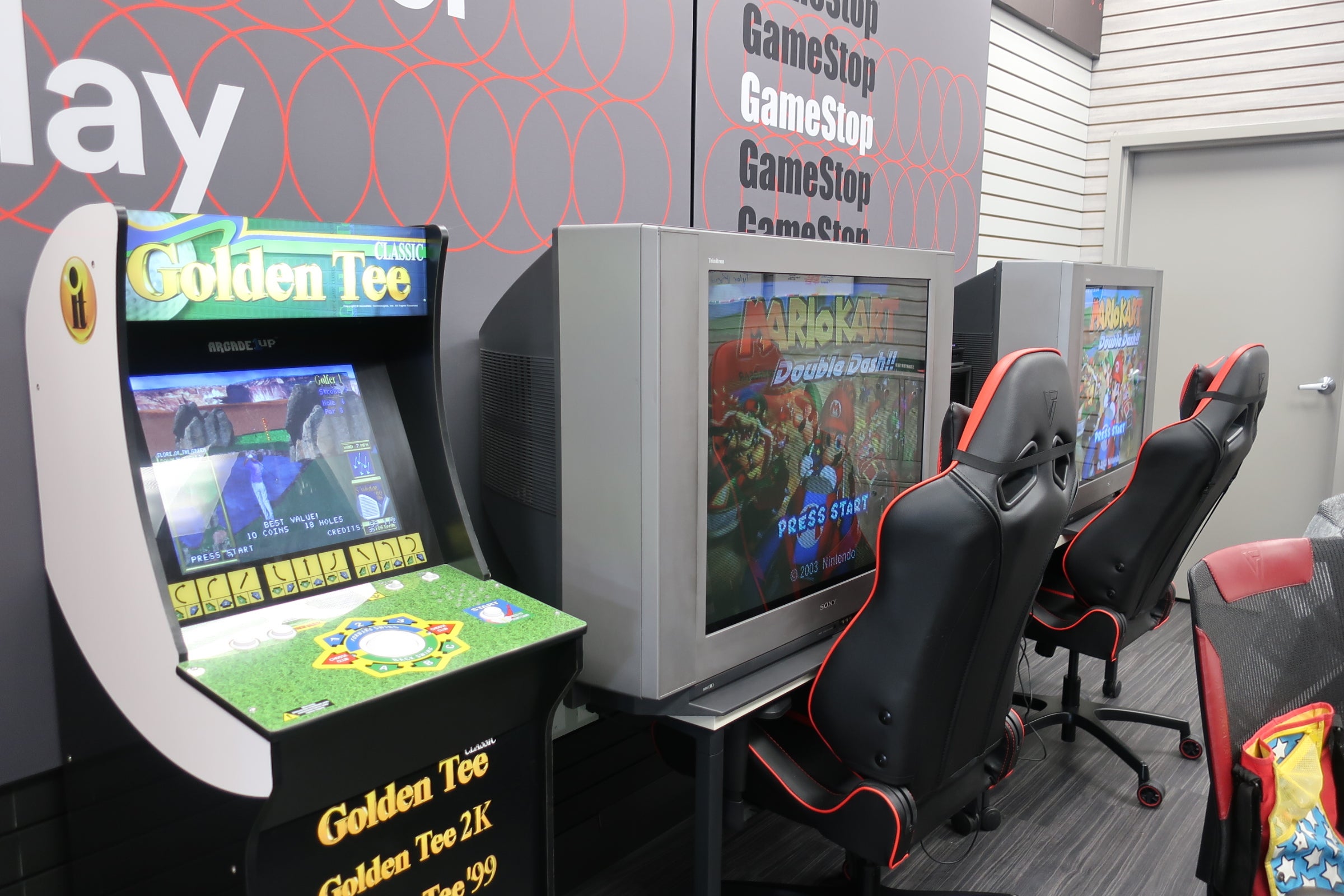 Evolving the Tulsa experiment
One last concept store I visit, located in a Tulsa mall, has less space than the others, and thus is missing the gaming stations. Though it has one couch for co-op play, its main focus is pop culture -- a seemingly unusual choice given the presence of a GameStop-owned ThinkGeek store just downstairs.
Both Shor and associates at the location tell me that GameStop has done some work to diversify its product between the pop culture location and the ThinkGeek so the two aren't cannibalizing one another. But Shor acknowledges that the pop culture location is likely the place that will undergo the most change over time, though he can't get into specifics on how.
"The kid's just been born, and everyone wants to know where it's going to college. We're just trying to see how it crawls, walks, and runs first"

Zach Shor
In fact, every single one of the store locations is poised to change considerably in the future. Shor and Hamlin emphasize with me multiple times how early in the "experiment" GameStop still is. The latest concept (the social store) launched just before Black Friday, none of the concept locations charged for gameplay until just a few weeks ago, and GameStop just began rolling out local marketing for the changed spaces in recent weeks.
"The kid's just been born, and everyone wants to know where it's going to college," Shor says, using a metaphor he attributes to Hamlin. "We're just trying to see how it crawls, walks, and runs first. And it's still crawling. It's still early."
In fact, the events I attend double as a grand opening of sorts, with Shor saying that the company has only just begun seriously measuring metrics to determine what changes will need to be made in the future. Included in those metrics are things like use of the gaming stations, whether or not people are both playing and buying (as opposed to just playing), what kinds of things prompt conversions from players to buyers, and what SKUs are the most productive to keep around.
That said, Shor already has some ideas of where the stores can improve. For example, he is happy with how associates are leading social presence for their stores, but wants GameStop to offer more formal support. The playable in-store game catalogs need to be expanded. There are still semi-regular technical issues. They aren't sure if they should carry prior-generation games and consoles in non-retro stores or not. They want to exhibit other systems, like the Switch Lite, mobile, and VR, but aren't entirely sure how to do it yet within the space.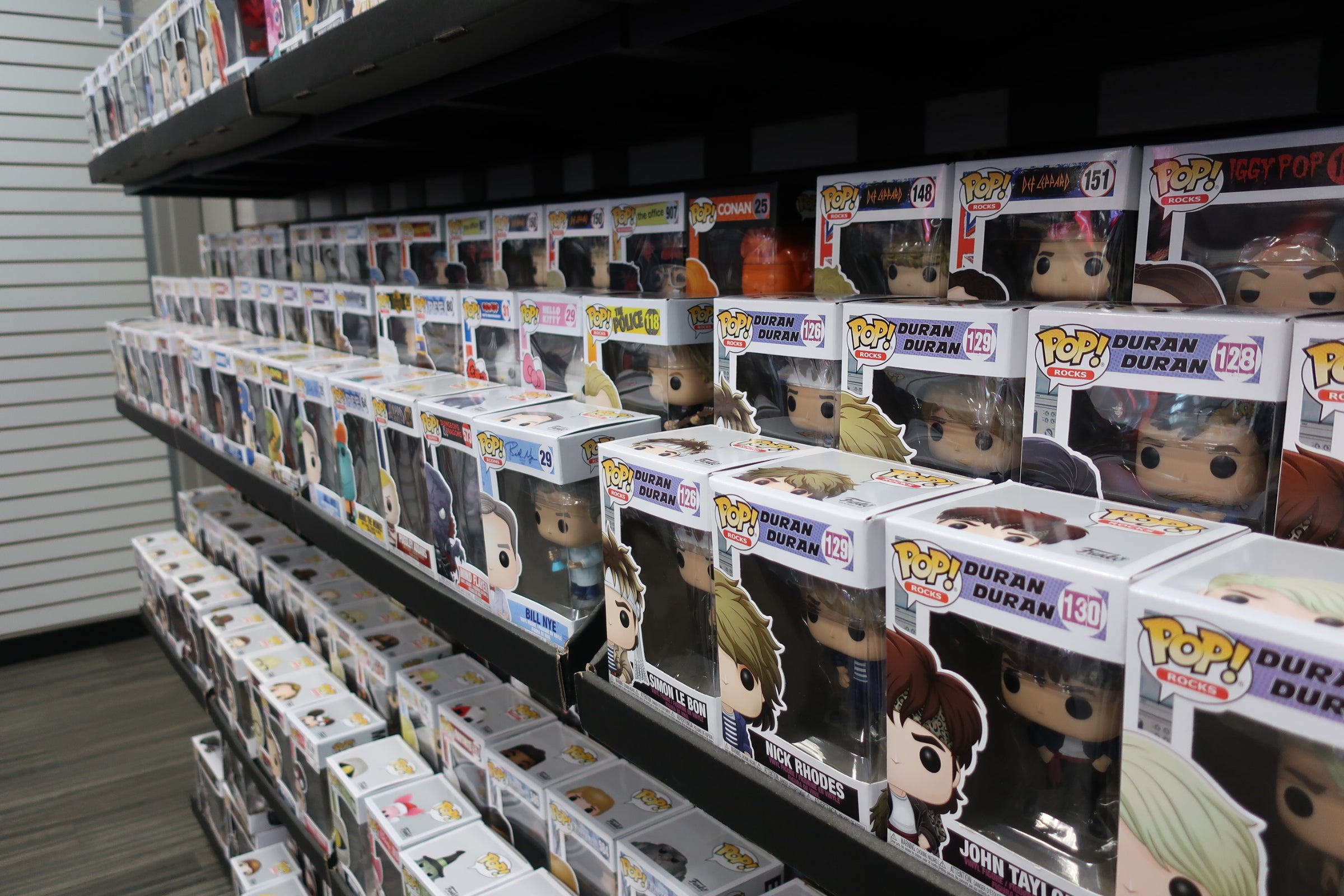 And there are broader, long-term questions, too. Hamlin says he has very few concerns about the new console generation and how everything from the size of the new consoles to the technical capabilities might change the concept stores. Rather, he thinks they'll fit perfectly into a strategy of letting customers try things before they buy them.
But what he does need to find out are what features of the stores drive the behavior GameStop wants to see in customers, and which ones the company ends up rolling out. Though Hamlin, Shor, and others describe the concept stores as effectively four large experiments, Hamlin clarifies later that it's really a lot of smaller experiments, and that GameStop may keep or scrap parts of different sizes ranging from entire concepts to small details.
"It can't be a Hail Mary. A Hail Mary is a notion of desperation. We're not in that situation"

Frank Hamlin
And that's not to mention what happens if they try to bring these stores into other cities, where the specific format and design of the Oklahoma concepts might not necessarily fit culturally, or even physically.
"These stores require heavy bandwidth," Hamlin says. "The evolution of the footprint is a constantly-evolving thing. If you move into the cultural hub of gaming, there are some stores in that footprint that just might not work. But we're 3,000 plus locations. So let's let that lease die off and pick another location because that format is better over here, and that's the way modern retail always works. You're on five, ten-year leases, and you may learn that different locations are more interesting for this kind of notion, so that's the way we go."
I tell Hamlin and Shor that what they're describing sounds to me like something a thriving business tools around with when it has freedom and capital to do so. But GameStop is openly struggling, with headlines from the last year and a half including a failed company sale, the closure of hundreds of stores nationally and internationally, and mass layoffs, among other troubles. Speaking to investors, GameStop CEO George Sherman has said he believes a turn is coming with the coming console cycle, but has also publicly appeared to be putting a lot of stock in its "Reboot" plan -- a plan in which these concept stores play a major part.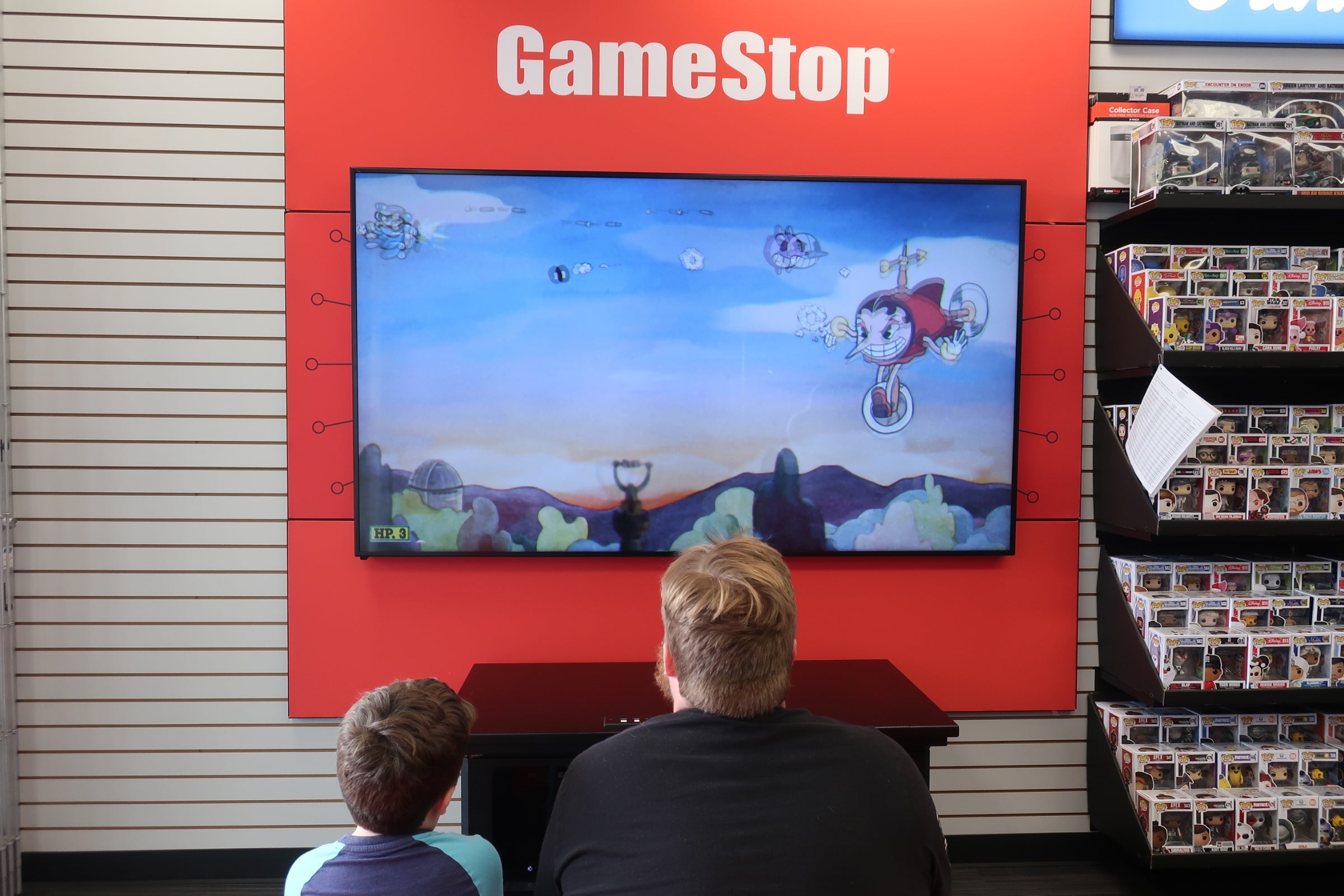 To an outsider, that sounds like the Tulsa experiment may be a bit of a Hail Mary play for the company. But Hamlin is adamant that's not the case, saying that while there's some sense of urgency, that urgency isn't connected to a failing company pinning its last hopes on a desperate business turn.
"The risk of [rushing this out] is that the business would have the hubris to think it knows what's going to work, and we would just plow into it and that would be a massive mistake"

Frank Hamlin
"The urgency of it is finding additional ways forward to generate traffic to our stores," he says. "Then the unanswered question is: Does having that traffic in our stores generate the lift in revenue that we would expect relative to the investment? It's a classic return-on-investment business question. I think the rumors of our demise are greatly over-exaggerated. And certainly with the onslaught of the new consoles there's urgency where we believe that we need to transform the way we interact with the gaming community. There are myriad notions of how you could innovate and continue to invest over time, but the metaphor is a biological metaphor. We're planting seeds here, we're seeing what orchards bear fruit and to what degree to they bear fruit, and let's let them grow and bear the appropriate fruit.
"It can't be a Hail Mary. A Hail Mary is a notion of desperation. We're not in that situation. We just don't believe we're in that situation."
That means that as bustling and different and filled with potential as GameStop's concept stores might be, the company is taking its time. It isn't saying how long the rest of the country or world will have to wait to begin to see these ideas take root elsewhere, or even what ideas, if any, it thinks will be adaptable outside of Oklahoma.
"We're truly approaching this from a customer-centric standpoint and not a business one," Hamlin concludes. "The risk of [rushing this out] is that the business would have the hubris to think it knows what's going to work, and we would just plow into it and that would be a massive mistake. That would speed our demise."
Disclosure: GameStop provided for our accommodations on this trip.