When the money flows like water | This Week in Business
EA's billion-dollar acquisitions are just the latest indication of an abnormal amount of enthusiasm for investment in gaming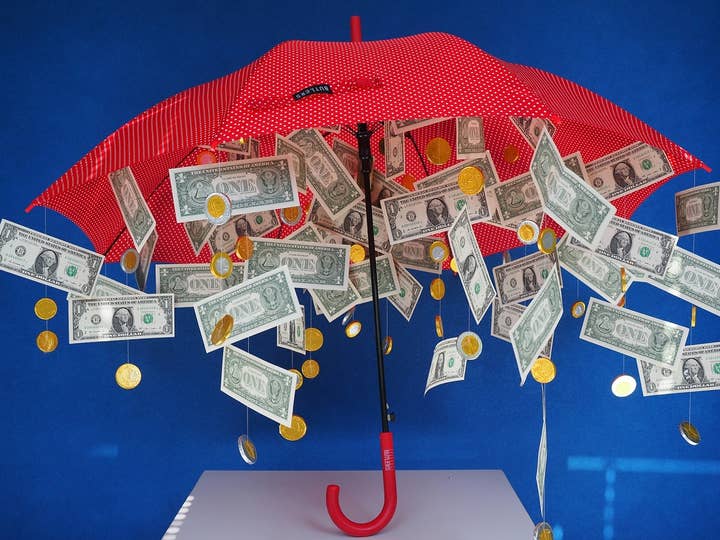 This Week in Business is our weekly recap column, a collection of stats and quotes from recent stories presented with a dash of opinion and intended to shed light on various trends. Check back every Friday for a new entry.
The games industry is going through a bit of a golden era right now, as you might have noticed.
Business is booming. Heck, business was booming, and then a global pandemic happened, and business got, um... boomier?
Mobile has been exploding for years, and while some markets are running out of room to grow, there are still plenty of (very populous) regions where prior constraints -- smartphone penetration, payment processing standards, broadband infrastructure -- are easing every day.
STAT | 113% - KPMG's expected growth for India's mostly mobile gaming market by 2025.
The growth in India and other emerging markets will inspire better localizations, more locals getting into game development, and more investment from the rest of the industry, like Kwalee's £20 million investment in building out a Bangalore outpost.
In the console space, we have three major hardware makers each taking a different approach to the market and finding success with it. While there are questions about whether Xbox can fulfill its ambitions for Game Pass, whether Sony's traditional blockbuster-driven approach will be as successful this generation as last, and what Nintendo could do as a follow up to the Switch, there's optimism around each and we are at least getting a brief reprieve from predictions of the imminent demise of consoles.
And over on PC, Microsoft is about to unleash Windows 11, which, uh, let me look here...
QUOTE | "Windows 11 is made for gaming" - Microsoft announces that its upcoming OS will bring over the Xbox Series X|S Auto HDR feature for more than 1,000 PC games and use a DirectStorage API to reduce load times. It will also run Android apps, though that detail was in a segment focused more on Tik Tok than games.
Hrm. Well, I don't want to underestimate the impact of mobile games getting yet another use case that people may find appealing, but the good news is PC is doing just fine even without Windows 11, and should continue to do so.
The business of gaming was plenty healthy before the pandemic, and the last year has only made it more so. You can see it in the publicly traded companies' quarterly earnings reports, the rash of acquisitions with conspicuously frothy valuations, and the fact that those elevated price tags have done little to slow down the pace of pick-ups.
STAT | $1.4 billion - The amount of money EA is paying to acquire Playdemic in an all-cash deal announced on Wednesday.
STAT | 3 - The number of billion-dollar acquisitions EA has made since December, when it reached a deal to acquire Codemasters for $1.2 billion. Sandwiched between the Codemasters and Playdemic acquisitions was a $2.1 billion deal for Glu Mobile in February.
STAT | 0 - The number of billion-dollar acquisitions EA had made previously. (It attempted to buy Take-Two for $2 billion in 2008 but failed in its pursuit, which creates a wonderful alternate history debate about whether an EA-led Take-Two would have done as well as the company did on its own.)
No offense to Playdemic, whose hit mobile title Golf Clash was estimated to bring in $132.8 million in the US alone last year, but I don't know how many people would have guessed a couple years ago that it would sell for more than five times what Insomniac Games fetched when Sony acquired the Spider-Man studio in 2019.
Likewise, I wouldn't have guessed that Glu Mobile would have gone for more than Facebook paid for Oculus when VR buzz was peaking, and almost as much as Microsoft paid for Mojang in 2014 after it was clear what a phenomenon Minecraft would be.
Even companies big enough to get a reputation for acquisitions are fair game these days, as Microsoft paid $7.5 billion to pick up ZeniMax Media (along with the Bethesda parent's prior acquisitions id Software, Arkane Studios, MachineGames, and Tango Gameworks, among others).
The continued enthusiasm for acquisitions we've heard from Zynga, Embracer Group, Sumo, MTG Group, Focus Home Interactive and others shows no sign of waning.
For owners who don't want to give up so much control of their company, there's no shortage of success stories of companies who went public in the past year, including Roblox ($38 billion valuation), Unity ($13.7 billion), TinyBuild (£340 million), AppLovin ($30 billion), Huuuge Games ($1.1 billion) and Playtika ($11 billion). And while it's not a done deal yet, Krafton's IPO plans put the company value at $27 billion.
Combine that with the growing number of gaming-specific investment funds and a steady drum beat of VC funding announcements for companies that seem to be even longer shots than usual -- I'll refrain from linking those in the name of politeness -- and I can't remember a time when money seemed as easy to come by in the industry.
Even GameStop is apparently just swimming in it these days!
STAT | $1.68 billion - The amount of money GameStop raised in the last two months by issuing new shares to take advantage of January's short squeeze and its curiously prolonged stock price surge.
STAT | $1.28 billion - The amount of money GameStop raised in the first three months of its fiscal year from selling games, hardware, accessories, and merchandise. You know, its actual business.
I think we're in uncharted territory when it comes to how much money is flying around the industry these days, but I'm still pretty sure this is a lot closer to a perfect storm than a new normal.
Personally, I believe the underlying industry is pretty healthy and expect it to continue growing after a modest post-pandemic correction. But when it comes time to look back on this era ten years or so down the line, I'm skeptical about just how much of this money will be deemed well-spent.
STAT | $150,000 - The amount of money a pair of defendants will have to pay Nintendo for damages and attorney's fees after they stole and leaked trade secrets like the fact that Pokémon Sword and Shield would have larger than normal Pokémon in it.
QUOTE | "Refusal to follow directives." - As revealed in Quantic Dream's trial against media outlets that reported on it as a toxic workplace, this was one of the explanations on a Quantic Dream dismissal letter terminating Guillaume de Fondaumière in 2016. The letter allowed De Fondaumière, who was co-CEO and executive producer at the time but is now co-CEO and head of publishing, to contest the dismissal and claim at least €60,000 in compensation from the company. It's unclear which directives the co-CEO refused to follow that resulted in his dismissal, who gave those directives, or why he remained in the co-CEO position despite the dismissal.
STAT | Three months - The cooldown time Valve has implemented on Steam account region changes, a step made in order to crack down on people changing their account's region in order to take advantage of cheaper pricing in other markets.
QUOTE | "After listening to player feedback, we realise that Blaston isn't the best fit for this type of advertising test. Therefore, we no longer plan to implement the test." - Resolution Games acting surprised that players who paid money for its VR action game were upset when Facebook started shoehorning ads into the experience.
QUOTE | "When it's all over, the event photographer asks us to take a group photo with the role-players. The participants are asked to stand in a row facing the role-players with their fists raised in anger, while the role-players are instructed to put their hands in the air and ululate like a jihadist." - TheGamer writer Eric Switzer describes the end of a press junket for Sniper Ghost Warrior: Contracts 2 in which participants weren't given time to play the game, but were given a fantasy fulfillment adventure that asked people to pretend to gun down Arabs.
QUOTE | "If we all had a better understanding of our shared values, we might recognize those places in which our beliefs don't match our values. That's not going to resolve every disagreement, but it would put us in a much better place than we're at now." - Colgate University's Nick Diana talks about his experimental game Persuasion Invasion, which he hopes will help people recognize and understand their own biases.
QUOTE | "We changed everything in terms of how we worked and shared information internally." - Rare's Joe Neate explains how the studio kept the Sea of Thieves - Pirates of the Caribbean crossover from leaking before it was announced at E3.