India's gaming market to grow 113% by 2025 - KPMG
Consulting firm sees player base jumping by 52% in the next four years driven by a host of macro trends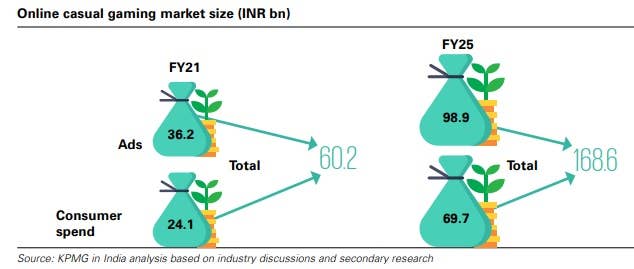 The Indian gaming market is poised for explosive growth in the next four years, according to a new report from KPMG in India.
According to the firm's "Beyond the Tipping Point: A Primer on Online Casual Gaming in India" report, the total Indian gaming market is expected to grow 113% from INR 136 billion ($1.83 billion) this fiscal year to INR 290 billion ($3.91 billion) in 2025.
Over the same stretch, the number of players is projected to grow 52% from 433 million currently to 657 million.
The report breaks the industry down into "casual" games (everything from Candy Crush to PUBG to Dota 2 to FIFA), real-money card and casino games, and online fantasy sports.
The online casual gaming segment is poised to see the greatest growth, KPMG expects, with revenues growing 182% from INR 60 billion ($808 million) this year to INR 169 billion ($2.28 billion) in 2025.
The report cites a host of factors large and small for driving the growth. Macro trends like the increasing adoption of smartphones in the country, growth in digital infrastructure, a young population, and increased adoption of digital payments should help spur demand.
At the same time, KPMG expects healthy tailwinds on the supply side with Indian studios growing to produce better games, investor interest, and better localization of gaming content.
KPMG also underscored some differences between India and many more established markets. For one, what it calls the casual gaming market in India is overwhelmingly mobile, with only 9% of gamers playing on PC and just 4% on consoles.
Casual gaming is also largely ad-driven, with just 40% of revenue coming from consumer spending and the rest from advertising. Even as the market grows that's not expected to shift too much, with consumer spend estimated to account for 41% of the market in 2025.