How does Bandcamp fit in with Epic? | This Week in Business
Speculation and conjecture about how the Fortnite maker's latest acquisition -- and some of its past pick-ups -- fit into the metaverse
This Week in Business is our weekly recap column, a collection of stats and quotes from recent stories presented with a dash of opinion (sometimes more than a dash) and intended to shed light on various trends. Check back every Friday for a new entry.
Between the acquisitions of Zynga, Activision Blizzard, and Bungie, it was a shocking January in games.
February was comparatively quiet, apart from new Mario Kart 8 Deluxe tracks being announced three-and-a-half years after the game's last content update.
March is starting off as another weird one, with Epic Games on Wednesday announcing that it has acquired artist-friendly music storefront Bandcamp.
It was an unexpected pick-up to say the least, but perhaps not the most unusual Epic acquisition in recent memory. (That would have been a shopping mall.)
Thankfully, there are some clues as to what Epic's planning here. Let's start with the Bandcamp announcement of the deal.
QUOTE | "I'm excited to announce that Bandcamp is joining Epic Games, who you may know as the makers of Fortnite and Unreal Engine, and champions for a fair and open Internet." - Bandcamp co-founder and CEO Ethan Diamond breaks news of the acquisition to the platform's fans.
It's not uncommon for acquisition announcements to include some flowery prose about the involved parties, but I really hope Diamond insisted on adding another couple zeroes to the acquisition price to have "champions for a fair and open Internet" added to that quote.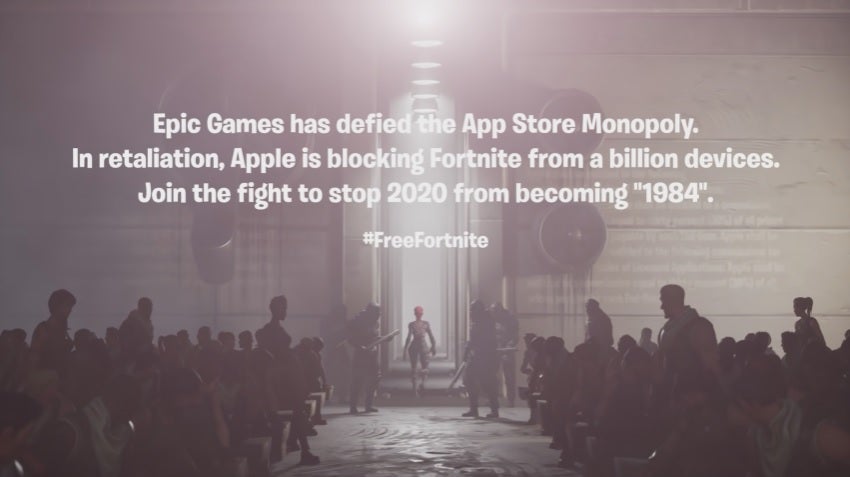 It's an image Epic has certainly tried to cultivate for itself over the years, even if it's one few people take seriously. As detailed in last year's court case with Apple, Epic wanted to sour people on Apple and Google and pressure them into reducing their take on Fortnite revenues. Its Nineteen Eighty-Fortnite video was perhaps the most egregious example of that, and a Top 1,000 finalist for 2020's Least Appropriate Invocation of George Orwell. (The competition in the category was particularly fierce that year.)
Epic is clearly still wanting to position itself as a virtuous and selfless entity
Epic is clearly still wanting to position itself as a virtuous and selfless entity putting itself out there to improve the situation for everybody. Perhaps in partnering with the much-loved Bandcamp, Epic was hoping to bask in some reflective glory, similar to when it added well-liked indie storefront Itch.io to the Epic Games Store. That would go some way to explaining why the announcements framed it as a joining of forces rather than straight-forwardly saying one company bought another.
But as a massively profitable developer and yet another arm of the Tencent empire (which acquired a 40% share of the company in 2013), Epic is going to have a hard time getting underdog points no matter how much it picks fights with arguable monopoly-holders like Apple, Google, and Valve. In an era of unprecedented consolidation, people are going to be more sensitive to the possible negative impacts of this trend.
That's doubly true when the company being acquired is as well loved as Bandcamp. In a music industry where streaming has taken over to the clear detriment of artists, Bandcamp is a place where independent creators can sell their music digitally or physically, keeping 85% of digital sales and 90% of physical (minus another 4-6% that goes to a payment processor). The platform doesn't take any rights to the music, and since the advent of COVID-19, it has had monthly Bandcamp Fridays promotions where it waives its fees.
The two companies have said Bandcamp will continue operating independently and even the Bandcamp Fridays promotions will continue, but anecdotally, the reaction from Bandcamp fans has been overwhelmingly negative.
QUOTE | "Wait Epic is 40% owned by Tencent who have stakes in... Spotify and the major labels. Did we just lose our independent digital record store?" - Musician Damon Krukowski, articulating Bandcamp user concerns on Twitter.
Obviously there's going to be some skepticism as to what Epic's intentions are as it pertains to Bandcamp, and the original acquisition announcement includes the company line on the matter.
QUOTE | "Fair and open platforms are critical to the future of the creator economy. Epic and Bandcamp share a mission of building the most artist friendly platform that enables creators to keep the majority of their hard-earned money. Bandcamp will play an important role in Epic's vision to build out a creator marketplace ecosystem for content, technology, games, art, music and more." - Epic explains why it bought a music platform.
This can be seen as a continuation of Epic's strategy to get more involved with how creators make and monetize their work in a number of media. It's probably been heading this way ever since pivoting Unreal Engine away from flat license fees in 2014, eventually switching its game development business to purely taking a cut off developer revenues instead of upfront costs. It also launched the Unreal Engine Marketplace that year, another early step on its current trajectory.
Epic saw the value of being the industry standard, being the default choice for as large a group of creators as possible, and making your business by taking a cut of the work other people do
Epic saw the value of being the industry standard, being the default choice for as large a group of creators as possible, and making your business by taking a cut of the work other people do. Forking over 30% of Fortnite revenues to platform holders like Apple for years likely only sharpened that understanding.
But Fortnite's success still made a lot of money for Epic, and it has spent that money on an acquisition spree that has included a number of companies that fit that same strategy. Bandcamp follows last year's acquisitions of ArtStation and its portfolio-hosting/job-posting/marketplace platform, as well as Sketchfab and its 3D/AR/VR content marketplace.
Those pick-ups have obvious application to Unreal Engine and Unreal Marketplace, as does Bandcamp. Connecting creators with customers for their work and lowering the logistical and legal hurdles between them has legitimately beneficial applications for everyone involved here. A framework for developers to easily obtain rights to a wide array of art, music, and other assets streamlines the process for everyone, while Epic collects a finder's fee for its troubles.
But I'll note that the ArtStation and SketchFab acquisitions came shortly in the wake of the company raising $1 billion "to support Epic's long-term vision for the metaverse." While Epic was still swimming in Fortnite money at the time, it was also spending an awful lot of it. Beyond losing hundreds of millions of dollars on the Epic Games Store, it was also making hefty acquisition like Rocket League creator Psyonix and Fall Guys publisher Mediatonic.
The $1 billion metaverse raise amounted to less than 4% of the company, which is not a tremendous amount in and of itself, but significant in the larger context of the company. We mentioned above that Epic already sold 40% of itself off to Tencent back in 2013. A 2020 investment raise accounted for a little over 10% of the company. Epic is not publicly traded so there's only so much we know about who owns what portion of the company and how much ownership may have changed hands in the interim, but as of the metaverse raise, Tim Sweeney remained the controlling shareholder of Epic.
There's only so many times Epic can go back to the well raising money before Sweeney loses that controlling shareholder status. I don't think Sweeney's terribly interested in that, so any kind of raise only really makes sense to me if Epic has some urgent need for the funds, like if it saw the consolidation trend picking up speed and wanted to scoop up key cogs of that metaverse strategy before it would have to pay unreasonable premiums for them.
Epic's metaverse is not a VR chat room to have your business meetings in
And this is where I think the ArtStation, SketchFab, and Bandcamp acquisitions look the most interesting. Epic's metaverse is not a VR chat room to have your business meetings in. My guess is Epic's metaverse vision is basically a shopping mall/theme park powered almost entirely by user-generated content. It's a supercharged version of the Roblox business model, but one where talented creators are able to use many of the tools, discovery platforms, and other infrastructure they are already comfortable with.
If that's too obvious or mundane for your liking, I do think such a thing can still look at least a little revolutionary.
QUOTE | "Together we will push the creative boundaries of what's possible and invent new ways for our players to make, perform and share music." - Harmonix co-founder Alex Rigopulos, explaining why the company accepted an acquisition offer from Epic. Like SketchFab and ArtStation, the Harmonix acquisition came in the wake of the $1 billion metaverse investment raise.
Harmonix is no stranger to user-generated content, going all the way back to the Rock Band Network, which was announced in 2009 at the height of the rhythm game boom. The Rock Band Network allowed artists to create note charts and add their own music as DLC to the game. It wasn't exactly easy, requiring artists to purchase both an XNA Creator' Club license from Microsoft and use a modified version of the Reaper digital audio workstation (which requires its own license), as well as a Magma program to package the gameplay information, music tracks, and metadata together. Harmonix estimated it could take up to 40 hours to author a single track.
Even so, the Rock Band Network was popular enough that by the time Harmonix shut it down in 2014, there were more user-made Rock Band tracks in the franchise than officially produced tracks, by a count of 2,121 to 2,100. Imagine what could have been if the tools were more accessible, not locked behind pay upfront licenses, and integrated with platforms and experiences more people already used?
Perhaps most interesting in that story about Rock Band Network's closure is a quote from Harmonix community manager Aaron Trites.
QUOTE | "The team here at Harmonix remains committed to exploring opportunities for user generated content, as well as the ability to personalise your experience with our games. We can only hope that the next time we approach a similar initiative the community is as dedicated and enthusiastic as this community has been." - Trites says Rock Band Network's demise is less a "goodbye" to user-generated content than a "see you later."
(Harmonix tried to bring back Rock Band Network a few years later as part of a Fig fundraising campaign for a PC version of Rock Band 4 but it was unsuccessful.)
From the first Guitar Hero guitar solo to Rock Band Network to the mash-ups of DropMix and Fuser, Harmonix has long demonstrated a clear desire to invite players into the creative process, giving them space to express themselves creatively through music. It's an ideal match for a metaverse vision driven by user-generated content.
I'll also note that Epic's 2020 backing included $250 million chipped in by Sony, which has a considerable presence in the recording industry with Sony Music, potentially opening up still more opportunities.
QUOTE | "Through our investment, we will explore opportunities for further collaboration with Epic to delight and bring value to consumers and the industry at large, not only in games, but also across the rapidly evolving digital entertainment landscape." - Sony Corporation president and CEO Kenichiro Yoshida, explaining the company's investment in Epic.
That's an interesting quote in hindsight, but I don't actually know how much to read into it. With the state of consolidation in games and media generally, it's easier than ever to string together disparate elements on a conspiracy corkboard and convince yourself of whatever you want. (This column may already be evidence enough of that.)
Regardless of what the plan actually is, when Epic acquired Harmonix, it said the studio would make musical experiences for Fortnite and continue supporting existing games like Rock Band 4. That would be a waste of potential if you ask me, and with the addition of Bandcamp and Epic's aspirations around a content creation-driven metaverse, I'm guessing Epic would agree.
The rest of the week in review
QUOTE | "It's pretty much impossible because most of the time you're just trying to follow the news. Me and Tay take turns sleeping. My mother and grandmother have to try sleeping normally, so we take turns. When one of us is asleep, the other follows the news for air danger alarms and wakes everyone up when necessary." - Kyiv-based game developer Alex Molodkin describes what life is like in the Ukrainian city currently under siege by Russian forces.
QUOTE | "Here in Poland we still remember horrors of war from our grandparents' stories. Now we witness them at our doorstep. We support our neighbours from Ukraine in this dark time. Members of our team are privately driving to the border refugee camps every day and transporting mothers and children fleeing the war-ravaged country. It's all not enough. There is a river, an ocean of people crossing the border every minute. Often with nothing more than a child or a cat cradled in their arms." - Polish studio Thing Trunk describes the situation in a post pledging to devote proceeds from its game Book of Demons to organizations assisting refugees. It was one of numerous gestures of Ukrainian support made by companies and people across the industry since last week's invasion.
QUOTE | "I appeal to temporarily block all Russian and Belorussian accounts, temporarily stop the participation of Russian and Belorussian teams and gamers in all international esports events and cancel all international events holding on the territory of Russia and Belarus." - Ukrainian deputy prime minister Mykhailo Fedorov asked all game development companies and esports platforms to encourage Russian citizens to force an end to the invasion.
QUOTE | "Like so many others, we stand with Ukraine in calling for the restoration of peace, respect for Ukraine's sovereignty and the protection of its people." - Microsoft president Brad Smith explains that the Xbox maker is suspending all sales of new products to Russia.
QUOTE | "Release date pending confirmation" - The Russian PlayStation Store page for Gran Turismo 7. The game launched worldwide today, but is not available for download in Russia. Sony has not specifically said this postponement was in reaction to the invasion of Ukraine.
QUOTE | "While we are not a political entity capable of directly influencing state matters, and don't aspire to be one, we do believe that commercial entities, when united, have the power to inspire global change in the hearts and minds of ordinary people." - CD Projekt explains why it is halting sales of its games -- and games on its GOG storefront -- to users in Russia and Belarus.
QUOTE | "[They] waited until halfway through an hour phone [job] interview to mention 'something kind of controversial for some people' referring to using the blockchain." - A developer speaking to Vice about resistance to blockchain gaming in the industry explains how companies well aware of how unpopular the tech is are wasting would-be employees' time by keeping it hidden during the recruitment process, something that had happened twice to this developer last year.
QUOTE | "The people in the space, though, tend to be involved in a lot of criminal activity and a lot of sketchy behaviours. With the actors that are currently in this NFT space, they're just not people you really are wanting to be doing business with." - Valve's Gabe Newell apparently doesn't think much of NFT advocates.
STAT | 1 - Elden Ring's position on the UK physical and digital sales charts. FromSoftware's latest had the biggest launch week sales total in the UK of any game outside of Call of Duty or FIFA since the October 2018 debut of Red Dead Redemption 2.
STAT | 93% - The percentage of GMG Union staff at Kotaku and a number of other G/O Media outlets who voted to go on strike this week. The remaining 7% didn't vote against the strike; they just didn't vote.
QUOTE | "Twitch's leadership is uncomfortable with mid-level and lower level employees pushing for change." - A former Twitch employee speaking with Bloomberg for a report that described an "exodus of executives" at the top of the company, consolidating decision-making responsibilities with CEO Emmett Shear, who has overseen the company since its inception and helped shape a culture where misogyny, racism, and staggeringly inappropriate behavior was tolerated, if not encouraged.
QUOTE | "Can current leadership solve the industry's toxicity problem?" - The headline for our latest podcast, in which we note how many leaders who presided over awful working environments are still running those companies. As is often the case with headlines presented as yes/no questions, the answer is "probably not."
QUOTE | "Invariably with accessibility settings, you might tell yourself that it's not going to affect that many players if you didn't do it. And that is the trap that people can fall into which leads them to not making the investment in accessibility, because they feel like, 'Well, not that many people are colour blind.'" - Forza Horizon 5 creative director Mike Brown talks about adding American Sign Language and British Sign Language interpreters for in-game cutscenes, and how important it is for companies to prioritize accessibility features.
STAT | 2.3 million - The lifetime installed base of the Xbox family of consoles in Japan. The Xbox One and Series X|S have combined for about 250,000 of them.
CORRECTION: This article originally misreported the amount of physical sales that would go to Bandcamp artists as the platform's revenue share. It has been corrected.