Valve removes rape fantasy game from Steam
"We think 'Rape Day' poses unknown costs and risks and therefore won't be on Steam"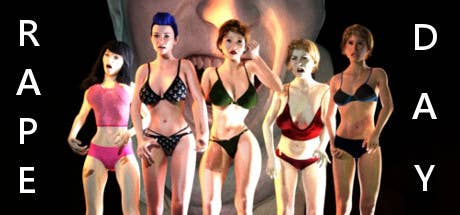 Valve has pulled the store page for Rape Day off of Steam and assured people that the game won't be allowed onto the service in the future.
In a post on the Steam blog, Valve's Erik Johnson said the decision warranted some explanation given the content policy the platform had adopted last year, which said "the right approach is to allow everything onto the Steam Store, except for things that we decide are illegal, or straight up trolling." The new post adds a third case in which exceptions can be made.
"Much of our policy around what we distribute is, and must be, reactionary -- we simply have to wait and see what comes to us via Steam Direct," Johnson said. "We then have to make a judgement call about any risk it puts to Valve, our developer partners, or our customers. After significant fact-finding and discussion, we think 'Rape Day' poses unknown costs and risks and therefore won't be on Steam.
"We respect developers' desire to express themselves, and the purpose of Steam is to help developers find an audience, but this developer has chosen content matter and a way of representing it that makes it very difficult for us to help them do that."
Rape Day was billed as "a game where you can rape and murder during a zombie apocalypse" when it had a page on Steam. Judging by developer updates, it had been up on the site for a couple weeks at least. GamesIndustry.biz first asked Valve about the title two days ago, and never received a response.
"Control the choices of a menacing serial killer rapist during a zombie apocalypse," the game's store page said. "Verbally harass, kill, and rape women as you choose to progress the story. It's a dangerous world with no laws. The zombies enjoy eating the flesh off warm humans and brutally raping them but you are the most dangerous rapist in town."
The visual novel's developer Desk Plant had expected to launch it next month.