Did Newsom Californicate with the Activision Blizzard suit? | This Week in Business
The California governor has been accused of obstructing the DFEH's lawsuit on the publisher's behalf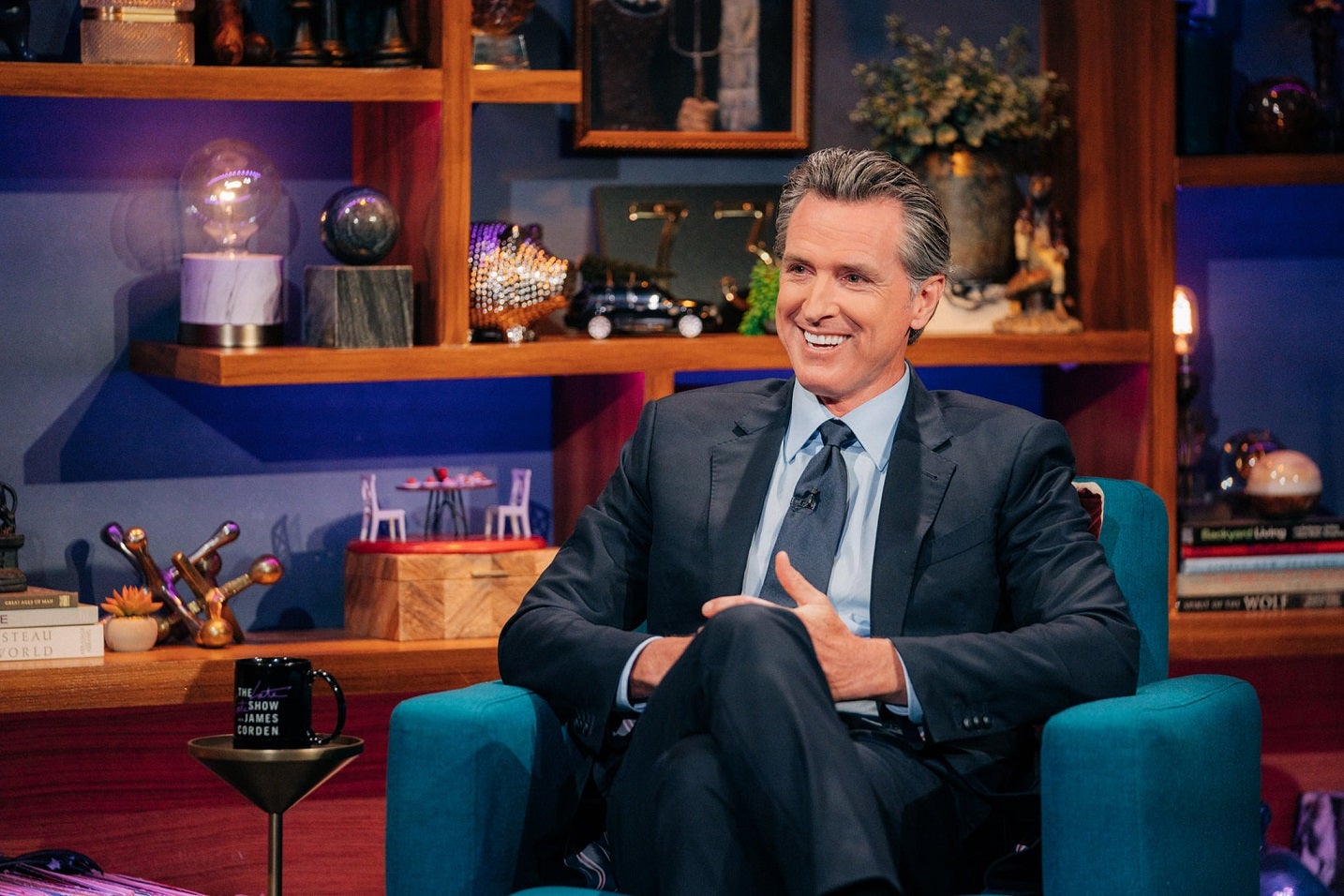 This Week in Business is our weekly recap column, a collection of stats and quotes from recent stories presented with a dash of opinion (sometimes more than a dash) and intended to shed light on various trends. Check back every Friday for a new entry.
The ongoing Activision Blizzard workplace harassment scandal took another turn this week as a lawyer at the California Department of Fair Employment and Housing -- which kicked everything off when it filed a lawsuit against the publisher last July -- resigned, saying in a letter to staff that she was doing so in protest of the office of California Governor Gavin Newsom's interference in the case.
The lawyer, DFEH assistant chief council Melanie Proctor, said that Newsom's office had been demanding to know the DFEH's strategy for the suit in advance. The final straw that prompted Proctor's resignation was the sudden firing of her boss, DFEH chief counsel Janette Wipper.
QUOTE | "As we continued to win in state court, this interference increased, mimicking the interests of Activision's counsel." - Proctor's resignation letter, implying Newsom's motive.
Newsom has since called claims of interference "categorically false."
This wouldn't be the first bit of interference the DFEH has had to fight through. Within a couple months of the state agency filing its original suit, the US Equal Employment Opportunity Commission filed its own lawsuit against Activision Blizzard, and agreed to settle it the same day.
The DFEH objected to the settlement and its insultingly small $18 million fund set up for "eligible claimants." (I would use the term "victims of sexual harassment and gender discrimination," but the settlement of course specifies that it is not to be taken as an admission of wrongdoing.) Among the reasons for the objection were that the settlement involved anyone receiving a portion of that $18 million to sign a waiver giving up their right to collect any other restitution over the hypothetical wrongdoings that Activision Blizzard definitely never wrongdid.
The DFEH also objected to the settlement arguing that it essentially ordered tampering of evidence relevant to its own case. The original proposed settlement required Activision Blizzard to "remove from the personnel files of each Eligible Claimant any references to the allegations related to sexual harassment, pregnancy discrimination, and/or related retaliation" and reclassify the terminations of anyone fired in retaliation as voluntary resignations. (The final settlement specifies that information needs to be preserved separately from the personnel files by a third-party Equal Employment Opportunity consultant, but is unclear what happens with it after the terms of the settlement are fulfilled and the consultant is no longer required.)
In return, the federal EEOC accused the state agency of ethics violations because two of the DFEH attorneys looking to give Activision Blizzard more than a slap on the wrist previously had senior roles in the EEOC and led the investigation that resulted in its own lawsuit.
So who do I trust in this situation?
Certainly not Activision Blizzard, which torched its credibility the day the DFEH lawsuit dropped with a carpet denial of wrongdoing that unraveled almost instantly after its own employees called it out. Additional reporting of horrendous behavior by execs up to and including Bobby Kotick have not helped, and neither have the publisher's own actions, like refusing to pay Blizzard's female co-president the same amount as its male co-president, which seems like the kind of gender discrimination a competent leadership team would avoid whilst in the midst of multiple very public gender discrimination lawsuits.
But what about Gavin Newsom? Surely he must have some credibility given his passage of the Silenced No More Act last October, which prohibits non-disclosure agreements from applying to workplace harassment and abuse. Do I really think the Democrat governor and former mayor of San Francisco who signed that bill into law would side with big businesses over the individuals they hurt?
Yes, absolutely. Because he's done it before.
In 2020, the Pacific Gas and Electric Company pleaded guilty to involuntary manslaughter after its crumbling electrical grid caused the 2018 Camp Fire, killing 84 people and destroying the town of Paradise, California. Between the time of the fire and PG&E entering its plea, Newsom signed a bill into law that would let PG&E rely on a state fund so it wouldn't have to pay for the damages itself. And it wasn't just a matter of rubber stamping other legislators' efforts, considering Newsom's own legal team drafted the bill. Also, the government prosecutors who charged PG&E and successfully delivered the homicide conviction said they had to do so despite obstruction from the governor-appointed California Public Utilities Commission.
It probably won't come as a surprise to you that PG&E had donated more than $200,000 to Newsom's 2018 gubernatorial campaign. And just in case all the parallels aren't clear here, Activision Blizzard boardmember Casey Wasserman donated $100,000 to Newsom's campaign to fight a recall election last year.
(To further flesh out Newsom's character, the recall was fueled by the governor attending a lobbyist's birthday party at the three-Michelin star restaurant The French Laundry despite the state's own COVID lockdown guidelines. Personal sacrifice and individual responsibility for everyone else; lavish hobnobbing with the rich and powerful at the best restaurant in the world for Newsom.)
There's a history here.
I'm not putting a whole lot of trust in the EEOC either. After all, the people who led its investigation into Activision Blizzard apparently left the agency midstream and went to work on making basically the same case for the DFEH, which doesn't seem like the kind of thing you would bother doing if you were confident the EEOC would handle the issue appropriately.
That admitted speculation aside, there's also plenty of evidence that it was always going to accept a lowball settlement. I mean, the EEOC let Uber settle charges of sexual harassment and retaliation for just $4.4 million in 2019. Uber reported more than $65 billion in gross bookings that year, but I'm sure they're going to have a very serious reflective period in the wake of a settlement for less than 1% of 1% of one year's bookings. And no, I didn't repeat myself there; it's just very hard to describe how insignificant that settlement was to Uber without using exponential notation.
And of course, the EEOC viewed this deal as something worthy of a victory lap.
QUOTE | "This resolution demonstrates the benefits of working cooperatively with EEOC and serves as a model for businesses committed to truly leveling the playing field where opportunity is not circumscribed by one's gender." - EEOC chair Janet Dhillon in a triumphant press release, very accurately pointing out that abusive companies can benefit and get off the hook more cheaply by playing ball with the EEOC.
Walmart paid $20 million to settle an EEOC suit over nationwide discrimination against women applicants. Nine months later Walmart was back on the wrong end of another EEOC lawsuit -- this one for years of sexual harassment permitted at one of its stores -- which it settled for $410,000.
In 2020, the EEOC found national food distributor Performance Food Group systematically discriminated against women nationwide for 16 years; they settled for $5 million. PFG might not be a household name, but it reported more than $30 billion in revenue last year, so I'm sure they got the EEOC's message loud and clear.
Again, there's a history here.
(Incidentally, the senior director of HR at Uber during that investigation was named Ubisoft's chief people officer last year, so clearly everyone in the industry is taking this whole gender discrimination thing Very Seriously.)
But maybe I'm being too hard on the EEOC. $4.4 million is a lot of money, and the $18 million from the Activision Blizzard settlement is more than four times as much. Then again, when Riot Games paid to make its own workplace harassment and gender discrimination problems go away, it had to fork over $100 million, which is starting to leave the realm of "CEO's bonus compensation for a bad year" and approach the realm of "conceivably having enough of an impact to prompt organizational change."
So that leaves the DFEH, and more specifically the whistleblower, Melanie Proctor. I don't know much about Proctor or whatever ulterior motives or grudges she might have that would cause her to make an allegation like this if it weren't justified.
What I do know is that the $100 million settlement Riot paid in the class action lawsuit over gender discrimination was not originally a $100 million settlement. It was initially a $10 million settlement reached in late 2019, but an outside party intervened in the case because it knew the people victimized by the company deserved considerably better. And I know that intervention was made by the DFEH and a team led by Proctor and Wipper.
There's a history here, too.
The rest of the week in review
QUOTE | "This transaction fails to properly value Activision and its future earnings potential, in significant part because it ignores the role that the sexual harassment crisis -- and the Activision board's incompetent handling of it -- has played in delaying product releases and depressing the share price." - Activision Blizzard shareholder SOC Investment Group urges other shareholders to vote against the pending Microsoft acquisition arguing the price tag should have been higher.
QUOTE | "In an industry with historical underrepresentation, I'm looking forward to leading the company's efforts to further build a workplace that values transparency, equity, and inclusivity." - Incoming Activision chief diversity, equity, and inclusion officer Kristen Hines. Best of luck to her in this new role. Given the management team she's working with, she'll need it.
QUOTE | "Because [Soulstorm] slipped to April, we had the highest downloaded game on PS5 and it was, I think, approaching... close to four million units or something like that for free because they were all subscriptions. So for us, it was devastating." - Oddworld's Lorne Lanning says the original plan was for last year's PS5-exclusive Oddworld: Soulstorm to launch into PS Plus as a free game earlier in the system's lifespan. They had only expected 50,000 to 100,000 copies downloaded during its month in PS Plus.
QUOTE | "The transition to work-from-home wasn't easy, but the results speak for themselves. Today, it's clear that a digital-first workplace isn't the future of work -- it is already here, and we are all in." - Bungie CEO Pete Parsons explains that the studio is moving to fully optional remote work. Initially it will hire full-time workers in a handful of US states with large developer communities, but it plans to expand that list further.
STAT | $2 billion - The amount of money Epic raised from Sony and Kirkbi (the investment company behind Lego) to pursue its vision of the metaverse, following on from another $1 billion investment almost exactly a year ago. I think Epic's got as good a chance as anyone of making a metaverse concept that works -- much shade on Meta/Facebook's Torment Nexus VR office meetings approach -- but I also don't think the problems the metaverse ideas have -- like what is it that people would do there and why it would involve you making money -- are ones that can be solved by throwing unending sums of money at them.
QUOTE | "I had to draw a line at some point where I said, 'Am I just going to be fighting racists all day?' Which I still do, but not the majority of my time. It's either fight racists all day, or actually create programmes and progress." - Black Girl Gamers founder and CEO talks about the need to not just create spaces that are not just safe, but progressive.
STAT | 332,000 - The number of game consoles sold across Europe (minus UK and Germany) last month, down 39% year-over-year and PS5 and Xbox Series X|S continue to see stock shortages. The PS4 DualShock 4 controller was the best-selling accessory last month, edging out the PS5 DualSense controller.
QUOTE | "We are currently evaluating the scope of work to be done and thus have to postpone Q2 release until further notice." - CD Projekt indefinitely delays the next-gen versions of The Witcher 3 as it decides to handle it in-house instead of having Saber Interactive to do the work.
STAT | $71 million - The US opening weekend box office haul for Sonic the Hedgehog 2, a new record for game-based feature films. Good for them.