Let's look at Facebook's Meta trademark | This Week in Business
If you gaze into the abyss, the abyss also gazes into you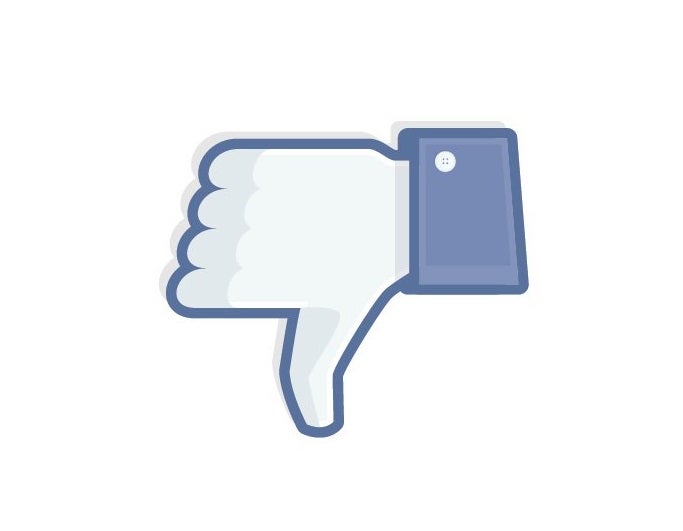 This Week in Business is our weekly recap column, a collection of stats and quotes from recent stories presented with a dash of opinion (sometimes more than a dash) and intended to shed light on various trends. Check back every Friday for a new entry.
Shortly after last week's column ran, we reported on a trademark dispute Facebook was having over its use of the word "Meta."
When we looked into it, it seemed Meta Company -- the company alleging the trademark violation -- had mostly sprung up almost overnight, with social media accounts and a website all apparently launched after Facebook announced the re-branding.
We did find one trademark for "Meta Company" that was filed in 2016 that appeared to belong to the same people, but we also found another for the term "Meta" dating back to 2015, and ownership of that trademark had been transferred to the Chan Zuckerberg Initiative, an organization established by Facebook founder Mark Zuckerberg and wife Priscilla Chan. So it would seem likely that little will come of that whole trademark dispute.
But while we were looking into that, we also came across Facebook's most recent trademark application for the term "Meta," which it filed late last month.

(We've embedded a picture of it to the right for your easy perusal.)
STAT | 16,789 - The number of words in Facebook's surreal trademark application for the term "Meta" to describe the goods and services for which it was laying claim to the term.
STAT | 22,011 - The number of words in this English translation of Franz Kafka's surreal novella The Metamorphosis, in which a man wakes up to discover he has become a cockroach. I am open to debate on which of these works is more unsettling.
STAT | An entire afternoon - The time I spent on the clock looking through Facebook's filing, time which I will now attempt to justify by writing about it in this column.
One of the first things that stood out to me in that assault on the idea of words as a method of communication (It had seven paragraphs! This column already has more than that) was that for all the talk about a decentralized metaverse Facebook was putting out there last week, it clearly has aspirations to replace pretty much every function the Internet offers in our day-to-day lives. Here are just some of the services Facebook was claiming for Meta, along with the things Facebook would love to supplant with that.
● "Downloadable software for searching and identifying employment opportunities" - LinkedIn, Monster.com.
● "Downloadable software for online charitable fundraising services and financial donation services" - GoFundMe, Patreon, Ko-fi.
● "Downloadable software to allow users to perform e-commerce transactions via the internet and communications networks; Downloadable computer software that allows users to make payments and transfer funds" - PayPal, Google Pay, etc.
● "Artificial intelligence software, namely, machine learning software, visual perception software, speech or language recognition software, decision-making software, translation software, touch recognition software, conversational query software, software for converting natural language into machine-executable commands, and digital assistant software" - Siri, Alexa, etc.
● "Downloadable software for use in facilitating voice over internet protocol (VOIP) calls, phone calls, video calls, text messages, instant message and online social networking services" - Skype, Discord, Slack.
● "Home automation and home device integration software" - Google Nest, the internet of things.
● "Multifunctional electronic devices for displaying, measuring, and uploading to the Internet information including time, date, heart rate, global positioning, direction, distance, altitude, speed, steps taken, calories burned, navigational information, changes in heart rate, activity level, hours slept, quality of sleep, and silent wake alarm." - Fitbit, which feels a lot creepier when you lay out the functionality like this.
● "Computer search engine software" and "Downloadable computer software for finding content and content publishers, and for subscribing to content" - Google
● "Providing telephone directory information via global communications networks" - The Yellow Pages, because the internet hasn't destroyed phone books thoroughly enough yet.
● "Providing concierge services for others to meet the needs of individuals, namely, booking reservations, facilitating personal purchases, arranging personal deliveries, making requested personal arrangements, providing recommendations on products and services, providing customer-specific information to meet individual needs" - Any gig economy job where convenience associated with luxury is offered at a steep discount because laws weren't written to apply to app middlemen and the "employees" are technically freelancers with no benefits or security.
● "Application programming interface (API) for use in developing AI (artificial intelligence) platforms, namely, bots, virtual agents and virtual assistants" - The future of customer service and spam calls. I for one can't wait to live in the future where those two fields reach a convergence point...
● "Organizing, promoting and conducting exhibitions, tradeshows and events for business purposes" - Because we all loved virtual conferences so much these last two years and the one thought we all shared was, 'These would be even better if we had to wear a headset the whole time that made a significant percentage of us violently motion sick.'
● "Social networking, social introduction and dating services provided via access to computer databases and online searchable databases in the fields of social networking, social introduction and dating" - Just in case you saw Facebook introduce your aunt to the domestic terror cult of rabid conspiracy theorists and thought it would be a good idea to rely on those matchmaking abilities to find you a life partner.
● "Legal services" - Just in case you saw Facebook's legal team put together this staggering trademark application and thought, 'Yeah, I want that bunch to represent me in court.'
A lot of that is stuff Facebook is already doing -- Facebook Pay, Facebook Dating, etc. -- but seeing it all at once can be a bit overwhelming.
There was also obviously a lot of cryptocurrency and blockchain nonsense in there, because the metaverse idea that Facebook aspires to and blockchain are two fads each with half a reason for happening and people think shoving them together will magically produce something of substance to justify the hype and ludicrous valuations we're seeing in those fields.
And then there was also quite a bit about video games and game-related endeavors, specifically showing ambition for the company that goes considerably beyond the Oculus Quest and livestreaming or cloud streaming on Facebook Gaming.
● "Arranging and conducting competitions and entertainment events for players of video, computer, electronic or interactive multimedia games" - They're coming for esports.
● "Handheld game consoles" - I'd say Facebook was working on a Vita-killer if Sony hadn't cornered that market a long time ago.
● "Hand-held games with liquid crystal displays" - Come on, Zuck. Spring for OLED at least!
● "Arcade video game machines" - Imagine a claw machine game, but somehow more crooked.
● "Games adapted for use with television receivers" - This one makes sense. If anyone has a worse public perception than Facebook, it's probably cable companies.
● "Tabletop units for playing electronic games other than in conjunction with a television or computer" - Good luck, Tilt Five.
● "Computer software for communicating with gaming consoles regarding time, pace, speed, steps taken, athletic skill, calories burned, agility, motion, balance, coordination, and flexibility" - Ring Fit Adventure, but Orwellian.
● "Retail and online retail services for software, electronic devices and footwear incorporating sensors that allow consumers to engage in virtual athletic competitions and individual and group fitness classes" - Nike, but Orwellian.
● "Providing electronic bulletin boards for transmission of messages among users in the field of general interest" - Facebook's got your number too, any BBS that somehow survived the '90s.
And then there are some things that just don't really belong anywhere else.
● "Decorations for Christmas trees" - Who doesn't want an Elf on Shelf with a live video and audio feed to the North Pole/Facebook HQ?
● "Waterproof near eye display systems comprising computer hardware, electronic display interfaces, and software for the generation and display of virtual reality and mixed reality content" - Forget jetpacks, the future is playing Pokémon Go while deep sea diving.
Some of this overwhelming wall of nonsense is a byproduct of Facebook simply doing tons of stuff already, and it obviously wants to protect its ownership of the new name in all those fields. Sure, it might have been easier to do that if it hadn't picked a word that is already widely known and used specifically in regards to the metaverse concept that people in tech specifically have been obsessed with for decades.
But when you've got almost unlimited amounts of money to throw at a problem, a massive legal team, and a zest for remaking the world in the image of your favorite dystopian sci-fi settings, I guess you don't always need to be concerned with doing things the easy way.
The rest of the week in review
QUOTE | "It's driven by a lot of our own personal passions. Our executive team is kind of into the space, and then the chairman of our board Mark Pincus as well as [special advisor to the board of directors] Bing Gordon are also super influential to Zynga." - Zynga president Bernard Kim explains why the company hired a VP of blockchain this week.
STAT | $244 - The cost of 1 Bitcoin in March of 2015, when Zynga chairman of the board Mark Pincus was named as an early investor in blockchain mining start-up 21 Inc.
STAT | $227 - The cost of 1 Bitcoin in September of 2015, when Kleiner Perkins -- where Zynga board member Bing Gordon serves as chief product officer -- announced blockchain would be the investment focus for its emerging technologies division.
STAT | $68,789.63 - The all-time high price of 1 Bitcoin, which it reached this week after a rush of companies reporting their earnings expressed interest in blockchain gaming and NFTs.
QUOTE | "One of the things we're big believers in is scarcity in the marketplace. There are experiences you have currently in our game that are pretty scarce. Getting that ultimate dragon in Merge Dragons is not something that every player can get to. But then valuing that in the marketplace is something we think is going to be very interesting in the future" - When asked to name something blockchain will let Zynga do that it can't already do in its games, Kim names something Zynga already does in its games. (As for the part about valuing that in the marketplace, that doesn't need blockchain either; Kim can ask Activision Blizzard how the Diablo 3 real-money auction house did.)
STAT | ¥100 billion yen ($883 million) - The investment Sega has committed to a five-year plan to expand its development pipeline, grow its mobile and online games, and explore "newly emerging business areas" such as NFT.
QUOTE | "Thanks for all the perspectives everyone. We have no current plans to ship this internal concept." - Discord founder Jason Citron, three days after teasing cryptocurrency wallet integration for the service and prompting a wave of users to cancel their subscriptions.
QUOTE | "We have a role as businesses to play in the fight against environmental disaster. But we have a responsibility as humans and it is one we must exercise to secure a future for us all." - UKIE CEO Dr. Jo Twist wasn't explicitly talking about blockchain in this editorial about the industry needing to fight climate change, but I'll put this here anyways because every entrepreneur, venture capitalist, and CEO in the industry needs to accept that their choices affect a lot more than just their bank accounts.
QUOTE | "From adopting content ratings to loot boxes to harassment all the way to hypothetical examples of futuristic detective games, the games industry does a routinely terrible job of thinking things through before starting on them. The priority in gaming has always been to create a successful thing first and then deal with the entirely predictable negative effects when compelled to by outside forces." - I wasn't explicitly talking about blockchain when I wrote that line in August's 10 Years Ago This Month column, but the industry's current blockchain enthusiasm is perhaps the finest distillation of its inclination to ignore any and all concerns when there might be money to be made.
STAT | $51 billion - GlobalData's latest projection for the VR market by 2030. However, a solid majority of that will be accounted for by VR for business training, collaboration and data visualization purposes. The firm said gaming VR has failed to take off yet as it continues looking for its "semi-mythical 'killer app.'"
QUOTE | "When you're making big games, you ask yourself, 'Am I in the wrong part of the world? Am I contributing to a bad system or not?' These are the kind of questions you ask yourself working on a game, 'Am I just making entertainment for business, for money? Can I make something different with the same medium?'" - Former Arkane Lyon director Romuald Capron explains why he left the AAA games industry to make educational fare for PowerZ.
QUOTE | "There's a lot of elements to crunch that have negative consequences on dev teams. I'm in no hurry to go back to games development and that's one of the reasons. I don't miss any of that shit. I made a lot of money at Rockstar, but I also sacrificed a lot for something that, yeah, made me money but it was 95% of my life." - In our retrospective piece on Grand Theft Auto 3 following its recent 20th anniversary, Rockstar co-founder Jamie King talks about the impact of crunching and the unsustainability of game development.
QUOTE | "We sincerely ask for your patience and understanding as we work towards making these products available for purchase once again." - Konami apologizes to users as Metal Gear Solid 2 and 3 are removed from sale because the licenses on historical footage in the game are expiring and it didn't have the foresight to see that people might actually want to buy and play its games 15 or 20 years down the line. (I'm honestly surprised this doesn't happen more often.)
STAT | $1.62 billion - The amount Unity is paying to acquire Weta Digital, the visual effects studio behind The Lord of the Rings films and numerous other effects-heavy movies.
STAT | At least 5% - The pay raises Ubisoft dished out to staff at its Canadian studios this week as the company steps up efforts to retain talent in the wake of last year's disgraceful harassment scandals, a whole bunch of new Canadian studios starting up and looking to hire, and existing studios like Eidos Montreal adopting perks like a four-day work week.
QUOTE | "Engagement is our north star. We're very pleased that during the third quarter, people of all ages from across the globe chose to spend over 11 billion hours on Roblox." - Even though a huge portion of its player base is composed of literal children, Roblox CEO David Baszucki stresses that keeping users playing as much as possible is the thing that guides Roblox's decision-making.
QUOTE | "After the fix, there was no whatsoever restriction or limitation for the gamer. Denuvo is working to implement further improvements to avoid such downtime in the future." - Denuvo explains why its DRM solution cratered last weekend, ironically making a number of titles playable by pirates but not legitimate customers.
QUOTE | "In short, Apple's motion is based on a selective reading of this Court's findings and ignores all of the findings which supported the injunction, namely incipient antitrust conduct including super competitive commission rates resulting in extraordinarily high operating margins and which have not been correlated to the value of its intellectual property. This incipient antitrust conduct is the result, in part, of the anti steering policies which Apple has enforced to harm competition." - US District Judge Yvonne Gonzales Rogers denies Apple's request to push back the one part of her ruling in the Epic Games court case that went against the iPhone maker: a requirement to let developers link out to alternative payment options no later than December 9.
STAT | One million PS5s - The reported reduction in Sony's manufacturing output this fiscal year due to ongoing logistical issues that are holding back hardware makers of all sizes.