Digital distribution: A diagnosis for disruption
10 Years Ago This Month: Physical media falls out of favor, on-demand streaming becomes a thing, and the economy still drags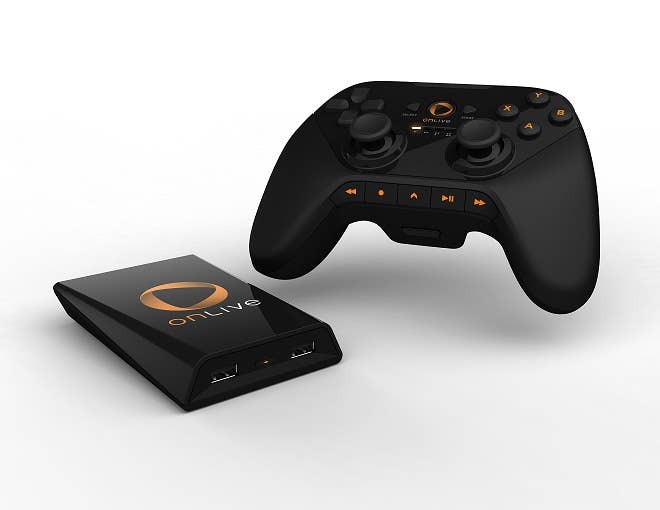 The games industry moves pretty fast, and there's a tendency for all involved to look constantly to what's next without so much worrying about what came before. That said, even an industry so entrenched in the now can learn from its past. So to refresh our collective memory and perhaps offer some perspective on our field's history, GamesIndustry.biz runs this monthly feature highlighting happenings in gaming from exactly a decade ago.
Let's Ditch Physical
By March of 2009, it was clear that the future of gaming was digital. Even though retail had just finished up its best year ever in the US, sentiment about the future of physical media had turned sour. Capcom's VP of strategic planning Christian Svensson said digital sales of PC games had eclipsed the physical market in terms of importance, a sentiment echoed by GamersGate CEO Theodore Bergquist (who admittedly would not be considered impartial on the subject). For their part, physical retailers had spotted the trend and were trying to embrace the future rather than fight it.
Developers were likewise sold. Shiny founder David Perry said retailers were doomed if they didn't go digital. inXile head Brian Fargo and Sim City designer Will Wright agreed that things were shifting heavily away from the physical model.
"The first time you [buy something digitally] there's a big barrier, and the second and third time," Wright said. "But by the tenth time, at that point you don't even think about it."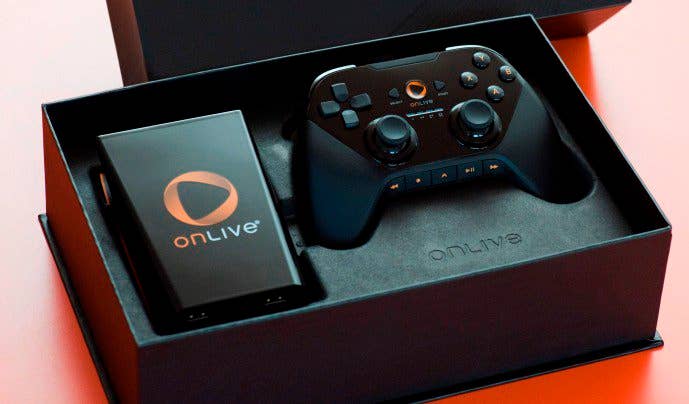 Some people were even thinking of the next big thing after full game downloads. In March, OnLive announced its game streaming service to play AAA games through PCs and TVs, which prompted Perry to confirm the next day that he was working on his own such offering as well. (Perry may have been late to announce, but he cashed out right on time. Perry's Gaikai sold to Sony for $380 million in July of 2012. OnLive laid off its entire staff the next month, and shut down entirely in 2015.)
While most of these declarations of a digital future seem obvious today (and for many people, even back then), it's helpful to remember exactly what the standards were around digital distribution at the time. A huge swath of the consumer base had no understanding or comfort with digital distribution. Steam had just added the ability for developers to sell downloadable content for their games. Sony was only starting to talk about games launching in physical and digital versions simultaneously. However, such day-and-date digital/physical launches were a mid-term goal, and could have been as much as five years away. (It would be accomplished sooner; the PlayStation Vita debuted in Japan in late 2011 and featured simultaneous digital launches for all physical releases.)
As much as we like to question the conventional wisdom in this column, this is one time where the masses got it right.
Monthly Terrible Economy Update
By March, the global economic crisis that began in 2008 was starting to… well, "stabilize" isn't the right word, but at least the news wasn't exclusively, unrelentingly bad. For instance, game publisher stock values were incredibly volatile, plummeting or soaring with the markets, or in the case of Atari parent Infogrames, doubling in two days for no good reason at all.
And there was some good news here and there, even if it was pretty clearly "thanks" to the ongoing crisis. GameStop also reported record results for its full fiscal year, although the company noted that the most important factor was simply that GameStop was a place where people could save a little money by buying games used, a compelling pitch in an economy seemingly on the brink.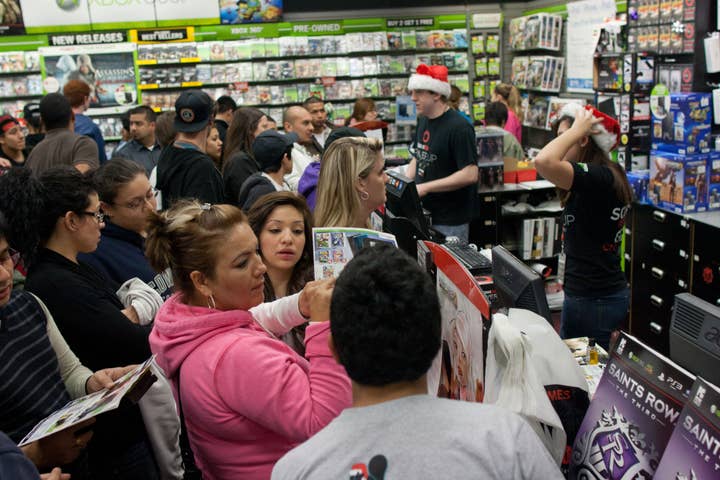 At the same time, Activision saw one person's crisis as its own opportunity, suggesting a shattered economy was a good place to acquire companies on the cheap. The next month, Activision Blizzard would acquire 7 Studios, which had been developing a competitor to the publisher's upcoming DJ Hero called Scratch: The Ultimate DJ. It's hard to say if the purchase was ultimately worth it; Scratch never came out so the threat of a competitor was negated, but Scratch's publisher filed suit after the acquisition, Activision laid off half of 7 Studios headcount six months later, and closed the shop outright in 2011 when it decided to wash its hands of the music genre.
And of course, the purely bad news continued to roll out. People looking to game on the cheap didn't save rental giant Blockbuster from declaring bankruptcy. Volition laid off some of its QA team. Sony froze staff wages, the Game Developers Conference was expecting attendance to be down, and THQ said it would be closing Big Huge Games if it couldn't find a buyer.
Fortunately, Curt Schilling was retiring from baseball to focus on his game development business 38 Studios, which would swoop in and save Big Huge Games, giving this story what we can all agree is an unqualified happy ending with no asterisks whatsoever.
Oh, and two years after launch without so much as a single price cut, Nintendo actually made the Wii more expensive in the UK because the value of the pound had been sinking. So yeah, still not great out there. We'll check back next month.
Extended Guitar Hero Solo
Like a Behind The Music rock star discovering a taste for hard drugs, Activision Blizzard decided that if a little bit of something was good, then way too much would be even better. The company reportedly planned for five more Guitar Hero games in 2009, but those headlines were actually understating the severity of the company's addiction.
Five games would have been ridiculous enough -- Guitar Hero 5, Band Hero, DJ Hero, Guitar Hero: Van Halen, and another Guitar Hero DS game that never materialized -- but that tally doesn't even include the previously announced Guitar Hero: Metallica, Guitar Hero: Smash Hits, and Guitar Hero On Tour: Modern Hits, or the licensed Guitar Hero Arcade and Guitar Hero 5 Mobile. So that's nine Guitar Hero games that actually launched in 2009, which probably helps explain why the rhythm genre went from top of the charts to rock bottom in about a year.
While this Behind The Music lacks the third-act-clean-and-sober-return-to-prominence for the genre, Activision Blizzard does seem to have learned its lesson about saturating the market, and perhaps even over-corrected. By my count, Activision, Blizzard, and King combined for just five games in 2018: Ports of the Crash Bandicoot HD collection, the Spyro the Dragon collection, Call of Duty: Black Ops IIII, Candy Crush Friends Saga, and Legend of Solgard. (If anyone wants to include expansions for Destiny, World of Warcraft, and Hearthstone, then I get to count Guitar Hero Track Packs in the 2009 output and this comparison gets even more lop-sided.)
Activision Blizzard's 2009 Guitar Hero lineup was like ending an expertly crafted three-minute radio-friendly hit with an 18-minute solo that fizzles and fades out rather than actually finishing.
A Potpourri of Mild Bummers
● Sony's director of PlayStation Home Jack Buser said the PS3 social space would be the "perfect storm" for publishers, leading me to believe he's never seen that movie.
● Sony's Ray Maguire admitted the company's missteps with the PSP, saying, "It was slightly under-supported, mainly because a lot of the energy was going into stuff we're doing for PlayStation 3. There was an added complication in that the UMD model wasn't brilliant for third parties, either." I haven't double-checked, but given Maguire's comments we can safely assume the Vita must have received equal attention as its console counterpart and wasn't needlessly saddled with a pricey proprietary cartridge format.
● Gears of War 2 producer Rod Ferguson gave a ringing endorsement of crunch in a GDC talk, saying, "One of the great things is it creates a clear goal for the team. They say you need constraints to have creativity and prioritisation… I am a believer that if you're going to make a great game, and there is that caveat, I believe that crunch is necessary. I believe it's important because it means your ambition is greater than what you scheduled out." He also advised making crunch team-wide, even for groups that were already well on schedule.
● That year's GDC also featured Shadow of the Colossus and Ico developer Fumito Ueda pushing back on the suggestion that his games are art, saying, "We're making a game to entertain people. Sometimes my personality and my team's might be reflected on the game, and it might look like art, but it is a game to entertain people." Perhaps there's still room on the Far Cry dev team for him.
● Here's an article where developers share what they're hearing about Microsoft's next console. You can really see the red flags for the Xbox One reveal and launch, like Warren Spector saying, "I get the impression they're focusing on owning the living room. One device that lets you watch movies, television and play games and music and all that stuff. They're so focused on that that I'm not even sure they're thinking about the games that are going to come out. Which is kind of crazy."