Meta versus FTC with a VR monopoly at stake | This Week in Business
The former Facebook's attempt to buy VR app maker Within leads to a fight that could shape the future of the field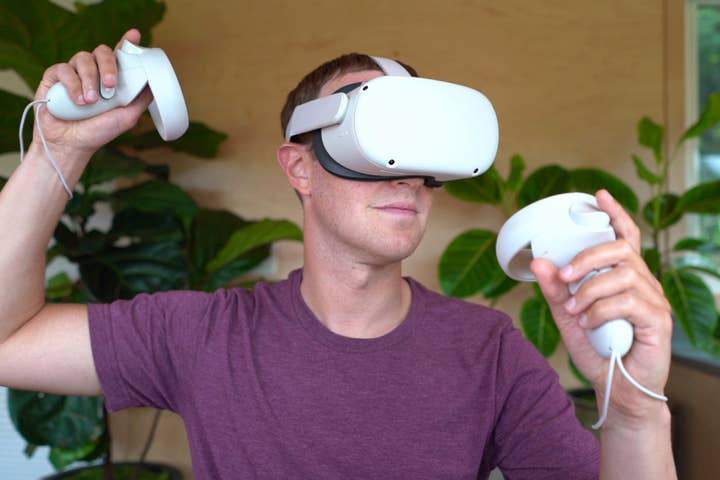 Perhaps the biggest news this week -- besides the lovely new version of this very website launching -- is that the US government is taking another swing at Meta on anti-trust issues.
QUOTE | "Instead of competing on the merits, Meta is trying to buy its way to the top. Meta already owns a best-selling virtual reality fitness app, and it had the capabilities to compete even more closely with Within's popular Supernatural app. But Meta chose to buy market position instead of earning it on the merits. This is an illegal acquisition, and we will pursue all appropriate relief." - Federal Trade Commission Bureau of Competition deputy director John Newman explains why the US regulator is suing to stop Meta's acquisition of Within.
Now, this is not the first time the FTC has tried to rain on Meta's parade. In 2020 it filed suit in cooperation with a number of states against Meta (then Facebook) over its acquisitions of Instagram and WhatsApp, but that complaint was tossed with a judge ruling that it waited too long to challenge the 2012 and 2014 deals on anti-trust grounds.
That shouldn't be an issue this time, as the Within acquisition was just announced last October and hasn't even been finalized yet. And the FTC isn't going after Meta for pursuing a monopoly on a market as large and sprawling as social media, but on virtual reality.
After all, Meta's only in the VR space because it acquired Oculus in 2014, and Within is just the latest in a string of prominent acquisitions in the still-fledgling VR space that have included BigBox VR, Sanzaru Games, Ready at Dawn, Downpour Interactive, and most notably, Beat Saber developer Beat Games.
QUOTE | "The company's virtual reality empire includes the top-selling device, a leading app store, seven of the most successful developers, and one of the best-selling apps of all time." - The FTC makes the argument that Meta already holds too much control over the VR market.
Meta's big competition in the VR space right now are Valve and Sony, two companies with a growing track record of producing interesting hardware and then quickly forgetting it ever existed. I'm skeptical we'll see a follow-up to the Index (or any more first-party software support for it), and I honestly don't know what Sony has up its sleeve for the PSVR 2 that would convince people to pony up for it given the somewhat lackluster software and marketing support the PSVR has received.
I don't think it's a stretch to say that Meta has market control of VR right now, and you could probably make the argument that it's already hurting consumers as a result.
STAT | $100 - The price hike Meta announced this week for the Meta Quest 2 headset.
Meta's explanation for the price hike probably doesn't help its case, either.
QUOTE | "By adjusting the price of Quest 2, we can continue to grow our investment in groundbreaking research and new product development that pushes the VR industry to new heights." - Meta, in the price hike post on the Oculus Blog.
Consumers are paying for Meta Quest headsets now, and the company is doing that to grow its investment in (and presumably control of) the VR space.
The thing is, Meta is already pouring money into the VR space that no competitor could reasonably hope to match.
STAT - $2.8 billion - The operating loss of Meta's Reality Labs AR/VR division in the three months ended June 30.
Facebook is burning almost $1 billion a month to build its presence in the VR and AR field in which it is already the dominant player. And just how big is that market? What kind of sales is the dominant player in AR and VR looking at?
STAT - $452 million - The total revenue for Reality Labs over that same three-month period.
Clearly, Meta is sold on the potential future of the VR/AR market more than its present. It wouldn't be throwing billions at it right now if it didn't think that money would be coming back to it many times over down the road.
When Microsoft launched the original Xbox in 2001, gaming was only a $9.4 billion industry in the US, and as Dean Takahashi pointed out on Twitter, Microsoft had to lose $4 billion over four years just to take a sliver of that market. How much more would it cost for anyone to break into a VR and AR market that justified the money Meta is pouring into the field right now?
If Meta is right about where the market is heading, its acquisitions and investments to date could give it a stranglehold on the space and compound the anti-competitive impacts that are already being felt by its position in the field.
That would be reason enough for me to hope the FTC prevails in this case, even if I don't think Within is a particularly key cog in Meta's plans. But my rooting interest here only becomes more solidified when I consider the company behind the deal.
Meta has a lengthy track record of pursuing profits with a pointed lack of conscience, allowing its platform to facilitate genocide, fraud, and hate speech, all while showing a callous disregard for user safety and user privacy, and these are recurring problems.
I'm as skeptical as anyone about Meta's vision for the metaverse, and about the near-term future of VR and AR in general. But these are interesting technologies being explored by talented creators, and they deserve so much better than to have their fate resting in Meta's hands.
The rest of the week in review
QUOTE | "A boys' club transformed into a real company." - How one Rockstar employee described the culture change at the studio for a Bloomberg report that also suggested the developers had figured out humor that punches down is more cruel than funny.
QUOTE | "Chinese companies err on the side of moderating content, not growth." - An internal Roblox presentation on the company's concerns about finding a partner to launch the game in China, as reported by Vice. It's not surprising in the least, but it's nice to have confirmation that companies like Roblox are so short-sighted as to see moderating content as something that hinders growth, rather than something that creates a healthier community that can grow organically.
QUOTE | "National security concerns." - An Indian government source's explanation for why Battlegrounds Mobile India has been blocked in the country. The government banned the original Tencent-published PUBG Mobile (and more than 100 other apps with ties to Chinese companies) in 2020 citing data privacy concerns. PUBG Corporation opened an Indian subsidiary and launched a new version of the game without Tencent, Battlegrounds Mobile India, to get around that ban.
QUOTE | "We can't just move about 'business as usual' until things are resolved. It sucks, but we want to be sure that folks are safe and taken care of." - A Bungie community manager on Reddit explains that the company will be communicating with players less on social channels because of an abundance of harassment and threats that have been aimed at employees.
QUOTE | "I think when people are in a crisis situation where there's a lot of situations, you do see their core behaviour or values. And I didn't like what I saw. There was really a lack of leadership, courage, and communication. And when you don't have those basic things, no employee can do their job correctly -- especially when you're heading a studio." - Eidos Montreal founder Stephane D'Astous doesn't pull many punches in calling Square Enix's stewardship of its Western studios "a train wreck in slow motion." D'Astous left the company in 2013, but said the trajectory that led to repeated sales disappointments and a sell-off to Embracer Group could be seen even back then.
QUOTE | "It's actually often men who say, 'Actually, I'm a bit tired, and I'm not sure my mental health is in a great space right now. I need to take some time out.' And the fact that they feel fine to say that is a real testament about how good those wellbeing champions have been." - Ubisoft Reflections and Ubisoft Leamington managing director Lisa Opie discusses the studios' efforts to improve the work environment after stories of abuse, discrimination, and harassment emerged in 2020, stories in which men feeling free to express themselves was in many cases the problem.
QUOTE | "Ouya will be as big as iPhone" - The headline of a guest editorial we ran 10 Years Ago This Month. Is it too late to issue a retraction?
QUOTE | "Twitter ended up being our main platform, together with Instagram. This is a really important [point] because I've seen lots of other indies trying to do everything. But there's also a big topic of doing what you're comfortable with. We did some Reddit, for instance, but as a Black gay man, it was just terrifying. It worked okay, we did some things there, but I just decided: you know what, I just want to sleep at night." - Twin Drums' Allan Cudicio talks about his intermingled approach to marketing and game development in a presentation at Develop: Brighton.
STAT | $100 million - The total amount players have spent on Diablo Immortal since its debut two months ago, according to Sensor Tower. The firm said Diablo Immortal was the second quickest game to reach that mark, behind only Pokémon Go.
QUOTE | "We really gave increases and decreases in video game play a fair chance to predict emotional states in life satisfaction, and we didn't find evidence for that -- we found evidence that that's not true in a practically significant way." - Oxford researcher Andy Przybylski talks about a newly published study showing that playing games doesn't seem to impact mental wellbeing one way or the other. However, the study did find that players were playing a game because they felt they had to, either through compulsion to play or because they had to accomplish time-sensitive tasks and goals in the game, reported the worst levels of life satisfaction.
QUOTE | "The Tender Claws Human Union will no doubt have a positive impact both within and beyond our walls, and we are thrilled to recognise and work with the union, collaborating to make Tender Claws the best working environment it can be." - Danny Cannizzaro, co-founder of Tender Claws, in a statement confirming the development studio has voluntarily recognized its staff union.