Attitudes of Days Gone by | This Week in Business
There's nothing wrong with waiting for a sale or playing a game given away as part of a subscription service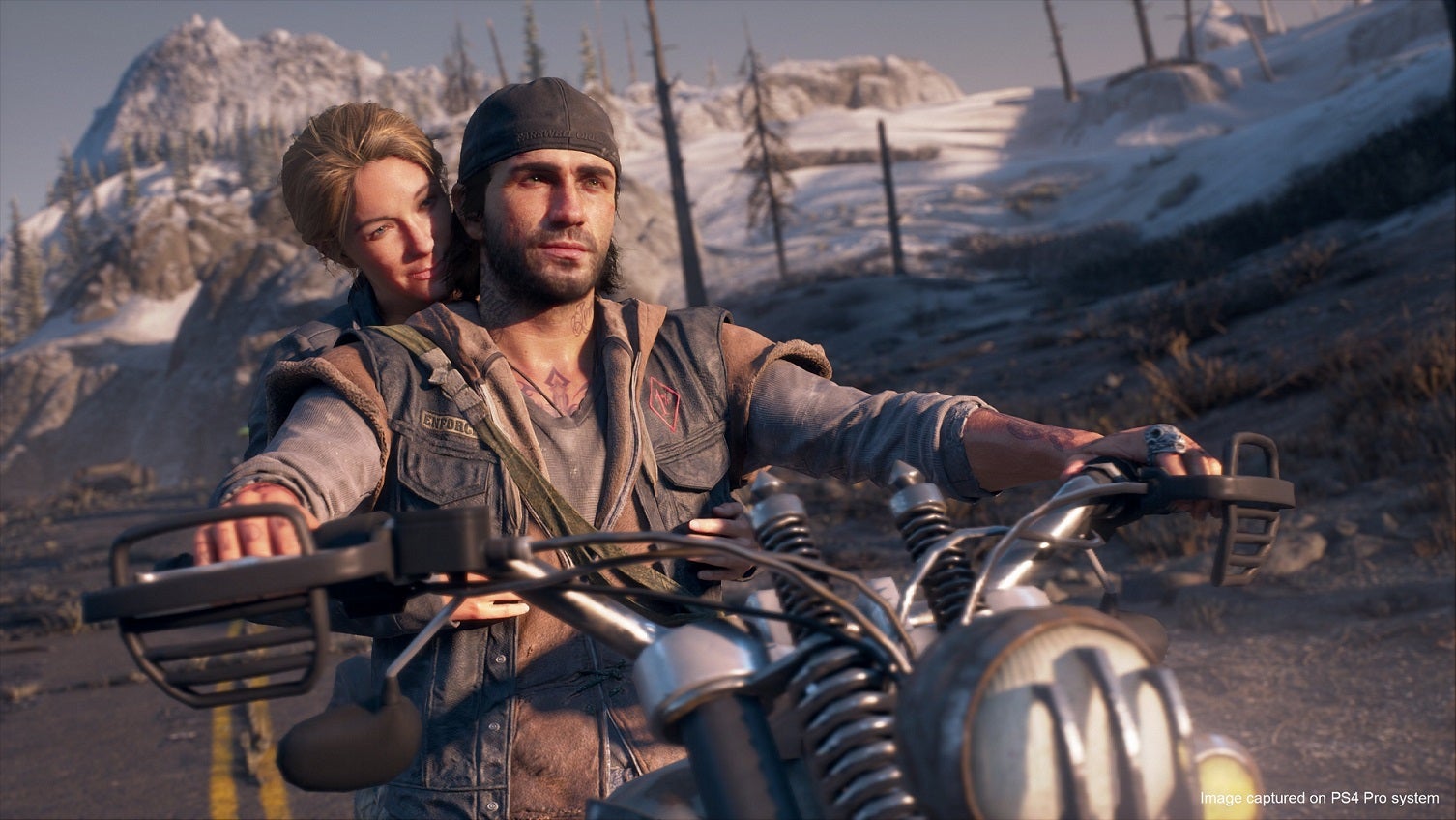 I know the column is "This Week in Business," but let's start with something that technically happened last week, even if the Discourse around it didn't really kick up until a few days ago after it was covered by VGC. Here's the quote you might have seen thrown around.
QUOTE | "I do have an opinion on something that your audience might find of interest, and it might piss some of them off. If you love a game, buy it at fucking full price. I can't tell you how many times I've seen gamers say, 'Yeah, I got that on sale, I got it through PS Plus, or whatever.'" - Days Gone director John Garvin, speaking with David Jaffe on the latter's Gabbin + Games YouTube show, when asked whether the game being added as one of the monthly giveaways for PlayStation Plus subscribers resulted in an engagement spike.
For the record, Garvin was right about the reactions his comment would get, whether it was for the illogic (How is a person supposed to love a game before they buy and play it?), the sense of entitlement, or the derision aimed at people who maybe can't afford to buy every AAA game they're interested in at full price or simply weren't won over by pre-launch marketing.
But I'm not including it here for those reasons so much as to emphasize how out of step this view is with the industry today. You don't have to look very far to figure out that engagement is the defining metric of the era, sometimes even moreso than the numbers we would normally associate with success.
It's been six years since Microsoft stopped reporting console sales figures, explaining that engagement metrics were a more effective way to measure the company's performance. Activision stopped reporting World of Warcraft the following month, saying it was pushing to a "year-round engagement model" that put more emphasis on those metrics than sales figures.
And while it's easy to see those moves as companies not wanting to be transparent with numbers that were on the decline at the time, there's a convincing argument in a games-as-a-service world that they're right, and they have generally been consistent with emphasizing engagement since then, even when it dips.
"It's a lot easier to get money next quarter from a customer you see every day than it is to get it from a customer who already paid you $60 for a game they played once and bounced off of"
It's not just sales that companies will downplay in favor of engagement. If they have enough people using their products and positive momentum in growing that base, they don't even sweat minor details like profitability. It's a lot easier to get money next quarter from a customer you see every day than it is to get it from a customer who already paid you $60 for a game they played once and bounced off of.
That's partly why Unity's IPO valued it at $13.7 billion even though the company had lost money every single quarter of its existence dating all the way back to 2004. That's why Roblox's first day of public trading put its valuation at $38 billion even though it has likewise been around for 17 years losing money literally the entire time.
Garvin may not see the value in Days Gone being downloaded and played through PS Plus, but you can bet Sony does. It wouldn't have put it in there, or even made free games a part of PS Plus in the first place, if it didn't.
Granted, a full price day one purchase would have helped the game more than a player downloading it when it was added to PS Plus. And certainly, the benefits Days Gone receives by having a massively expanded player base are limited by the game's lack of paid DLC or further monetization offerings.
But that's because Days Gone, like much of Sony's lineup, is a relic of a bygone era in the industry. Big-budget single-player narrative games like Days Gone, Spider-Man, Horizon Zero Dawn, God of War, and Last of Us Part 2 are getting more and more rare in the industry. With the production costs of modern AAA development, they just don't make financial sense for most companies.
Sony has more latitude to do it because it sees value beyond the games themselves. They sell consoles. They make the PlayStation Plus offering more attractive. They build the brand. And with the infinite shelf space of digital distribution, their lifespan isn't limited to the six weeks from release like in the bad old days. It's entirely possible for games to underwhelm at launch but endure down the line, and Sony will be benefitting from Days Gone for years to come.
People who take a flyer on a game when it's deeply discounted or download a game because it happens to be included in a subscription are still part of that longer tail and lasting relevance for games today. Waiting for a sale isn't like rooting for a game to fail. And downloading a game from PS Plus is not an act of piracy. None of this is taking money out of anybody's pocket, and Garvin's apparent scorn for those who appreciated his game but not when and how he would have preferred, is a throwback to a different era.
OK, now for the stuff that actually happened this week.
QUOTE | "I think that the games that we make are as distinct and diverse as they can be. From Sackboy to Astro Bot to Dreams to these kind of games that you're referring to, like The Last of Us Part 2 and Ghosts of Tsushima. And you can bet that we will carry on making these games, because they are the heart and soul of what we do here at PlayStation studios. But at the same time, we are just as committed to making these quality experiences as we are to experimentation and to coming up with fresh ideas." - PlayStation Studios head Hermen Hulst takes issue with the notion Sony just makes single-player narrative blockbusters these days.
QUOTE | "In a world where there are hundreds of incredible indie games being released and struggling for attention, should Sony really be competing with them by making its own? Would it not be better served facilitating and supporting indie developers to make Journey-like games, rather than going up against them?" - In an editorial, GamesIndustry.biz's Christopher Dring argues that Sony doesn't need to make a fully diverse slate itself, so long as it's ensuring such a variety of titles is still arriving on its platform.
QUOTE | "Upon further reflection, however, it's clear that we made the wrong decision here... We see now that many of you are incredibly passionate about being able to continue purchasing classic games on PS3 and PS Vita for the foreseeable future, so I'm glad we were able to find a solution to continue operations." - Sony Interactive Entertainment president and CEO Jim Ryan, reversing course on closing two of Sony's digital storefronts while affirming that the PSP online store is doomed.
STAT | Around 30,000 - The number of refunds for Cyberpunk 2077 that CD Projekt facilitated through its "Help Me Refund" program. (This number does not include refunds handled directly through the point of purchase like Steam, Microsoft Store, GameStop, etc.)
STAT | 13.7 million - The number of copies of Cyberpunk 2077 purchased by the end of 2020.
STAT | 0% - The revenue share Epic will receive on each sale made through indie game store Itch.io's app on Epic Games Store, a clear shot at Apple and Google's mobile storefront policies.
STAT | 1 - Number of Mr. Men or Little Miss characters who have beaten the pope to within an inch of his life, now that Ubisoft has struck a deal to put Assassin's Creed characters in the series. (Full disclosure: I'm only pretty sure about the accuracy of this stat. I haven't read Mr. Grumpy yet.)
STAT | $179 million - Roughly the current value of the shares GameStop CEO George Sherman will receive when he leaves the company July 31, after a two-year-stint atop the company that featured an investor revolt and such overwhelmingly negative sentiment about the company that more of the company's shares had been shorted than actually existed, leading to January's bizarre Reddit-fueled rally.
QUOTE | "We love the Lord of the Rings IP, and are disappointed that we won't be bringing this game to customers." Amazon sticks a fork in its MMO adaptation, yet another of its high-profile game development stumbles.
QUOTE | "It was like if you knock over a glass of water on your desk. Most of the water comes out in the beginning, and that's what your sales are like. This felt more like if you tried to tip over a bathtub full of water." - Coffee Stain CEO Albert Säfström tries to convey the success of the publisher's recent release Valheim, which saw each day outsell the previous one for at least a week after release.