Kotick: Overwatch, Diablo delays affected Activision Blizzard stock price more than abuse scandal
Embattled CEO discusses Microsoft acquisition, visions of reviving Guitar Hero and Skylanders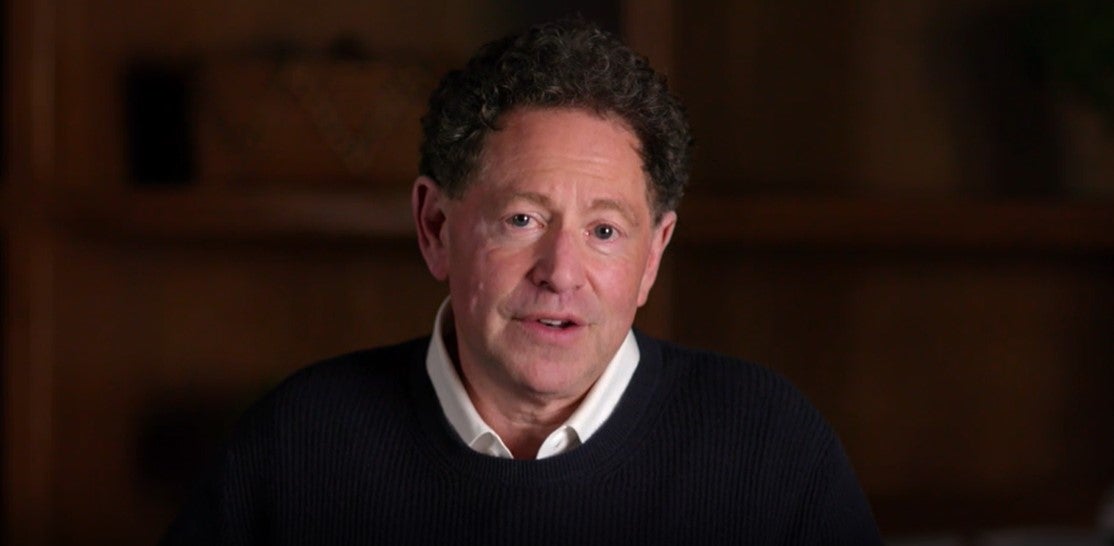 Bobby Kotick has suggested the delays of Overwatch 2 and Diablo 4 had more of an impact on Activision Blizzard's share price than the ongoing allegations of abuse and harassment against the publisher.
In a rare interview, the CEO talked about the sale of his company to Microsoft for $68.7 billion with GamesBeat, with the site asking where the sexual harassment scandal was a factor given its perceived impact on the stock price.
"I think what affected the stock price more than that is pushing out Overwatch and Diablo," said Kotick. "And then I think people started to see that this year's Call of Duty wasn't performing as well. So I think certainly the [California Department of Fair Employment and Housing] filing and the Wall Street Journal article contributed to that, but stocks go up and down for a variety of reasons."
Both delays were announced during a post-earnings call in early November, and was followed by the sharpest drop in share price that Activision Blizzard saw in 2021: falling 14% from $77.67 per share to $66.75 in a single day.
However, the company's stock has been steadily declining from February, when it announced record full-year results. While it only fell 7% between February and the end of July, when the first lawsuit was filed by the DFEH, the price dropped 28% between then and the news that Microsoft would be acquiring the company.
The share price fell to $57.28 on December 1 -- the lowest point in 2021, and the lowest since March 2020 -- following multiple calls for Kotick to resign after The Wall Street Journal reported that, among other things, he was aware of harassment at the company, once threatened to have his assistant killed, and overturned a HR recommendation for a senior Call of Duty developer to be fired for sexual harassment.
GamesBeat referenced the "few months of tough coverage" Kotick and Activision faced last year, specifically naming The Wall Street Journal, and asked the CEO what he had learned from the experience.
"From my perspective, if you have one single incident of harassment at your company, that's one too many. And you don't want to ever have an environment where people don't feel safe and comfortable and respected. And so when the EEOC started their investigation, where it was like three years ago now, that was the catalyst for us to start thinking about, how do you change and transform the culture to making sure that you do have the most safe, welcoming, inclusive culture. It's a priority for me to make sure we have the very best workplaces."
Earlier this week, Microsoft CEO Satya Nadella recognised that there was "significant work" to be done in addressing the various issues at Activision Blizzard.
Meanwhile, the ABK Workers Alliance said the Microsoft acquisition "does not change the goals" of the employee group as it continues to campaign for key workplace improvements and better accountability.
In terms of the acquisition itself, Kotick said selling the company was in part motivated by a need to grow and invest more into areas like AI and machine learning to improve its products -- something the CEO claimed it didn't currently have the talent or resources for.
He compared it to Take-Two's recent purchase of Zynga, which brings the publisher into the mobile space by acquiring both talent and experience.
"I think Strauss [Zelnick, Take-Two CEO] did a good deal with things, because I think he realised he needed mobile," Kotick said . "But I think that even if we were to have consolidated within EA, that wouldn't have given us what we're going to need going forward."
It's worth noting that Activision Blizzard laid off hundreds of people in 2019, announced in the wake of record financial results -- although it later planned to hire 2,000.
The company also confirmed similar redundancies after its results last year, and made layoffs as recently as December when a third of the QA team at Raven Software was let go, a decision that prompted a strike at the studio.
Kotick also said Activision's sale was to help it better contend with bigger tech firms. He also implied that the wider context means the deal should avoid any antitrust concerns.
He said: "When you look at the competition, whether it's Tencent and NetEase, and Alibaba or Sony, or Amazon, Apple, Google, Facebook, Netflix, then you start looking at like, the second part of competition and content, and you realise whether it's Roblox or Minecraft, or the variety of other sort of platforms that are becoming available for content creators, I think there's more competition than we've ever seen for games."
However, he did note that there is "still a long way between now and getting a deal approved, and all the regulatory issues."
Elsewhere, the CEO discussed the potential opportunities opened up by Microsoft's ownership. He specifically hinted at plans for Guitar Hero, Skylanders and Candy Crush Saga.
For the latter, he observed the hugely popular mobile game "[doesn't have] enough social capability" and envisaged a version where players could compete directly against each other, socialising over both voice and video chat.
He said he has "wanted to make a new Guitar Hero for a while" but didn't want to add teams to handle manufacturing, supply chain and so on -- especially during the ongoing chip shortage.
Finally, he indicated he has unfinished business with Skylanders, saying: "One of the great disappointments of my career is that other people came in and they came out with crappy alternatives. And they dumped all of these crappy alternatives in the market, and basically destroyed the market for what was a really cool future opportunity."
"If you look at Skylanders, with its hardware and manufacturing and supply chain, there are the same kinds of things that we can't do but Microsoft can."
Microsoft's record-breaking acquisition was announced earlier this week. We spoke to analysts about the implications it will have on the wider industry, as well as pondered some of the unanswered questions surrounding the deal -- many of which are related to the abuse scandal at the Call of Duty publisher.