Fortnite and the contemporary pop culture slurry | This Week in Business
Years of crossover collaborations in live service games suggest a shift in flexibility for brand holders of all kinds
Once upon a time, a brand was a pretty much permanent thing, something to say who owned livestock, or where goods had been made.
These days – and especially on this site – we use it to talk about intellectual property more than physical property, a popular franchise of games or the nebulous connotations consumers hold in their head about an actual product line.
And in that sense, a brand is very much impermanent. Hard to kill certainly, as Atari's continued existence reminds us. But not burned in flesh or set in stone. Brands adapt to the times, they are routinely refreshed, reinvigorated, and re-sold to audiences in a variety of guises, some paying wonderful homage to their origins, and others less so.
And while that's always been the case, I get the feeling these days that brands are increasingly malleable. This week we saw the arrival of Dragon Ball characters to Fortnite, which is yet another in an interminable march of tie-ins to the popular battle royale shooter that fit not because they work with the core experience and gameplay of Fortnite, but because they work with the almost arbitrary amalgamation of unrelated brands it has become.
On the one hand, it makes perfect sense why companies would sign up for this. They get to make some money by bringing their popular brand to games without the difficulty of faithfully converting it to an interactive medium or the expense of trying to build a stand-alone game, and it's going to introduce their brand to tons and tons of kids who might go on to be fans. It's such a popular thing now that there are entire studios set up explicitly to create brand activations in one specific game.
On the other hand, it's basically guaranteeing that there will be footage of Rick and Morty shotgunning your characters directly in the face as Captain America and Darth Vader exchange inappropriate emotes in the background.
Maybe they don't really know what they're signing up for. I mean, No Doubt and Kurt Cobain's estate apparently didn't realize when they respectively signed deals for Band Hero and Guitar Hero 5 that their in-game avatars would be singing other people's songs as well.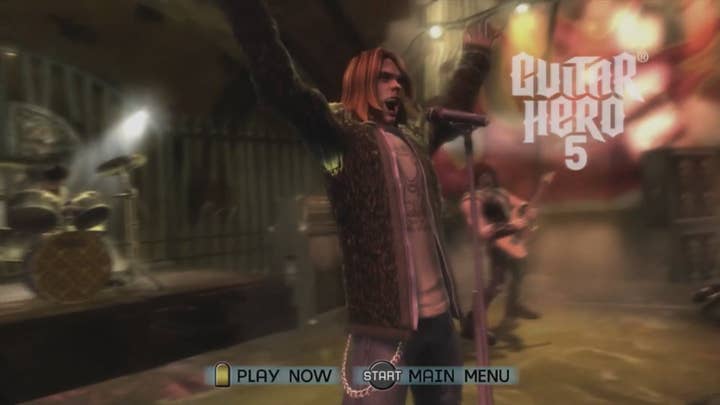 And as we saw with the regrettably predictable MLK Fortnite activation, even game developers can be pretty clueless as to what people will do with their work. But if it was just ignorance, we would have seen an end to this with the first viral video of Superman riding the pony during the "I Have a Dream" speech.
So I don't think there's any ignorance to point to here, especially not when Fortnite has been running these crossovers for so long and we even see something like PUBG Mobile (which has been banned in multiple jurisdictions for addicting and corrupting youth) and Baby Shark (which to be fair, has been banned in plenty of households for the same offence).
It seems games are seen as such a simultaneously lucrative and effective marketing strategy as to overcome almost any outmoded concerns companies might have about reputational damage or unsavory connotations.
QUOTE | "Kellogg's Frosted Flakes® and Tony the Tiger® are leveling up the fun for cereal fans and gamers with their first-of-its-kind collaboration with Twitch's Brand Partnership Studio. Tony will make his streaming debut — making Kellogg's Frosted Flakes the first brand globally to work with Twitch, to transform a brand mascot into an interactive VTuber — in Tony the Tiger's GR-R-REAT CEREAL BOWL OF GR-R-REATNESS livestreamed event." – One of the worst press releases I received this week.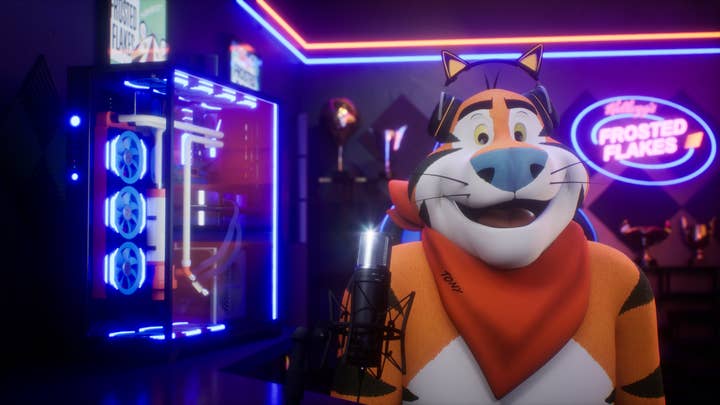 Yes, Tony the Tiger will be showing up on Twitch to play an unspecified popular battle royale game. Never mind the gun violence and voice chat pitfalls that would be possible in such an event to start with, Tony is also doing this on a platform that has this year been riding a wave of interest in people livestreaming literal gambling. That's to say nothing of its history as a platform that has fostered misogynists among the ranks of content creators as well as employees, a platform whose founding vision welcomed the Ku Klux Klan, a platform that needed to be forced by others to care about user safety at every turn.
I'm sure Kellogg's is going to tightly control the content of the livestream as much as possible, and the whole promotion seems to rely on the novelty of the thing. "Wow, a cereal mascot on Twitch? That's so absurd I'll probably watch out of curiosity."
Lots of what's going on with brand collaborations in gaming seems to rely on this same appeal. Multiversus lets Game of Thrones' Arya Stark throw down with LeBron James and Tom and Jerry. Fall Guys has brought in everything from Godzilla to Pusheen to Disney's The Jungle Book to a Half-Life headcrab. The more tenuous the connection, seemingly the better.
But one side effect of this trend (for me, at least) is that these "lol so random" collaborations and marketing campaigns quickly lost their novelty. It doesn't help that the aesthetic of so many of these games seems derivative of Fortnite, aping Epic's tone in every sense of the word.
It makes me almost resent these appearances, even for the brands I actually tend to enjoy. Separated from everything that makes them distinct apart from superficial signifiers and props, the substance of these characters is replaced by everything that makes these games what these games are. It feels like browsing the Funko Pops aisle at GameStop.
As much as Funkos and Fortnite collaborations clearly bring money in for someone, there's a dilutive element to it as well, taking what little variety we are already offered in our mass market media and smearing away the differences until it's all just one homogenous slurry to consume.
Regardless of how unappealingly I phrase it, I'm not sure it's necessarily a bad thing. It's not like the money and attention was fully optimized to support the most deserving works before Fortnite. Things could and should be better on that front, and we can continue to push for that, but I'm not sure we've actually lost much progress in the past five years.
Corporations could also stand to be less controlling with their IP, and the advent of these kind of crossovers certainly requires them to give up a bit of control. After all, if you put your brand in Fortnite, you're not just putting your brand in Fortnite; you're putting your brand in every brand that's ever been in Fortnite. I don't pretend this will significantly alter the way cease-and-desist-happy license-holders treat fan fiction writers, homage game developers, and any other group not directly padding their coffers, but anything that makes them more flexible on this front rather than less is probably a net good.
And perhaps the most important thing to remember here is that there is no shortage of other, more varied cultural output for me to enjoy in the world of games and beyond, even if it requires a bit more work to find than something with a massive marketing budget rammed into my face at every turn. Becoming bored with old favorites may be a helpful push to discover something new and exciting I might not have given a chance otherwise.
So go ahead, brands, do your worst. The characters and stories that mattered to people will still exist, and The Iron Giant's "I am not a gun" scene will still make people tear up no matter how many times you treat it like the robotic Baba Yaga in other films and games. Because brands are next to impossible to kill. And just as brands can be debased and discarded, so too can they be rebooted and retooled later on by creators with more interesting approaches to the material.
The rest of the week in review
QUOTE | "If Disney can buy Star Wars, Marvel and Fox, surely Xbox can buy Call of Duty?" – Just one of the questions Chris Dring tried to answer in a handy primer about the regulatory approval process facing Microsoft's acquisition of Activision Blizzard.
QUOTE | "The Lord of the Rings IP is home to so many remarkable stories, and no entity is better equipped than the team at Wētā Workshop to create a distinctive, new Middle-earth gaming experience." - Take-Two chief strategy officer Michael Worosz announcing a new Lord of the Rings game developed by the special effects studio and set for release by March 2024 on Take-Two's Private Division label.
QUOTE | "Other opportunities include exploring additional movies based on iconic characters such as Gandalf, Aragorn, Gollum, Galadriel, Eowyn and other characters from the literary works of J.R.R. Tolkien, and continue to provide new opportunities for fans to explore this fictive world through merchandising and other experiences." – Embracer Group re-assures fans of Lord of the Rings that even though it acquired the rights to The Lord of the Rings, the ongoing effort to strip-mine every last dime possible from the creative corpus of J.R.R. Tolkien will not be disrupted in the slightest.
STAT | 183 – The number of Embracer Group studios (120 of them internal studios), according to the company's latest quarterly report. That number doesn't even include pending acquisitions like the deal for Crystal Dynamics, Square Enix Montreal, and Eidos Montreal, or the just-announced acquisitions of Tripwire Interactive, Limited Run Games, Singtrix, and Tuxedo Labs.
STAT | 13,877 – The number of people employed by Embracer Group.
STAT | 12,900 – The approximate number of people employed by Electronic Arts, according to its most recent annual report.
STAT | 9,800 – The number of people employed by Activision Blizzard, according to its most recent annual report.
STAT | 6,717 – The number of people employed by Nintendo, according to its most recent annual report.
QUOTE | "The board continues to believe that the IronSource transaction is compelling and will deliver an opportunity to generate long-term value through the creation of a unique end-to-end platform that allows creators to develop, publish, run, monetize, and grow live games and real-time 3D content seamlessly." Unity CEO John Riccitiello more or less telling AppLovin to take a hike with its unsolicited merger offer that would represent a paltry 18% premium on Unity's current share price and Unity shareholders with a minority voting interest in the combined company.
QUOTE | "A lot of the NOA red badges [full-time employees] had reputations for using the tester pool of associates as a dating pool. If you were approached by a red badge, and they appeared to be making moves on you, [other women said that] you didn't want to dissuade them too hard." – Speaking with Kotaku for a feature on poor treatment of contractors at Nintendo of America (the third one this year!), a source illustrates what can go wrong when you treat full-time employment as a carrot on a stick to motivate contractors.
QUOTE | "Prince of Persia's ahistoricitism and blasphemies" – A headline about Prince of Persia that appeared on a Persian-speaking news site some years ago, something I learned from this fascinating piece on how the series has been viewed in Iran and by Iranian developers.
QUOTE | "This perfection of controls really runs through the veins of Japanese game developers. It's been that way forever. There is something unique about moving a character in a Japanese game. The feeling that you have, the pleasure that you take... I look at developers like Platinum Games, when you play Bayonetta, that movement is perfected. They're second-to-none on that perfectionism. That's the local culture." – Judging by this interview about Team Asobi, creative and studio director Nicolas Doucet has never played Sonic the Hedgehog (2006).
QUOTE | "If you work in a more relaxed way the solutions tend to come to you more naturally, you become more creative at solving problems, so everything just falls into place." – In this Academy piece about turning Eyes in the Dark from a game jam project to a full commercial release, Under the Stairs' founder Vladimir Bogdanic says nobody ever crunched on the game.
QUOTE | "We are for inclusivity, we are for diversity. If we think someone is uploading a mod on our site with the intent to deliberately be against inclusivity and/or diversity then we will take action against it." – Nexus Mods owner Robin Scott explains why the site banned a user for uploading a Spider-Man mod that took the Pride flags out of the game's version of New York City.
QUOTE | "When I was growing up, I didn't have a lot of blueprints for what a healthy queer relationship looked like, so I didn't have the framework to engage in asking who I was. The power of media is it's able to give you those blueprints to better understand how you might live your life." – Maxis senior game designer Jessica Croft talks about adding sexual orientation and proper pronouns to The Sims 4 with its High School Years expansion pack.