Collective action gets results | This Week in Business
The Activision Blizzard union doesn't even exist yet and is already providing tangible gains for all employees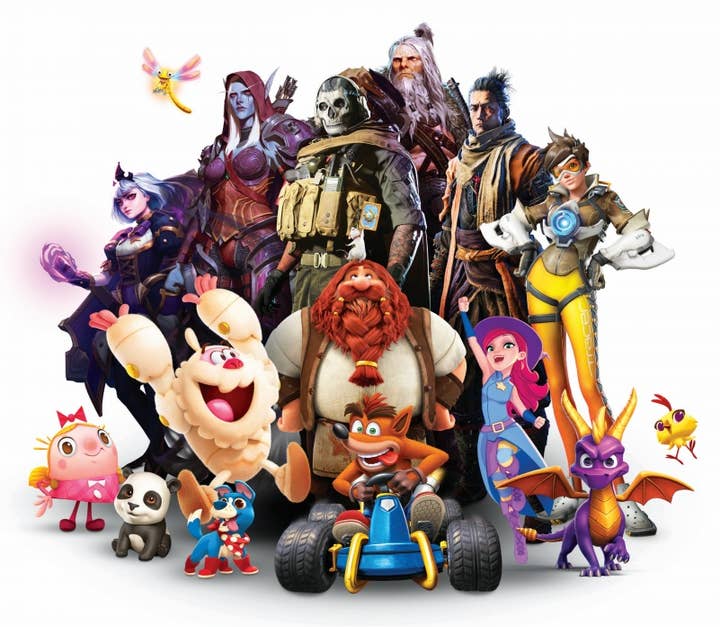 This Week in Business is our weekly recap column, a collection of stats and quotes from recent stories presented with a dash of opinion (sometimes more than a dash) and intended to shed light on various trends. Check back every Friday for a new entry.
There was some big news out of Activision Blizzard this week as the company announced that it would be converting all of its US-based QA contractors to full-time employees with benefits. Additionally, it will raise the minimum pay for QA to $20, following on from a November move that raised the pay floor to $17.
The interesting thing about the conversion to full-time is that it fulfills one of the demands made by the Raven QA workers who went on strike for nearly two months and are awaiting a National Labor Relations Board ruling on their efforts to unionize.
Naturally, we asked Activision Blizzard about whether it would be fulfilling the strikers' other major demand: to bring back contractors who were laid off in December and offer them full-time positions.
QUOTE | "This conversion of nearly 1,100 QA workers at Activision and Blizzard does not have any relation to the petition pending at Raven studio. The Raven situation is limited to Raven." - An Activision Blizzard representative's response.
Ah, ok, no relation at all. Got it. Interestingly, this latest act of corporate beneficence doesn't apply to the Raven workers who voted for unionization "due to legal obligations under the National Labor Relations Act."
QUOTE | "It's especially galling then that Activision has excluded Raven Software QA workers, who have been at the forefront of this effort, from these benefits. The company's assertion that the National Labor Relations Act prevents them from including Raven workers is clearly an effort to divide workers and undermine their effort to form a union." - A rep with the Communication Workers of America (who Raven's QA team is unionizing with) told Kotaku the company is using laws intended to prevent employers from tampering with unionization efforts as a protection for tampering with unionization efforts.
April Fools was last week, so that doesn't really explain it. But there's some evidence Activision Blizzard might have been observing Opposite Day this week?
QUOTE | "In order to ensure we all have a safe workspace where we can gather with colleagues and innovate together, it is essential we stay committed to protecting ourselves and others." - Activision Blizzard chief administrative officer Brian Bulatao, citing workplace safety in an email to staff explaining why the company was... dropping its vaccine mandate for US employees effective immediately?
Weird. It's almost like the responsibility for public health is being offloaded from the governments and institutions with the power to move the needle and onto individuals who would perceive risk, safety, and ethical obligations to their fellow humans differently in the best case, but are now also being given mixed messages and garbled guidance on what is or isn't safe behavior.
Anyway, Activision Blizzard employees threatened a walkout over it through the A Better ABK pro-union group, Bulatao then backtracked and said it would be up to the individual Activision Blizzard business units to decide on vaccine mandates, and Blizzard said it would keep the proof of vaccination requirement for office workers in place "for at least the next few months."
Activision Blizzard isn't even unionized yet and the workers are already winning concessions left and right through collective action
That's not a complete reversal, but it's better than the company would have treated its employees if they hadn't worked together. Activision Blizzard isn't even unionized yet and the workers are already winning concessions left and right through collective action.
When the company offered an offensively poor response to the California Department of Fair Employment and Housing lawsuit last year, it was an employee walkout that got it to change its tone.
It was employee demands that got Activision Blizzard to drop its policy of required arbitration for sexual harassment and discrimination complaints.
It was developers speaking out about the treatment of contractors that got them paid holidays and saw their minimum pay bumped twice now since the suit began.
Activision Blizzard has said some of these moves were already in the works, just like the restructuring of Raven Software that split the QA team across a variety of departments and was totally not an attempt to thwart their efforts to unionize because that would be illegal. Gee whiz, it's just a remarkable coincidence how organizing efforts were so closely followed by all these things so specifically relevant to those organizing efforts! And if you actually believe all that, Activision has a bridge it would like to sell you. (No, not that one.)
I hope those benefitting from this collective action now can see the company's efforts to undermine the union push for what they are, and understand these do not resemble the actions of a benevolent employer so much as one terrified that its employees might start siding with each other instead of Bobby Kotick.
The rest of the week in review
QUOTE | "One of the reasons we've been so transparent about our approach is to ensure that Rioters are armed with all of the information they need to make career decisions that are right for them." - Riot Games lets employees know it is absolutely prepared to lose anyone who isn't comfortable with the company mandating its LA team return to the office, but not mandating masks or vaccines.
QUOTE | "Riot's Business Continuity team puts Rioters' safety at the forefront of every decision." - Riot Games' career website, on the same page that talks about how the company is working remotely during COVID-19.
QUOTE | "Tekken has never had DLC before and charged for it... I see the characters and their move sets as chess pieces. They are essential items necessary in the game, and we would never sell any of those individually." - 10 years ago this month, Tekken producer Katushiro Harada makes a solemn vow. (Tekken 7, the next mainline installment of the series, would have 15 additional chess pieces sold individually.)
STAT | 80% - The portion of surveyed Elden Ring purchasers who said the game's open world setting attracted them, in case you're wondering why the game achieved a level of success above and beyond any of From Software's Dark Souls games. Only 27% said the involvement of A Game of Thrones author George RR Martin was a factor.
STAT | 17.1% - The median gender wage disparity in the UK games industry for 2021. As a comparison, the gap among full-time employees across all professions in the UK was 7.9%.
QUOTE | "You own a piece of the game and have left your mark in its history." - Ubisoft does its best to offer comfort to people who bought its absurd NFTs for Ghost Recon Breakpoint just a few months before the company announced it was stopping work on the game entirely.
STAT | $113,124 - The approximate price paid for the most expensive NFT transaction of 2019, a car in the blockchain game F1 Delta Time. The developer of F1 Delta Time lost the F1 license and shut the game down last month, providing another handy cautionary tale about how many of the fundamental pitches of blockchain gaming -- in this case the idea that you can own parts of the game -- are lies in every way that matters.
STAT | 1,180 - Average daily active users over the last month for metaverse blockchain game The Sandbox, according to a Coindesk report.
STAT | $93 million - The Series B funding round The Sandbox closed last November to help scale the metaverse blockchain game. It also boasts IP partnerships with 165 brands including The Smurfs, Atari, and (appropriately enough) The Walking Dead. There has undeniably a lot of money and corporate interest flowing around blockchain games in the past year or so. Actual players? Not so much.
There are no winners here, just people who should have known better.