Activision Blizzard's COVID-19 vaccine mandates to be decided by each office's leadership
Update: Company takes U-turn on vaccine requirements after staff threatens to walk out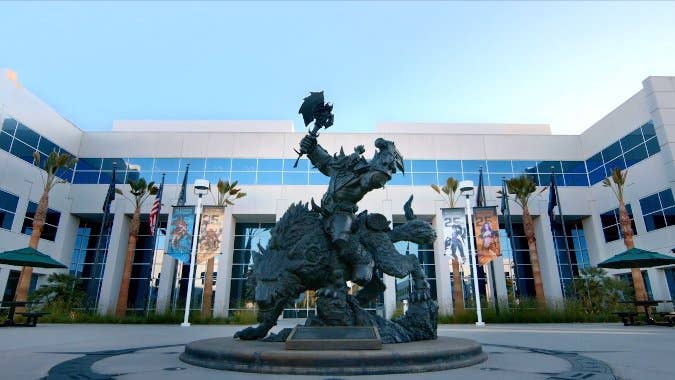 Update, Monday, April 4, 2022: Activision Blizzard has made a U-turn and decided to leave COVID-19 vaccine mandates down to individual offices rather than changing its policy across the board.
Soom after the internal announcement that the company would be dropping vaccine requirements, the ABK Workers Alliance announced a walkout for today on Twitter, and made three demands: "An immediate reversal to lifting the vaccine requirement, remote work should be offered as a permanent solution, [and] the decision to work remote or in office should be made by each individual employee."
Brian Bulatao then sent a follow up email clarifying that the company is still "operating under a voluntary return to office opportunity" and saying that it actually would be down to "the leaders of Activision Publishing, Blizzard and King to determine the processes and policies that work best for their employees."
Bloomberg's Jason Schreier then reported that president Mike Ybarra sent a email to staff to clarify that Blizzard will still require a proof of vaccination "for at least the next few months."
Activision Blizzard employees have shared on Twitter that other locations had made the same decision as well.
GamesIndustry.biz has reached out to Activision Blizzard for more information.
Original story, Friday, April 1, 2022: Activision Blizzard announced yesterday that it would no longer require its staff to be vaccinated against COVID-19 to come back to the office, "effective immediately."
As reported by Kotaku, the company's chief administrative officer, Brian Bulatao, announced the change in an internal email, saying that it's "important to align [Activision Blizzard's] site protocols with local guidance," as vaccine mandates have been lifted across the US for businesses and events.
Bulatao added that the firm will "continue to monitor the risks for COVID-19 in all areas where [it] operates" and asked staff to keep providing their vaccination status via the company's HR platform, Workday.
"Having this information readily available will allow us to act quickly -- and pivot if necessary -- if we see a future spike in cases," he said.
He then emphasised what he called "the benefits of in-person collaboration" and told staff to expect additional updates in the coming weeks about "what returning to the office looks like."