TinyBuild's post-IPO profit up 64% to $12.5m
In its first financial report since going public, the Potion Craft publisher reported growth across the board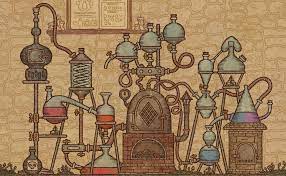 TinyBuild has published its first financial results post-IPO, reporting $52.2 million in revenue for 2021, a 39% increase from 2020.
For the twelve months ended December 31, 2021, operating profit at the Hello Neighbor publisher was up a whopping 64% to $12.5 million.
TinyBuild noted that revenue for the year was "slightly ahead of expectations" and was due to the good performances of "new titles including Potion Craft" (which had been downloaded 600,000 times by the end of December 2021), as well as back catalogue sales. The latter represented 83% of total revenue for TinyBuild.
Not For Broadcast, NotGames' FMV title released in January and published by TinyBuild, has been downloaded over 300,000 times.
The financial report indicated IPO costs of $5.5 million, contributing to a reduction of the company's operating cash flow from $16.5 million in 2020 to $13.3 million last year. The company floated on the London Stock Exchange's AIM market in March 2021.
TinyBuild also noted an increased EBITDA margin (42.5% in 2021 versus 40.6% in 2020) "primarily due to the ongoing shift towards own-IP versus third party IP."
TinyBuild acquired several studios in 2021: the developers behind Totally Reliable Delivery Service, Black Skylands and Cartel Tycoon in February, Streets of Rogue developer DogHelm in June, Rawmen studio Animal in August, Deadside developer Bad Pixel in September, and fellow indie publisher Versus Evil and its QA studio Red Cerberus in November.
These acquisitions, and particularly the Versus Evil purchase, meant TinyBuild's portfolio increased to over 70 titles in 2021, with "contribution to revenues from first- [and] second-party games increased to 81%," the report said. It added that Versus Evil has signed four new IPs since the acquisition.
CEO Alex Nichiporchik commented: "Last year has been an incredible ride, from the IPO to our largest deal ever with Versus Evil and Red Cerberus opening up new avenues of growth. Our back catalogue has performed strongly, and we have an even more diverse revenue mix in terms of titles, genres, geography and audience. Our strategy to accumulate owned-IP has resulted in a strong financial performance and has translated into an improved profitability.
"A growing pipeline of high-quality titles set for release in the next two years, the majority of which are first and second-party, means we can build more multi-game franchises and emulate the success of Hello Neighbor. It is great to see an enlarged fanbase engaging with Hello Neighbor 2, and we look forward with confidence to the closed Beta pre-orders. With books, graphic novels, and early work for a potential animated TV series, Hello Neighbor provides a template of how we might for many of our future games.
"Our goal is to expand our position as a leading global developer and publisher, focusing on IP ownership while creating long-term scalable franchises that will survive for generations regardless of the media. 2021 has seen significant progress towards that ambition, and we look to the future with confidence."