There are more important questions than HowLongtoBeat | This Week in Business
Microsoft's integration of average completion times into its PC storefront further entwines a game's value with its length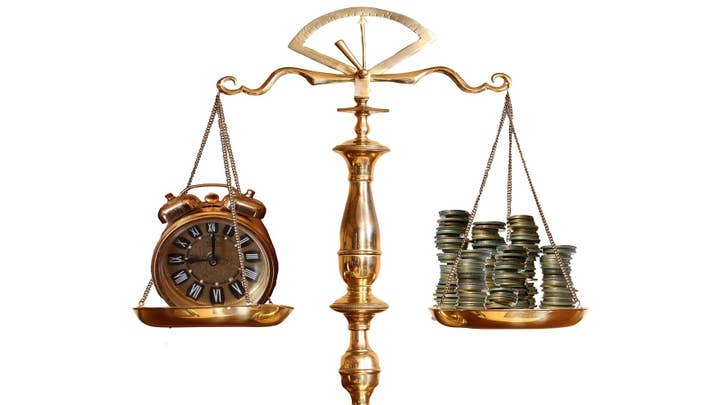 Microsoft this week announced some changes to the PC Xbox app, including integration with the crowd-sourced HowLongToBeat website that includes information on the average time it takes players to finish a game, whether they just want to go through the main campaign, see all the extra side quest-style content as well, or take a completionist approach and do every last thing possible.
The HowLongToBeat section will be added to "most" games included on the store pages for most Game Pass for PC titles.
The benefit for players is obvious.
QUOTE | "If you're in the mood for something you can crush in a day or two, or maybe looking for your next long-term game, you can view the details for the game to help decide what to download and play next." – Microsoft's blog post announcing the update.
And that's great. I'm a big fan of giving customers everything they need to make an informed purchasing decision, and that's something game publishers have been falling woefully short on for years.
But as much as I might like the HowLongToBeat integration as a consumer, I'm uneasy with it being integrated into any kind of storefront for a few reasons.
HowLongToBeat works very well for a specific type of game, and not so well for others
First of all, HowLongToBeat works very well for a specific type of game, and not so well for others.
STAT | 11 hours – How long it takes the average gamer to go through the Main Story of Halo Infinite, according to HowLongToBeat. Completionists will top out at about 25.5 hours playing the game.
STAT | 4 hours – How long it takes the average gamer to go through the Main Story of Tetris on the NES, according to HowLongToBeat. Completionists will top out at about 13.5 hours playing the game.
If a game is built as a means to tell a story, or as a checklist of things to do, HowLongToBeat works great. And to be fair, that does seem to cover a large chunk of the commercial games released each year. But what about games built as repeatable competitions, toys, or tools? What would HowLongToBeat say about completing the main story of chess, mopping up the campaign and extras of an Etch-a-Sketch, or how long a completionist should expect to take finishing Adobe Photoshop?
If we want to take the "games as art" discourse in yet another obnoxious direction, how long would it take the average art appreciator (let's call them "arters") to complete Michelangelo's David?
I suspect Microsoft understands some of this, as it has only said that "most" games on Game Pass for PC will have HowLongToBeat information on the store page, which is a limited enough scope to allow for human moderation to ensure it doesn't show up where it wouldn't be appropriate. However, the integration is not limited to Game Pass subscribers, and shows up for all users who may just be looking to buy a game outright.
HowLongToBeat is also crowd-sourced, which means it's likely going to have problems with weaponization
My second concern is that HowLongToBeat is also crowd-sourced, which means it's likely going to have problems with weaponization, especially for lesser known and independent games where a handful of bad actors will be able tilt the results significantly.
If you think it unlikely that people would "review bomb" a game's HowLongToBeat page, I would point out that game length and cost have been a point of angry contention for many gamers at least since Braid dared to ask for $15 on Xbox Live Arcade.
And it's not just the playtime stats that are in danger of being weaponized here. The Xbox app will also allow for more traditional vandalism of game's store pages by including HowLongToBeat community reviews and playthrough notes.
As game developer Aura Triolo noted, HowLongToBeat's Xbox integration page even had a section spotlighting Poorly Received Games (which is an entirely separate questionable decision), one of which had just two user reviews on the site. I feel for the developers who have Microsoft linking to a page mocking their game based on one or two people deciding to trash it in the reviews.
This doesn't introduce a problem to the Xbox app so much as it aggravates an existing one. Microsoft already has a "reviews" section on the app that doesn't appear to be sourced from HowLongToBeat but has plenty of problems. Kids game My Friend Peppa Pig has seven reviews, all of dubious sincerity, one complaining that you cannot kill and eat the pigs in the game, with another attesting that "it cured my stage 5 cancer."
But both of these issues really play into the larger concern I have with HowLongToBeat integration, which is that it increasingly ties a game's value to its length. Regardless of whether someone wants a short game or a long one (and I imagine the former will be disqualifying for more customers than the latter), Microsoft's emphasis on HowLongtoBeat's stats in the app actually suggests length is a vital piece of information for a purchasing decision.
There is very little information in the Xbox app given more prominence than the HowLongToBeat times: The name of the game, a short tagline description from the publisher, some screenshots, the price, and the rating descriptors.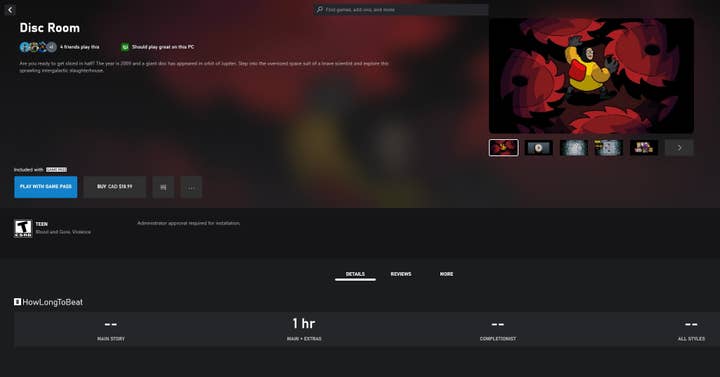 The design of the Xbox app says HowLongToBeat times are more important than what platforms the game is playable on, whether other people enjoyed it, or even which team of people made it. It's not going to make any individual suddenly care more about game length than any of those other factors, but design absolutely shapes our attitudes and our expectations, and those are relevant when it comes to what kinds of games will be seen as commercially viable in the future.
I think the worst case scenario down the road is a Netflix-like subscription service that disrupts the industry and sets the model for its future competitors while paying developers based on how much people play their games. That's actually how Microsoft wanted to compensate devs on Game Pass initially, which may sound fair on the surface, but it greatly incentivizes the creation of life-consuming treadmills and makes anything not fitting that format less viable.
I'll readily admit this integration isn't any kind of tipping point toward that in the grand scheme of things. Generally speaking, I think it even provides a benefit to most players in the present.
But the medium of games is both incredibly open-ended and still-evolving. The more structures we build that codify what a game is and what people should expect from one, the more we close doors on what a game could be in the future.
The rest of the week in review
STAT | Too many – The number of big showcase events we've had in the past week. We had reveals from Disney/Marvel, Ubisoft, Sony, and Nintendo, with a Microsoft ID@Xbox fall showcase, an Activision Call of Duty Next showcase, and the Tokyo Game Show.
QUOTE | "It was obvious for me that I had a responsibility to take care of the situation so that we could get back to what we were before: a company where people feel they can be themselves and come together to create the best games." – Ubisoft CEO Yves Guillemot, speaking to us for the first time since a wave of abuse allegations at the company in 2020, explains why he didn't step down over them. Considering how far the abuse allegations dated back in the company, and how many long-time employees were ousted over them, it may be more accurate to suggest that "what we were before" was simply a company whose misconduct wasn't widely known and hurting recruitment efforts.
QUOTE | "All the recent additional harassment, abuse and D&I training has taught managers how to say the right things – or at least not say the wrong things – and appear to act correctly. But in my experience much of the change is superficial." – An Ubisoft source speaking with Axios disputes Guillemot's assertion that the company has substantively addressed its culture problems.
QUOTE | "We probably were not good at saying we are researching. We should have said we were working on it, and when we have something that gives you a real benefit, we'll bring it to you." – In the same interview as above, Guillemot suggests backlash to the company's Ghost Recon Breakpoint NFT integration was due to poor messaging rather than widespread antipathy toward the increasing commoditization of every facet of the gaming experience.
QUOTE | "We're the last of the dinosaurs. We're still the monster triple-A game with very large teams [and] multiple studios helping out on different bits. There are fewer and fewer of these games being made, especially as the middle has fallen out." – Assassin's Creed 3 creative director Alex Hutchinson, 10 Years Ago This Month, says many of the people on the game believed it was a once-in-a-lifetime opportunity to work on a project that big. (There have been seven major Assassin's Creed games released in the last decade. The latest, Assassin's Creed Valhalla, had twice as many people on the credits than Assassin's Creed 3 did. Ubisoft this week announced five new Assassin's Creed projects in the works.)
QUOTE | "We started this because we knew that all these folks were here and we just wanted to create a space where we could exist together and celebrate each other and hopefully figure out how to collectively bring each other up." – Game Devs of Color Expo co-organizer Catt Small talks about the event's roots and how it's evolved as it holds its seventh annual show this weekend. We've also got an overview of 13 sessions at the show we think will be worth checking out. (We are a GDoC media partner this year.)
QUOTE | "It is with regret that a very small number of colleagues were affected, following a structure change to one vertical of our extensive brands. With the current climate and addressing these challenges, it was a very difficult decision for us to make." – Future Publishing, explaining in a Twitter statement that this nasty economy just forced its hand and it absolutely had to lay off editorial staff across publications like TechRadar Gaming, Android Central, Windows Central and iMore.
QUOTE | "We are pleased to be reporting another period of good progress." – Future Publishing CEO Zillah Byng-Thorne on Tuesday, talking about how the company is in great shape and operating profit for the fiscal year ending September 30 should be at the high end of market expectations.
QUOTE | "Honestly, hand on my heart, I don't do this for money but I want to be treated fairly." – Future Publishing CEO Zillah Byng-Thorne in 2021, defending what The Guardian called an "eye-watering" compensation plan that was enacted over the objections of 40% of Future shareholders.
STAT | £8.8 million ($10.1 million) – Byng-Thorne's compensation last year. According to a Press Gazette report from April, it was among the highest chief executive pay packages in UK-based media. Byng-Thorne's compensation was 240 times the £36,775 ($42,180) median annual pay of a Future employee. No other publicly traded media outlet gave its executive that much while paying its workers that little.
QUOTE | "Due to unforeseen circumstances, all G4 streams today have been cancelled, but we will return with all of our regularly scheduled content tomorrow." – G4's Twitter feed (almost) announcing that the TV and streaming broadcaster laid off between 20 and 30 staff this week.
QUOTE | "Can't believe she got our asses all the way from Cars hell." – On Thursday, Fanbyte's official Twitter account referenced a wave of layoffs at the site by quote-tweeting a Queen Elizabeth II joke memorial tweet it had made using the image of The Queen from Pixar's Cars 2.
QUOTE | "We will be attempting to change Adopt Me in these regions in order to allow access again in the future, however, this process could take a long time as we don't want to compromise the quality of the game." – Uplift Games announces that Adopt Me is no longer playable in The Netherlands and Belgium because of those countries' laws against loot boxes. Thoughts and prayers to any developer out there working on a game that would get demonstrably worse if loot boxes were taken out. That's gotta be a blow to the ego.
QUOTE | "In the weeks ahead, I'll transition from writing game news to creating it. I'm entering the world of game development and publishing at a well-known North American studio." – Game Informer editor-in-chief Andrew Reiner steps down after nearly 30 years with the magazine, reminding game journalists everywhere that the happy ending to this career is jumping into a different profession entirely. No retirements here.
QUOTE | "In order to represent autistic people in games authentically, developers need to involve autistic people." – Autistica's Alice Cooper talks about increasing representation of autistic people in games. Turns out "Nothing about us without us" is a very adaptable rule of thumb for including underrepresented people in games.
QUOTE | "Although there are some aspects of cannabis that obviously were very important to Bob and his beliefs, I don't think that's the driving force." – LBC Studios co-founder Solon Bucholtz explains why the developer that was formed specifically to make cannabis-themed games believes it can make an authentic Bob Marley game completely devoid of cannabis.