Five Assassin's Creed titles headline Ubisoft Forward
Publisher details Assassin's Creed Mirage and Infinity, also expands partnership with Netflix for three mobile games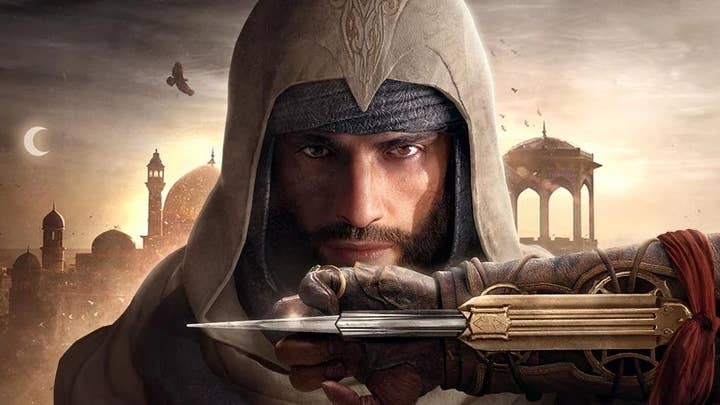 Ubisoft has offered a glimpse at the future of its flagship franchise with details on the next five games.
Tonight's Ubisoft Forward presentation, which explored the publisher's upcoming line-up, concluded with a special Assassin's Creed Showcase making the series' 15 anniversary.
While Ubisoft continues to try to turn it into a multimedia franchise, the future of the IP will remain centred around games, with multiple new titles shown off during the broadcast.
Assassin's Creed Mirage was confirmed to be the next mainline release. Starring Valhalla's Basim, this is set in 9th Century Baghdad and aims to tap into the spirit of the original Assassin's Creed. It's due for release on Xbox, PlayStation, PC and Luna in 2023, and is being developed by Ubisoft Bordeaux.
Codename Jade is an open-world RPG for mobile, optimised for touch controls. It is set in Ancient China, and will allow players to create their own characters.
There are two new HD games in development. The first, Codename Red, will be set in Feudal Japan and is being developed by Assassin's Creed Odyssey lead studio Ubisoft Quebec.
The other is Codename Hexe, although the setting of this title has yet to be disclosed. This will be developed by Ubisoft Montreal, historically the lead studio on the series, and directed by Clint Hocking.
Assassin's Creed Infinity is not a game. Instead it's a platform that will allow fans to access both past and future games, with the series' present day meta story now planned to be delivered through this hub. The company is also exploring the potential for standalone multiplayer games through Infinity.
There was also new content shown off for Assassin's Creed Valhalla with the next free expansion, The Last Chapter. Non-games announcements included Beyond The Creed, a new documentary looking at the series' first 15 years.
The main Forward showcase kicked off with gameplay footage from Mario + Rabbids: Sparks of Hope, which is due to launch for Switch on October 20, as well as a tease of three post-launch DLCs, including one starring Rayman. For more on this title, read our recent interview with creative director Davide Soliani.
Ubisoft also detailed the expansion of its partnership with Netflix, which now includes three mobile games, which will be available to all of the latter's subscribers and will feature no ads or in-game purchases. The first will be Valiant Hearts 2 in January 2023, Mighty Quest later in 2023, and an undated mobile spin-off of Assassin's Creed (in addition to the already announced live-action series that's in the works).
Other announcements included:
A closed beta for Rainbow Six Mobile will begin on September 12 for Android players in the US, Canada, Mexico, Brazil, the Philippines, Singapore and India. Meanwhile, a closed beta for Tom Clancy's The Division: Resurgence, a mobile version of the MMO, will be available this fall.
Ubisoft also shared the first look at Tom Clancy's The Division: Heartland, a standalone spin-off for consoles and PC developed by Red Storm Entertainment. The game is a free-to-play survival action shooter set in the fictional town of Silver Creek.
The publisher is teaming up with Konami to bring Castlevania's Simon Belmont and Alucard to Brawlhalla on October 19.
Console and cloud versions of Trackmania will launch for PS5, PS4, Xbox Series X|S, Xbox One, Stadia and Luna in early 2023.
Skull & Bones will be made available to Ubisoft+ subscribers when it launches on November 8. The company is also expanding its subscription service beyond its own library by adding selected indie games, including Lake, Evan's Remains, Astrologaster and A Normal Lost Phone. Ubisoft+ is free on PC and mobile until October 10.
There were also updates on the new content and seasons coming to The Crew 2, Riders Republic, The Division 2, Rocksmith+, and Just Dance 2023, which has been given an overhaul and features a new online multiplayer mode for private groups of up to six players.
Ahead of Ubisoft Forward, GamesIndustry.biz spoke to Ubisoft CEO Yves Guillemot about continuing efforts to improve the company's culture after waves of abuse allegations, as well as the latest on its blockchain efforts and Tencent's recent investment. You can read the full interview here.