Pokemon GO shows us the power of brands and AR
Weekly roundup: Nintendo flexes its muscle, PewDiePie is vindicated, and Valve finally distances itself from gambling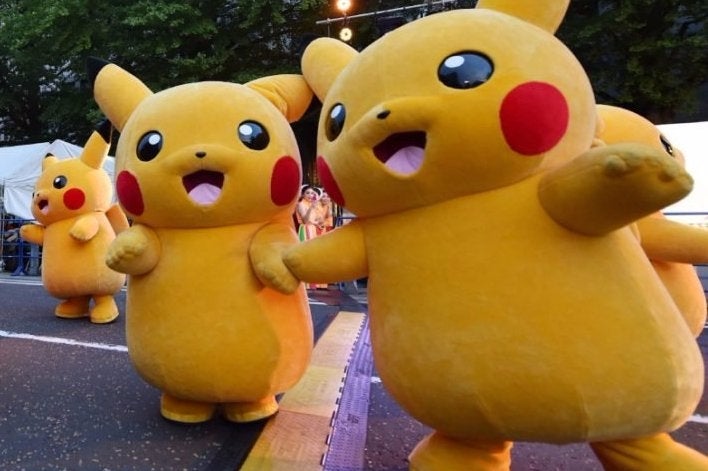 Pokemon GO hasn't even finished its worldwide rollout, but it's all anyone is talking about or reading about this week; it's truly inescapable. I haven't seen this level of mainstream attention for a gaming product since Nintendo's original Wii, and that's truly a good thing for Nintendo. The company could use a positive story after dealing with so much negativity from the Wii U's failure.
As Rob Fahey pointed out today, it's also hugely encouraging for the future of Nintendo on mobile. Whatever you think of Miitomo, what Pokemon GO has easily proved in only the span of a week, is that with the right approach Nintendo's IP can do amazing things on a smartphone. I can't wait to see how Nintendo brings its most cherished IP, like Mario and Zelda to the mobile space. And should the upcoming NX somehow fail, shareholders can rest easy knowing that the company can triumph on devices it didn't manufacture.
After racing to the top of the charts in the US and Australia, and just recently in the UK as well according to App Annie, Pokemon GO has already helped add $9 billion to Nintendo's market cap. The monetization potential for sponsored locations and real-world businesses is staggering to think about as well. App Annie says it could "easily envision" Pokemon GO generating $1 billion annually.
The big question surrounding Pokemon GO now, of course, is will it stand the test of time or burn out in just a couple months? The mobile market has been evolving and games can reach maturity much faster. Nicolas Beraudo, MD EMEA at App Annie, commented, "...the average time to maturity for new releases dropped over 60% from 2014 to 2015, a reduction from 50 weeks to 17. What this means is that there is a trend that publishers have to release more games than before to stay profitable." Once Niantic and Nintendo finish the global rollout, however, ensure that server issues are fixed and possibly introduce more features, Pokemon GO may be able to stay successful for some time.
"People in the know have been telling me all-year long that AR is the technology with the truly mainstream potential... Indeed, Pokemon GO has shown us all that the entire world can easily hop on the AR bandwagon"
Another major lesson to be learned from this incredible Pokemon week is how easy it is for people to get into augmented reality. You don't need an expensive PC or headset or to block out the world and ignore your wife and children to play AR games. People in the know have been telling me all-year long that AR is the technology with the truly mainstream potential. Former Epic Games executive Mike Capps tweeted, "Great, now I have to change my slides saying 'AR overtakes VR usage by 2021' and replace that with '2016' and hope nobody remembers." Indeed, Pokemon GO has shown us all that the entire world can easily hop on the AR bandwagon, and with Magic Leap now saying it's in "go mode" and CastAR still on track for a family-friendly AR system release in 2017, it won't be long before everyone's talking about how fun AR gaming is. VR, meanwhile, will no doubt get better and better and offer some incredibly compelling experiences of its own, but I have my doubts on whether its potential can ever match AR's.
Elsewhere in news, a story that received a lot of play this week was how Warner Bros. settled with the FTC for paying online streamers to say positive things about its games. YouTube celebrity PewDiePie was mentioned - in hindsight probably unfairly - in almost everyone's headlines. PewDiePie explained in a video response that not only were the videos in question labeled as sponsored by Warner Bros, but they were published at a time when YouTubers weren't even legally required to disclose such arrangements. PewDiePie, to his credit, was disclosing the nature of those relationships before he even had to, and the media (GamesIndustry.biz included) completely failed to mention that not-so-small detail. Love him or hate him, I think it's fair to say that PewDiePie's been vindicated.
And in a story that we've been following since last week when the CS:GO Lotto site owners were called out for the unscrupulous people that they are, Valve finally came around and said to itself, "Oh hey, maybe it's actually not so great that we've been sued and are being associated with online gambling." Why it took the Steam platform holder so long to come out against the gambling sites and to deny any involvement is a mystery to me. It's good that the company sent out requests to the gambling sites to cease operations through Steam, but as one GI.biz commenter already noted, Valve could be taking an even tougher stance and could very well be launching a lawsuit of their own. This story is far from over, and in the meantime, you should be aware that Twitch has taken notice and changed its terms of service to ban gambling-related broadcasts.
Also on GamesIndustry.biz this week:
Unity continues to have a ridiculous amount of momentum, raising another $181m
RuneScape studio Jagex was acquired by some unknown Chinese investors for an undisclosed sum
NPD launched its much-need digital tracking service for the US games business
Monument Valley lead designer Ken Wong has founded a new studio, Mountains
Controversial key reseller G2A has taken the important step of adding seller verification
Other news in brief:
Nintendo is looking to further capitalize on nostalgia with a sweet-looking mini NES console this holiday
Oculus, months after launch, has caught up with Rift preorders and it's announced its Oculus Connect 3 event
Microsoft has opted to skip a Gamescom press conference in favor of a "more intimate" FanFest
Microsoft said that developers working with ID@Xbox have earned "hundreds of millions of dollars in revenue"
Paramount Television has optioned the rights to a Battlefield TV series
Square Enix Collective, the publisher's crowdfunding program, has helped raise over $1 million for indies