Niantic and Capcom launching Monster Hunter Now in September
"I strongly believe we have a hit on our hands," Niantic's Kei Kawai tells GamesIndustry.biz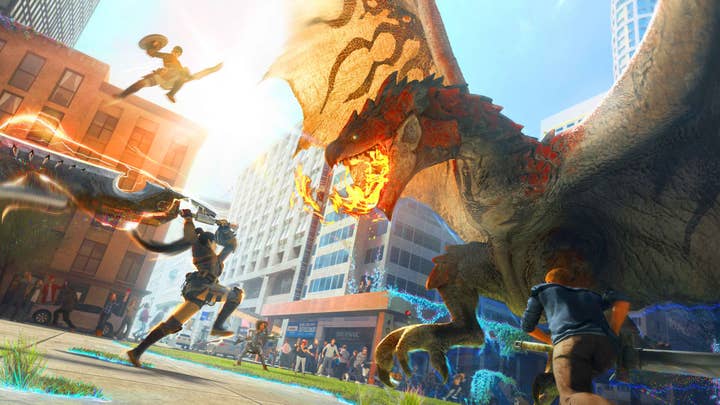 Capcom's Monster Hunter will be the next hit series to get the Niantic treatment, with location-based game Monster Hunter Now launching for mobile later this year.
The game will be developed and published by Niantic, and is due to arrive on the iOS App Store and Google Play in September. Registrations are now open for the beta test, which will kick off on Tuesday, April 25.
Monster Hunter Now builds upon the formula of previous Niantic titles such as Pokémon Go, with the series' monsters placed around the real-world via the in-game map. During a press briefing, Niantic's chief product officer Kei Kawai said Monster Hunter is a "perfectly natural fit" for the company's style of games.
"The series is all about collecting with friends, playing as a family, and making new friends. That's been a really important part of the IP for nearly two decades. The notion of majestic monsters roaming around the neighbourhood and cities was extremely compelling as a new real-world game."
Monster Hunter series producer Ryozo Tsujimoto added: "We are very pleased to be working with Niantic, who has the best AR technology in the world, to bring you a completely new Monster Hunter game. I can still remember when Niantic told me about this project, I immediately said 'Let's do it' without giving it a second thought."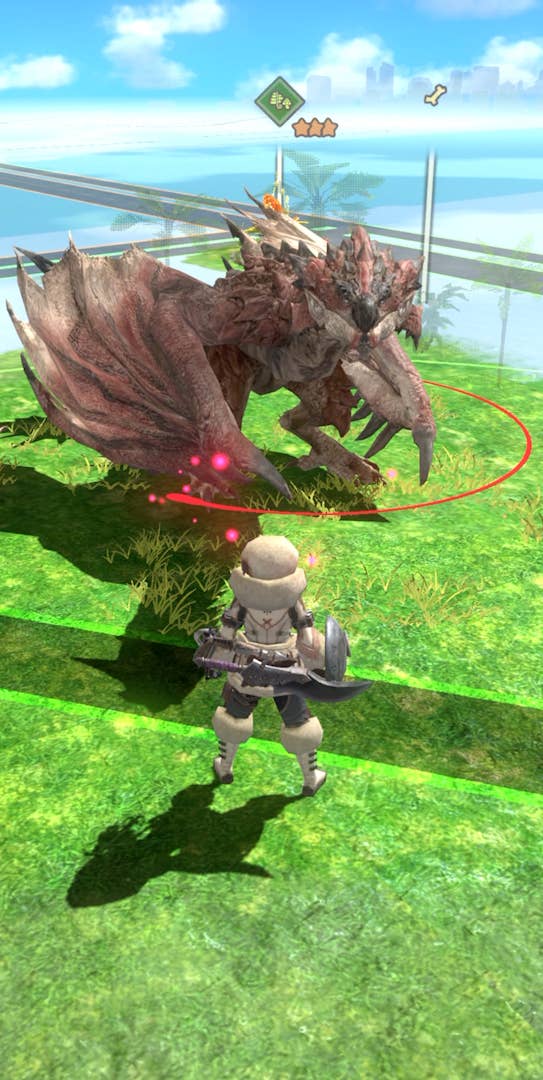 The game has been in development for just under four years, following Niantic's visit to Capcom in March 2019 where it proposed the idea of making a Monster Hunter game together.
Niantic has taken steps to try and differentiate the new title from Pokémon Go; for example, while players can still fight beasts in AR mode – which superimposes their opponent over their real-world surroundings – the map has also been split into different ecological zones, which dictates the background if you're not using AR mode.
Players can also use a new Paintball item to tag a monster they encounter and battle it later from the comfort of their home. The players' Palico companion can also be set to mark any monsters they pass with the Paintball to give them more foes to fight at home.
As with the Monster Hunter series, multiplayer is a big focus with Niantic hoping players will team up with any others in the area when taking down monsters.
The game is designed to be as accessible as possible with "tap and flick" battle controls rather than virtual buttons.
There will be in-game purchases, but these will be detailed at a later time.
While Pokémon Go is still going strong, Niantic closed the similar Harry Potter: Wizards Unite last year. Despite the ongoing popularity of the boy wizard's franchise, the game struggled to gain the same traction as Pokémon Go; for example, it made $1.7 million less than the critter catcher on day one, and was shut down after just two years.
Niantic also abandoned the soft-launched Catan: World Explorers, and reportedly scrapped four projects and laid off up to 90 people last year.
CD Projekt was one of many studios who also tried to get in on the action with The Witcher: Monster Slayer, which has also shut down. With so many titles struggling to match up to Pokémon Go, GamesIndustry.biz asked what Niantic and Capcom expect of Monster Hunter Now.
"Games are a hit-driven business... I strongly believe we have a hit on our hands"

Kei Kawai, Niantic
"Games are a hit-driven business," Kawai told us during the press briefing's Q&A session. "I do not want to speculate how big this will be. What we can focus on and what we can control is making a fun game with the great talent and great hitmakers at Capcom.
"I strongly believe we have a hit on our hands, that the world will like this and have fun out there, so we're going to focus on that. And we do want this game to last a very long time."
While Monster Hunter may not be on the scale of Pokémon or Harry Potter, the franchise has been propelled to new heights of popularity in recent years. Historically a huge hit in Japan, it was 2018's Monster Hunter World and 2021's Monster Hunter Rise that finally cracked the West.
As it stands today, Monster Hunter is the second biggest-selling series in Capcom history with 90 million units, beaten only by Resident Evil's 135 million. Monster Hunter World remains the publisher's highest selling game of all time at 18.6 million units, followed by Rise's 11.7 million.
This gives Niantic confidence that Monster Hunter Now will have strong international appeal, with Kawai telling GamesIndustry.biz: "The Monster Hunter series has been around for a long time – this is its nineteenth year – and the recent success of World and Rise have been adding to its global audience. The title has been a great hit in Japan and the world has been playing as well.
"I'm very happy to see people around the globe discovering the game and having more players play it because that's going to give us and this Monster Hunter Now a chance to be globally successful as well."