Strong year for Square Enix as Final Fantasy 14 offsets non-MMO game decline
The company's Digital Entertainment category saw a 6% increase in net sales to $2.1 billion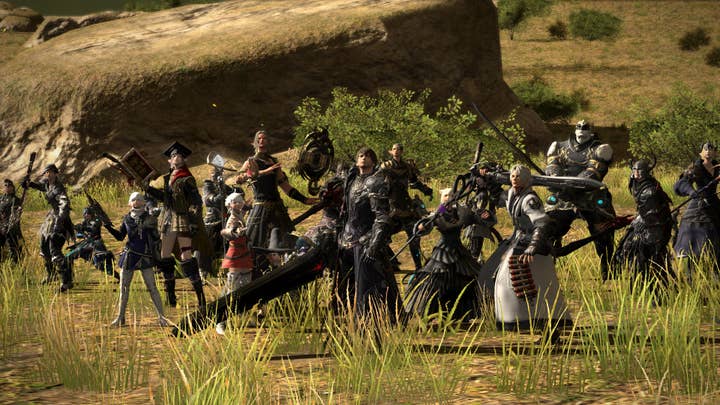 Square Enix's net sales rose 9.8% to ¥354 billion ($2.84 billion) during FY2022, but non-MMO game sales declined.
In its financial report for the fiscal year ended March 31, 2022, the Japanese company reported that sales in its MMO sub-segment grew, due to the "sharp rise" of Final Fantasy 14 subscribers and the release of its expansion pack, Endwalker.
But the HD Game sub-segment that includes titles such as Outriders, Nier Replicant ver.1.22474487139 and Marvel's Guardians of the Galaxy has seen "net sales decline versus the previous fiscal year," the report said. FY2021 had seen the launch of Final Fantasy 7 Remake and Marvel's Avengers.
People Can Fly's Outriders had a decent launch in April 2021, with Square Enix saying at the time that it was seeing it as its "next major franchise." But the studio confirmed earlier this month that the title didn't make a profit in 2021.
More recently, Guardians of the Galaxy also "undershot initial expectations" when it launched in October 2021.
Overall, Square Enix's Digital Entertainment category (which contains both its MMO and 'HD game' sub-segments, but also mobile and PC games) saw a 6% increase in net sales to ¥279 billion ($2.1 billion) and 16.7% growth in operating income, reaching ¥58.9 billion ($457 million).
Operating income across all Square Enix businesses grew 25.5% year-on-year to ¥59.2 billion ($460 million).
It's worth noting that the company's Amusement segment, which includes its arcades, is back on the rise (33.6% increase in sales year-on-year) after a difficult FY2021 due to COVID-19.
Earlier this year, Square Enix had raised its forecast for the full year, expecting around $305 million in profit, due to increased MMO revenues. Final Fantasy 14 became the series' most profitable game back in October, surpassing 24 million players.
The sudden surge in user numbers after the release of the very successful Endwalker expansion in December forced Square Enix to pull Final Fantasy 14 from sale to fix server issues. The title was reinstated on January 25, alongside new data centres to help with the rise in the userbase.
Earlier this month, Square Enix announced that it was selling Crystal Dynamics, Eidos Montreal and Square Enix Montreal to the Embracer Group for $300 million.
This followed struggles with the performances of the Crystal Dynamics-developed Marvel's Avengers in 2020, and more recently Guardians of the Galaxy by Eidos Montreal, which both missed expectations.