Bobby Kotick expects Activision Blizzard to become "the very best example for other companies to emulate"
CEO of Call of Duty and World of Warcraft publisher also promised "people will be held accountable for their actions"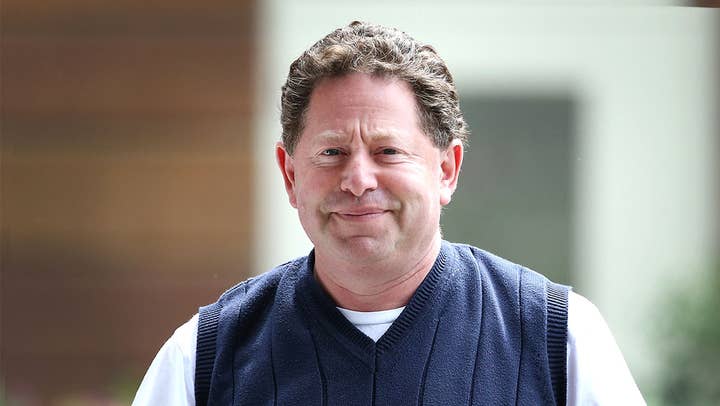 The recently filed lawsuit and employee discontent at Activision Blizzard informed much of the tone of tonight's investor call, with CEO Bobby Kotick claiming the company will come to set "the very best example" for the games industry in dealing with misconduct.
The call followed results for the publisher's second quarter, in which net revenues rose 19% year-on-year to £2.3 billion but bookings dropped 8% to $1.92 billion.
As with the press release announcing these results, Kotick opened the investor call with another statement reiterating the company's commitment to addressing the issues raised by the lawsuit filed by the California Department of Fair Employment and Housing, which described Activision Blizzard as a "breeding ground" for discrimination and harassment.
"I want to start by making clear to everyone that that's no place in our company where discrimination, harassment or unequal treatment of any kind will be tolerated. Nowhere," Kotick began. "We so appreciate the current and former employees who have come forward in the past and recent days with courage, and I want to reiterate the commitments we have made to you."
The CEO then went on to say the company has "taken many steps already" and pointed to further announcements today, including new leadership at Blizzard, with Mike Ybarra and Jen Oneal taking over as co-leaders in the wake of long-running president J. Allen Brack's departure.
Kotick also claimed the company would continue to investigate "each and every claim we receive" and will "take decisive action" when it learns of any shortcomings, although he did not offer detail on what this might involve.
He also claimed Activision Blizzard is hiring additional staff to improve this process, with president and COO Daniel Alegre later clarifying that these hires will be focused on the compliance and employee relations teams.
"People will be held accountable for their actions," said Kotick. "That commitment means we will not just terminate employees where appropriate, but we'll also terminate any manager or leader found to have impeded the integrity of our processes for evaluating claims and imposing appropriate consequences."
The CEO also claimed his company is committed to considering a diverse slate of candidates for all open roles, fair and equitable pay, and creating work environments "conducive to reporting any kind of misconduct."
"You have my unwavering commitment that we will continue to focus on serving our players and delivering the sustainable growth you've come to expect, and we will take all necessary actions to foster a culture that is supportive and welcoming for all of our employees," he concluded. "And we expect to be the very best example for other companies to emulate."
Despite Alegre and CFO Armin Zezra reiterating the company's promise of safe and inclusive work environments throughout their presentations of the financial results, only two of the seven investor questions were vaguely related to the current situation at Activision Blizzard.
Alegre answered a question around further details on the company's response to the allegations it faces and whether the events of the past few weeks have impacted production.
He pointed to the planned review of all reporting processes by external legal firm WilmerHale -- a choice decried by the publisher's own employees -- and revealed plans to evaluate and train the publisher's people managers to ensure they're handling employee concerns responsibly.
Alegre said that productivity was "progressing well," suggesting minimal impact has been seen so far.
"We're monitoring the impact of recent events, obviously... but based on what we see currently, we have a strong line-up planned for the second half of the year, and as we look into 2022, we're currently planning for several titles across PC, console and mobile from Blizzard alongside more great experience from Call of Duty, Candy [Crush Saga] and Warcraft."
Later, Mike Ybarra and Jen Oneal were asked how they plan to "rekindle the pride Blizzard is known for" as morale slips during the current turmoil.
"There's nothing more important to me than our people, and I know Mike [Ybarra]... feels exactly the same," said Oneal.
She spoke of the "passion and creativity" of the development teams and reiterated that Activision Blizzard is recruiting in order to expand these further.
"When we come together, we make some of the best experiences in the industry and we're now seeing that energy applied to our culture, which is equally important. There's a lot of work ahead of us but the passion and productivity are already here, and when our people feel safe and supported, the rest is going to take care of itself."
It's been a tumultuous few weeks for Activision Blizzard, with over 2,000 current and former staff to sign an open letter decrying the company's initial response to the lawsuit and organising a walkout at Blizzard's main campus.
Kotick eventually responded with a statement, promising action such as the aforementioned WilmerHale review, but the group behind the walkout claimed he failed to respond to their concerns and requests.
You can follow our ongoing coverage here.