Abuse allegations overshadow Activision Blizzard second quarter results
CEO Bobby Kotick insists "we remain intensely focused on the well-being of our employees" as publisher sees bookings drop 8% year-over-year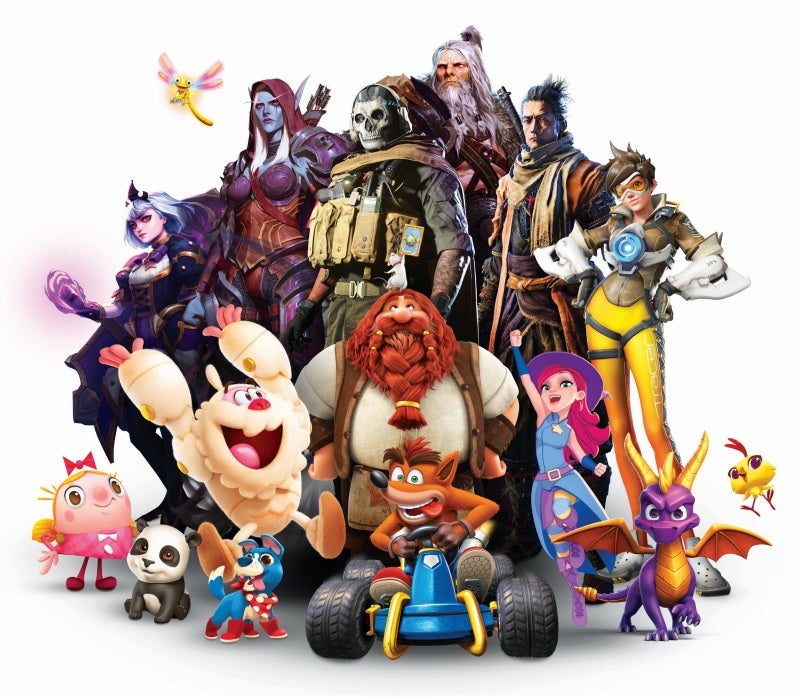 Activision Blizzard reported its second quarter financial results today, but only after addressing the recent lawsuit the company faces from California's Department of Fair Employment and Housing alleging it to be a "breeding ground for harassment and discrimination against women."
"We remain intensely focused on the well-being of our employees and we are committed to doing everything possible to ensure that our company has a welcoming, supportive and safe environment where all of our team members can thrive," Activision Blizzard CEO Bobby Kotick said at the top of the company's press release announcing the results.
Later on in the release, Activision Blizzard included a section titled "Commitment to a Safe Working Environment" which struck a more conciliatory tone than the strident denials it initially offered in response to the lawsuit.
"Following serious allegations regarding the company's employment, compensation and workplace practices, Activision Blizzard is taking swift action to ensure a safe and welcoming work environment for all employees," the company said.
Activision Blizzard is paying law firm WilmerHale to review its policies and procedures, but an employee group has taken exception to the choice of firm for a number of reasons, among them its history of helping companies discourage employees from forming unions.
The company said it is also putting more staffers on its Compliance and Employee Relations teams, creating more avenues for employee feedback, evaluating managers' performance on handling employee claims, and adding resources to ensure consideration of diverse candidates for job openings.
Earlier this year, Activision Blizzard asked the SEC to exempt it from putting a proposed requirement to interview diverse candidates to shareholders, saying it would be "an unworkable encroachment on the company's ability to run its business and compete for talent in a highly competitive, fast-moving market."
"The leadership of the company is committed to creating the most welcoming, comfortable, and safe culture possible," Activision Blizzard said in today's release.
Elsewhere in the release, Activision Blizzard acknowledged the potential that the recent suit could hurt the bottom line, saying, "If we experience prolonged periods of adverse publicity, significantly reduced productivity or other negative consequences relating to this matter, our business likely would be adversely impacted. We are carefully monitoring all aspects of our business for any such impacts."
As for the company's financial performance for the three months ended June 30, it beat its forecast but like fellow publishers Ubisoft and Take-Two Interactive, it faced a tough comparison against last year's numbers for the first full quarter of the pandemic.
While net revenues were up 19% to $2.3 billion, Activision Blizzard saw bookings drop 8% year-over-year to $1.92 billion. Net income rose 51% to $876 million.
Breaking down the numbers by division, only King managed to outperform last year's second quarter, with segment revenues up 15% to $635 million.
Activision saw its revenues drop more than 20% to $789 million, while Blizzard revenues slipped 6% to $433 million.
King also performed well when it came to engagement, with monthly active users (MAUs) up 6% year-over-year to 271 million, the most of any quarter of the pandemic.
Blizzard saw its MAUs grow 23% to 32 million, while Activision MAUs dipped less than 2% year-over-year to 125 million.
As for product news, the publisher delayed the launch of Diablo Immortal on mobile until the first half of 2022. It had previously been expected to launch globally later this year.
"The team is pursuing additional opportunities to make the title even more engaging for a wider audience," the publisher explained.
Looking ahead, Activision Blizzard is forecasting net revenues for the current quarter to be up 1% year-over-year to $1.97 billion, with earnings per share down 18% to $0.64.
The company also raised its full-year guidance on revenues to $8.52 billion, a 2% increase over the guidance it gave after its first quarter.
For the record: The original version of this article mistakenly gave the publisher's second quarter forecast rather than the third quarter forecast. We regret the error.