With Riccitiello, is Unity planning something big?
Analysts weigh in on what the appointment means - could the company be aiming for an IPO?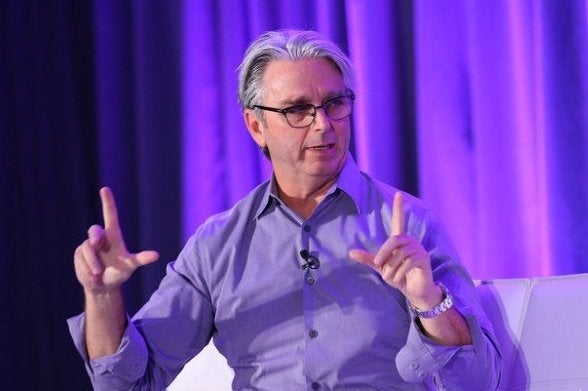 Earlier today Unity Technologies caused quite a stir in the games industry with the announcement that former Electronic Arts chief exec John Riccitiello would be taking over the CEO job for David Helgason. While EA struggled to make shareholders happy, Unity has been seeing tremendous growth, becoming a favorite toolset for large and small publishers and especially indies. In fact, the company serves over 600,000 monthly developers. But what does Unity really have up its sleeve? Is the hiring of a notable leader like Riccitiello a sign that the company is indeed being groomed for a buyout or public offering? GamesIndustry.biz chatted with several analysts to get their perspective.
"John Riccitiello's corporate moves will rightfully inspire speculation about major changes in the companies involved and as Unity is the dominant independent development platform, what happens next could affect most developers and publishers outside of the top ten," remarked independent analyst Billy Pidgeon. "An acquisition is very possible although Unity CTO Joachim Ante has denied this. Unity needs to be independent and available to all to retain and grow its value, so a sale to a major publisher or developer would sharply decrease the company's revenue flow. But a buyer outside the industry could allow Unity to remain somewhat independent, although clients might be wary of doing business with Unity's new owner."
EEDAR's Patrick Walker, head of insights and analytics, largely agreed with Pidgeon, commenting, "While the stature of Riccitiello as a hire and his interest in helming the Unity ship suggest that there are big plans in the works for the company, it is unlikely that these plans are focused on the short term, such as preparation for a near-term buyout. A buyout has been rumored for a while, and the Unity executive team, including founder David Helgason and CTO Joachim Ante, has been consistent in their messaging statement focusing on the company mission rather than pursuit of a buyout. More likely, Riccitiello is being brought on board to spur growth for a longer-term play, such as an eventual IPO or larger-scale buyout."
Regardless of whether a longer-term buyout is in the cards, Riccitiello has the experience to help accelerate Unity's growth in the next few years, most believe.
"Unity is a well-positioned company with several paths to increase growth. While game publishing is one route to spur growth, there is also an opportunity for the company to leverage the strengths, such as cross-platform flexibility, that have given it such broad penetration in the indie market to increase penetration in other development verticals," Walker continued. "Riccitiello has an ideal background, having led major companies both inside and outside the games industry and having served on the Unity board for the past year, to drive partnerships that will help grow Unity as a major development platform across the full spectrum of publishers and developers."
Wedbush Securities' Michael Pachter added, "He is certainly capable of leading them, and also well equipped to sell the company. [But] I don't know the reason for the change."
Perhaps one major reason for the change is to offload some of the business responsibility from Helgason who may wish to focus more on product development.
"Unity has been growing quickly for several years. The company now has over 300 employees and its technology is being used by hundreds of thousands of developers on practically every platform out there. I suspect that Dave recognized some time ago that the company had to get an experienced business manager at the helm or risk flying off the rails at some point, and that's exactly what JR is," observed Lewis Ward, IDC's gaming research director.
"Some people just aren't cut out to be CEOs of big businesses - just look at Notch. I suspect that Dave is going to be happier staying focused on the core product strategy and building relationships with studios and indie developers. From JR's perspective, it's a great opportunity to ride the beast that has been Unity growth over the past 3+ years. It's a remarkable story, and I think John is probably going to enjoy the role and stepping back into an important spotlight in the industry."
Image credit: VentureBeat