Blitzchung on Hong Kong protest: "Even if I had a chance to go back, I would still do it"
Hearthstone pro still "disappointed" in Blizzard but doesn't hate the company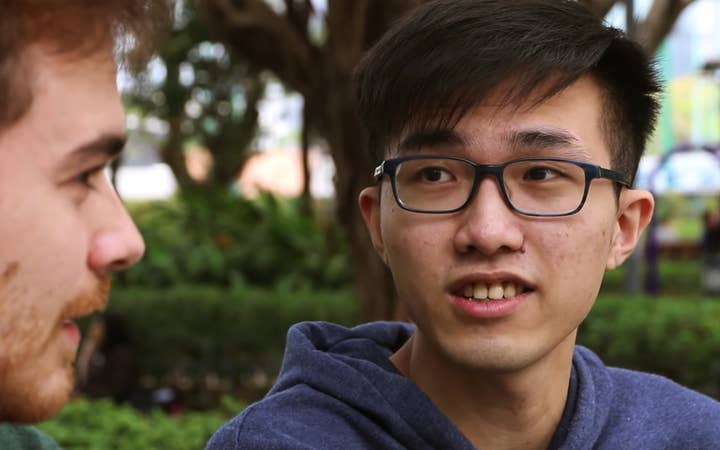 Chung 'Blitzchung' Ng Wai stands by his decision to show support for Hong Kong protestors during a Hearthstone tournament, describing it as a "must-do thing."
His comments come from a new interview with People Make Games, the product of former Eurogamer writer Chris Bratt. In the video, Bratt travels to Hong Kong to meet with Ng Wai to discuss the fallout of Blizzard's response to his political statement.
Back in October, Ng Wai shouted "Liberate Hong Kong, revolution of our age" during a post-match interview. As a result, Blizzard dismissed him from the tournament, withheld his prize money and suspended him from playing Hearthstone in a professional capacity for 12 months.
Speaking to Bratt, Ng Wai said his protest was not planned, but something he "just decided on that day, something just came up in my mind."
He continued: "Our major protests usually go on at the weekend. So when so many people are protesting out there, and I'm just sat there playing my tournaments, I feel kind of bad and I want to do something... It's really hard to ignore [what's going on]."
Blizzard's punishment prompted outcry from fans and escalated to the point where even US politicians were weighing in. The company has since reduced the suspension to six months and given Ng Wai the prize money he earned. But it has stated it will not repeal the ban completely, nor will it lift the suspension on the two casters who conducted the interview.
Ng Wai has since been to visit the casters, worrying about his actions resulting in their suspension, but when they met, the casters were just as worried about him.
He admitted it has been "really stressful" being in the public limelight, particularly amid the ongoing political conflicts in Hong Kong, adding: "When you are more well known, you're more dangerous."
But he expressed no regrets about his actions, saying: "Even if I had a chance to go back, I would still do it... Because it's a must-do thing. I have to do it."
Ng Wai said he's still "disappointed" in Blizzard's handling of the situation, but that it's "something I can understand."
"To me, Blizzard is like what Hong Kong is to me right now," he said. "Maybe it's getting worse, but do I hate it? No, I don't hate it."
He believes the halving of his suspension was "kind of fair" but would "be more happy if they changed the decision on the two casters."
He notes that he never received a personal apology from Blizzard, only their public statements, but added: "I don't need that kind of stuff. Actions speak louder than words."