Bandai Namco: "Elden Ring is just the beginning"
European CEO Arnaud Muller on the publisher's growing Japan portfolio, IP creation, and staying platform-agnostic in the face of consolidation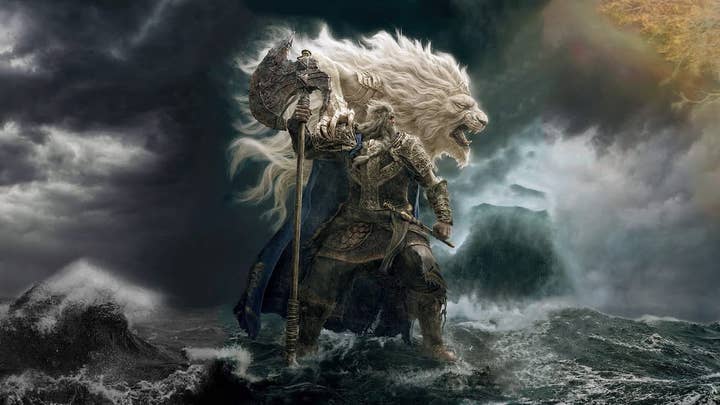 For a few years now, conversations on this very site about Bandai Namco have been revolving around the company's desire to "crack the West" via its European branch, its strategy to focus on new IP, and to work with the biggest independent studios.
This year, our conversation with Bandai Namco Europe CEO Arnaud Muller at Gamescom felt like all of this is now coming together, underlined by the massive success across Western markets of Elden Ring.
The FromSoftware-developed hit is currently 2022's best-selling title across Europe, ahead of FIFA 22 or Pokémon Legends: Arceus. As of June 2022, it had sold 16.6 million units globally and is Bandai Namco's fastest-selling game of all time.
It took Elden Ring only three weeks to reach 12 million copies shifted. As a comparison, it took Dark Souls 3 over four years to sell ten million units.
Its success wasn't exactly a surprise but the scope of it did take the industry by storm. When asking Muller what the success of Elden Ring means for Bandai Namco and whether the publisher's Western ambitions have now been achieved, the answer is level-headed.
"We anticipated that [Elden Ring] was going to be very high quality but the fact that it touched such a large audience is extremely pleasing"
"It's a global success but it is not [our] first global success," he smiles, pointing to Tekken among many other successful Bandai Namco properties.
The difference with Tekken – or previous global successes at Bandai Namco – is that Elden Ring succeeded in a genre (Souls-like) that's previously been less mainstream, and falls into the category of new IP – a topic close to Bandai Namco's heart, having invested £96 million into its IP Axis Strategy this year.
"We're extremely proud of Elden Ring and the latest numbers – 16.5 million sales in quite a short period of time," Muller continues. "We're very proud of the quality of the game, we're very happy with the relationship with FromSoftware. We worked with FromSoftware on the Dark Souls series, but Elden Ring is taking this genre to a new level... The open world, the accessibility of the game, the depth, it clearly has surpassed our expectations and also fans' expectations. It's a great success. I think we anticipated that the game was going to be a very high quality game but the fact that it touched such a large audience is extremely pleasing and we're very happy.
"Dark Souls has always been perceived as a difficult [series] and Elden Ring is a difficult game but I think with the work we've done to explain properly to our fans the way they could discover this adventure, this new game has touched a larger audience and has made it more accessible. It's a combination of the type of game it is and the positioning of it. And I think it worked very well."
Muller does say Bandai Namco Europe is still "pushing for" a better presence in the West, but he is keen to show progress across the entire portfolio rather than pin success on one title.
"When you look at the games that we [showed] at Gamescom this year, I think there's a good combination of, for example, a game coming from Japan with One Piece Odyssey, which is a Shueisha IP published by Bandai Namco, and then we've also got Park Beyond next to it.
"Park Beyond [is] from Limbic which we invested in last year. The first previews are very positive, and we're very happy with the relationship with Limbic. It's a German studio, it's an IP creation initiative from Europe that is going to target primary Western consumers, but also Japanese consumers – it's a global game. And then next to it, we have The Devil in Me which is a game we're doing with Supermassive.
"So that's the portfolio of Bandai Namco: a combination of games coming from Japan, some of them global successes, some of them probably less global. And then you have our own titles from Europe."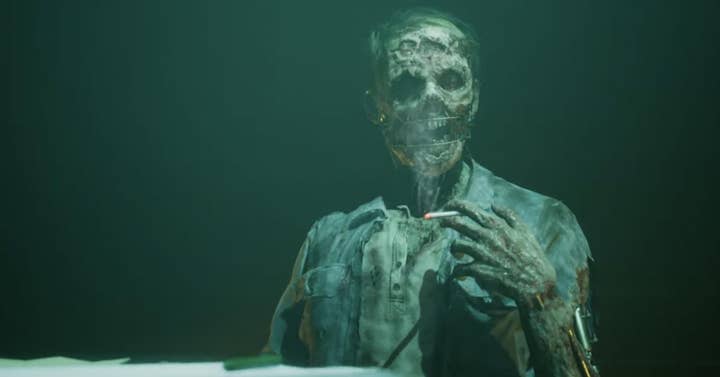 Bandai Namco has been working with Supermassive for years on the Dark Pictures Anthology series. Earlier this year, Supermassive was acquired by Nordisk but Muller says this "doesn't change anything in the relationship."
"We're very happy that they found this partnership with Nordisk. Nordisk [previously] invested in Supermassive, they got to know each other... I think it's great for them, they have access to a transmedia approach with the skillset of Nordisk Film, but they also probably got some funding capabilities so they can continue to create their own games and we will continue to publish and distribute games with them. It's good to have a partner that has some success, some funding, access to a new transversal capacity to expand the business. It's good for them – and good for us."
Back in 2018, Bandai Namco Europe's SVP for marketing, digital, and content Hervé Hoerdt was sharing the firm's ambitions to have 50% of its games be new IP. Since then, he also shared his concerns over the impact of acquisitions on finding AAA partners.
"This spread of acquisitions that we're seeing is affecting some of the smaller publishers in their capacity to access the best studios in the world"
And it's true that Bandai Namco has had a string of bad luck on that front, with Little Nightmares developer Tarsier Studios acquired by Embracer back in 2019, and now Supermassive. While the Little Nightmares IP does belong to Bandai Namco and can continue without its original developer, the Dark Pictures IP belongs to Supermassive.
We ask Muller whether the consolidation of acquisitions trend that's been shaking the industry in recent years could jeopardise Bandai Namco's ability to partner with these big independent developers.
"What I find is that we have to secure the IPs that we create with the studios we partner with. By securing, I mean when we invest in IP creation, when we invest in marketing for these IPs, we also have to keep in mind that we have to get some sort of security towards the future of the studio that develops this IP. So this is something that we work on.
"You know, this spread of acquisitions that we're seeing is affecting some of the smaller publishers in their capacity to access the best studios in the world. But we at Bandai Namco have the financial means to secure these partnerships. We work on a number of measures to secure those partnerships – first option rights, IP ownership, minority stakes in those studios. So there are ways to secure the relationships."
Muller adds it's still a priority for Bandai Namco Europe to increase IP creation for the Western market but that the 50% objective has arguably been accomplished if you look at the various business verticals Bandai Namco Europe operates.
"50% is an interesting number because it means we need to source 50% of our own content in the West. Some of it comes from distribution, some of it comes from publishing in Europe, some of it comes from IP creation. Our objective is to significantly increase the part of the IP creation within that Western portfolio. The rest, coming from Japan, is secured through our mother company in Japan. So within that 50% of the content we secure, we have a number of distribution deals that we have secured with some of our partners."
Muller points to the fact Bandai Namco is the distributor for Square Enix and EA in some countries and has distribution deals with the likes of Outright Games and Supermassive.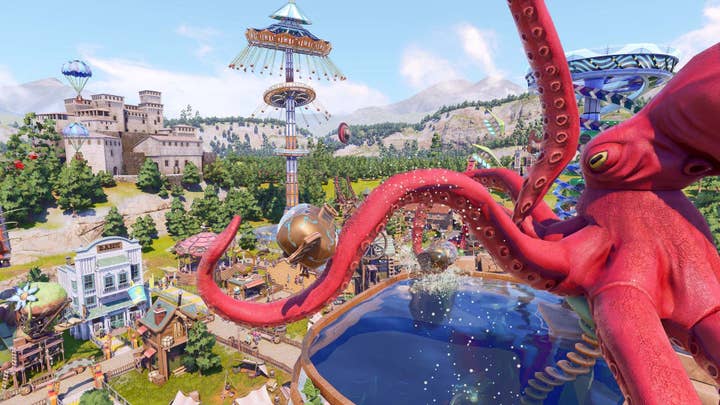 "And then the rest comes from the IP creation initiatives – that's where you have Park Beyond, Little Nightmares, and so on. So the 50% magic number is actually something that has always been here and is already here depending on which side you're looking at," he continues. "Of course with the success of Elden Ring, the weight of games coming from Japan is greater but then the following year you do a distribution deal with a game like Cyberpunk and then you're already over the 50%.
"The question is how much within that 50% you have coming from IP creation, from your own IPs. And it's that part that we're growing but the timing of development we're talking [is] three to five years depending on which game. So we're coming now to a point where some of our initiatives are bearing fruits. The first one was obviously Little Nightmares but now we're coming with Park Beyond. We've also announced games with Reflector, our studio in Montreal.
"There are more games that are coming, which have not yet been announced, but that will form part of that IP creation pot within the 50% coming from the West."
"With cloud gaming developments, tomorrow [players] will be able to access whatever game they have on any screen irrespective of the platform"
In our conversation about securing and creating IP comes the topic of exclusivity, especially in the context of the consolidation of acquisitions trend. As Microsoft's acquisition of Activision is progressing and Call of Duty becoming exclusive – or not – is a recurring topic, Bandai Namco is still very happy being platform-agnostic and doesn't see that changing.
"I can't comment on the strategy of Microsoft and the acquisition of Activision or Bethesda," Muller says. "They do what they want [with] the portfolio of the games they have acquired. My concern is more towards the fans, fans being able to access their games.
"I think with cloud gaming developments, tomorrow they'll be able to access whatever game they have on any screen. That's the future and, therefore, whether you own a PlayStation or Xbox console, you should be able at some point to access your game in the cloud from any screen irrespective of the platform you play on.
"From a Bandai Namco perspective, we've always been platform agnostic, we will remain platform agnostic. We want our IPs and our games to be accessible to as many players as possible, whatever they're playing on. And that goes for mobile as well. I think in the future people will be able to play high specs games on mobile anyway, and therefore this will open the doors for our games to be accessible to more and more people and more and more countries – countries where consoles are not necessarily present today. So it doesn't really matter what console it is. Bandai Namco I think has always wanted to be platform-agnostic because it doesn't matter on which platform people play on."
Concluding our chat, Muller shares his excitement of what's to come, whether from the West or from Japan.
"Bandai Namco Europe is focused on developing its own IPs and increasing the weight of the portfolio in the West within the Bandai Namco Group, but there is so much great content coming from Japan that we're very excited for the years to come, and Elden Ring, I'm tempted to say, is just the beginning of that."