Why Quantic Dream sold up after 25 years
We speak to the French studio and new parent NetEase about selling despite financial stability, its future projects, and why leadership will remain the same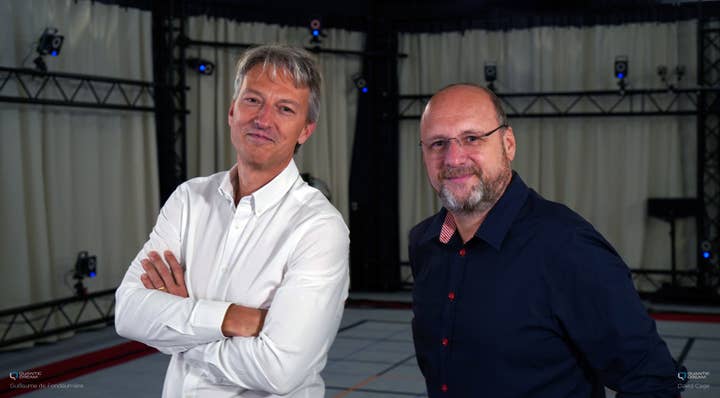 Today, Quantic Dream embarks on a new chapter as it is brought into the fold of NetEase – the Chinese publisher's first European acquisition.
Over the past quarter of a century, the French studio has built a reputation for itself on the back of cinematic titles such as Heavy Rain, Beyond: Two Souls and Detroit: Become Human. While these games may divide opinion among individual gamers, generally speaking they have been well received by critics and praised for attempting something different when it comes to interactive storytelling.
The high profile of these games, and the studio's long-running partnership with PlayStation, put Quantic Dream on the map – to the point where co-CEO Guillaume de Fondaumière (pictured above left) tells GamesIndustry.biz the company has engaged in acquisition discussions with several potential buyers over its lifetime.
"But as not all conditions aligned – in particular the guarantee to keep full editorial independence – we decided systematically to continue as an independent studio," he says.
"We remain fully independent in our management and editorial choices. It's an ideal situation for us"

Guillaume de Fondaumière, Quantic Dream
"In recent months, however, we received several offers that we considered interesting, and which met our expectations. We decided to start exclusive discussions with NetEase and quickly agreed on key terms."
NetEase and Quantic Dream already have a history. The Chinese giant took a minority stake in the studio back in 2019, and have been working alongside the team in various ways ever since. For Simon Zhu, president of global investment and partnership at NetEase Games, today's acquisition is the next step in a "long-standing relationship… that's built on mutual trust."
"Over the years of working together, we have shared many common values and vision as fellow developers," he tells us. "We've always been there to support Quantic in whatever adventure they choose to take. When the studio made the decision to join NetEase, we were very happy to take our relationship to the next step."
De Fondaumière adds: "NetEase's proposal made a lot of sense to us since we knew the group and the people working there already. We have had ample opportunity to work together and to witness that we share the same vision and ambition for our studio. Their presence at our side also allowed us to invest, to become an independent publisher, to finance our own productions and to finance external studios.
"We will now be able to continue our ambitious plan, taking advantage of industrial synergies, while allowing us to remain fully independent in the management of our studio and our editorial choices. It's an ideal situation for us, both for the company, its partners and for our team, as well as for the millions of players around the world who follow us and appreciate our work. For our employees, it is also a guarantee of sustainability over time, which ensures that we can continue to be ambitious while having the security of belonging to a large global group."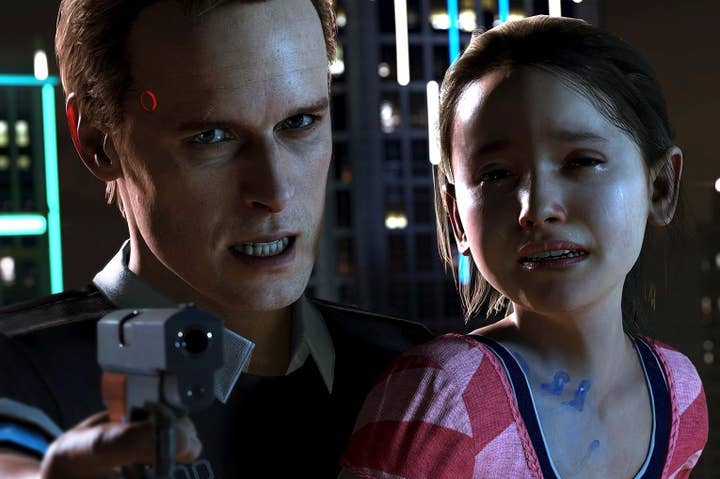 While neither company has disclosed the cost of the acquisition, it's the latest in a string of high-profile M&A deals. This year alone has seen Take-Two buy Zynga, Sony purchase Bungie and Jade Raymond's Haven Studio, Embracer pick up Crystal Dynamics, Eidos Montreal and Square Enix, and Microsoft continues to press on with its proposed $70 billion acquisition of Activision Blizzard. To name but a few.
Studio founder David Cage (pictured at top on right) tells us this phase of consolidation represents a "true paradigm shift" for studios, who he says "used to be the poor relative in the value chain." That said, he said there was no urgency to sell Quantic Dream before the spending spree ends.
"We had strictly no pressure since Quantic Dream was in excellent financial health and all our projects were financed," he explains. "The current consolidation made for attractive offers to be expressed, which allowed us to contemplate different scenarios. It generated an opportunity to strengthen our studio and to accelerate and broaden our vision and our business plan."
"NetEase's policy is not to interfere with the studios they acquire. If they buy a company, it's because it works"

David Cage, Quantic Dream
He adds: "We could have gone public, but we didn't want to have to compromise our creations with short term financial targets. Selling to a large group such as NetEase made a lot of sense, it was a strategic choice to allow the studio to continue to evolve and to have long term ambitions in a competitive context."
Cage also tells us there will be "strictly no change in management and overall organisation" at Quantic Dream, with both himself and De Fondaumière retaining their positions as studio heads.
"NetEase's policy is not to interfere with the studios they acquire," he says. "They feel that if they buy a company, it's because it works, so there is no reason to change it.
"This point was also important for our team who has always been very attached to the values of the studio, and for whom it was essential that the DNA of Quantic Dream remains unchanged. We will therefore preserve everything that has made the studio successful over the last 25 years."
Zhu adds: "NetEase has a built-in incubator culture. We see our mission as an enabler that can unleash the potential of creators to create quality content and experiences for gamers to enjoy. We see Quantic Dream as a team of incredibly talented developers dedicated to creating the best immersive experience.
"NetEase places enormous trust in our first party studios - in their talent, their vision and their belief. We would never seek to stifle the creativity of our studios, instead we aspire to provide Quantic Dream with the resources to fully unleash their potential."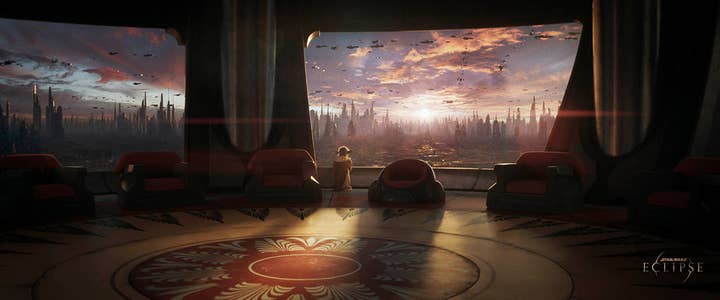 While Quantic Dream has built a reputation with its games, it has also grabbed headlines over the past few years due to allegations around its workplace culture. In 2018, multiple French publications reported employees faced homophobia, racism, sexism and other toxic attitudes, as well as overwhelming workloads.
Both Cage and De Fondaumière denied these allegations at the time, and Quantic Dream even went on to sue the publications behind these reports. Last year, courts found Le Monde to be guilty of Libel while Mediapart was cleared of all accusations.
When asked if this controversy factored into acquisition negotiations, De Fondaumière said: "Everyone familiar with Quantic Dream, its management and our team perfectly knows what to think of these allegations. As a shareholder who had already audited our studio in late 2018, who had assessed all material elements and had followed all litigation outcomes, NetEase had a very clear view and could easily assess the absence of any material basis of these claims. They had thereby no impact on our discussions."
"We've always been there to support Quantic in whatever adventure they choose to take"

Simon Zhu, NetEase
We also requested comment from Zhu and NetEase, but did not receive a response.
With regards to the acquisition itself, Cage added that it will not just be leadership that benefits from this financially. Long-term employees have previously been given the opportunity to become shareholders, and in 2019 Quantic Dream launched a free shares plan to any employee that had been at the studio for over a year – to the point where 10% of the company's capital is reserved for the team. As a result, any staff with shares in the company will receive a payout from this acquisition, with plans to also introduce a profit-sharing scheme going forward.
All of this is in part to encourage employees to commit to Quantic Dream's overall business which focuses around three things. First, the company has been investing in its infrastructure and development capacity, including its proprietary engine, motion capture facilities and photogrammetry studio. Secondly, Quantic Dream has branched into publishing its own titles and targeting multiple platforms – something the studio discussed with us back in 2019 after NetEase's big investment. And finally, the team wanted to publish titles by other independent studios, as well as finance their projects and share access to those internal technologies.
So far, these are all on track. Quantic Dream has published three of its most prominent titles – Heavy Rain, Beyond: Two Souls and Detroit: Become Human – on PC, ending their PlayStation exclusivity. De Fondaumière says these are "achieving excellent results," and hopes are high for the studio's next big release Star Wars: Eclipse, which it is also self-publishing.
On the indie side, the company has so far published Sea of Solitude by Berlin-based Jo-Mei on Nintendo Switch, and during last week's Gamescom Opening Night Live, Quantic Dream announced it is publishing Under The Waves by fellow French firm Parallel Studio. De Fondaumière says the company has several other projects in development in partnership with other indies, and intends to "ramp up our investments in the coming months."
Nothing about the acquisition has changed this plan, with all current projects and agreements unaffected. Instead, there is now the additional option to collaborate with new parent NetEase if the right opportunity or project comes along.
Finally, Zhu says there are no plans to divert Quantic Dream from the genre for which it is best known.
"Quantic Dream has been solely focused on interactive drama for 25 years," he says. "It takes immense passion and commitment for anyone or any company to spend that much time devoted to one objective. This is something we deeply value at NetEase; the true passion and commitment of creators for their work.
"We also recognize that it's impossible to excel at something for that long without talent and technical prowess supporting that passion. Quantic Dream's exceptional team has set a gold standard for interactive storytelling.
"Passion, creativity and innovation – these are shared core values between NetEase and Quantic Dream. In an ever-evolving industry, these abilities are both rare and immensely valuable. It's a pleasure for us to welcome that type of team into the NetEase family."