Ubisoft apologises after male-only Assassin's Creed promo video
Publisher has since re-edited and released a version showcasing the female protagonists of the best-selling series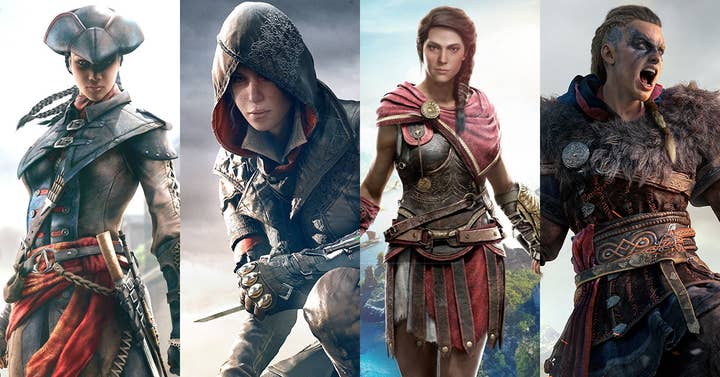 The role women play in the Assassin's Creed franchise was once again downplayed yesterday when publisher Ubisoft released a promo video that only featured male heroes.
The company released a montage celebrating the series' iconic hidden blade via the Assassin's Creed Twitter account as part of ongoing marketing efforts for this year's new outing, Assassin's Creed Valhalla.
However, the video quickly drew criticism for only featuring male characters.
While men have dominated the series since the beginning, there have been playable female protagonists since 2012's Assassin's Creed Liberation -- and before that there were playable female characters in the multiplayer mode of 2010's Assassin's Creed Brotherhood.
The most recent outing, Assassin's Creed Odyssey, allowed players to choose between a male and female protagonist, while this year's Valhalla will let them switch between the two whenever they choose.
Ubisoft has since apologised via Twitter and posted a re-edited version featuring more female characters, including female Eivor from Valhalla -- albeit in a split-screen with her male counterpart -- as well as current present day protagonist Layla and even Shao Jun, a Chinese assassin who appeared in short film Assassin's Creed Embers.
"We clearly missed some great assassins in this video, and we apologise," the publisher wrote. "We've updated the asset to highlight ALL the assassins who master the hidden blade. Thanks to our passionate community for their input."
This is not the first time Ubisoft has come under fire from the lack of women in how the series is designed and marketed.
Back in 2014, the publisher faced backlash after a developer said making a playable female model for Assassin's Creed Unity's co-op mode would have "doubled the work" and is "unfortunate, but a reality of game development."
More recently, it emerged in July that Kassandra was originally going to be the only playable character in Assassin's Creed Odyssey but the development team was told to add a male hero because execs believed female protagonists don't sell games.
The comments came amid an ongoing scandal at Ubisoft, which faces allegations of abuse and harassment against key executives, some of whom have left or been dismissed.