'Twas the week after Gamescom, and all through the house...
Weekly Roundup: PS Slim leaks, EA considers HD remasters and the UK booms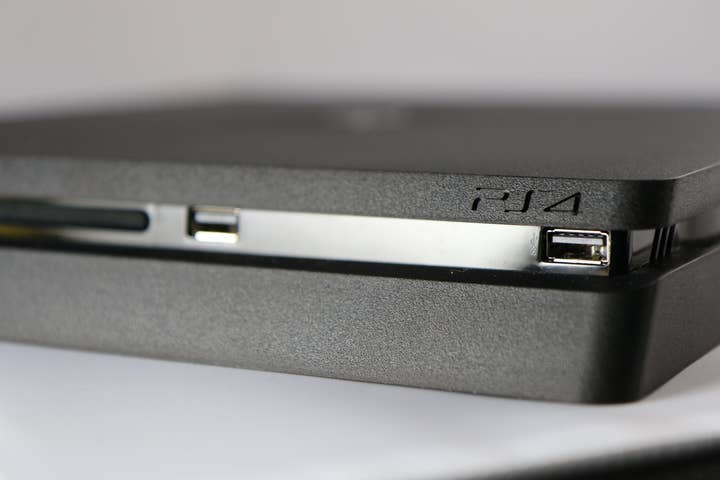 Even an empty house casts a shadow. Despite the lack of big news coming out of Gamescom, the massive consumer show still looms large over another quiet news week. This year, 345000 attendees graced the halls of the Koelnmesse, braving security warnings to see another show floor which thrived despite the absence of major announcements.
This week's news peak was undoubtedly the apparent leak of consumer-ready, packaged PS4 Slim units in the UK, with several turning up for sale on various auction and local sale sites. Eurogamer's Richard Leadbetter visited the man who claimed to have purchased the first available unit, for less than £300, and verified that it did in fact seem to be the genuine article. Eurogamer has since removed a video showing the machine booting up under legal advisement, but the coverage can still be read here.
In some Gamescom news, fans were pleased with Patrick Soderlund's apparent contradiction of the previous EA stance on HD remakes, when he said that it was something which was under close scrutiny at the publisher. "I think there is even more clear evidence that this is something that people really want," said the executive VP of EA Studios. "The honest answer is that we are absolutely actively looking at it. I can't announce anything today, but you can expect us most likely to follow our fellow partners in Activision and other companies that have done this successfully."
"Games, unfortunately, have had their cinematic experiences designated as something like bookends between levels, which can work quite well in something like DOOM, but can drag on if it doesn't work"

Demetri Jagger, CtrlMovie
Should EA follow through with the switch, it could mean a wealth of properties seeing the HD treatment as one of the industry's richest back-catalogues re-opens for business. Still, don't expect them all to come at once: Soderlund says that they'll "have to be careful in choosing the right brands for the right reasons at the right time."
In the UK, a new report from TIGA indicated that the domestic industry is growing, with full-time creative staff working in games in the UK now numbering 11,893, an increase of 7.5% over last year. In addition, 21,744 jobs are indirectly supported by the sector. Combined direct and indirect tax revenues generated by the sector for the Treasury increased from £460 million to £514 million, whilst the contribution to UK GDP was up from £1.1bn to £1.25bn in the year leading up to March 2016.
"The UK video games development sector is strengthening, succeeding and soaring to new heights," said TIGA CEO Dr Richard Wilson. "Employment and investment in the sector surged to record levels in 2016 and the industry's contribution to GDP reached an all-time high of £1.25 billion."
Elsewhere, a pre-show survey of the attendees of the VR Developer's Conference in San Francisco indicated that creatives were more inclined to work on Valve's Vive platform than the Oculus Rift in the future, although the two headsets were tied on current development projects. Interestingly, 78% of those surveyed indicated that they were opposed to the idea of VR platform exclusives.
Remedy is under new management, with the Finnish studio bringing in ex-Red Lynx executive Tero Virtala to guide the studio post Quantum Break. In an exclusive interview with GamesIndustry.biz, Virtala said that the end of the transmedia project was a clear chance to rethink strategy, expecting there to be a period of multi-thread development as the company explored new ideas.
"I've been in the game industry for 18 years, and frankly, I've always had male bosses. So it was important for me to seek out women"

Nicole Opas, Zynga
"This idea has lived for such a long time, but naturally, Quantum Break being such an ambitious and big project, it took most of the resources, people, the energy, most of the money the studio has been using for a long time," Virtala said. "Now Quantum Break has been made and there is a new phase clearly starting for the company. As this strategic path has been discussed, it's a commonly shared view that going for multiple projects is the way the people at the company want to go. And it also makes a lot of sense.
"But of course, we always follow where the different markets go. It seems like the market's changing so fast and there are new platforms coming, so no one can say how the market will be in two or three years' time and what opportunities that might give us."
In other features this week, we spoke to Kabam's Kevin Chou about AAA budgets and console-quality graphics in the next generation of mobile games, CtrlMovie's Demetri Jagger about creating a new medium for interactive movies, and new VR studio Squanchtendo, formed by Rick and Morty creator Justin Roiland and ex-Epic exec Tanya Watson, whilst Zynga's Nicole Opas asked "Where are all the women at?"
"I've been in the game industry for 18 years, and frankly, I've always had male bosses," said Opas. "So it was important for me to seek out women, whether it be experienced and seasoned female leaders or new employees to our company fresh out of college."
Elsewhere on GamesIndustry.biz this week
Wargaming cuts 64 jobs with WG Cells closure
ZeniMax raises the stakes in Oculus VR lawsuit
Goodgame Studios redundancies could hit 200 people
In other news
Google is ditching Chrome apps and games, shifting to web
Former BioShock Infinite engineers form Disbelief LLC
Rovio had a good six months, returning to profit after strong box office performances from Angry Birds the movie
Microsoft cancelled its Russian F2P Halo game
HTC is threatening to drop its sponsorship of League of Legends after a spat with Riot