The building blocks of a AAA partnership: Lego and 2K on their first game together, and beyond
As the two firms finally unveil Lego 2K Drive, we find out why an open-world driving game is a "no brainer" for Lego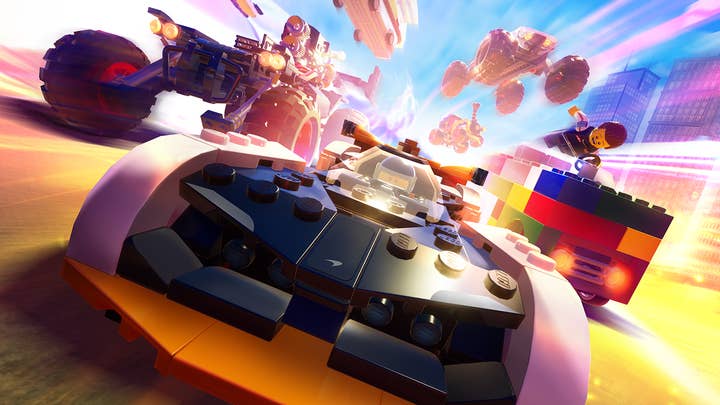 The Lego Group and 2K Games have today announced their long-rumoured multi-title partnership – and both firms tells GamesIndustry.biz that debut title Lego 2K Drive not only represents what to expect from this deal, but also the true potential for Lego in the realm of video games.
Reports that the two companies have been working together first emerged February last year, with leaks in recent weeks of Lego 2K Drive – which has officially been unveiled today – giving the industry and consumers alike a taste of what's to come.
We sat down with Lego Games' head of licensing Kate Bryant and 2K's vice president of global marketing Alison Bakunowich to find out more about how this partnership came to be.
Bryant tells us the initial pitch from 2K and the game's developer Visual Concepts quickly won The Lego Group over with their enthusiasm to make something intrinsically built on the beloved toy line.
"Lego means there's a really low barrier to entry and a really high ceiling of what you're able to achieve"

Kate Bryant, The Lego Group
"It wasn't only a commitment to making something incredible, but to make an incredible thing that's super, super Lego-ey," she says. "I was going to say 'game recognises game' but there was a little bit of that moment where it was, 'Okay, I'm already excited hearing these guys talking in the room about what they think they can be making and how they see the Lego brand showing up in games in a way that's super AAA feeling, ambitious, but also with that commitment to being funny and feeling super accessible'."
Bakunowich adds: "There are a lot of Lego fans at 2K and Visual Concepts, so a lot of that love, passion and attention to detail went into everything. From a game point of view, but also as a Lego fan, I think there's a lot of surprise and delight."
Since 2005, Lego has been best known to gamers for the Traveller's Tales-developed adaptations of world-famous brands such as Star Wars, Marvel, DC, Jurassic Park, Harry Potter, Indiana Jones and so on. There have been exceptions, such as the acclaimed Lego Builder's Journey and last year's Lego Bricktales, but by and large the majority of Lego video games have used the TT formula.
While Bryant emphasises that Lego still has "a great relationship" with TT Games and its owner Warner Bros, the goal of the 2K partnership was to explore how the company could build something different for gamers.
"Working with 2K is about bringing awesome games to market and building something incredible that only those ingredients can make," she explains. "We want to build an incredible portfolio and it's with a partner like 2K that you make those moves. This is not the only non-TT partnership we have, [but] we see something unique in this."
She adds that, although the success of TT's games may set an expectation among consumers of what a Lego game delivers, the 2K brand "brings a weight of expectation as well." She continues: "Consumers have an idea of what that cocktail is going to be, and that's a super high bar. The Lego brand is working hard in that, but the 2K brand is as well."
Both companies hope to demonstrate the potential of their partnership with Lego 2K Drive, a AAA open-world driving game heading to PS5, PS4, Xbox Series X and S, Xbox One, Switch and PC on May 19, 2023.
Bryant is quick to emphasise this is a driving-focused experience as opposed to a racing game – although naturally racing will be a big part of the gameplay. When players aren't competing against other drivers, they can explore the world of Bricklandia, complete mini-games and other challenges, or head to the Garage mode to build any vehicle they can imagine.
"There's an expectation that if the red square [Lego logo] is on it, you're going to be able to engage," says Bryant. "Lego means there's a really low barrier to entry and a really high ceiling of what you're able to achieve with the thing. If you look at some of the incredible builds that some people have made versus me if I'm absent-mindedly building something like a tower.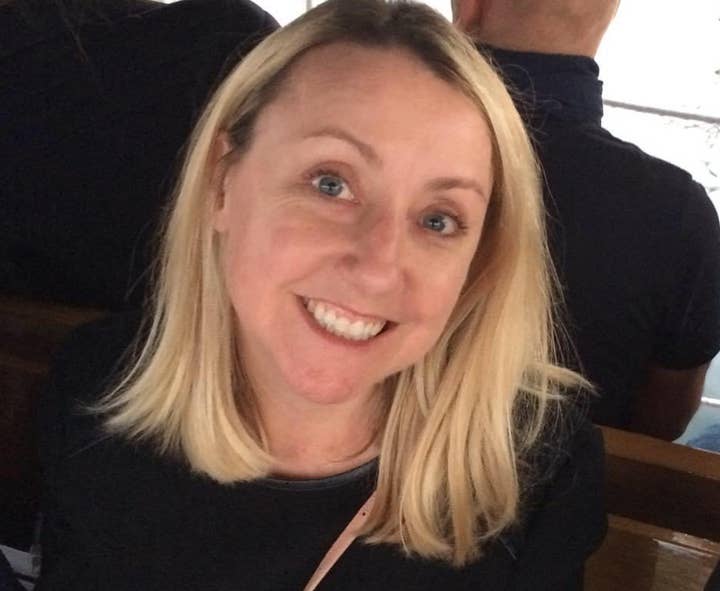 "There's that breadth of ways to play, and with the Garage you can recolour a car but you can also start from scratch and build something incredible. There's brick by brick building, and we've got a huge library of bricks in the game. If you're one of those people who's always searching for that one exact piece to make your spoiler look awesome, you get huge wish fulfilment because that's going to be in there."
Throughout the conversation, the phrase 'wish fulfilment' comes up frequently; Lego 2K Drive is pitched as a game for those who love pouring out piles of Lego bricks on the floor, starting with a chassis and a couple of wheels, and seeing what they can create from there. It's not the first time players have been offered such an experience – 1999's fondly remembered Lego Racers says hi – but the technical advancements that have past since mean this is a much more comprehensive affair.
For instance, vehicles will also be able to transform. Bryant talks of the wish fulfilment of driving a real Lego car off a ramp or piece of furniture, pretending it has turned into a boat as it lands. In Lego 2K Drive, this is something players can mess around with, driving into the water to transform their vehicle.
Meanwhile, Bakunowich talks of the fun that can be had smashing through the environment – another example of wish fulfilment, since doing so with real-world Lego vehicles inevitably results in a pause in the action while you tidy up scattered bricks, then the challenge of rebuilding while hoping you haven't lost any pieces. And as you smash through the game world, the array of activities and new areas is designed to distract you from whatever your original goal was.
"Honestly, getting builds of this game, you'd be like 'Right, I really want to look at this element' – and two hours later it's like 'I really should get back to what I was doing,'" Bryant laughs.
"Vehicles and cars are so in our DNA at Lego. There's an alchemy when you're playing with the bricks, that something-to-nothing moment of 'oh, hang on, wheel, wheel, brick, I've got a car now.' There's something so instant and so true to what the Lego play ideal is in that, so actually a driving-focused and vehicle-focused game like Lego 2K Drive feels so natural.
"We had a vision of making this immense open world, with so many things to do. Lego is an essential ingredient in all of that"

Alison Bakunowich, 2K Games
"It feels like a no-brainer that this is somewhere we'd go to, because it works so well with the product. It feels so close to the heart of what we are."
Bakunowich adds: "We had a vision of making this immense open world, with great characters and stories and so many things to do. Lego is an essential ingredient in all of that."
She continues: "Competing and racing is just one part of it, as is exploration… You can spend all of your time, attention and love building the ultimate vehicle and expression of individuality, if that's what you're into."
It is perhaps an odd fit for Visual Concepts, given that the studio is best known for basketball and wrestling games, but Bakunowich points to some of the experience on the team. General manager Steve Ranck, for example, has worked on multiple racing games such as Hydro Thunder and Cruis'n USA, while executive producer Mark Pierce's credits include Road Blasters, Road Riot 4WD and San Francisco Rush. Meanwhile, the art and design department includes folks who have worked on vast and vibrant game environments on titles such as World of Warcraft and Wildstar.
We also ask about the games experience at The Lego Group. With the company dabbling more and more into this space, Bryant says the games team at Lego is growing to ensure it can work more efficiently with publishers and developers.
"We've got a lot of hands-on game experience in the department because we want to be sure when we're talking with partners that we know what we're talking about when bringing something to the table so we're absolutely the best partner we can be to them," she says.
"Games and gaming is hugely important to us at Lego, so yes, we're growing and we've always had a commitment to making sure we staff up with people who know and love the gaming space as much as we know and love Lego."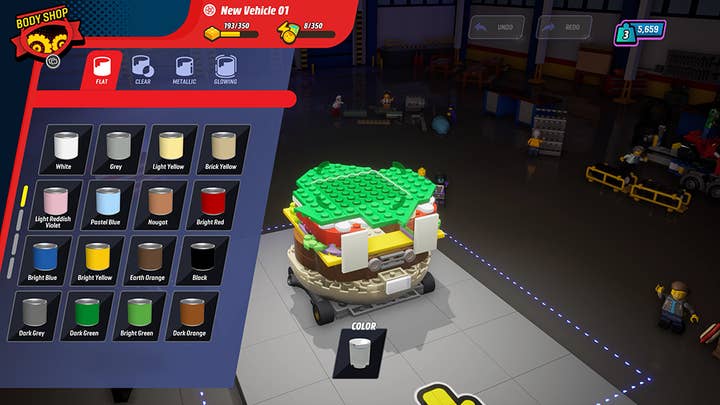 It's still difficult not to compare to previous Lego releases. While the majority of previous games relied on established brands and characters, as well as the narratives attached to them, Lego 2K Drive aims to create a AAA open-world experience around the toy line itself.
"Lego absolutely is the central IP," says Bryant. "We're a playground, it's a way of playing that's being evoked here.
"Where it's most Lego-ey is where you're able to be super creative There's a joy of being a nerd about stuff, really languishing in loving cars, loving the creativity of building and fusing those two things together. There's a unique story world and suite of characters that is super rich and dense in Lego 2K Drive."
She points to the examples of the Chicken Car, an unmissable inclusion in the box art, as well as characters in the world such as Clutch Racington, described as a mix of Steve McQueen and Evil Knievel. There will also be vehicles and elements from popular Lego product lines such as City and Ninjago.
There will also be real-world vehicles available, thanks to partnerships established for Lego's Speed Champions construction kits. For example, the game will feature the McLearn Solus GT and McLaren F1 LM, appealing to petrolheads as well as gamers.
"That something-to-nothing moment of 'oh, wheel, wheel, brick, I've got a car now.' That's something so true to the Lego play ideal, so a driving-focused game like Lego 2K Drive feels so natural"

Kate Byrant, The Lego Group
"This is a game for everyone, a game that families will absolutely play together – irrespective of skill level, age, even location," says Bakunowich. "To us, this was something that really offered families an opportunity to spend time together and just have a lot of fun."
Lego 2K Drive is just the beginning, the first in a multi-title partnership between The Lego Group and 2K Games. For Bryant, it's a prime example of what Lego is looking for in its gaming partners.
"When Visual Concepts first came to us with the idea of Lego 2K Drive, the passion they showed in what this could be… It wasn't 'hey, look, we could make a cool kart racer.' It was something so drenched in an understanding and love of the Lego brand, and what would make it a game you would keep coming back to in the long-term.
"We as a brand have existed for a long time – retention for us isn't over a short period of time, it's an almost generational thing. The fact that this could sit and have this lofty ambition, that's one of those key moments where we from the Lego side are like 'this is a partner we want to work with'.
Sign up for the GI Daily here to get the biggest news straight to your inbox