Switch OLED vs Steam Deck: The (non) battle of the new handhelds
Analysts offer their thoughts on Nintendo's latest hardware refresh and Valve's long-rumoured portable gaming PC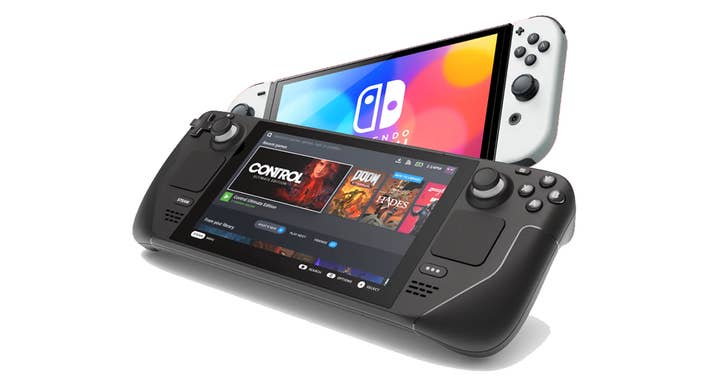 Hardware announcements are few and far between, yet we've seen two major stories emerge over the course of less than two weeks.
First, Nintendo dispelled the myth of the Switch Pro by unveiling the Switch OLED Model; almost the same as the standard version, but with a larger, higher quality screen primarily for those who play in handheld mode.
Then on the day pre-orders for the OLED Model went live, Valve dropped the bombshell that the rumoured Switch-like handheld gaming PC did, in fact, exist. The firm announced three versions of the Steam Deck, which begins shipping this December -- although you may have quite a wait if you're only registering your pre-order today.
Having already shared our own thoughts, we reached out to various analysts to get their thoughts on each new machine and the strategies behind them, and those that were able to comment agreed on one thing: despite the similar form factor, the two devices are not in direct competition.
"[Steam Deck appeals to] a sizeable audience when you include lapsed Steam users that might be re-invigorated by this new product"

Piers Harding-Rolls, Ampere Analysis
"The Steam Deck is for hardcore Steam users who want to access their library on the go, and possibly for the PC game first-timer who wants be on Steam but with the convenience that only consoles provide," Kantan Games' CEO and founder Dr Serkan Toto explains.
"The OLED model is for Switch users that have been mostly using the standard model in handheld mode and now want to upgrade or new buyers opting for the high-end model from the get-go."
In terms of their commercial prospects, Toto believes there "can be no doubt" that the Switch OLED will shift more units, given that it is the more mainstream of the two products. But he adds: "This is not to say the Steam Deck will flop -- it won't -- but the audience sizes both companies look at are vastly different."
Ampere Analysis' head of games research Piers Harding-Rolls agrees, adding that he doesn't even expect the Steam Deck to appeal to many non-Steam games.
"I see this less as a device to reach entirely new audiences and rather a device that enables a new way to play for existing, or lapsed, Steam gamers. Judging by the leaked pre-order numbers, stock availability this year will be small -- far smaller than Switch OLED, for example -- and I think that can be partially explained by the general supply-chain issues that are occurring in the tech markets. In that context, the pre-order process Valve has implemented to try and stop scalpers buying up devices and reselling is great for consumers."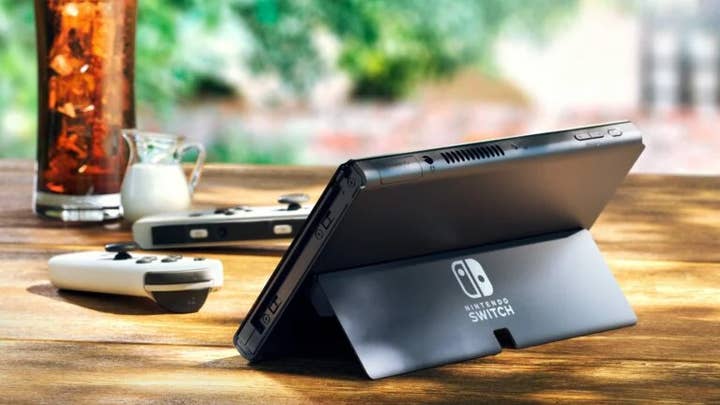 Let's turn first to the Switch OLED Model. While not the souped-up 4K version many were hoping for, it is nonetheless a potential boost for the Switch in this year's all-important holiday season -- especially at a time when both Xbox and PlayStation are still suffering from the global component shortages when rolling out their new consoles (as will Nintendo, to an extent).
"The Switch OLED model makes sense for Nintendo, and my interpretation is that it's one of several different iterations we are going to see over the lifecycle of the device," says Toto. "I am aware I sound like a broken record by now, but I think Nintendo will still indeed release a truly beefed-up Switch, ahead of an entirely next-generation device."
"Steam Deck's biggest selling point is clearly the price, and nailing that is always extremely important in our industry"

Serkan Toto, Kantan Games
Since speaking to Toto, Nintendo has -- in an extremely rare turn of events -- commented on unverified reports about the new device's manufacturing costs, adding that it has "no plans for launching any other model at this time."
Harding-Rolls deems the OLED model as a "sound move" from Nintendo and one in line with its previous product strategies.
"Improving the flagship version of the Switch will add further momentum to the platform and freshen it up for the next few years of the cycle," he says. "The small price differential compared to the current flagship means that many later adopters that were eyeing the Switch will now opt for the OLED version.
"I think these mainstream adopters will be tipped into action by the bigger screen, its improved legibility, and the better audio in the context of in-person social play. It will also prompt some existing Switch users to upgrade, particularly those that use the Switch a lot in handheld mode and that have the original Switch before the battery improvements."
He predicts that the OLED Model will sell around five million units by the end of 2021, after which it will "slowly replace the current flagship [model]" over the course of 2022. Ampere Analysis expects this to contribute to an increase in sales for the Switch family of devices, which it expects to sell more than 155 million units by the end of 2025. If Nintendo achieves this, it would make Switch the biggest selling console of all time, just ahead of the PS2's lifetime sales and a full million ahead of the DS family, Nintendo's current record holder.
Harding-Rolls also believes another Switch is still in the works, but doesn't expect to see it any time soon: "I don't see the Switch OLED as a stopgap release before a more powerful version of the Switch is brought to market -- I'm not expecting a Switch 'Pro' in 2022 and think it's probably too late in the cycle to introduce that sort of device. I think Nintendo will wait to introduce more power in its next-generation console which I currently expect to launch at the end of 2024."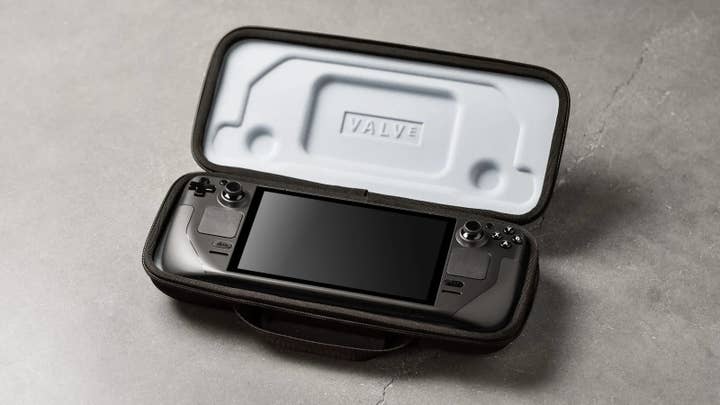 The Steam Deck, meanwhile, is perhaps the more interesting proposition. Even if limited only to the Steam marketplace, it would offer a library of titles unparalleled by any console, but the ability to access other stores and streaming services makes it one of the most open gaming devices to date.
But, Harding-Rolls reminds us, it is not the first handheld gaming PC released on the market, but likely the one with the best chances at commercial success.
"Valve has managed to deliver a product at an attractive price point for the specs and is sacrificing hardware profitability to kick start what it hopes will be a new category of gaming PC devices," he explains. "I expect this to appeal most to existing Steam users that are interested in having a companion device for playing games under different use cases away from their main gaming PC.
"However, this represents a sizeable audience when you include lapsed Steam users that might be re-invigorated by this new product. While only a subset of Steam games will be available on Steam Deck -- those that are supported by Proton, which acts as a compatibility layer between SteamOS and Windows games -- potential buyers will be happy to see that it acts like a normal PC and how open the platform is."
"I don't see the Switch OLED as a stopgap release before a more powerful version of the Switch is brought to market"

Piers Harding-Rolls, Ampere Analysis
Valve will no doubt hope that enabling portability will lead people to spend more time, and therefore money, on Steam, helping to offset the hardware costs for the company. But Harding-Rolls emphasises that Steam Deck is an experiment, one that makes it difficult to predict long-term demand and is therefore "commercially quite risky."
"Previous gaming hardware that Valve has developed has been hit and miss, but the company is highly profitable due to its storefront, giving it the ability to make these more risk-heavy commercial bets," he says.
"While Valve aims to establish a more mainstream appreciation of handheld PCs, it's going to be hard for PC OEMs to enter this market and compete with Valve on pricing, especially as these companies won't have access to content revenue to offset hardware material costs. I think that could hamper the emergence of this new form factor from third parties."
Toto is particularly enthusiastic about the Steam Deck -- "[it] looks awesome," he tells us -- although he adds that the layout of the sticks and buttons "seems a bit busy and off at far sight."
"It's biggest selling point is clearly the price, and nailing that is always extremely important in our industry," he says. "Sure, the idea is that users will stay on Steam longer and buy even more games, but such a low price tag can only be pulled off by a company as scaled as Valve."
The ghost of the Steam Machines has arisen since the Deck's unveiling, with commentators already discussing whether Valve can avoid the mistakes it previously made in bringing PC gaming to more accessible devices. But Toto is more optimistic about the new handheld's chances.
"It is true that Valve has been struggling to build up a hardware business, but it makes sense for them to use their tons of cash to find ways to expand the scope of the company and try to hold users in their ecosystem with their own devices," he says.
"The Steam Deck is different from other Steam hardware in the sense that there are not a lot of portable PC gaming machines on the market at this point in time. Valve seems to have identified a niche among its user base that is big enough to put resources into developing the Steam Deck.
"When compared to Valve's great VR system, it does not take a lot of imagination to predict the Steam Deck will be more successful because of the extremely aggressive pricing, bigger addressable audience and fewer competitors to go against."