Shigeru Miyamoto: Games will still be fun without streaming
Legendary Nintendo designer says "it may look like we're falling behind" but platform holder is still keeping up with new tech like VR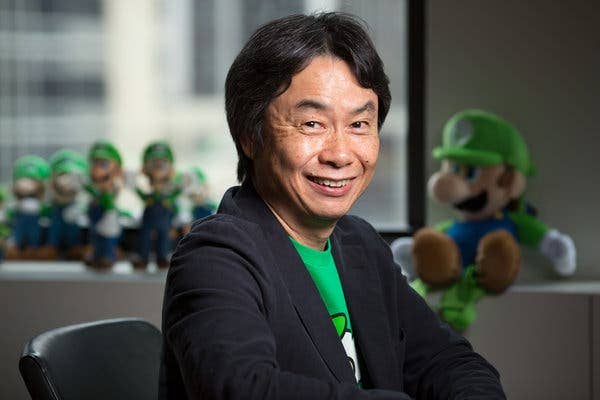 Leading Nintendo figures have agreed that cloud gaming is likely to have a big impact on the industry, but it sounds like the Mario maker is determined to keep doing its own thing.
During a Q&A with shareholders at the platform holder's AGM, veteran designer Shigeru Miyamoto discussed his views on streaming, virtual reality and online play.
"I think that cloud gaming will become more widespread in the future, but I have no doubt that there will continue to be games that are fun because they are running locally and not on the cloud," he said.
"We believe it is important to continue to use these diverse technical environments to make unique entertainment that could only have been made by Nintendo."
He noted that the number of people playing Nintendo games now -- even on other devices -- is growing, revealing that Super Mario Run has passed 300 million downloads.
"The fact that we've reached such a market means that opportunities for us are greatly expanding, so we would like to work on more and more unique projects."
He also assured that "we have not fallen behind with either VR or network services," pointing to the release of the Nintendo Labo VR kit earlier this year and assuring that the firm has been experimenting with this tech "from the very beginning."
"Because we don't publicise this until we release a product, it may look like we're falling behind," he admitted.
Nintendo president Shuntaro Furukawa said he doesn't expect all games to become cloud-based "any time soon" but acknowledges that "the technologies are definitely advancing."
"We see a future where cloud and streaming technologies will develop more and more as a means of delivering games to consumers," he said. "We must keep up with such changes in the environment.
"That being said, if these changes increase the worldwide gaming population, that will just give us more opportunities with our integrated hardware and software development approach to reach people worldwide with the unique entertainment that Nintendo can provide."
Senior executive officer Ko Shiota added the company is also investigating the possibilities afforded by 5G as the technology rolls out around the globe.
Subscriptions also came up, with Furukawa acknowledging this was a particularly hot topic at E3. He noted that subscription services are "becoming common in all sorts of industries, not just the games industry" and notes that Nintendo already offers one in the form of the NES games available to Switch Online subscribers (of which there are now more than 10 million).
"We believe that we need to further enrich these sorts of services in the future," he said. "Nintendo's policy is that we will consider whether each product we offer is suited to a subscription model as we expand our business in the future."
However, Furukawa would not comment on whether other past systems would be added to this service.
Elsewhere, the Nintendo president was asked whether we can expect to see Switch sales drop off given that they did for the Wii at this point in its lifecycle. He said the Switch's install base is actually accelerating and is confident the line-up seen at E3 -- including Luigi's Mansion, Pokémon, Animal Crossing and a sequel to Breath of the Wild -- "supports our expectation of further growth."
He also confirmed a new Nintendo store will be built in Tokyo's Shibuya Parco shopping centre that's due to open in November, and that details for the Switch's launch in China have still to be determined.
Finally, he addressed the ongoing rumours that Nintendo is working on new models of the Switch.
"While we are aware there has been coverage to that effect, we cannot comment in regards to speculation and rumours about new hardware or software," he said. "It would spoil the surprise for consumers and is against the interests of our shareholders, so we are withholding any discussion.
"We are constantly developing new hardware and new software. We'll let you know as soon as anything is ready to be announced."