"Sega had a plan, to quietly become a powerhouse in PC publishing"
Relic Entertainment's Justin Dowdeswell on regaining stability after THQ's collapse, and the imminent launch of Dawn of War III
When I last visited Relic Entertainment, the games industry was a very different place. It was 2007, a time when publishers like THQ would still distribute expansion packs for PC strategy games in physical boxes, building anticipation by flying a dozen or more journalists - many of them working for magazines - all the way to British Columbia, Canada.
I witnessed the moment when Company of Heroes: Opposing Fronts went gold in Relic's offices, on one of the higher floors of a tall glass-and-steel building in the heart of Vancouver's financial district. Five years later, with the eagerly anticipated Company of Heroes 2 in full production, THQ collapsed, and for a brief period of time the future of one of the industry's best strategy developers seemed in doubt.
So much has changed. Relic was acquired at auction by Sega, which took over as publisher on Company of Heroes 2, and it is now gearing up for the launch of Warhammer 40,000: Dawn of War III. It is no longer based in the financial district, moving instead to the reclaimed warehouses of Vancouver's Yaletown, a favourite location among the city's many game developers and tech startups.
"Sega has put a lot of trust and even expectation on the studios to define its future, to plot that course"
Justin Dowdeswell, Relic's general manager, says the new offices are "not as flash" as the previous space, but it in many ways it is a better fit for the company. "It's where a lot of the Vancouver studios began," he says, and is only a short distance from the building where Relic was founded. Vancouver is a very desirable place to live and work, and like so many such places the cost of living and working can be high. The change in location and continuing support from the government of British Columbia have allowed the company to stay close to its roots.
"That support from the government means a great deal," Dowdeswell says. "Even though we're owned by Sega, we need to provide a business case for everything we do, and a pitch to support the rationale. It has to make sense, and that assistance helps [Vancouver] to make sense by reducing the cost of operating here."
Company of Heroes 2 ultimately survived THQ's problems, but it's still possible to see the impact the experience had on productivity. Relic has released only that game and its expansion content since the middle of 2013, which displays a single-product focus not evident in over any equivalent period in its history. According to Dowdeswell, that kind of post-release support is the level of service Relic aspired to offer on all of its games, but the lack of other activity was borne of necessity.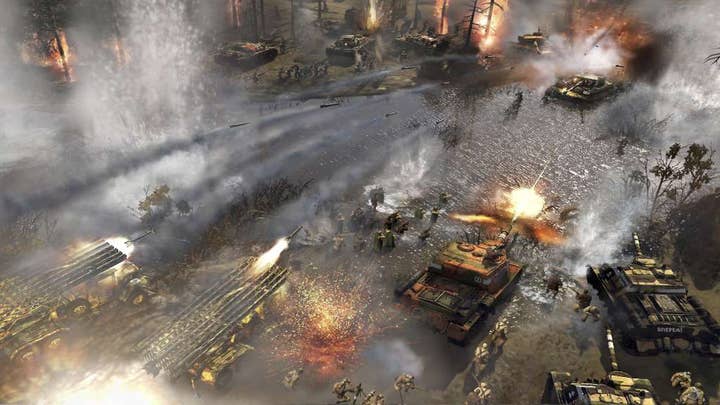 "It was really related to factors coming out of THQ's bankruptcy," he says. "We had to put some pieces of the studio back together again, and we wanted to focus on making the Company of Heroes 2 experience fantastic, while still giving the Dawn of War team some space to get on solid footing coming into the release this year.
"It was intentional, and I can be totally transparent and say it wasn't ideal."
The intervention of Sega, however, has been as close to ideal as it was possible to imagine amid the turmoil of late 2012 and early 2013. With Creative Assembly and Sports Interactive already in-house, the acquisition of Relic was, for me at least, the moment it became apparent that Sega was changing in ways few would have thought possible even a few years before; a Japanese company synonymous with the console market now had three of the biggest names in PC strategy and simulation working side-by-side.
"Sega had a plan, to quietly become a powerhouse in PC publishing," Dowdeswell says. "Out of everything that happened in that auction, I don't think anyone had the same depth of thought and planning that Sega did. Sega knew how Relic would fit into its portfolio. It wasn't a shot in the dark. It had a plan for the future.
"Having those sister studios makes us feel like we're part of something bigger. It's great for Sega, but it's also great for the rest of us"
"Sega has put a lot of trust and even expectation on the studios to define its future, to plot that course. That gave us the freedom and flexibility we really needed to bring Relic back. Even though that acquisition was pivotal, I would say that any group - games or not - is going to suffer from the bankruptcy of a parent company. There was a lot of repair and recovery to do as a result."
That strategy was further affirmed with the acquisition of Amplitude in July last year, and Dowdeswell is clearly delighted with the peer network that has flourished within Sega. Creative Assembly, Sports Interactive and Amplitude are all based in Europe, naturally limiting the number of face-to-face meetings, but those that do take place are a source of shared insight, hard-earned expertise and, to hear Dowdeswell tell it, personal enjoyment.
"It's nice to have that peer group; having those sister studios makes us feel like we're part of something bigger," he says. "It's great for [Sega], but it's also great for the rest of us."
Of course, the most obvious concern is the possibility that Relic and Creative Assembly don't become two hands reaching for the same piece of the pie. Dowdeswell quite reasonably points to the differences between the studios' key franchises, Dawn of War and Total War, but it would be disingenuous to overlook the potential issues that might arise from Creative Assembly's Total War: Warhammer and Relic's Warhammer 40,000: Dawn of War III both launching in the space of 12 months. The former game sold 500,000 units in the space of three days, of course, but with Dawn of War III due to launch at the end of this month, Dowdeswell acknowledges that staying out of each other's way is an important consideration.
"We definitely think about it, and talk about it," he says. "Sega's rise in profile has been down to the games being high quality, and we all seek to maintain that, but we don't ignore the fact that we both want to ship a big game in fairly close launch windows. We definitely talk about it, and we understand the little bit of overlap between the audiences. It all factors into the decisions we make about when and how to release our games."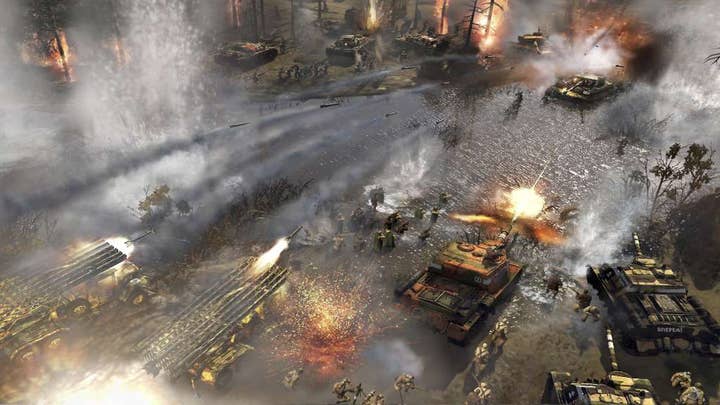 Given the close proximity between the Sega acquisition and Company of Heroes 2's release - less than six months - it's reasonable to see Dawn of War III as a defining moment in this new phase of Relic's history. It is also the first full game in the series in eight years, and in the aftermath of Total War: Warhammer's success expectations are understandably high. Whatever happens in terms of sales, Dowdeswell seems confident that the finished product will satisfy the series' fans while also recognising the way the strategy has changed since 2009; that was the year that League of Legends first went live, for example, leading to an explosion in both MOBAs and the eSports scene.
"I don't think we're in a position where we have to mimic another genre, because we're leaders in the space ourselves"
"I don't think we're in a position where we have to mimic another genre, because we're leaders in the space ourselves," he says. "When we talk about where we want to go, we have goals, we have ambitions as a studio, but we want to be known for making great games - that kind of rules all when it comes to the design choices we're making.
"We've definitely set out to make the core experience of Dawn of War 3 stand on its own. It wasn't designed around eSports. The experience was designed to be as it is... I would hope that [eSports] would be a byproduct of people loving our game, so they play it in that way as well."
Like the vast majority of Relic's work Dawn of War III will only be available on PC, and Dowdeswell believes the platform is strong enough for the studio to thrive and grow. Nevertheless, there is a clear trend among Relic's peers to expand onto console: Blizzard has been richly rewarded for doing so with Diablo III and Overwatch, for example, while its own stablemate, Creative Assembly, has made overtures towards the console audience in genres both new (Alien: Isolation) and familiar (Halo Wars 2).
Relic has dabbled in console development in the past, of course - most notably in the underrated Warhammer 40,000: Space Marine - but Dowdeswell addresses the possibility of more to come in the form of a question: "Can we craft an experience that makes sense?"
"Our ambition is to be a leading studio in this genre, and part of that will mean that we are branching out in the future," he says. "Would [console] fit with our existing franchises? I don't know, referring to the gameplay side of it, but at the very high level our goal of reaching as many gamers as possible, allowing them to have as much fun as possible, we have to be thinking about other platforms.
"We have the scale within Relic and we have the support from Sega to be thinking about that."