Psychonauts and surviving the publisher shuffle
Tim Schafer says the studio's experiences with partners aren't that unusual, addresses struggles of Psychonauts 2 publisher Starbreeze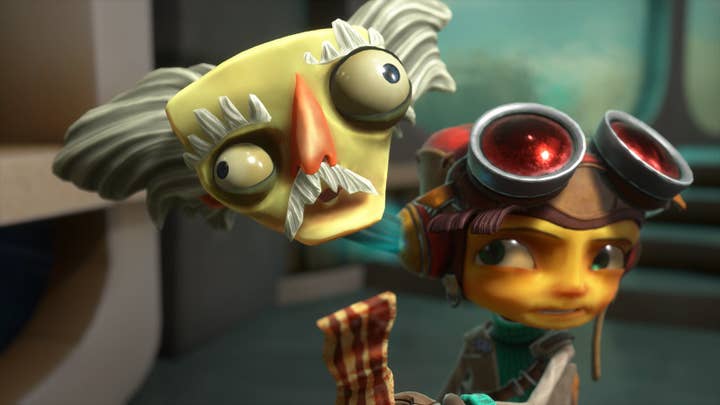 Double Fine Productions' history with publishers is nothing if not complicated.
The company's debut title Psychonauts was dropped by Microsoft before being picked up and released by Majesco. Brutal Legend was dropped after its original publisher's parent Vivendi Games merged with Activision, which decided it wasn't exploitable enough to publish. Then when Electronic Arts stepped in to do the honors, Activision Blizzard filed a lawsuit to stop it. (It would later be settled out of court.)
More recently, the studio laid off a dozen people after a publisher unexpectedly canned an unannounced title.
Now the company is readying Psychonauts 2 for launch later this year, but its current publisher, Starbreeze Studios, is not in the best financial shape.
We spoke with Double Fine founder and studio head Tim Schafer at DICE earlier this month, and he took exception to the idea that his studio's experiences with publishers have been especially uncommon in games.
"It's hard out there for a developer," Schafer said. "Our company is not unique in that we've had a rollercoaster ride with different publishers for sure, but it's just part of the business. After Microsoft cancelled Psychonauts, we still worked with them again on Kinect Party and Iron Brigade. We worked with Majesco [on Psychonauts] then worked with them again on [Majesco's sub-brand] Midnight City. Publishers have their ups and downs just like we do."
So if Starbreeze doesn't have an up following its current down, what does that mean for Double Fine and Psychonauts 2? What's the worst-case scenario here?
"I've got no reason to believe Starbreeze isn't going to come through and publish it well"
"I mean, it wouldn't be good," Schafer acknowledged. "But the game is funded by multiple sources. We had our crowdfunding campaign, Double Fine's own revenue, and Starbreeze as a publisher. And they've continued to be supportive. They've been supporting the game and have pledged they're definitely still capable of publishing it. So we have high hopes for that."
And in the event Starbreeze can't right its ship, Schafer is optimistic that Psychonauts 2 could be the third Double Fine game to find a new publisher after the original one dropped out.
"At a show like DICE, other publishers come by and say, 'Yeah, how's that going? If anything happens, give us a call,'" he said. "With Psychonauts 2 having been high profile and already having a great trailer out there, there would be enough interest in other people funding it and finishing it if something happened. But I've got no reason to believe Starbreeze isn't going to come through and publish it well."
Schafer's right in that developers being dropped by their publishers is not a terribly uncommon thing in games. But it's certainly less common to see developers survive having that happen to them publicly this many times.
"We've survived for a long time because we're very nimble and are able to shift when something like that happens," Schafer said. "We have a very committed team. When Psychonauts 1 was cancelled, the team was just focused on making a good game and continued to work even though we didn't know where the rest of the money would come from."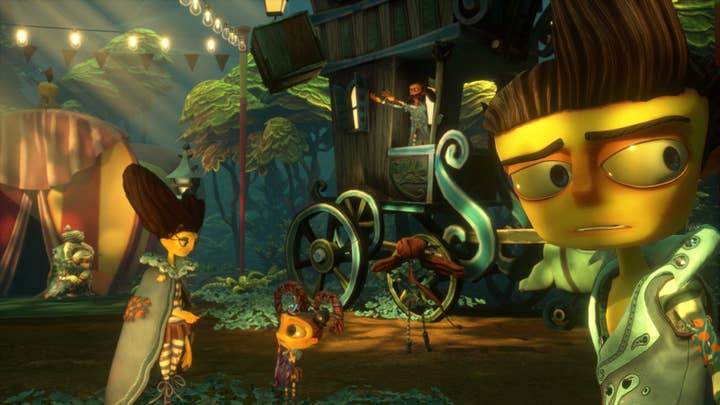 Naturally it also helps that Double Fine has expanded to juggle multiple projects at once and diversified its funding sources.
"If one engine goes out on the airplane, we're much more stable than we were back when we were a single-engine Cessna back in the early days," Schafer said.
"We have always strived to protect ourselves on business deals, but there is this leap of faith you take when you take on a partner"
That said, there's a point of diminishing returns on some of those efforts.
"There have been points in our history where we've been internally developing eight games because we were getting into mobile and trying really small teams," Schafer said. "We tested that out, and I think we still like to be in between the 15-person team and not as big as a 60-person team. Psychonauts 2 isn't the only game we're working on. It's a large piece of the studio, but there's still another 15 or so working on another unannounced title."
That doesn't necessarily mean that Double Fine will return to making numerous smaller games once Psychonauts 2 ships. As Schafer explained, it all depends on the projects in front of them.
"There are so many games I want to make that are not as big as Psychonauts, but maybe bigger than Costume Quest," he said. "Our teams are really nimble. Psychonauts is like three of our small teams put together, so after this they can become three teams again, or two of them put together. We try to stay flexible and do whatever's right for the game idea.
While Double Fine has made adaptations like that to better survive in the market as an independent studio, Schafer suggested they haven't changed much about how they deal with publishers.
"We always go into a relationship with good faith and hope that everything's going to work out great," he said. "We have always strived to protect ourselves on business deals, but there is this leap of faith you take when you take on a partner. But I think we've always managed to survive the crazy things that happen on the end because of maybe our size, our commitment to being alive, our tenacity...
"There's just a lot of drive at the company to exist; we have a unique perspective and a unique type of company that doesn't exist a lot anymore. The size we're at and the level of independence we have is so uncommon that it definitely brings a lot of people who want to work for a company like that. So people feel like it's something worth fighting for."