Jenova Chen: I want to make our next product a commercial success
But thatgamecompany boss admits he doesn't know how many Journey has sold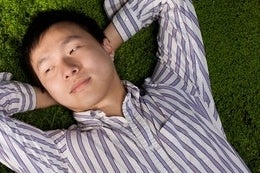 After revealing at DICE that thatgamecompany was bankrupt when Journey was released, Jenova Chen has explained why he wants the studio's next game to be a commercial success.
"I'm not a money guy, but I want to make our next product a commercial success, so that people will say, 'Hey, there's a huge market out there. If you make a high-quality games that can touch people, it's going to do great business,'" he told GamesBeat
"Honestly, I don't know how much Journey has sold at this point"
"Look at Pixar. Why doesn't a company like that exist in the games industry? I want to make that commercial success. Even if it's not me who ends up becoming that Pixar, someone will found it in the future."
Journey has been critically acclaimed, but even Chen is unsure as to just how well it's actually selling, thanks to its publisher's financial practices.
"I don't know if you've heard anything about Sony's payment schedule," he said.
"It's delayed by three months. I don't get the sales data until the next quarter, either. So I know Journey's sales picked up at Christmas, but I don't know how much it sold. Maybe I'll know by February? Honestly, I don't know how much Journey has sold at this point. But I know we broke even on it."
Last March Journey became the PlayStation Network Store's fastest ever selling title, in both the SCEA and SCEE regions.