Journey sweeps D.I.C.E. Awards
8 honours, including Game Of The Year, for thatgamecompany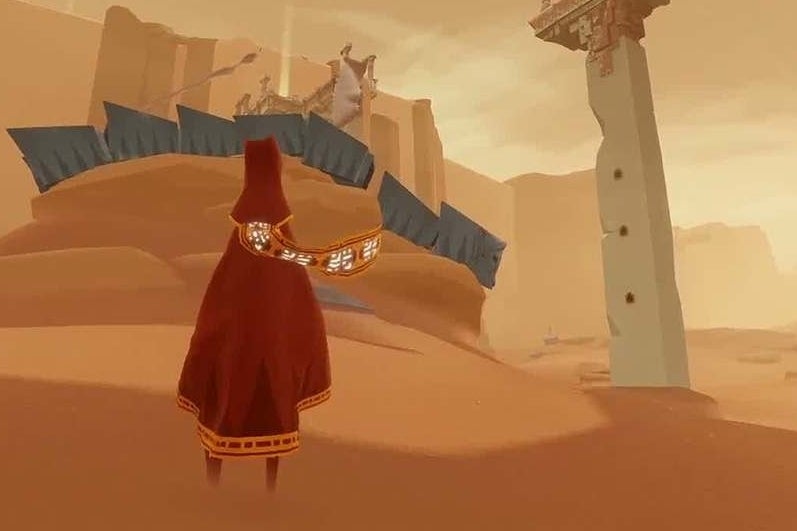 Right after Jenova Chen had revealed thatgamecompany was bankrupt before it released Journey, the D.I.C.E. Awards proved it was all worthwhile as the game scooped up eight trophies, including Game of the Year.
The Walking Dead was another favourite, winning four awards, and Halo 4, XCOM: Enemy Unknown and Borderlands 2 were among the other titles to be recognised by the Academy of Interactive Arts & Sciences' Peer Panels.
"For the past 16 years, the D.I.C.E. Awards have brought together the brightest and most creative minds in games to celebrate outstanding achievement in interactive entertainment. This year is no exception as the hottest players representing all facets of the industry -- from downloadable to console to mobile games -- took centre stage," said AIAS president Martin Rae.
"From our many category winners to our distinguished honourees Gabe Newell, Dave Lebling and Marc Blank, we congratulate all the talented developers and publishers whose contributions led to another exceptional year in games."
Action Game of the Year - Borderlands 2 (Gearbox Software)
Mobile Game of the Year - Hero Academy (Robot Entertainment)
Handheld Game of the Year - Paper Mario Sticker Star (Intelligent Systems)
Outstanding Achievement in Original Music Composition - Journey (thatgamecompany)
Outstanding Achievement in Sound Design - Journey (thatgamecompany)
Outstanding Achievement in Story - The Walking Dead (Telltale Games)
Outstanding Character Performance - The Walking Dead: Lee Everett (Telltale Games)
Downloadable Game of the Year - The Walking Dead (Telltale Games)
Casual Game of the Year - Journey (thatgamecompany)
Web Based Game of the Year - SimCity Social (Maxis, Playfish)
Family Game of the Year - Skylanders Giants (Toys for Bob)
Role-Playing/Massively Multiplayer Game of the Year - Mass Effect 3 (Bioware)
Strategy/Simulation Game of the Year - XCOM: Enemy Unknown (Firaxis Games)
Outstanding Innovation in Gaming - Journey (thatgamecompany)
Sports Game of the Year - FIFA Soccer 13 (EA Canada)
Racing Game of the Year - Need for Speed Most Wanted (Criterion Games)
Fighting Game of the Year - PlayStation All-Stars Battle Royale (SuperBot Entertainment)
Outstanding Achievement in Online Gameplay - Journey (thatgamecompany)
Outstanding Achievement in Connectivity - Halo 4 (343 Industries)
Outstanding Achievement in Animation - Assassin's Creed III (Ubisoft)
Outstanding Achievement in Art Direction - Journey (thatgamecompany)
Outstanding Achievement in Visual Engineering - Halo 4 (343 Industries)
Outstanding Achievement in Gameplay Engineering - XCOM: Enemy Unknown (Firaxis Games)
Adventure Game of the Year - The Walking Dead (Telltale Games)
Outstanding Achievement in Game Direction - Journey (thatgamecompany)
Game of the Year - Journey (thatgamecompany)