HoloLens and hollow promises | This Week in Business
A post-mortem on Microsoft's AR effort offers ready parallels to Meta's metaverse ambitions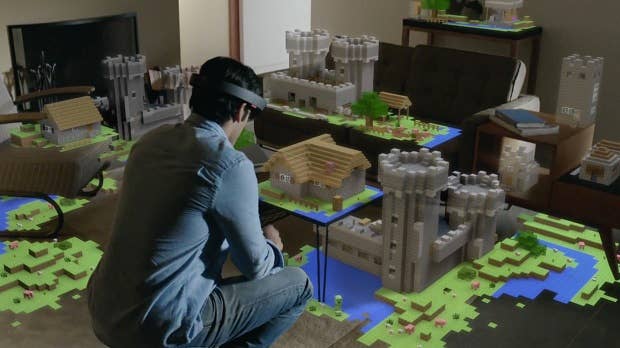 Remember HoloLens?
Just in case you don't, it was Microsoft's augmented reality headset, announced in 2015 and shown off at that year's E3 with an interactive Halo experience, a stage demo of Minecraft, and a whole lot of talk about revolutionary potential.
The Wall Street Journal certainly remembers it, as this week it published what amounts to a "Whatever happened to…" feature detailing the product's pivot from gaming gadget to enterprise productivity asset to "lethality increasing" military equipment, and how it struggled at each step to validate its effectiveness in any of those roles.
(Note: HoloLens is still being sold, but Microsoft scrapped a third iteration of the headset and there seems to be little optimism for its future.)
STAT | About 300,000 – The total number of HoloLens and HoloLens 2 units sold, according to International Data Corp.
The article frames this failure around the more current push for the metaverse, with Microsoft positioned as an also-ran to Meta, Google, and Apple because the paper says all three are expected to unveil their own AR headsets in coming years. It's a curious framing for me.
The failure of Google Glass was not so different from that of HoloLens, and I don't see how the mere expectation of some hypothetical new thing from Google should intrinsically get the benefit of the doubt here on a new device.
As for Apple, they have a better track record of releasing products people want, but they've been rumored to be on the verge of announcing AR/VR devices for the better part of a decade now. If the company that made a market out of the original Apple Watch hasn't yet found an AR/VR product they think offers compelling functionality at a price Apple devotees would be willing to pay, maybe that's a sign worth paying attention to.
But any new technology has skeptics and true believers. And sometimes when it fails, the true believers say it would have succeeded with just a little more belief.
QUOTE | "We had the opportunity to own this market. We were way ahead on many things." – Former HoloLens team director Tim Osborne, telling the Wall Street Journal that Microsoft should have put more people and money behind HoloLens.
Regardless of how much difference more resources might have made for HoloLens, we can safely say that budget and headcount haven't been the limiting factor for Meta.
STAT | $30.8 billion – The cumulative operating losses of Meta's Reality Labs AR/VR division since 2019.
That's a whole pile of money, and Meta actually does have something to show for it. It's the most significant player in the VR field, and could well remain as such even if Sony's PSVR 2 is successful.
While Meta may be leading this race to the metaverse, it's unclear the prize for winning will justify the investments made to date
While Meta may be leading this race to the metaverse by the Wall Street Journal's framing, it's unclear the prize for winning will justify the investments made to date.
STAT | $4.5 billion – Our estimate of the amount of money people have spent buying Meta's amazingly successful breakthrough AR/VR product, the Oculus Quest 2.
Granted, that revenue estimate is going to be on the low side. We just multiplied the $300 price of the base model Oculus Quest 2 (before its recent $100 price hike) and multiplied it by the 15 million analyst sales estimate given in the Journal's article. And we should acknowledge that comparing forward-looking investment into an ecosystem with prior hardware revenues isn't enough on its own to judge the merit of the moves.
But the point remains that the Quest 2 has been the most successful VR headset to date, and it's still just a big fish in a relatively small pond. Nobody spends over $30 billion just to corner the small pond market.
Whatever ambitions Meta has for the future, the metaverse is currently a side business for it. And this massive R&D effort is absolutely a drag on the social network and advertising company's main business, which has not gone unnoticed by investors.
STAT | 24% - The decline in Meta's stock price from the close of trading Wednesday (just before it reported financials) and the opening of trading Thursday.
And that's a concern because it means this AR/VR metaverse push is costing Meta (and its shareholders) a whole lot more than just what it spends on Reality Labs.
STAT | $74 billion – Roughly how much money was knocked off Meta's total valuation overnight as a result of that stock drop.
Meta has reassured investors that in the future, it plans to have Reality Labs light a more reasonable amount of money on fire
Meta is no doubt aware that investors don't like to see billions of dollars incinerated as it chases a pipe dream, and it has reassured them that in the future, it plans to have Reality Labs light a more reasonable amount of money on fire.
Eventually.
QUOTE | "We do anticipate that Reality Labs operating losses in 2023 will grow significantly year-over-year. Beyond 2023, we expect to pace Reality Labs investments such that we can achieve our goal of growing overall company operating income in the long run." – Meta chief financial officer David Wehner, in comments for investors released alongside the results.
QUOTE | "It takes a little time, sometimes, to get the Titanic turned back around." - Amy Grant in 1997's pop country hit "It Takes A Little Time," providing all the substance of Wehner's excuse for the metaverse division while also invoking an appropriately iconic and hubris-driven disaster AND throwing in a little Hammond B-3 organ as an always-welcome bonus. (Note to self: A column of quarterly earnings reports as represented by song lyrics sounds like fun...)
Meta's investment has been absolutely key for building the VR market and improving the quality of headsets and the untethered VR experience. That's a win for VR gamers and developers, sure, but it's not really a win for Meta unless it leads to the company being an indispensable plank of a truly massive metaverse.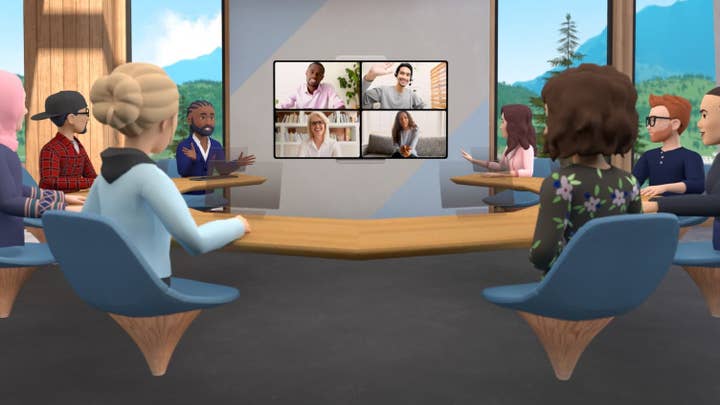 Generally speaking, there are two ways to achieve a goal like that: people choose to use your product, or people are forced to use your product. I'm not sure if there's an actual preference among tech companies for which way these things happen, but we've seen a lot of companies try the former path first. That's what happened with smartphones, and given their original techno-futuristic pitches in the early days, AR/VR products like HoloLens, Magic Leap, Google Glass, and the Oculus line of VR headsets were all hoping to become similarly trendy objects of consumer desire.
But when the finished products proved to be too expensive, too limited, or both, all of them leaned further into enterprise and military applications. After all, if people aren't choosing to use your product of their own volition, perhaps you can get their bosses to order them to use it instead. It helps that the military and large employers have deeper pockets and a larger appetite for wasteful spending than most consumers. (Over the years we've also seen similar pivots for stereoscopic 3D, Segways, Kinect, and even cryptocurrency when mainstream consumer adoption stalled.)
HoloLens at least started with enterprise applications as a clear emphasis alongside consumer uses rather than making it a post-launch pivot like some of its AR/VR contemporaries have made. You could argue Microsoft was a couple steps ahead of the game there, and is even further ahead of the curve in this metaverse race by virtue of having all but dropped out of it already.
If someone makes this metaverse thing work, Microsoft definitely wants to be there, hence the recent announcement of its software coming to Meta's Quest platform. But the scaling back of HoloLens could be Microsoft's recognition that the AR/VR vision of the future simply isn't close enough for a bit of aggressive R&D spending to turn it into reality, especially when that vision remains so ill-defined.
QUOTE | "The whole process at Microsoft was largely about getting people excited about how this could revolutionize the world. What they really should have been focused on is what makes this product better than a smartphone." – Former Microsoft engineer Avi Bar-Zeev, summing up the problem succinctly for the Wall Street Journal.
The rest of the week in review
QUOTE | "With Suicide Squad: Kill the Justice League nearly finished, they have both decided to leave Rocksteady at the end of 2022 and will begin a new adventure in gaming." – WB Games president David Haddad announces that Rocksteady co-founders and studio heads Sefton Hill and Jamie Walker are leaving the studio.
QUOTE | "I was pleasantly surprised with how much I enjoyed the freedom to tackle scenarios in my own way, including all the carjacking." – S.E. Doster, in her review of Call of Duty: Modern Warfare 2 for GameSpot, the campaign of which has been generally well-received by critics, albeit with some significant caveats.
QUOTE | "We're trying everything, and as a result I think it can come across as quite crude. Because we can control the universe the player is in, there's no reason why we can't start selling to you based on your previous experience, and the experience of others who have followed a similar path that you have. It feels much more natural, but it's the same thing. In many ways, actually, it's more evil, because it's more psychologically manipulative. But it helps you." – 10 Years Ago This Month, Jason Avent of CSR Racing developer Boss Alien identifies – and subsequently embraces – evil in an interview at the London Free-To-Play Summit.
QUOTE | "For example, some might say that it would be unbelievably profitable to provide paid add-on content for Animal Crossing: New Leaf, but we were concerned that a game in which you enjoy yourself more by the power of money would not be suitable, and we decided to avoid such a feature after an intensive discussion with the development team." – This didn't fit in the latest 10 Years Ago This Month column, but I wanted to include it somewhere. It's the late Nintendo president Satoru Iwata in October of 2012, explaining to investors that the company will only consider DLC for games where it will help them build long-term relationships with consumers.
As much as I enjoyed the Happy Home Paradise DLC for Animal Crossing: New Horizons, I do miss having a gaming executive with Iwata's perspective and priorities in charge.
QUOTE | "I do think that it is really smart that if you are Balenciaga in Fortnite, you can sell a 12-year-old a skin for $12, and they're going 'I've had to pay for that so it has value and I can aspire to it, I'm going to save up some of my pocket money so that I can actually buy it.' And when they're 24, they are going to spend $600 on a pair of trainers." – In a panel discussion at GI Live London, Meta's creative strategist and entertainment lead Jane Kinnaird spells out what expensive brands are doing in free-to-play games.
STAT | 73% - Microsoft's anticipated growth rate for Game Pass subscriptions in its last fiscal year. It fell significantly short of that, only managing 28% growth.
QUOTE | "Marketing in games is game design. They are linked together. You don't make a marketing demo without a game designer at the helm of it. You work together." – In a fascinating presentation at Megamigs, Finji CEO Bekah Saltsman talks about the last year and a half of marketing heading into the release of Tunic, and how the publisher had to change strategies to correct some misconceptions about the game.
QUOTE | "We think that the right creator is worthy regardless of the size of their studio, and we'd certainly be open to future executions with any of our characters and worlds across the portfolio if it made sense, regardless of the size of partner." – Walt Disney Games senior vice president Sean Shoptaw tells us that the company is open to working with smaller studios on any of its franchises, much in the way it has partnered with Bithell Games for a Tron title and Dlala for the Mickey Mouse game Disney Illusion Island.
QUOTE | "The Callisto Protocol has decided to stop the release of the Japanese version. As of now, the CERO rating cannot be passed. We have decided that we would no longer be able to provide you with the experience you need." – Striking Distance, in a message posted on The Callisto Protocol's Japanese Twitter account, says the game will not be released in Japan because the local ratings board would not give it an age rating and the developer was apparently unwilling or unable to tone down the violence to a CERO-acceptable level.
STAT | $2 million – The first-week revenues generated by Second Dinner Studios' Marvel Snap, according to AppMagic data. The US was the biggest market with $1.2 million in spending, with the Philippines in second with $186,000.
QUOTE | "As I'm a woman myself, when I make games, I try not to just have them be male fantasy figures, as people needing to be rescued. I like to make female characters people of both genders can relate to. But we are seeing more strong-willed women in games geared towards female audiences." – Rieko Kodama, in a 2004 interview about her illustrious history as an artist and producer with Sega creating games like the Phantasy Star series and Skies of Arcadia. Sega revealed this week that Kodama died earlier this year.
QUOTE | "After decades spent developing some of Sega's most indelible classics, Kodama-san could easily rest on her laurels, but instead has dedicated herself to creating games that transcend gender and generations to give us countless hours of joy. This award is a 'thank you' to Kodama-san and all creators who work so hard to achieve greatness." – In 2019, Game Developers Conference organizer Katie Stern announced that Kodama would be that year's recipient of the Pioneer Award at the Game Developers Choice Awards.