Nintendo depending on third parties for Wii U
Company limiting first-party titles at launch, expecting drastically improved external support for new console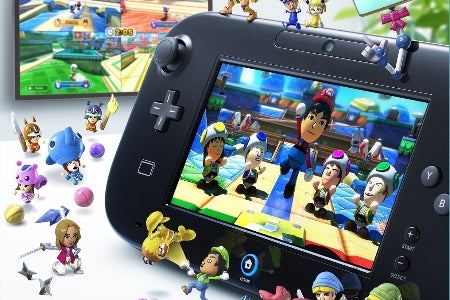 It's been said that gamers buy Nintendo consoles for Nintendo games, but the Mario maker is hoping they'll be happy with fewer first-party titles than normal for the Wii U's launch. In a post-earnings Q&A with investors released in English today, Nintendo president Satoru Iwata said Nintendo is trying to avoid a post-launch release slump by rationing out its first-party Wii U titles.
"Nintendo tends to release too many titles at the launch of a hardware system and as a result suffers a drop in new games for quite some time after launch, and for the Wii U launch, we are being very careful not to let it happen," Iwata told investors. "Fortunately, third-party publishers overseas are launching many titles for us this time, and we were able to push back the release of some of the titles that we had originally intended to release as launch titles until next year."
"Nintendo tends to release too many titles at the launch of a hardware system..."

Satoru Iwata
However, Iwata believes third-party publishers will step in to help address the need for high-quality software in the interim.
"I think that the ratio between first-party titles and third-party titles this time will be drastically different from then," Iwata said. "The first-party ratio was very high at first for both the Nintendo DS and Wii systems, and this trend has continued until now for Wii in Japan. For Nintendo DS worldwide and Wii overseas, the third-party ratio gradually increased as time went by. I expect that it will be high at a relatively early stage for Wii U."
Iwata also addressed the company's growing digital business, saying he expects revenues from full-game downloads to be "totally different" from when they were limited to Virtual Console and WiiWare sales, and added that Nintendo should disclose an outlook for digital sales so investors can recognize it as a growth area for the company. Continuing on the topic of digital revenues, Iwata said Nintendo is being selective with how it rolls out downloadable content into its games. While New Super Mario Bros. 2's new levels have received a good response according to Iwata, he said the company will only pursue DLC for games where it will help build long-term relationships with its consumers.
"For example, some might say that it would be unbelievably profitable to provide paid add-on content for Animal Crossing: New Leaf, but we were concerned that a game in which you enjoy yourself more by the power of money would not be suitable, and we decided to avoid such a feature after an intensive discussion with the development team," Iwata said.