God of War: Ragnarok | Critical Consensus
Critics praise Sony Santa Monica's storytelling and style as Kratos makes his long-awaited return - but is the sequel too big?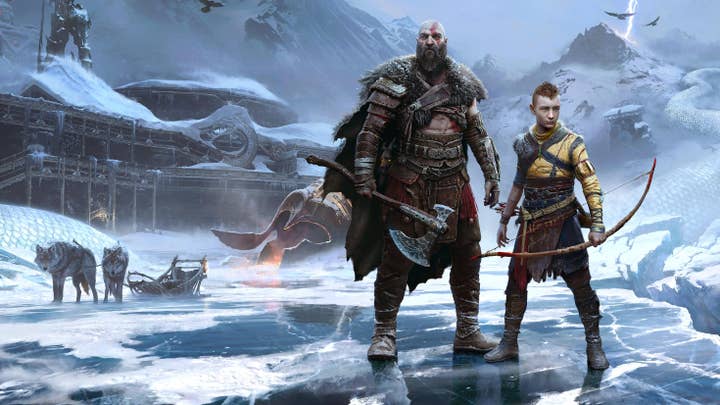 Sign up for the GI Daily here to get the biggest news straight to your inbox
It's no exaggeration to say God of War: Ragnarok is one of the most hotly-anticipated games of 2022.
The series' 2018 revival stunned critics and brought on board a new audience for whom the previous games had seemed too juvenile, weaving a tale of fathers, sons and grief into a gaming masterpiece. The bar for the sequel was raised absurdly high.
Reviews for Ragnarok have been pouring in over the past few days, ahead of the title's debut on PlayStation 5 tomorrow, and it sounds like Kratos' return is everything fans and critics alike have hoped for.
At the time of writing, the game has 133 critic reviews on Metacritic and an average rating of 94, making it the third highest-rated game of the year (behind Elden Ring and Portal Companion Collection, both on 96, and tied with Persona 5 Royal).
"Ragnarok defies the odds and manages to surpass its predecessor in every way," writes Katcy Stephan in her 10/10 review for Variety.
"Ragnarok defies the odds and manages to surpass its predecessor in every way"

Katcy Stephan, Variety
In his review for Push Square, which also gives 10/10, Robert Ramsey says the sequel maintains the impressive narrative presentation of the previous adventure – including the single-shot style of direction – and even improves on it in places thanks to "superb performances" by the game's cast.
"Ragnarok is cinematic brilliance at times, but to say it's like a movie would be doing the title's top-notch gameplay a severe disservice," he writes. "As we mentioned earlier, everything is pretty much as returning players will remember it; instead of starting over, the developer has basically branched things out in all directions. Both in and out of combat, Kratos is given a range of new toys to play with, adding meaningful depth across the board. But even if you're unfamiliar with the first game, this sequel does an admirable job of introducing new bits and pieces at a steady, manageable rate."
In his unscored review for Launcher, The Washington Post's games site, Gene Park writes: "Ragnarok is one of the rare stories in any medium where the second experience is better than the first, rewarding the audience's knowledge and attention to details," he says. "As soon as the credits roll, you may be immediately tempted to start over, empowered with knowledge on how plot beats unfold and appreciating character and story arcs that pay off big time by the end.
"But you also don't want to restart the game immediately, because Ragnarok is an even rarer type of game that offers more adventure after it ends. Some of its biggest emotional payoffs happen after the credits, featuring more playable adventures and secrets to find. It's a generous game, offering stories that feel like a sequel to the game you just beat."
As with the 2018 game, one of the most highly-praised aspects of God of War is the writing. In his 5/5 review for We Got This Covered, Shaan Joshi remarks on how the sequel goes beyond just exploring its central themes of prophecy, fate and breaking the cycle of violence.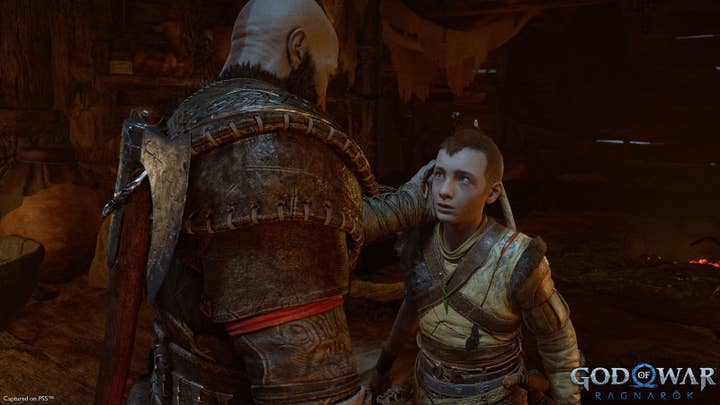 "Ragnarok has its fingers in a lot of pies, tackling weighty topics including generational abuse and trauma, coping with grief and loss, and how compassion can be a strength, not a weakness," he writes. "Addressing these is no easy task, which is why the writing team at Santa Monica Studio has to be applauded for handling them with nuance and tact.
"Hands down, this is easily one of the best stories ever featured in a video game, and it's executed beautifully thanks to the ever-talented cast of voice and mocap actors. If that sounds like Ragnarok is a bit too serious for its own good, rest assured, there are plenty of laugh-out-loud moments that help balance things out."
"With more efficiency, its story could be told in half the time, with half the characters"

Chris Tapsell, Eurogamer
The sheer amount of story, however, is the source of what little division there is among critics. Park, for example, says pacing is the "only area where the game seems to falter," noting that 2018's title moves a lot faster despite being about "a literal funeral march."
"The story [also] plays coy about whether the actual Ragnarok event, the end of the Norse mythology, will occur, and this coyness drags out at the beginning, with quests that seem to meander. It becomes clear late in the game that the slow pace is meant to introduce new characters, so some patience may be required."
In his unscored review for Eurogamer, which gives the game the site's highest 'Recommended' accolade, Chris Tapsell notes that – as with so many sequels – everything in Ragnarok is dialled up compared to 2018's God of War. This includes the size of the world, the length of the main quest, the number of characters and skills trees, and so on.
"With more efficiency, its story could be told in half the time, with half the characters, and in its tropey, misunderstanding-fuelled middle hours it sags under the weight of it all, falling into the mopier tendencies of the previous game but without the tight, double-act focus that kept it moving," he writes.
"There are a huge amount of cutscenes, which flow beautifully in and out of the player-controlled action with more sophistication than ever… But there are still too many of them, forgotten lovers and brothers and probably someone's cousin's pet dog getting lengthy screen time each – likely, I suspect, because of an urge to 'do justice' to each minor character's arc, to prevent them from feeling used by the story."
Many critics discuss the length and sheer amount of content in the game, noting that Sony Santa Monica has openly said it originally planned a trilogy for Kratos' Norse-themed adventures before deciding to resolve the story with Ragnarok.
Joshi is unconvinced a trilogy would have worked: "While Ragnarok is certainly no slouch (it took me just north of 40 hours to see the credits roll), I can't say with confidence that two separate titles would have done enough to justify their existence."
Meanwhile, Ramsey says Ragnarok "feels like it could have been split in half and sold as two separate pieces."
He continues: "It absolutely dwarfs 2018's God of War in every possible way, and we dare say that other developers, and indeed publishers, may have pushed for that aforementioned trilogy given the sheer scale of this project.
"Santa Monica Studio has delivered a game that makes its already excellent predecessor look like a prologue"

Robert Ramsey, Push Square
"But no, Santa Monica Studio has delivered a game that makes its already excellent predecessor look like a prologue. So much happens in Ragnarok that by the time the credits roll, it's hard not to feel exhausted — in a good way. It's a truly tireless title in terms of creative vision, and we can only imagine the amount of effort that went into crafting such a beast of a game."
In terms of the gameplay, all reports suggest that this title is on par with, if not above and beyond, its critically acclaimed forebear. Tapsell notes that what few complaints were levelled at the 2018 revival have been "thoroughly mended here."
"Enemy variety was a justified complaint, and clearly heard loud and clear at Santa Monica Studio (one previously ever-present enemy type is even acknowledged with some nicely self-deprecating humour). There's no risk of repetition in Ragnarök. There are far more designs, but variety comes with more depth than that too. You'll need to use a far wider range of abilities to get by - shield bashes, companion abilities, weapons - and adapt to attacks of different speed, height, and direction."
The entire armour and weapon system, which increases Kratos' power level based on the equipment he wields, has also been "revamped and streamlined for the better," according to Joshi, while Tapsell is full of praise for the abundance and brilliance of the puzzles players will face outside of battle – although he notes Ragnorok demonstrates a "truly overbearing urge to offer you hints" before you've had a chance to solve some of these.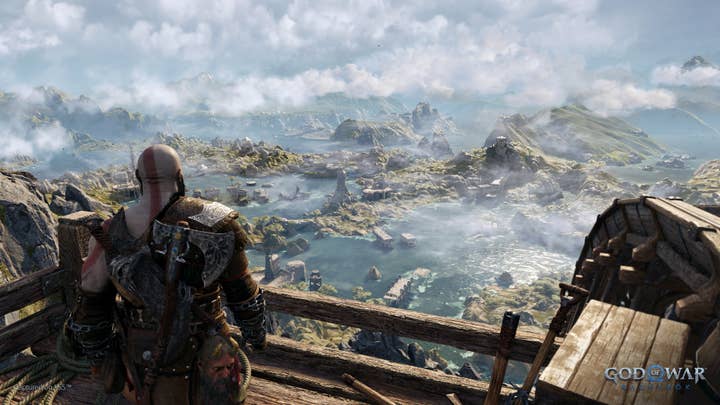 Park was particularly pleased with the side quests and other content found away from the main path, declaring that this "could equal the quests found in CD Projekt Red's seminal 2015 hit, The Witcher 3: Wild Hunt."
"So many other big-budget developers have tried to hit that peak, but I can confidently say Santa Monica Studio has surpassed that bar, having written side quests even more rewarding in [both] gameplay and story," he says. "While the main story is a triumph, the side quests that lay off the beaten path are home to the game's biggest battles, its most awe-inspiring sights and its biggest play areas."
"Ragnarok is one of the rare stories in any medium where the second experience is better than the first"

Gene Park, Washington Post
Yet the primary narrative is still the source of the most praise among Ragnarok reviews. Variety's Stephan notes that, despite being centred around a prophecy, Kratos' journey "still manages to surprise at every turn."
"Its storytelling is simply unmatched, with several cutscenes bringing me to tears (both of laughter and sadness)," she writes. "It sticks the landing, too, with an emotional gut-punch bringing its tale to a close.
"God of War Ragnarok is a 10 out of 10, checking every box with a combination of pulse-pounding action, humour and character development that will stay with players long after they've completed the campaign. It's a masterpiece that proves even an old god can learn new tricks."
Park concludes that it's not just the relationship with the 2018 title, but the impact on all the previous outings, that is perhaps most impressive.
"The original trilogy was a nihilistic deconstruction of polytheism and the trap of fate," he writes. "God of War: Ragnarok… subverts this bleak worldview into something more hopeful and joyful... The way Ragnarok transforms the series is remarkable.
"Popular entertainment these days is obsessed with lore to a fault. Disney's Marvel and Star Wars franchises have entire councils of people devoted to keeping lore straight across these stories. Even 2022′s biggest game, Elden Ring, was essentially a story all about lore. Despite tapping into well-mined Norse mythology, Ragnarok is focused squarely on seeing and hearing its characters. Like Kratos, you will actually like spending time with them. The memories of these people will stay with you long after the credits roll. By the end, you will believe that even a god of war can earn himself some peace."