Dropping FIFA brand "presents risks" for Electronic Arts, but EA Sports FC expected to perform well
Analysts ponder the potential impact of the publisher releasing a FIFA-less FIFA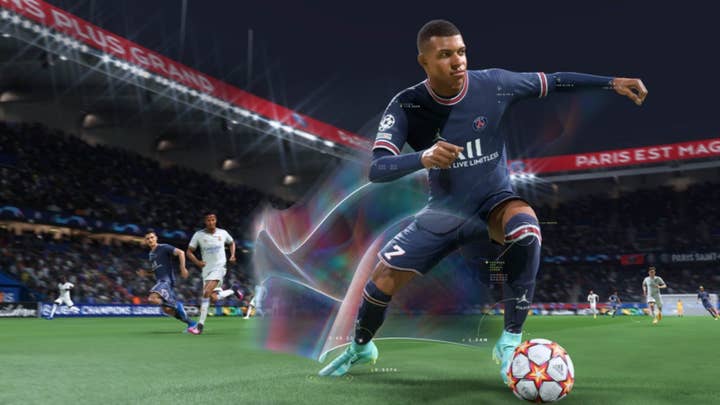 Rumours persist that Electronic Arts will rebrand its best-selling FIFA series to EA Sports FC -- a move that analysts tell us is risky, but unlikely to cripple the franchise's sales.
The rumour was revived this week when journalist Jeff Grubb, as reported by VGC, claimed sources confirmed to him that 'EA Sports Football Club' or 'EA Sports FC' is definitely the new name of the FIFA series.
"They are ready to move on, they have another name lined up," Grubb said on his Grubbsnax podcast, adding: "We should hear about it here pretty soon."
This year's release is still expected to be called FIFA 23, as EA's current licensing agreement with the football association lasts throughout 2022.
News that EA might rebrand FIFA first emerged in October, shortly before it emerged that FIFA reportedly wanted to double the cost of its licence to more than $1 billion for each four-year World Cup cycle. The association also added that it was interested in expanding beyond such an exclusive licensing agreement.
Around the same time, it was reported that the publisher had trademarked EA Sports FC.
FIFA is consistently one of the best-selling games every year -- in fact, it's the biggest games brand of all time in the UK.
However, analysts warn that a name change may impact the franchise's success, at least at first.
"Dropping the FIFA branding presents some commercial risks but also opens up opportunities for EA," Ampere Analysis' head of games research Piers Harding-Rolls tells GamesIndustry.biz.
The biggest risk, he says, is brand awareness -- especially when it comes to casual FIFA players. The loss of the branding is "likely to undermine sales to a limited extent" due to confusion around the branding. This would be most obviously apparent during the gifting season.
"However, I expect EA to divert some of its licence savings to spend big on raising the profile of its new brand and lean heavily on its football industry partners to build awareness," Harding-Rolls predicts. "EA's game is so entrenched that I expect many consumers to follow on with the new version of the game with little difficulty."
Another potential threat he identifies is if the FIFA name is licensed to any other football games, which would cause further brand confusion.
"That's a bit of an unknown quantity," the analyst adds. "EA will want to establish its new brand as quickly as possible to reduce the risk from this happening."
It's unclear who might present a rival to FIFA if EA drops the brand. Konami's long-running competitor Pro Evolution Soccer (or PES) has only recently been rebranded to eFootball and transformed from an annual franchise to a live-service free-to-play title -- although this got off to a shaky start.
Meanwhie, Take-Two appears to be gearing up to enter the football space, having splashed $378 million on Top Eleven developer Nordeus.
Harding-Rolls concludes: "Removing the FIFA licence, while undermining some official legitimacy to the game, gives EA better flexibility to innovate within the game and in areas such as esports. In essence, this change gives EA a good opportunity to continue growing revenue derived from the game in the future."
Nick Parker, CEO and founder of Parker Consulting, observes that there's historical precedence where a successful series has undergone a name change and continued to sell well -- even with a rival out there using its former name.
"I don't think a brand name change will impact sales considerably as long as the communication to fans is clear," he tells us. "I've probably mentioned a few times before about the continued success of Football Manager changing its name from Championship Manager in 2004. I think avid sports fans play the best sports games regardless of the name as long as the players' names and stats are maintained."
FIFA has traditionally been announced in June, often around E3. However, Electronic Arts has decided to cancel its usual E3-adjacent showcase EA Play for 2022, instead planning to reveal new titles "when the time is right for each of them."