Konami replaces Pro Evolution Soccer with free-to-play eFootball
Digital-only game will launch for PC, mobile and consoles this autumn with cross-play support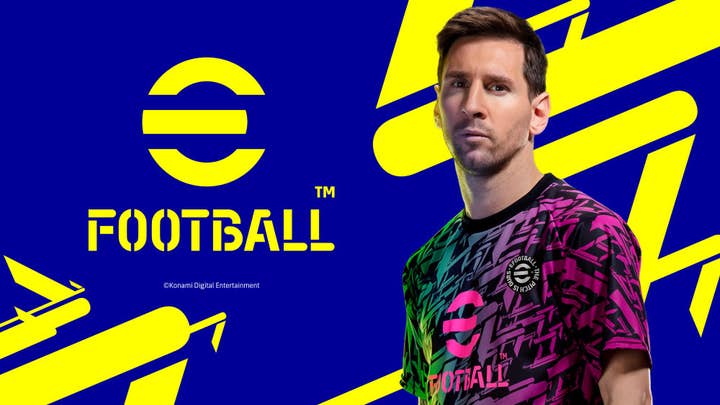 Konami has made some dramatic changes to its long-running football franchise, dropping the Pro Evolution Soccer branding for eFootball and making the game a free-to-play affair.
The Japanese publisher will launch eFootbal this autumn as a download-only game that it plans to expand over time, seemingly veering away from the annualised release schedule as well.
The new eFootball, continuing the new brand introduced in 2019, is still developed by the same team behind PES (or Winning Eleven, as it's known in Japan) and has been rebuilt from the ground up in Unreal Engine.
It launches on PlayStation 5, Xbox Series X|S, PlayStation 4, Xbox One and PC this autumn, with a mobile version for both iOS and Android to follow shortly after. The game has also been built to support crossplay across all platforms.
Konami has released an initial roadmap of content and feature updates, including online leagues, team building mode, esports tournaments and mobile controller support all planned before the end of winter.
The publisher will continue to expand the game with new matches and modes over time, with plans to also sell optional DLC in future.
The announcement refers to eFootball as "a fair and balanced experience for all players," which is hard not to read as a dig at rival Electronic Arts and the controversy over its loot box-driven FIFA Ultimate Team mode.
While FIFA retains the most official licenses, eFootball will still allow players to take control of teams such as Manchester United, FC Barcelona, Juventus and FC Bayern. Lionel Messi and Neymar Jr. will be 'global ambassadors' for the game.
Konami has released a football game every year since the original Winning Eleven in 1996, known in the West as Goal Storm. For the four years that followed, this became International Superstar Soccer Pro Evolution, until the PES brand took hold in 2001.
The eFootball brand was introduced in 2019 to reflect the publisher's ongoing push into esports but also to better appeal to Europe, where the term 'soccer' is less commonly used.
Last year, Konami released a "pared back" season update instead of a full-fledged PES eFootball 2021.