Yager: "We're taking everything we've learned into The Cycle"
Timo Ullmann on combining the skills learned from Spec Ops: The Line and Dreadnought on Yager's first owned original IP
The last time we spoke to Yager Development, Timo Ullmann was in a very different frame of mind.
It was at Gamescom 2015, less than two months after the Berlin-based studio had been dropped from Dead Island 2 after working on the game for more than three years. The decision taken by Deep Silver had serious ramifications for Yager and its staff, and Ullmann, the company's founder and CEO, was evidently feeling the weight of every single one.
"That was a very different conversation," Ullmann said when we met this summer, once again at Gamescom, in the very same hotel that played host to the more sombre ruminations of 2015. This time, though, he cut a very different figure, positively vibrating with energy and enthusiasm for Yager's new, entirely self-funded project, The Cycle.
"We really need to make sure we're not over-spending, and we're sticking to our budgets, but it's a new experience," he said. "This time we're working on our own IP. It's an awesome feeling. It's liberating to set your own goals. We're taking it step by step, so there's less pressure... We just need to make sure we do good on the first step, and then take the next one."
"This time we're working on our own IP. It's an awesome feeling. It's liberating to set your own goals"
The first step for The Cycle was taken as Yager's work on its last project, Dreadnought, started to wind down. The game's publisher, Grey Box, decided to "centralise development," which created a window at the start of 2018 for Yager to pursue one of the new concepts its team generates as part of its routine.
"We always do game jams as a studio, and we have a group that only takes care of new concepts and new ideas," Ullmann said. "Internally, that is quite a painful process; coming up with an idea, presenting it to everybody, and everybody can say they don't like it."
The Cycle was one of those ideas, and Gamescom 2018 marked the moment it was fully unveiled to the world after more than eight months of full development. Ullmann insisted that the game is "a little different" to what people might expect from Yager, but the fact that battle royale matches are an integral part of its structure will probably surprise nobody. Nevertheless, Yager is conscious of the need to avoid being "a typical battle royale game," and Ullmann hopes that the way it subverted third-person action games with Spec Ops: The Line demonstrates it is more than capable of doing just that with the industry's new favourite sub-genre.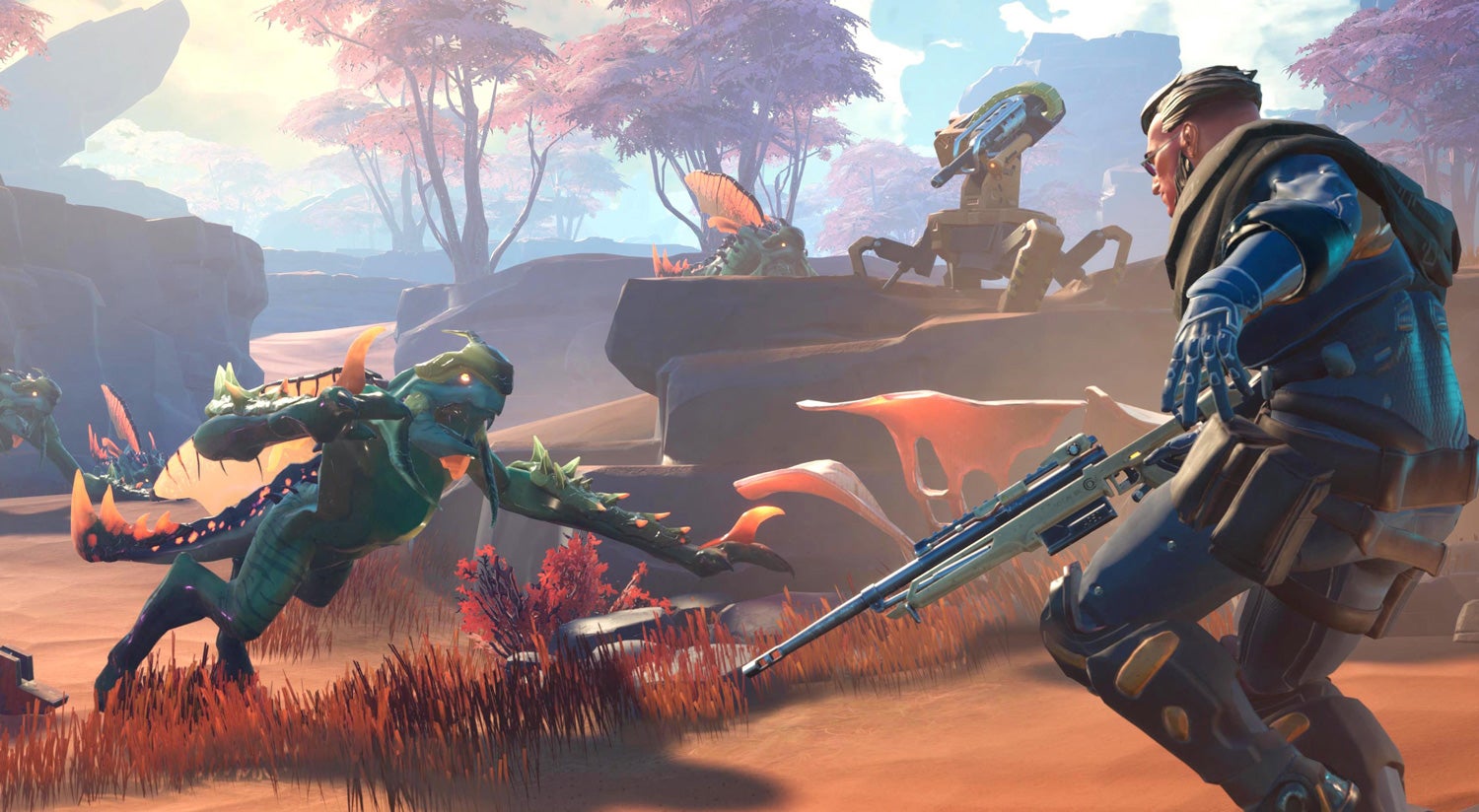 The game's title refers to the harsh conditions on an alien world rich in minerals, resources and (occasionally hostile) wildlife. When there is a break in "the cycle" of those conditions, Players allied to one of several different factions can descend to the surface to complete various objectives - either in battle with or allied to each other - before the 20-minute window of opportunity closes. According to Ullmann, the time- and area-constrained matches associated with battle royale are just one part of the foundation for an experience where there are more goals than simply being the last person standing.
The objectives in any given match can vary from player to player, for example. Ullmann said that, in The Cycle, a player can finish a match ahead of the 19 other people involved without firing a single shot, due to having harvested enough of a certain plant, or extracted enough of a certain mineral, or successfully hunted a specific rare animal. Players can also form alliances with each other; alliances which can then be broken when an "opportunity for betrayal" presents itself.
"We don't want to be labelled as battle royale, because we're not. But we also don't want to say, 'If you like battle royale, don't come to us'"
"You can shoot the other person in the back and take their loot, basically," Ullmann added. "What we want to bank on is social dynamics, and socially emergent gameplay. It should create a tension whenever you meet another player - what's going to happen next?"
This "PvEvP" gameplay will be supported by a meta-game component based around an off-world space station, and feeding into the players' alliances with The Cycle's different factions. Ultimately, Yager wants to drive the game forward with a narrative that is partially authored, and partially inspired by the emergent "social dynamics" between players. The reference point for that side of the game is, of course, CCP's EVE Online.
"That's something for later," Ullmann said. "We really want to reach out to the community and build with them, and listen to what they say and what they relate to... They work with what you present as a base, but then it's emergent, coming from what we enabled."
While speaking to Ullmann, it became clear that developers seeking to use the template laid out by PlayerUnknown's Battlegrounds and Fortnite feel a degree of trepidation in doing so. It is clearly a hugely popular structure with a certain kind of gamer, but there is a very real and very vocal backlash against studios perceived to be jumping on the bandwagon. Housemarque told us about the "pushback" it received after unveiling the first trailer for its new game, Stormdivers, and Ullmann was clearly aware of the need to get the messaging just right.
"It's kind of a dance," he said. "We don't want to be labelled [as battle royale], because we're not. But we also don't want to say, 'If you like battle royale, don't come to us'. We do have an offering for those people as well.
"We always wanted to have something that's not directly comparable to battle royale. It has elements of battle royale, but we have this competitive quest structure, where we let the player decide what to do within the game. We also have some ideas for viewers, where they could watch a stream and also trigger events, blurring the lines between the viewers and the players. There's a lot that we still need to try out."
The process of trying those ideas started a few weeks before Gamescom, with The Cycle's first alpha test. The second alpha took place last month, and Ullmann said there would be several more before it reaches beta. Yager is attempting to strike a range of different balances in this game - between authored and emergent stories, between violent and non-violent gameplay, between player- and AI-controlled enemies - and Ullmann wants a lot more data and feedback before The Cycle's planned Early Access launch in Q1 2019.
"It has been a new experience for us to find the right balance between the AAA approach versus being agile"
"We're pretty fast in terms of development, because we started in January," Ullmann said. "It has also been a new experience for us to find the right balance between the AAA approach, where you iterate a lot on certain things, versus being agile, and getting something out and testing it and taking it from there. We feel that, right now, we've found a good sweet-spot."
The actual launch of the game will be another new challenge for Yager, one that Ullmann admitted it is likely to need partners to overcome. Marketing and distribution are not areas of expertise within the company; not to the degree that releasing a game on PC, console and mobile - a "super rough" mobile version of The Cycle already exists - would demand, or that launching in Europe, North America, Russia and China would demand, either. According to Ullmann, Yager wants to release The Cycle on every platform, and in every major territory, but it will have to get there one step at a time.
Where Yager feels absolutely confident, though, is in making the game itself. Working on Dreadnought demanded that the studio hire people who understood games-as-a-service and in-game transaction systems, and in the process of doing so Yager's team "fell in love" with making live games.
"We love it," Ullmann said. "We totally love it. If we'd had that with Spec Ops and the games before it, that would have been interesting.
"Dreadnought was a learning experience for us. What does it mean to operate a game 24 hours a day, seven days a week? We know character-based action, which we had in Spec Ops: The Line, and also environmental storytelling providing more layers to just the obvious gameplay mechanics. We're combining that with what we learned on Dreadnought, with its free-to-play aspects and live operations; updates, and coming up with new things for players to engage with.
"We've made a lot of mistakes in the past, but we're taking everything we've learned into The Cycle."